There's never been a more important time to remember that love is never canceled. As we launch our bridal collection, with new and old traditions reimagined, and the faces of loved ones celebrating on screens from afar, couples are honoring their union in many special ways. Filled with gratitude to be part of their joy, we're sharing the ever-inspiring moments of love, small backyard ceremonies, commemorative weddings, and Zoom-gatherings of beautiful couples in our community.
"Once I put the dress on it was that bridal-movie moment! I felt so confident and elegant in the dress!"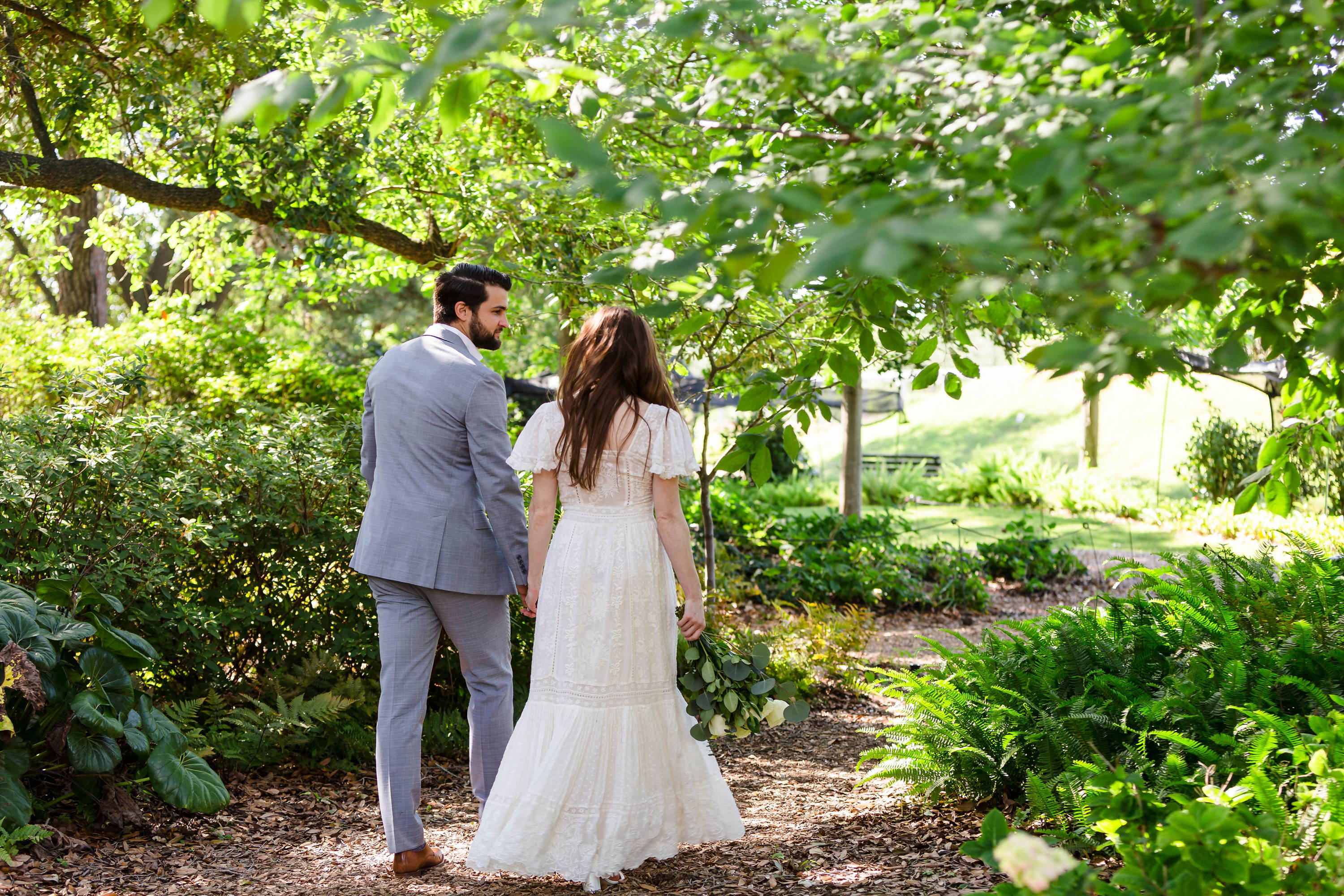 Tell us your love story:
How did you meet?
We met at a Cowboys and Indians Sigma Chi Fraternity party freshman year (2009) of college at Texas A&M University. I was dressed up as an Indian and he…well he was dressed up like a "cowboy", wearing cut-off jorts, jean vest, no t-shirt underneath, and a leopard cowboy hat on…don't ask me what I was thinking, because I definitely wasn't, lol! We were on the second floor of the Frat House and we locked eyes and I just knew, love at a first sight is not an understatement. I was with my best friend, Anna, and I grabbed her being like "omg, who is that", she replies "Stuart Hepler, I went to high school with him"…not 30 minutes later she comes running up to me and goes, "omg! Sam! Stuart just came up to me asking me who youuuu are". The rest was history.
First Date?
Don't remember, lol! But we had lots of dates for lots of years. Our love spanned states, and even countries. Because you see, sophomore year of college I called an audible and transferred to CU Boulder because this hippie-dippie wild child needed to spread her wings. So we were on-and-off for a few years, then we were on…and I was off to study abroad in Paris. That's when he took out a loan to buy a plane flight and spend a few weeks with in my small flat in Paris. THEN, it was senior year and life happened and it happened apart for awhile, it wasn't until we turned 25 that we got back together in Houston, TX and stayed together :).
First Kiss?
Drunken college frat party? Probably? HA! But I know it was great.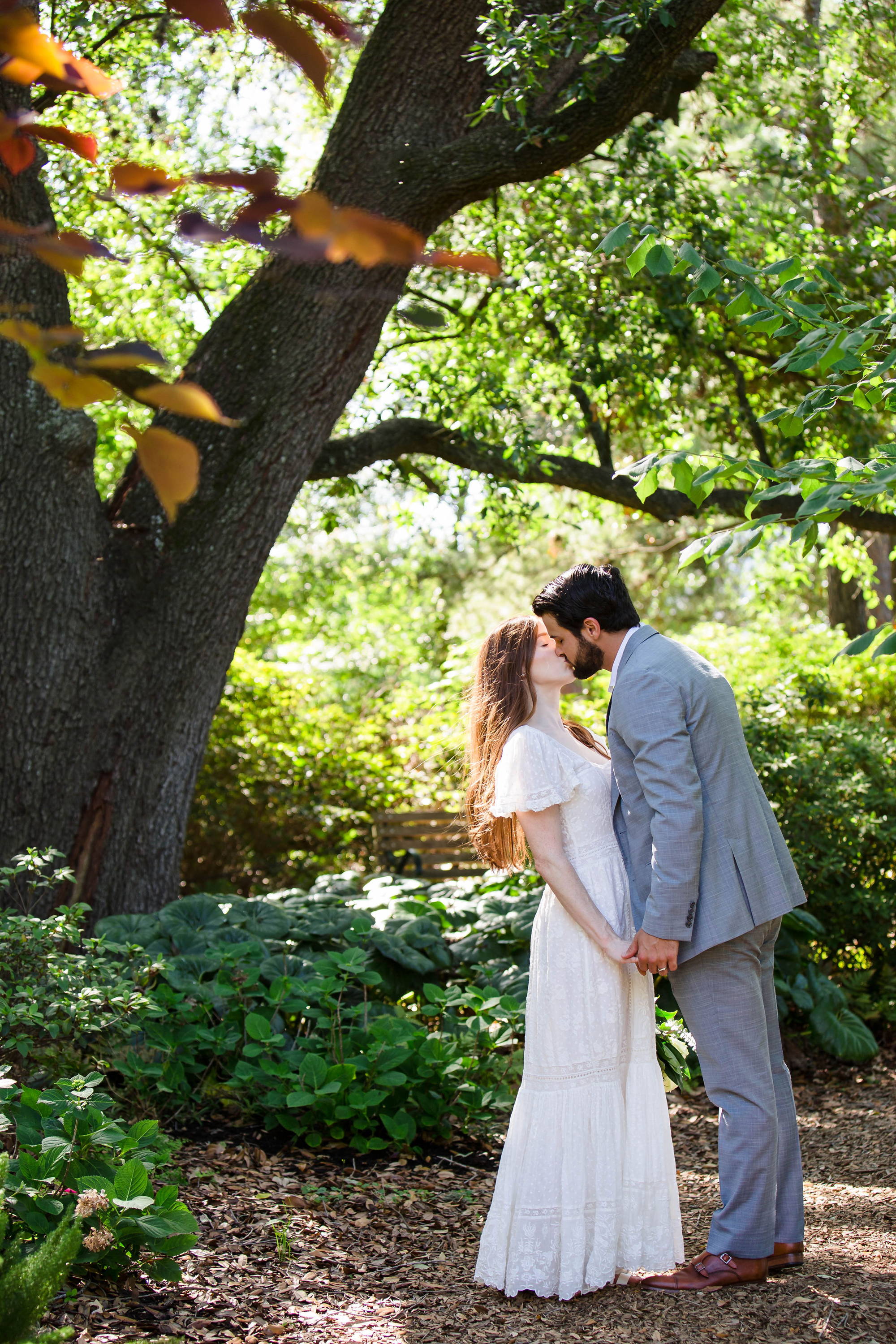 The Proposal?
MAGICAL. Brace yourself. We were headed to the south of France a week before the rest of my family would join us for our annual international family vacation. Stuart and I decided to start on the Côte d'Azur in Cannes. We took a ferry out to Sainte Marguerite Island, took a picnic, visited a chapel, an abandoned castle, and at our lunch privately on the beach…nearing the end of this day excursion I realized it wasn't happened. We headed back on the ferry and I cried over oysters and champagne and he explained now just wasn't the right time. I wasn't convinced, I couldn't believe after all this time and in France that it wasn't the right time. So, I searched his suitcase later that day while he was in the shower and to my surprise, found nothing. I was very bummed, but it was France so thought I better chipper up. A few days later we headed to Provence, stopped in Aix-En-Provence for boutique shopping, stopped in Gordes for beers atop a magical cliff, and stopped at the Notre-Dame de Senanque Abbey to see where the monks harvest fresh lavender. We finally end at our destination, Coquillade Village, a breathtaking resort. We wake up there the next morning for tea and croissants on our balcony overlooking the wineries, followed by a game of tennis, biking to a small village nearby for fresh paint, lunch and cocktails at the pool, then a two-hour couples spa afternoon. Then, we apparently had to get ready quickly for dinner and I'm thinking it's because he's surprising me with a photographer as I told him that I wanted professional pictures while we're still in our prime since he's going to wait until I'm 80 to propose. So we get ready and he puts on these very nice shoes I gifted him the previous year for Christmas and I'm thinking something was certainly up since he has always said he only wants to wear them on special occasions. He heads to the bar to wait for me because he rushes me when he's just "waiting". At this point I'm very nervous and I was applying my mascara and when I'm nervous I tend to put on too much mascara so while I'm trying to be super careful there's a knock of the door. I answer and the concierge is there, "Are you ready, madame"? This time, I totally know something is up and hurry to finish getting ready as I head out to meet the concierge on his golf cart. "Monsieur, where are we going" I ask as he replies "you'll see". We ride in the gold cart and he brings me to edge of a cliff, and underneath an archway of jasmine there Stuart is in a full suit with the shoes I bought him standing in the "Chef's Garden" overlooking the vineyards. I walk up to him, he spins me around, gets down on one knee and says "I've loved you since the moment I laid eyes on you, will you marry me?" :).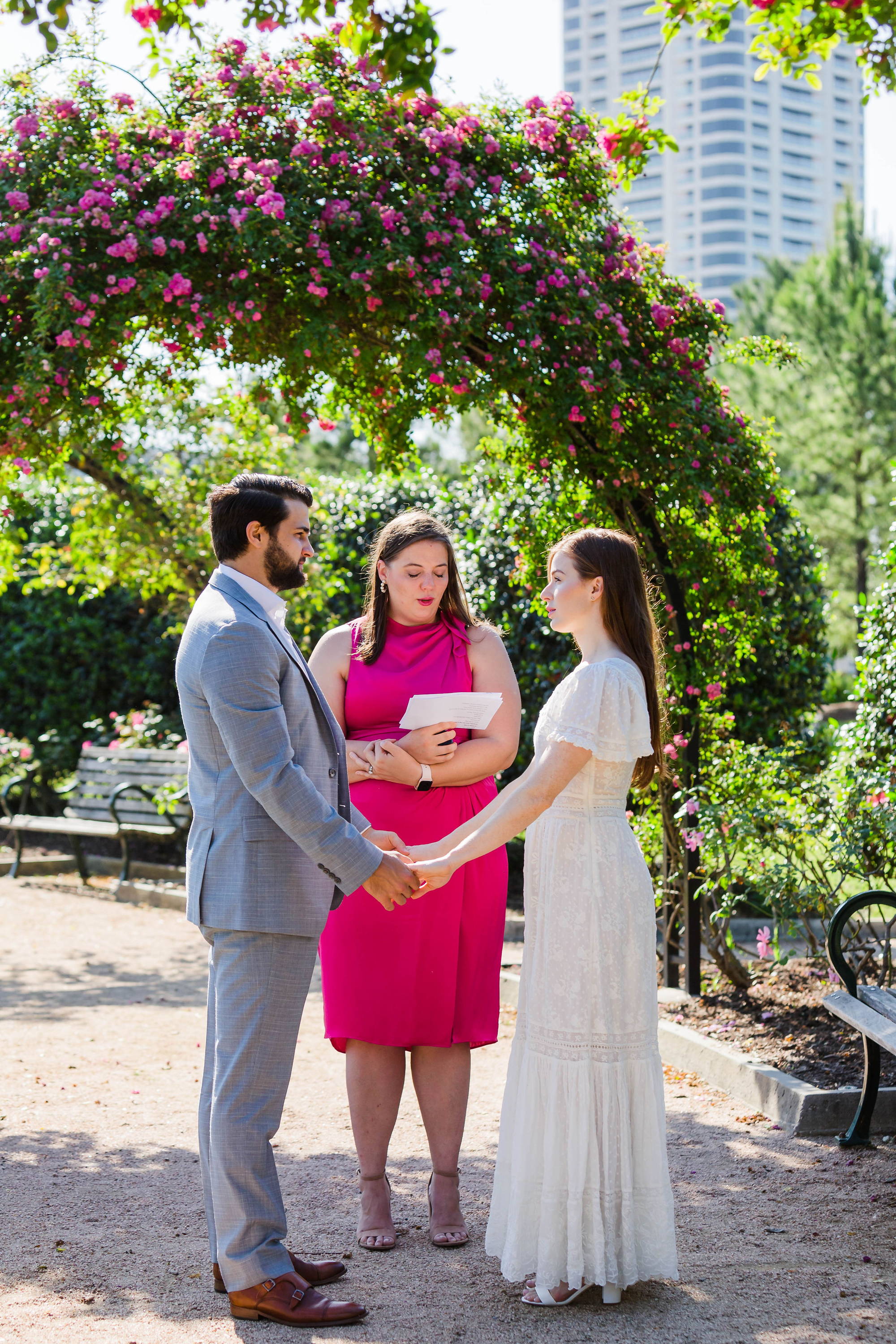 Did you have a first dance and what's your song?
No first dance. We had one planned and it was "La Vie en Rose" the Louis Armstrong version.
How did you plan your wedding during self-isolation?
Our initial wedding was scheduled for May 8, 2020 at Austin Country Club with 400 people, a wedding we had been planning for year…had been cancelled. On 4/19 we decided we wanted to get married regardless, on 4/20 we realized that coming Friday was 4/24/20 and our favorite number/family's favorite number (it just seems to pop up with good things in our lives happen) is "42" so we declared that we wanted our anniversary to be 4242 aka 4/24/20! We called Jenny, our yoga teacher and my mentor (she led my yoga teacher training), who was always going to officiate our wedding and she way available and totally down to do it on our date! So, we went down that Monday to Galveston County to get our marriage license (the only place in Texas anywhere near Houston giving out Marriage Licenses). Then, I called my best friend Kaitlin, a wedding photographer here in Houston, who was initially supposed to be a bridesmaid and asked if she would be available to capture our special day and she was! Then, we wanted to go somewhere special (and safe) after our ceremony so we looked for a place in Wimberley, TX for a mini-moon and found a cabin to rent called Abundance Retreat. Two wonderful ladies, Tina and Shellye, also from Houston own it and gave us the greatest deal, that included the #42 magically in the price, and we knew that was the perfect place to escape to. Lastly, we picked McGovern Centennial Gardens in Houston which is filled with Roses, Lavender, a statue of Martin Luther King Jr. (one of my personal heroes), and many more aspects near and dear to our hearts as the location. Then, that Friday, April 24, 2020 we were married!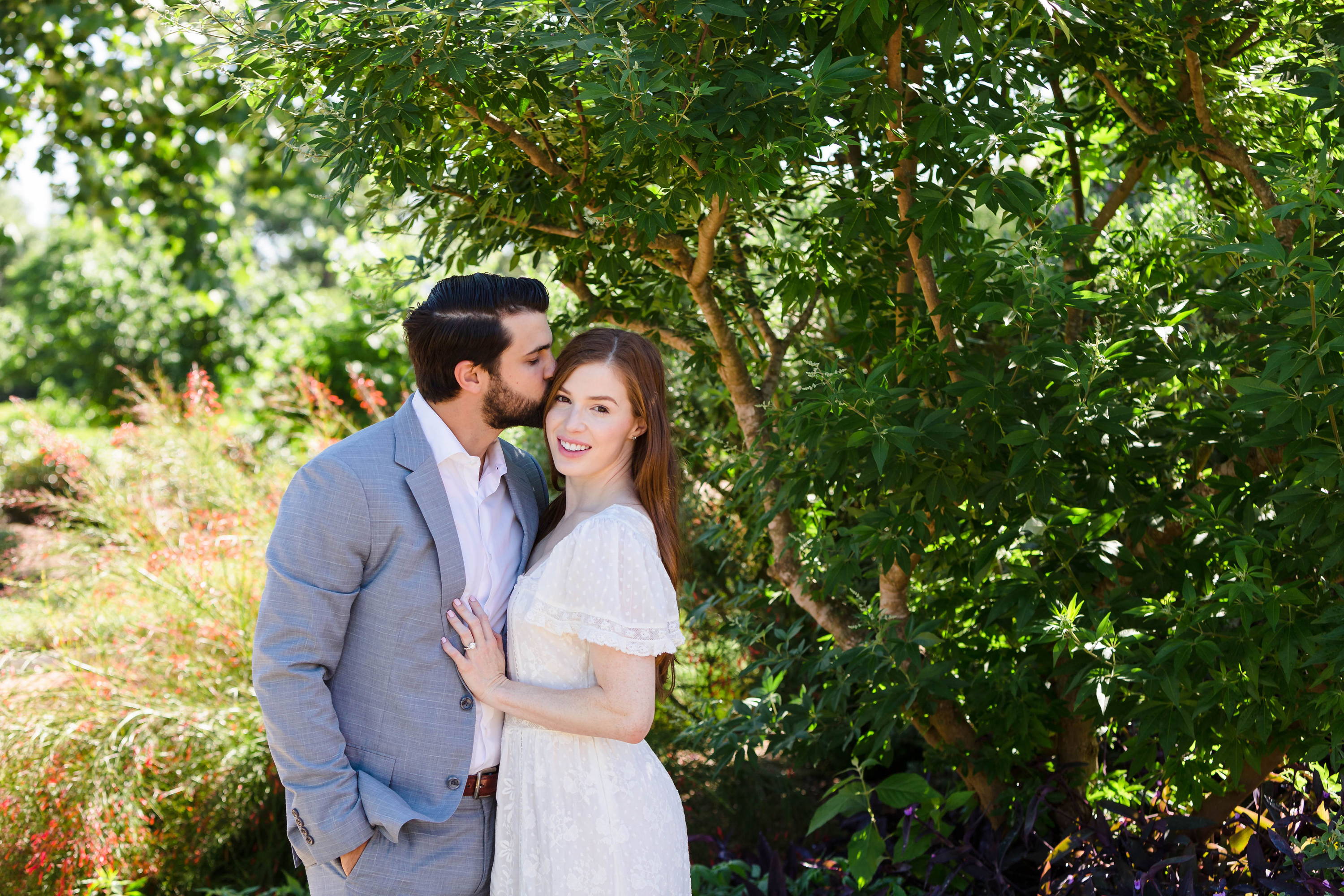 Something blue? Something old? Something borrowed?
The Aquamarine Stone earrings my grandmother passed down to my mother that my mother gave to me. Something old, borrowed, and blue.
Location?
McGovern Centennial Gardens in Houston, TX.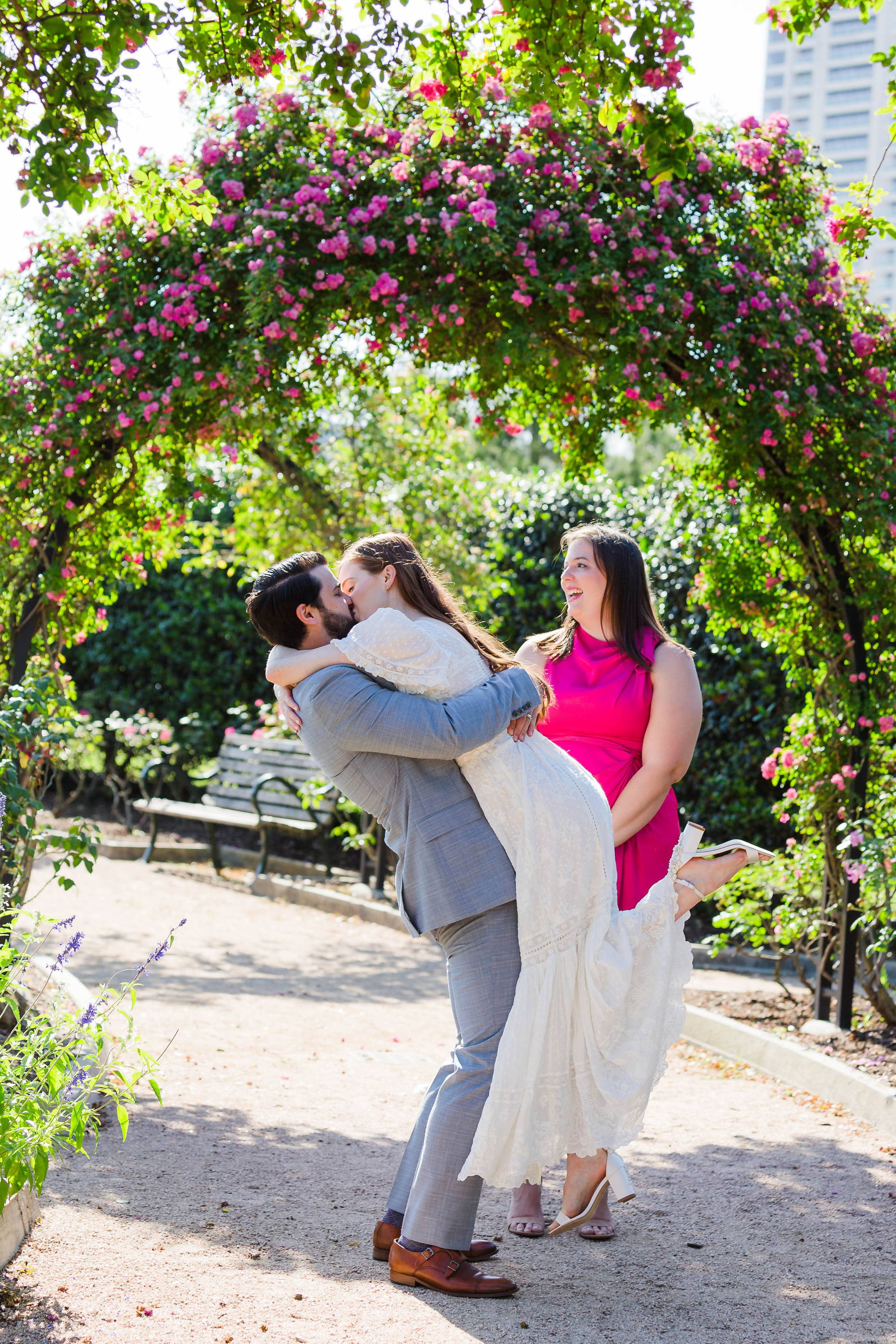 Date?
4/24/20
Special flowers?
Roses. My name before getting married was Samantha Rose Davis. Rose after my grandmother Rose Ireland.
Favorite most loved moment?
When our puppy, Piper, was able to join us for the photos and it was official. The three of us, a family by law.
Photographer
Kaitlin Saragusa