Writer, maker, florist, creator, and owner of The Bull Inn in Charlbury, Willow Crossley, is all things magic.  
Endlessly inspired, we asked this British beauty to share how she's been spending her days, the traditions she loves, her floristry tips for creating beautiful simple arrangements, and the perfect summery outdoor table. @willowcrosselycreates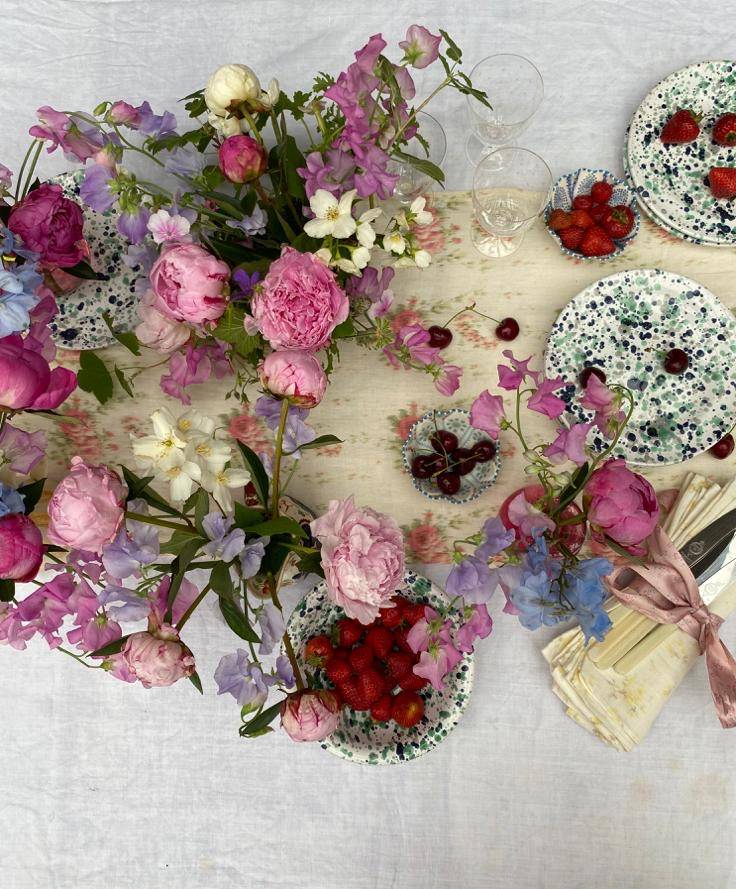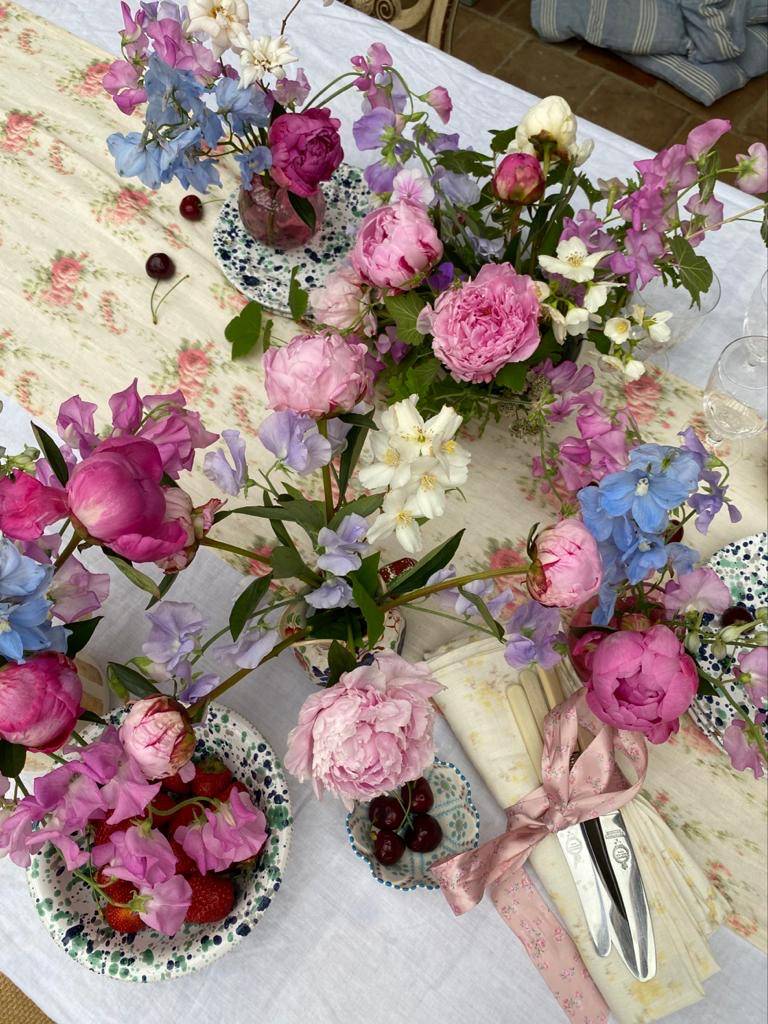 Inspiration is found...?
Everywhere! From the brilliant colors in a supermarket to the logo on a lorry, but mostly, in nature. My mind sparkles when I'm walking in the woods, tending to my garden, or going to the beach!
Have flowers always been a part of your life? 
Flowers are my first love and, for as long as I can remember, an essential part of my life. I grew up in Wales, and my parents have always been incredible gardeners, very inspiring.
Traditions you love?
These days I'm finding myself gardening (although relatively new to this), being outside, walking in the woods, dancing, and eating. While my husband is the cook in our family, I bring the ideas; I'm mad about recipes and spend hours reading cookbooks. Plus, love beachcombing, interiors, and creating, be it a room set, a flower arrangement, or a table setting.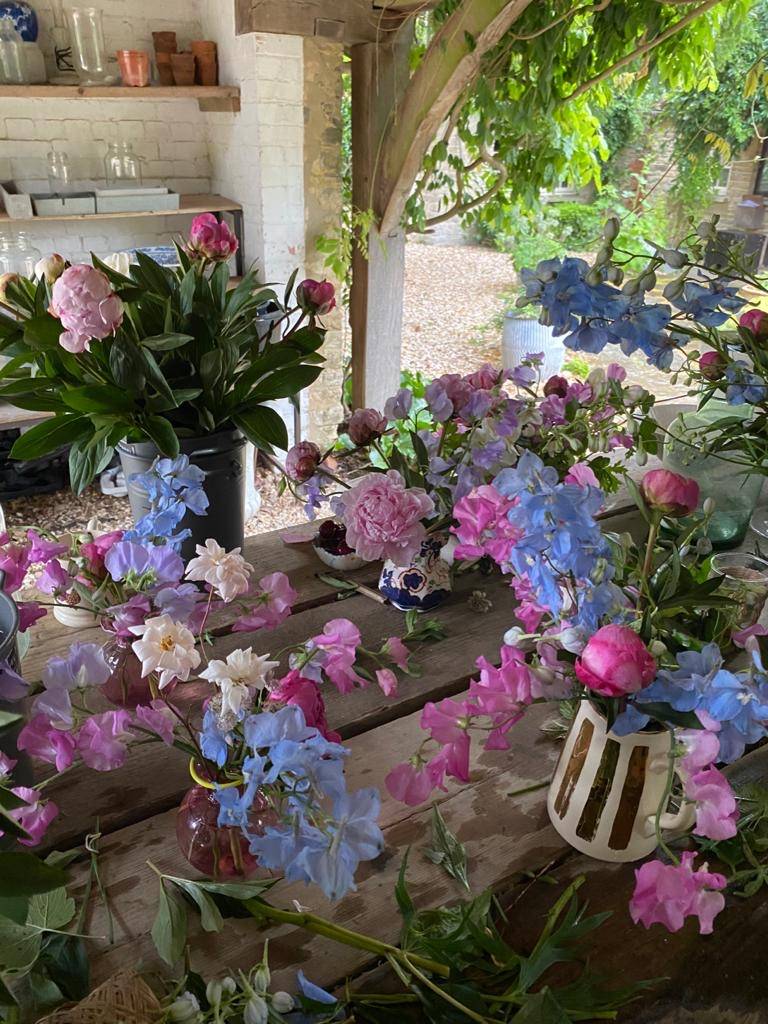 A daily ritual?
I walk every day for a good hour.
Concept behind your latest book, The Wild Journal?
I struggled with postnatal depression when I had my boys and noticed that there were lots of things, all nature-based, that really helped. I wanted to share the things that had helped me in the hopes that it might help other people too.
Entertaining during this time? 
We're doing everything outside when it's sunny—picnics on rugs, and bbq dinners. I've really missed having people over, so now that we can, I'm going over the top with my tablescapes out of sheer enjoyment and excitement.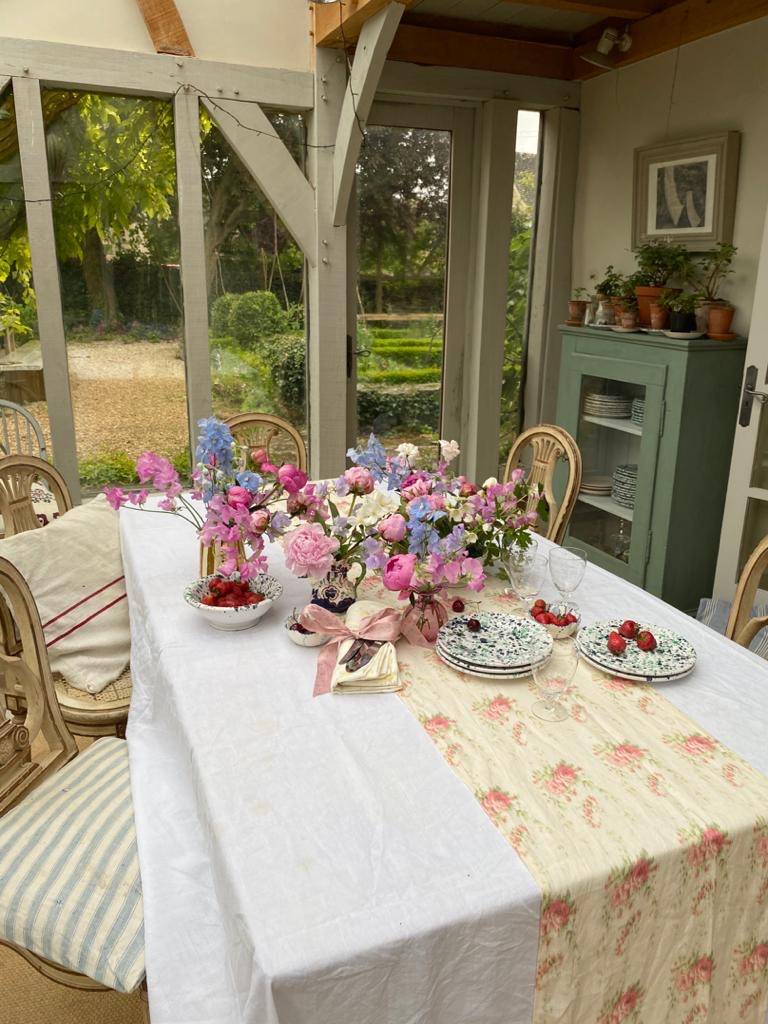 Tips To The Perfect Tablescape: 
1) Play with flowers.
For example, with tulips, peel the petals backward to create a whole new flower. This is called reflexing, and totally transforms simple supermarket tulips into something fancy!
2) Mix your buds.
Here, I have an eclectic, dynamic mix of color and styles including roses, delphiniums, peonies, philadelphus, and sweetpeas. The roses, philadelphus and some of the sweetpeas are from my garden.
3) Consider the location.
Bud vases are small and wonderful to dot down tables, and big arrangements are better in larger spaces rather versus a dining table where they may block the view of your neighbor!
4) Casual or fancy.
Set the table according to the occasion. For a casual lunch, I might tie the napkins and cutlery together with a beautiful ribbon and leave in a pile for guests to help themselves. Or, for a more formal affair, I'd lay the table properly, napkins on the side of each plate, and likely tied with ribbon as well. I have some fantastic Sari ribbon from India that I'm using a lot lately, and I'm loving having a variety of color and prints all together at the moment.
5) A perfectly imperfect table.
I don't like anything to look too neat or done. Vases are dotted down the table almost in waves, rather than a straight line, the fruit is sprinkled, candles in odd numbers...
6) The final touch.
No table is complete without flowers. Lots and lots of flowers!