Our First Ever True LoveShackFancy Same-Sex Wedding
When my best friend and forever creative collaborator, Dean decided to marry Nicholas, the love of his life, together with our favorite boys, we hosted a beautiful and intimate ceremony for our closest friends and family in true LoveShackFancy fashion.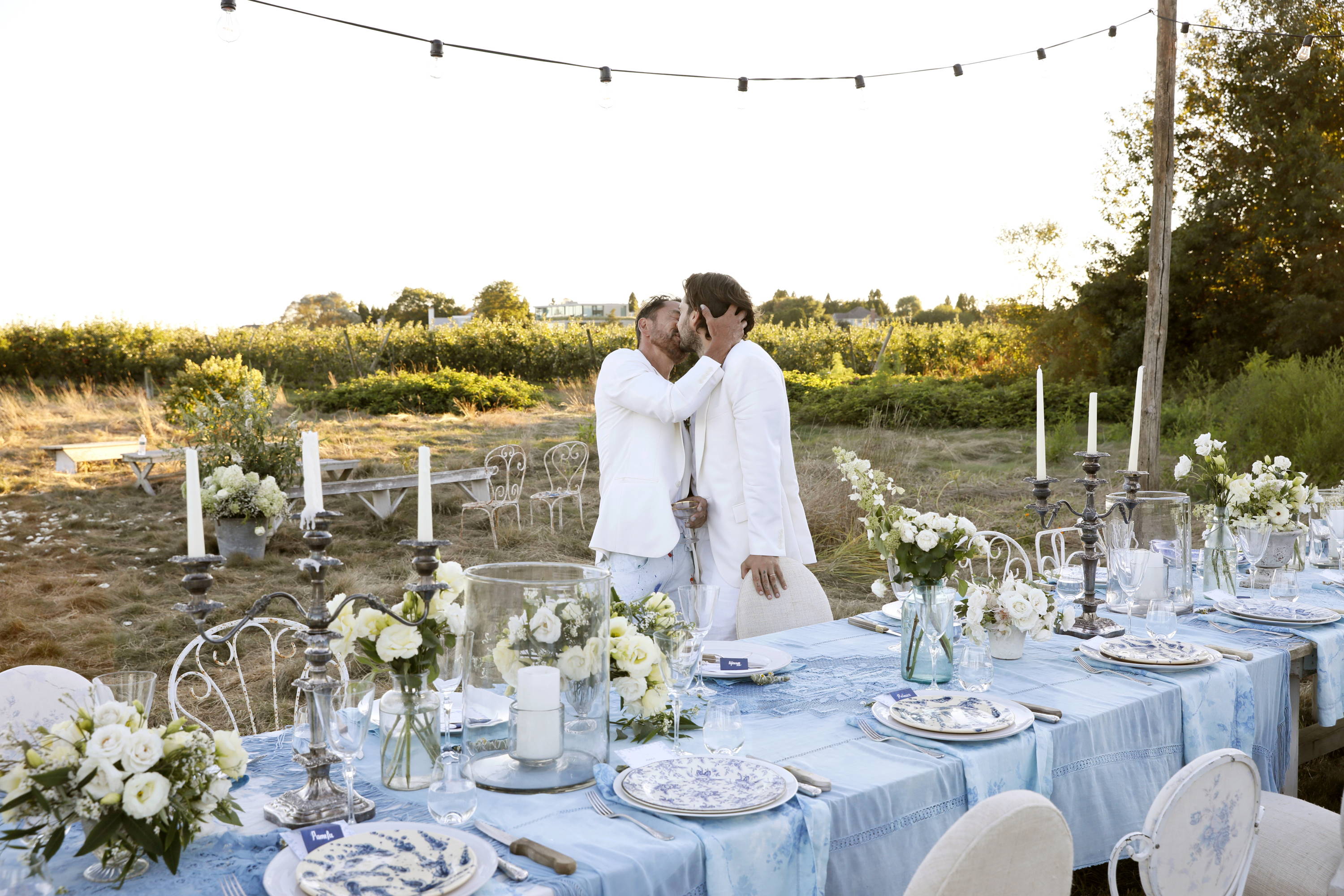 After canceling their first wedding because of the pandemic, we last minute planned a full LoveShackFancy gorgeous wedding and ceremony because love should never be postponed.  
Set in the enchanting garden of my parents' home, the heart and soul of our family, where Todd and I got married and recently renewed our vows. Join us as we reminisce about the unbelievable magic celebrating the love and passion of Dean and Nicholas.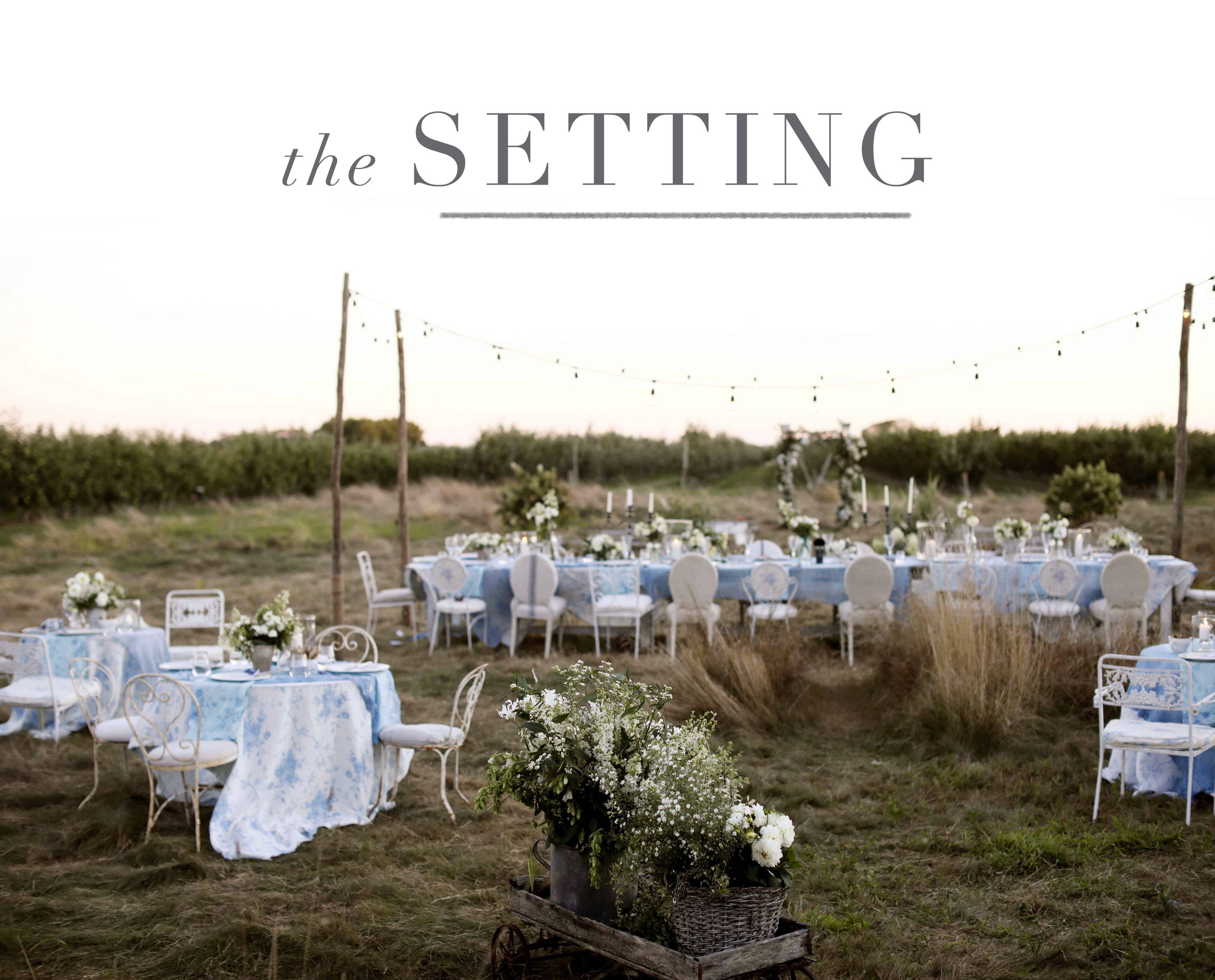 The evening began under the turn of a century pear tree with a hanging vintage chandelier wrapped in white roses, wildflowers, and vines. Under the impressive fixture, an iron French marble table with vintage indigo hand-dyed mud cloth masks and hand sanitizer were available for guests upon entry.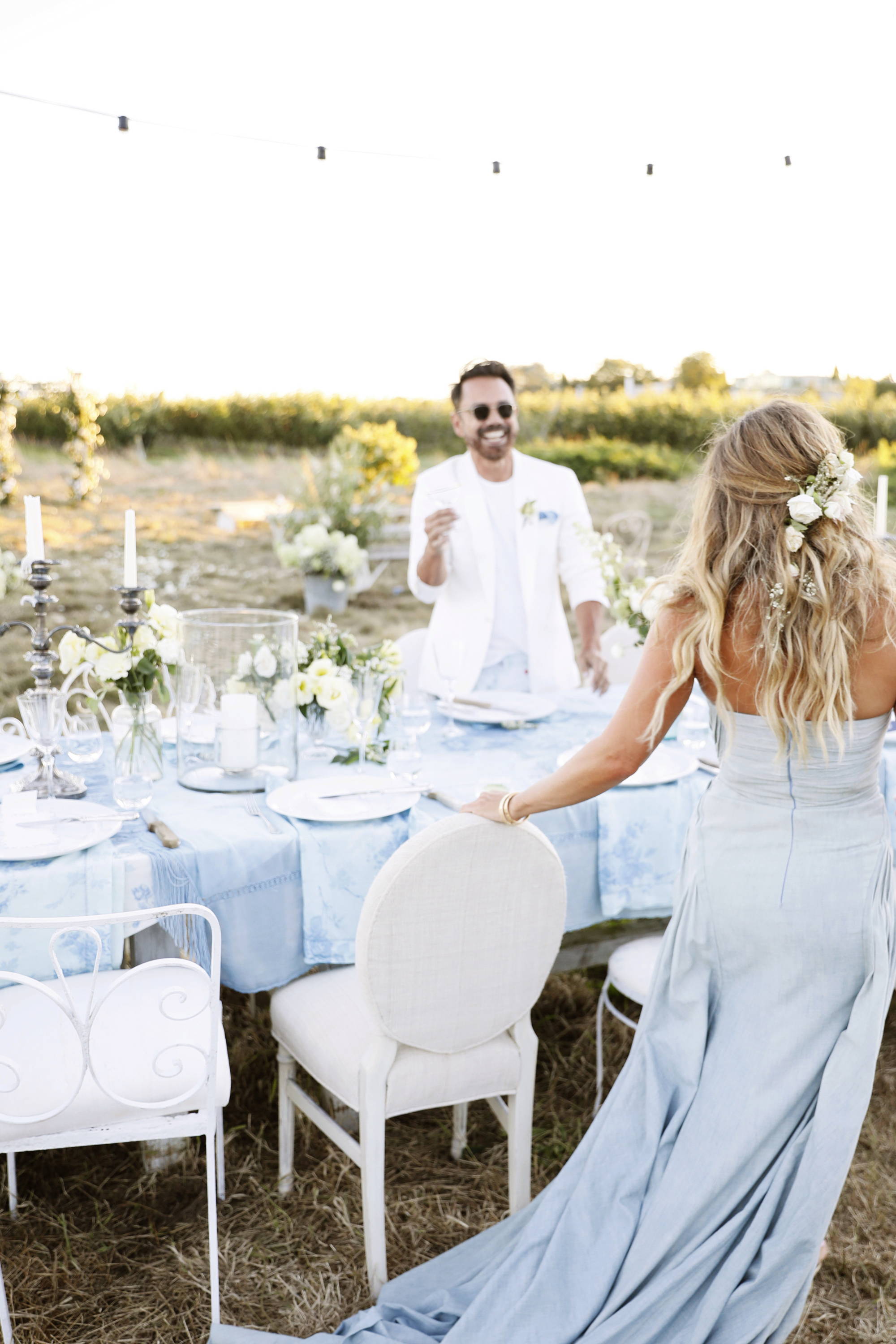 At a social distance, guests meandered over to our most beloved Dining Shed before the ceremony was set to begin. Inside, an elegant table was set with light bites and champagne, surrounded by understated arrangements of local flowers and white roses to complement the indigo and ivory theme. The flowers graced the table atop beautiful LoveShackFancy floral tablecloths, and hand-dyed lace runners with Nicholas' grandmother's wedding photo hung nearby.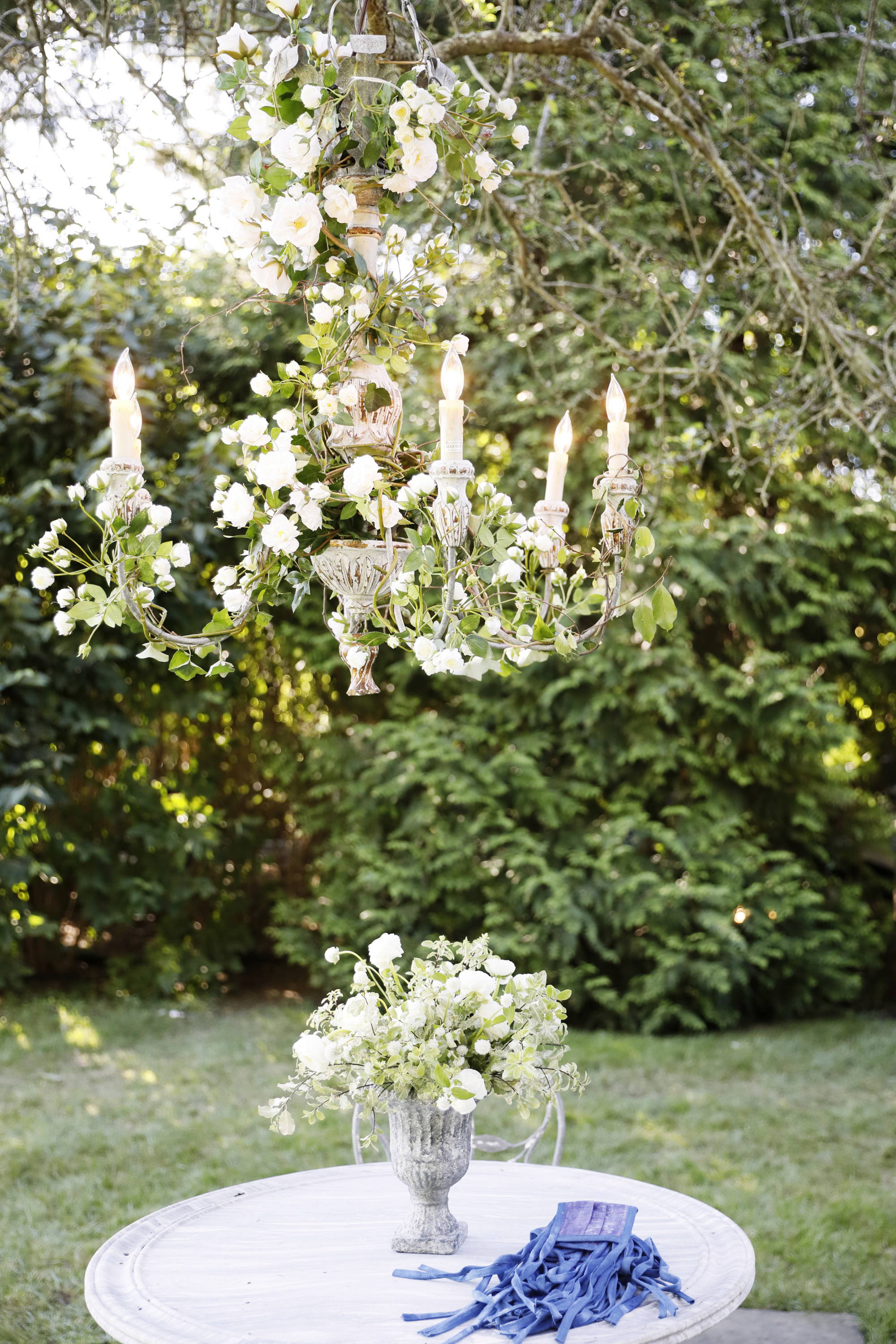 Beyond the shed, indigo and white tablescape stretched into the distance, surrounded by several smaller vintage English iron tables for tinier pods. Each table was adorned in over-dyed LoveShackFancy 'La Vie En Rose' floral tablecloths in Morning Grey accented with indigo dye vintage lace layers hand-dyed by my mom, the glue, the magic, and the inspiration behind it all, and Dean the day before. Each setting unique with antique silver candelabras, mix and match place settings with artisan plates from Paris, one of a kind antique china, silverware, and topped with a ribbon-wrapped sage. The menus were hand calligraphed, the napkins, placed perfectly-imperfect.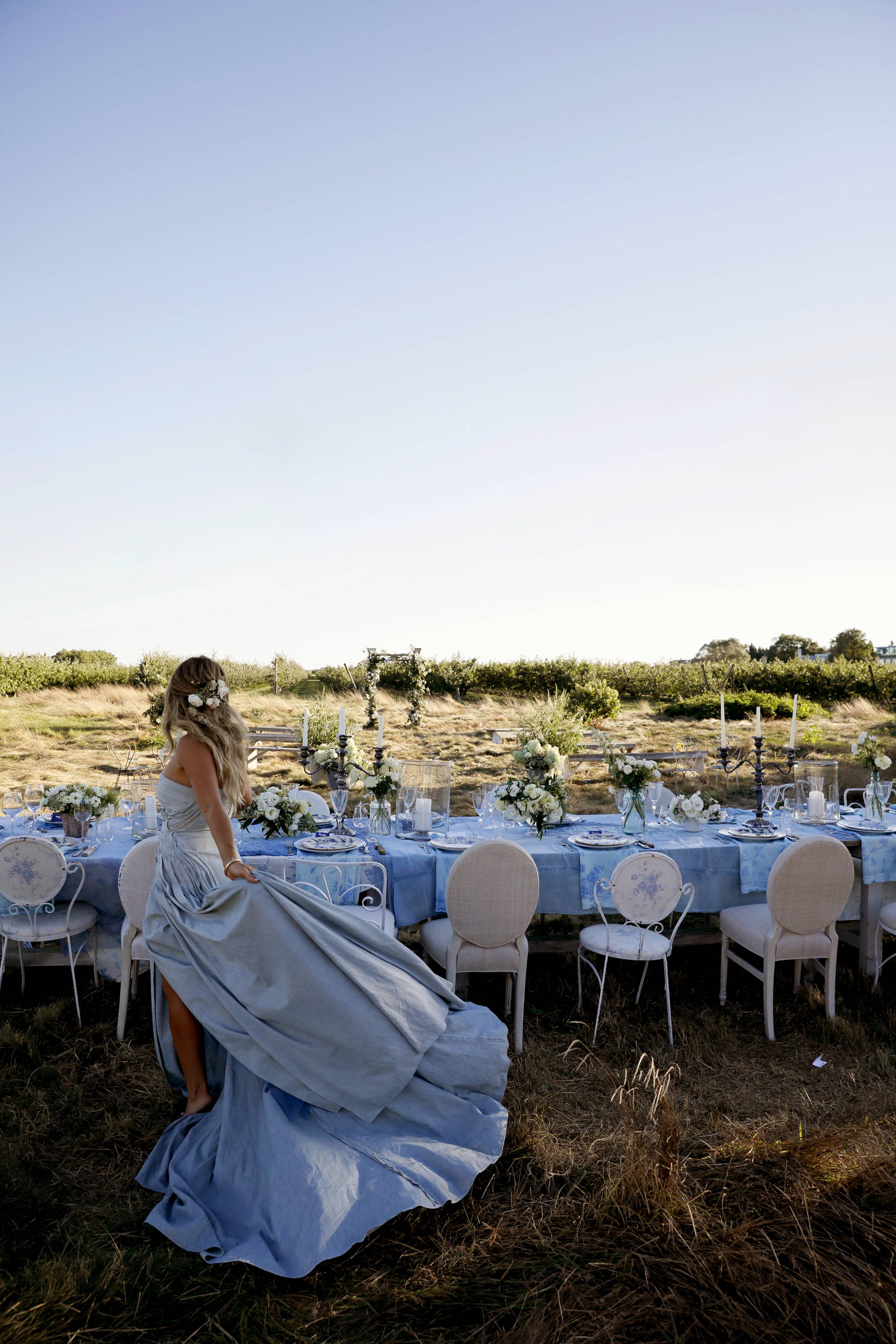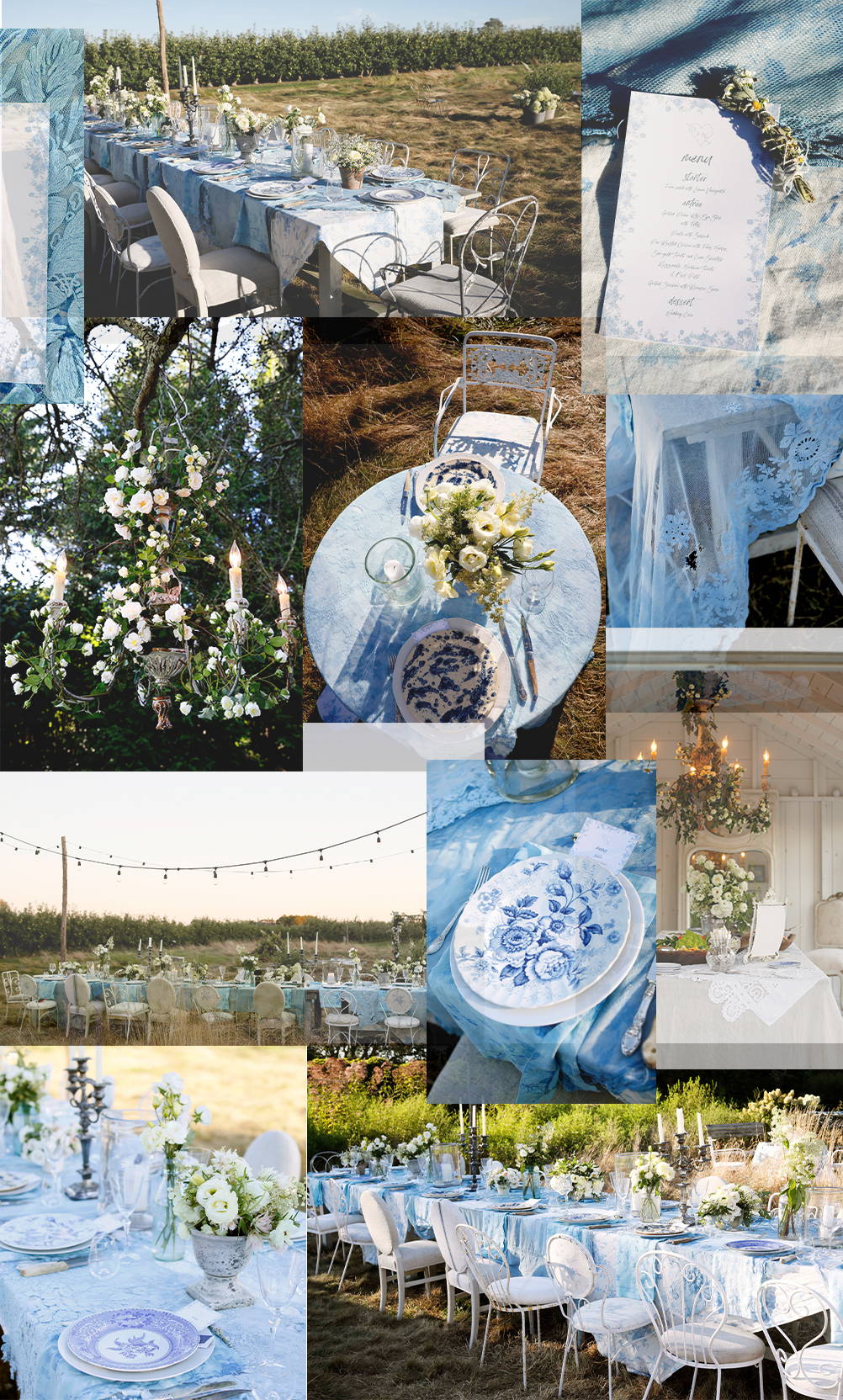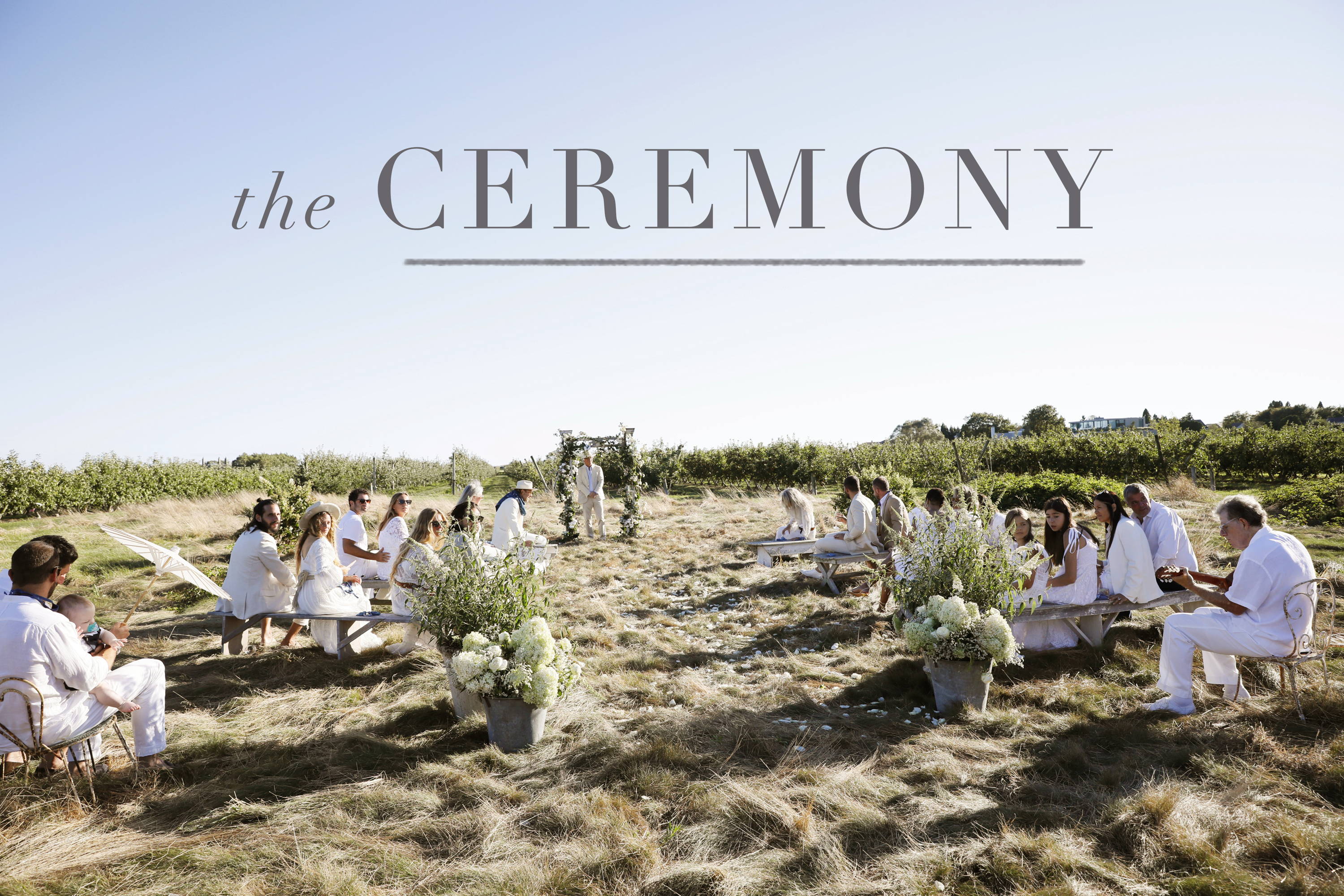 Just as the afternoon sun set across the apple orchards, the ceremony was timed to perfection.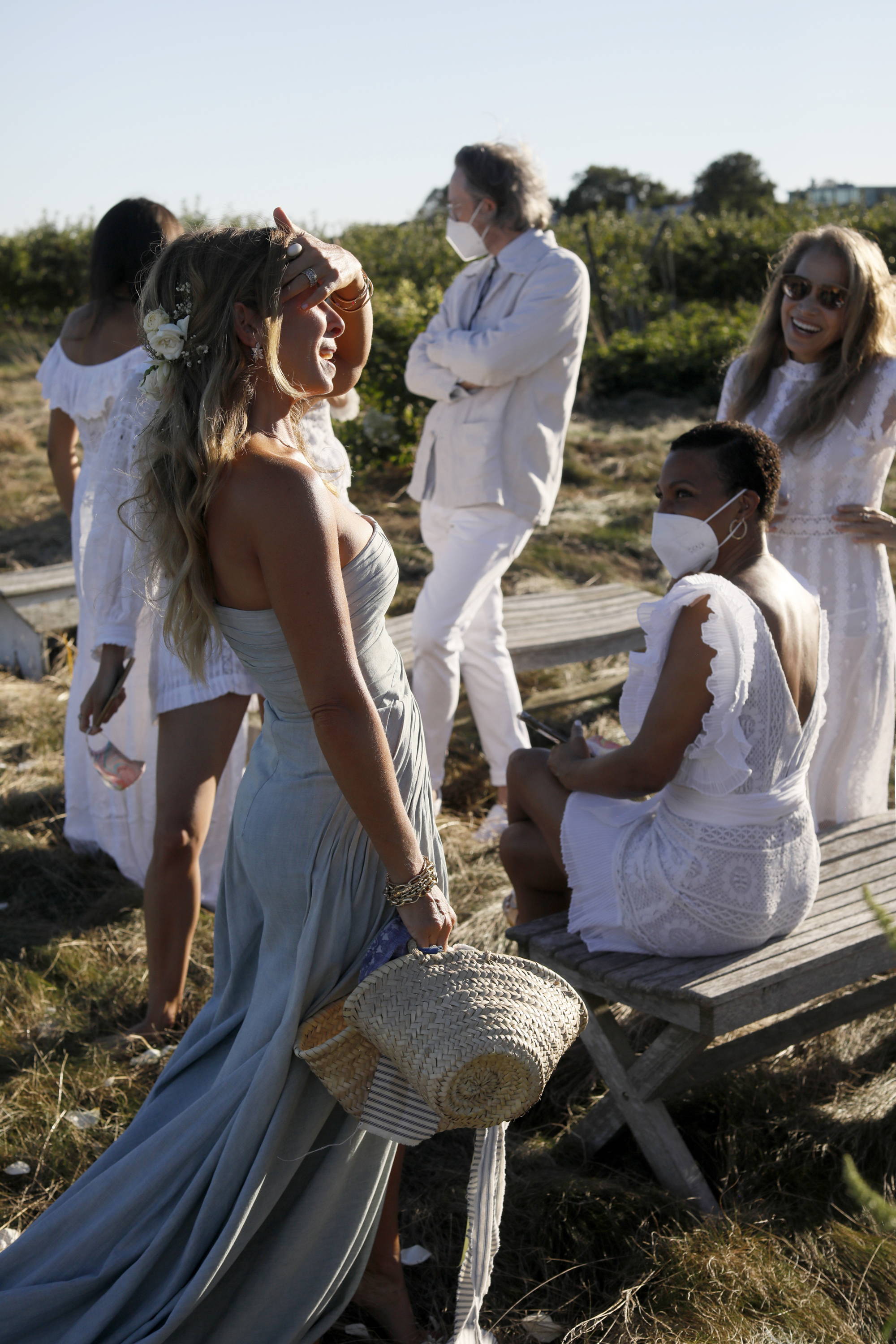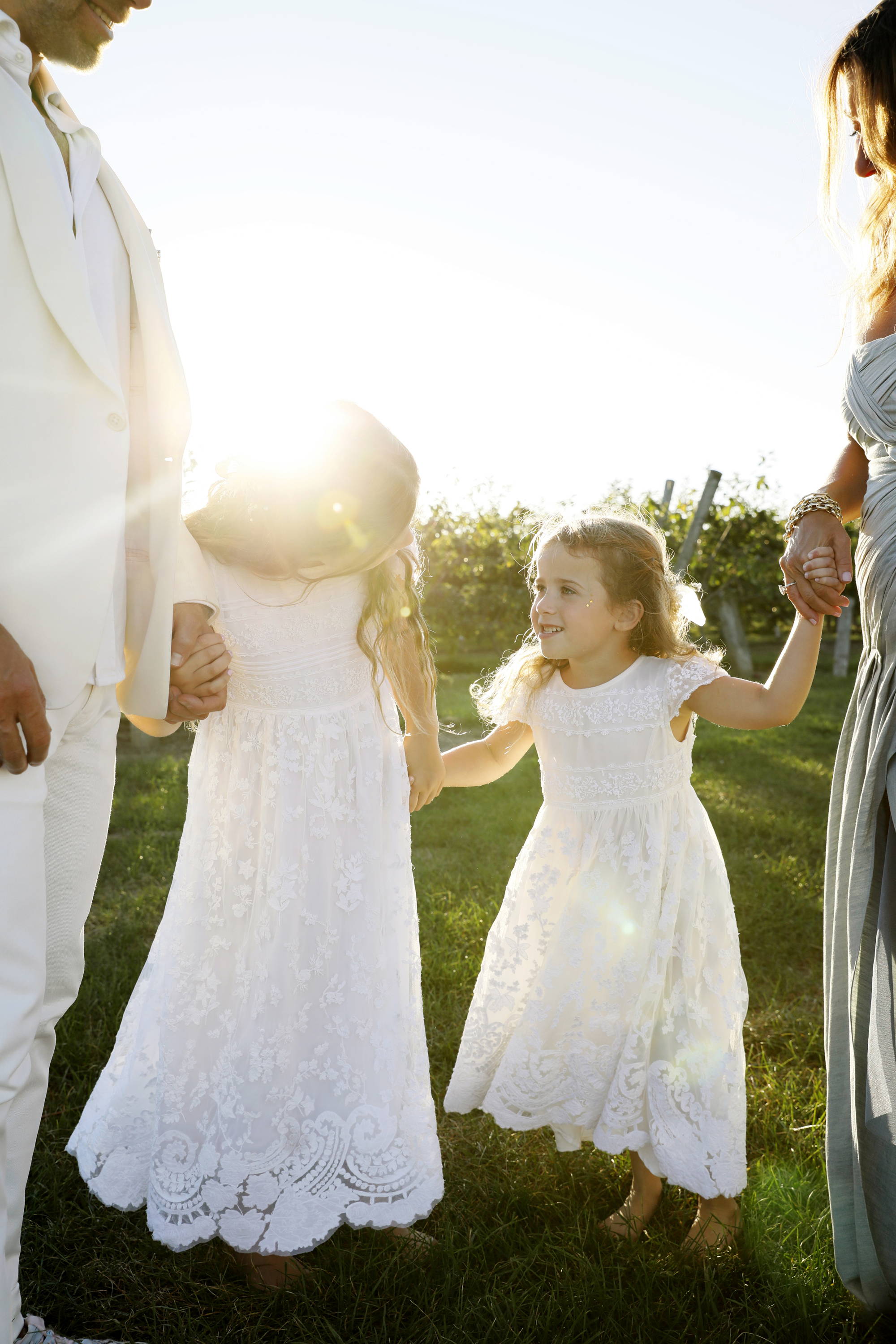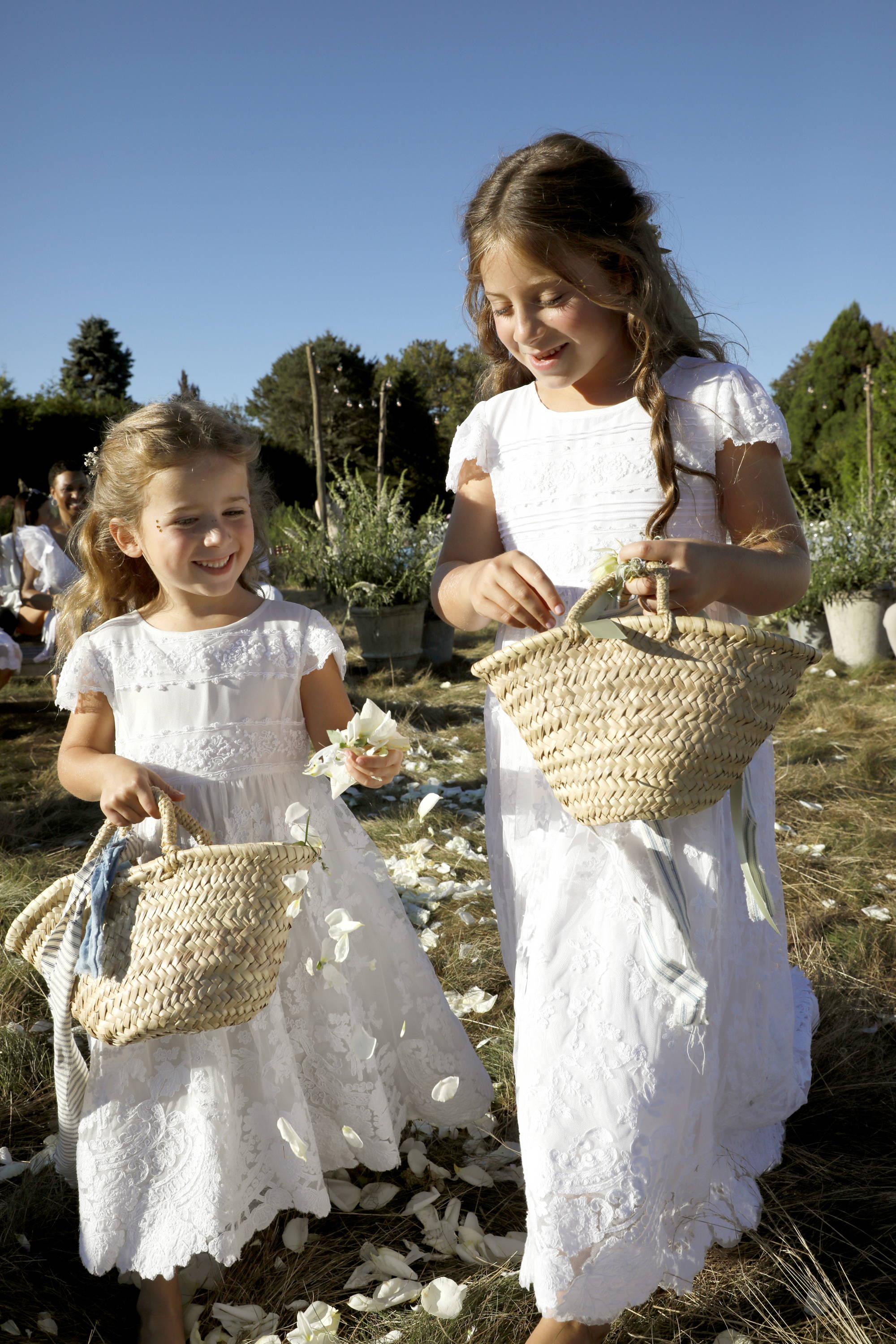 Held under an antique rose-covered arbor with nothing but golden light stretching out into the horizon, the boys walked from the house to the prairie field to exchange their vows. Led by our sweet little flower girls wearing LoveShackFancy white lace dresses with rose petal filled baskets and flowers in their hair, I followed them down the white rose petal covered aisle wearing the most stunning vintage indigo Ralph Lauren collection dress. The boys trailed after with Luca Belle, their Great Pyrenees–and–Spanish Mastiff, while Todd's dad played sweet melodies on his guitar. Both Dean and Nicholas wore white Gucci tux jackets styled in their own special way: one less traditional with hand-painted splatter pants and a tee while the other, more classic. Each with a flower boutonniere and indigo handkerchief. Papa Michael officiated the ceremony, and the boys read intimate vows to each other.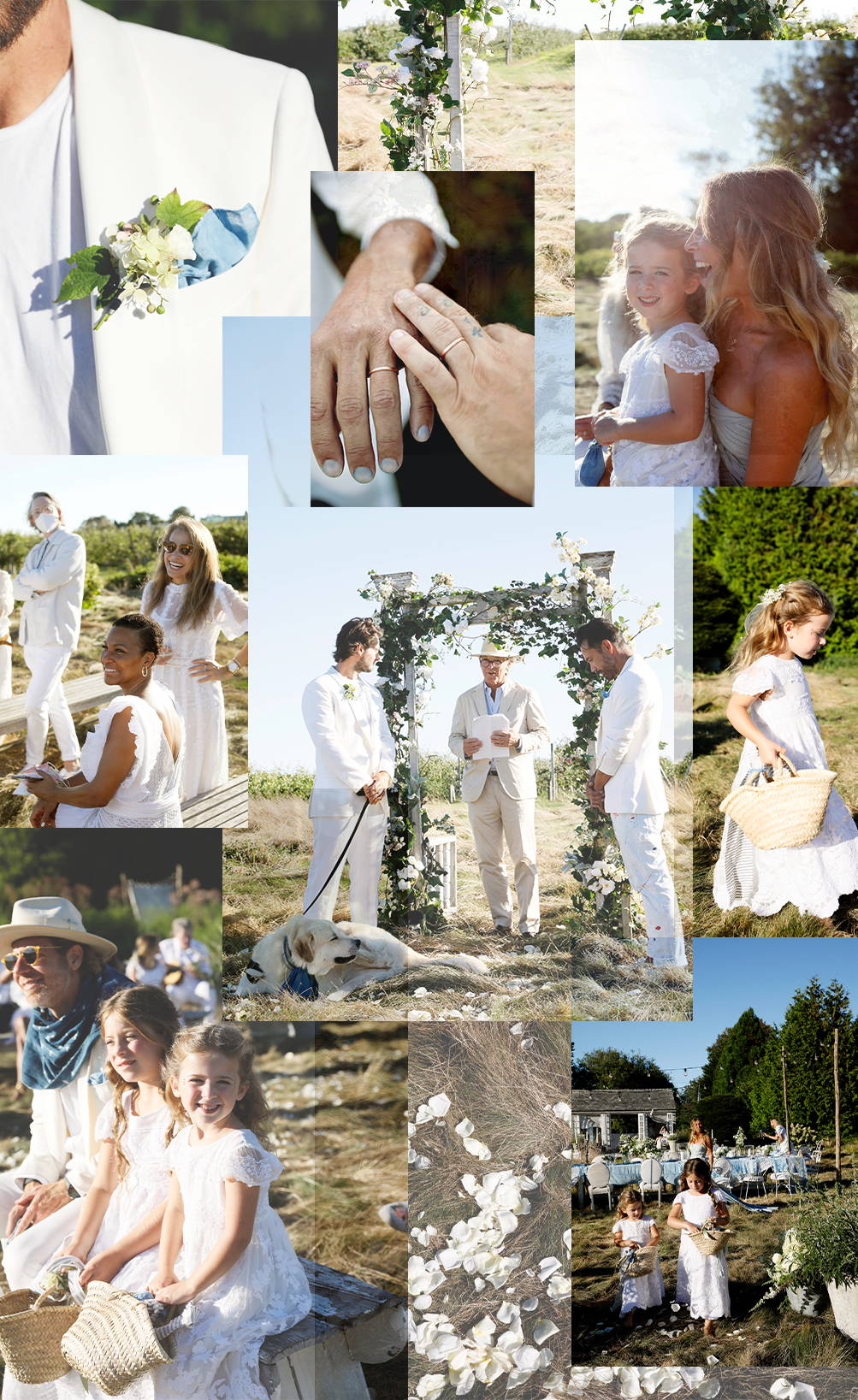 To avoid group seating, we created several small bench moments facing the arbor so each family could gather comfortably to witness Dean and Nicholas' love.
"We were always meant to be married; it was clear from the start. Nicholas stepped right in with my New York family in a way that was so nonchalant and effortless."
- DEAN -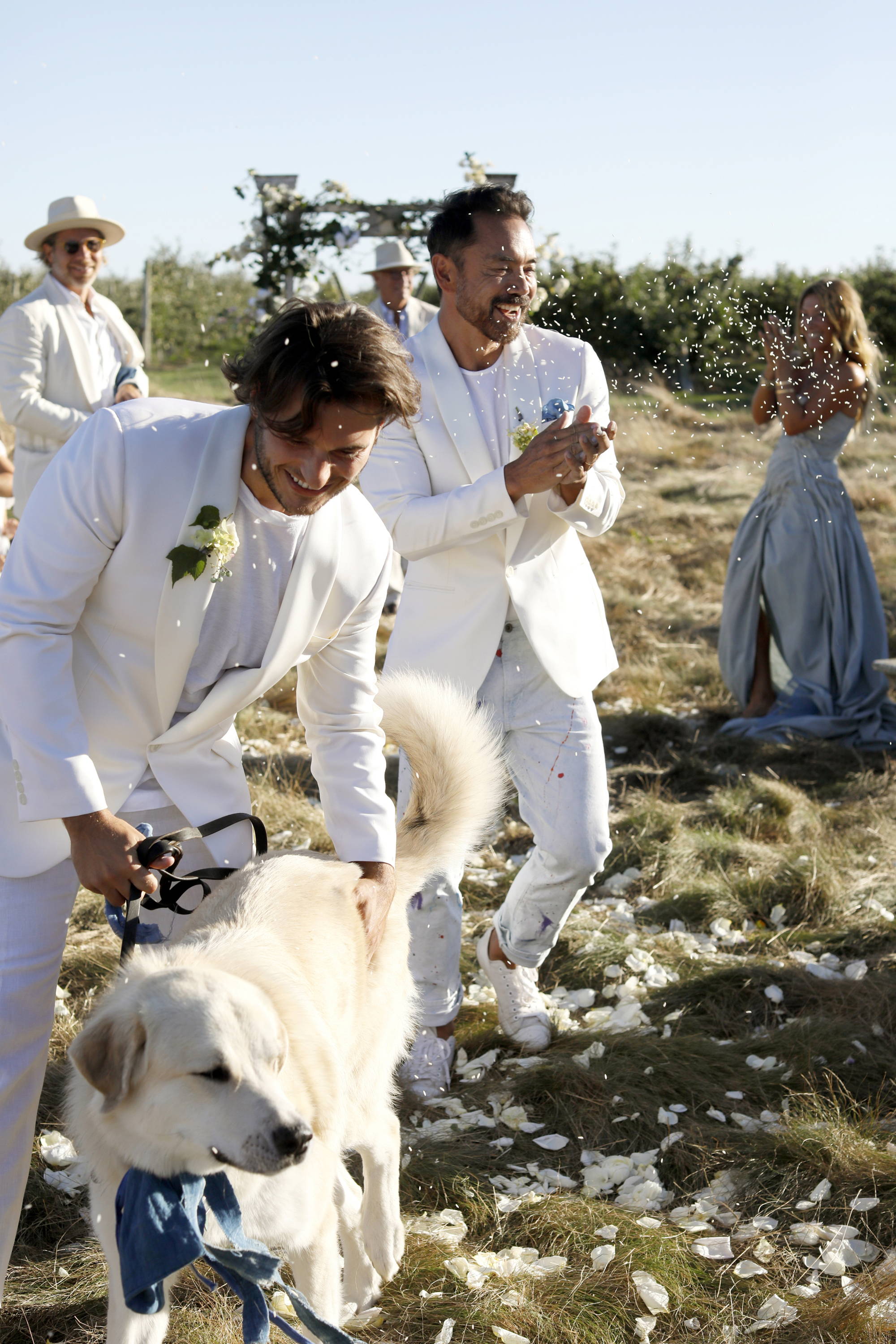 The boys pared back the guest list to only include our closest friends and pod. Those who couldn't be there in person were invited to join by Zoom. Over 75 guests tuned in remotely to share the epic moment with us virtually.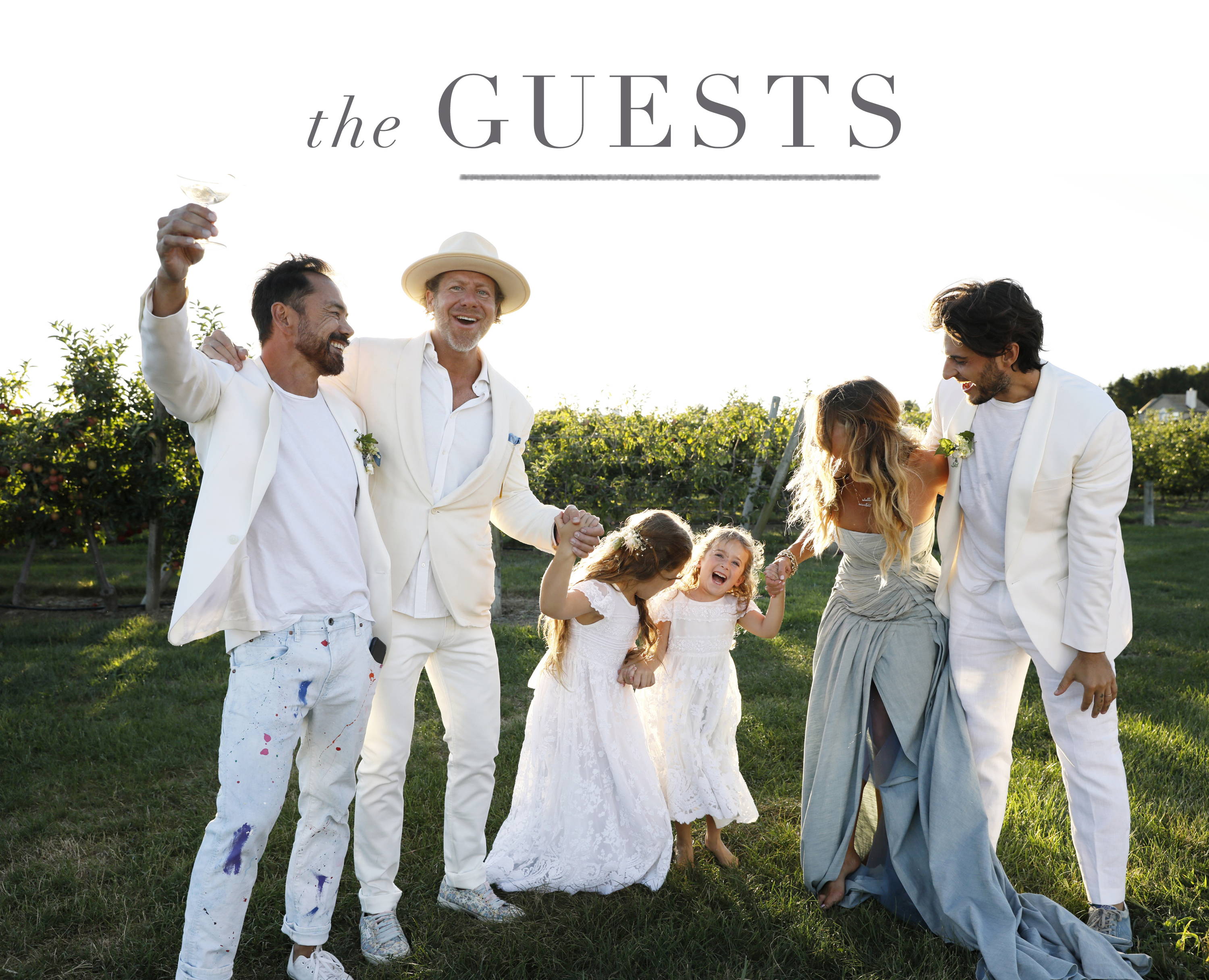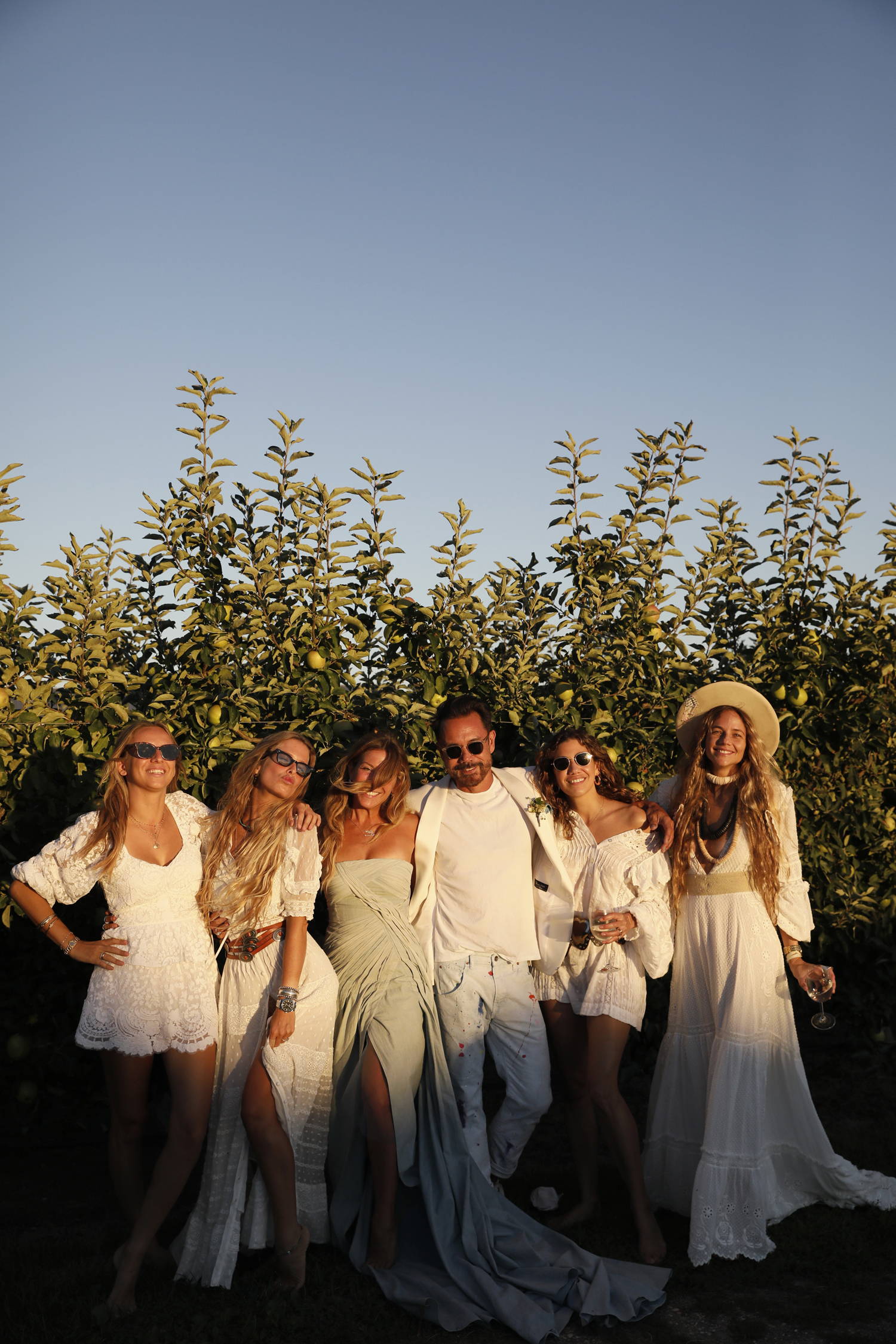 In attendance, friends that are family dressed in white, ivory, and lace for the ceremony, and later we passed out distressed indigo-dyed hoodie sweatshirts with embroidered letters "D+N" in a heart. The girls all wore LoveShackFancy bridesmaid and flower girl dresses, mixed with little LoveShackFancy tops, tulle skirts, and our Victorian dresses.
After the vows, champagne, and dinner, I changed into my most beloved era-inspired LoveShackFancy Viviana dress for dancing while Dean snapped portraits of our friends in front of a stunning make-shift backdrop hanging from a wooden beam.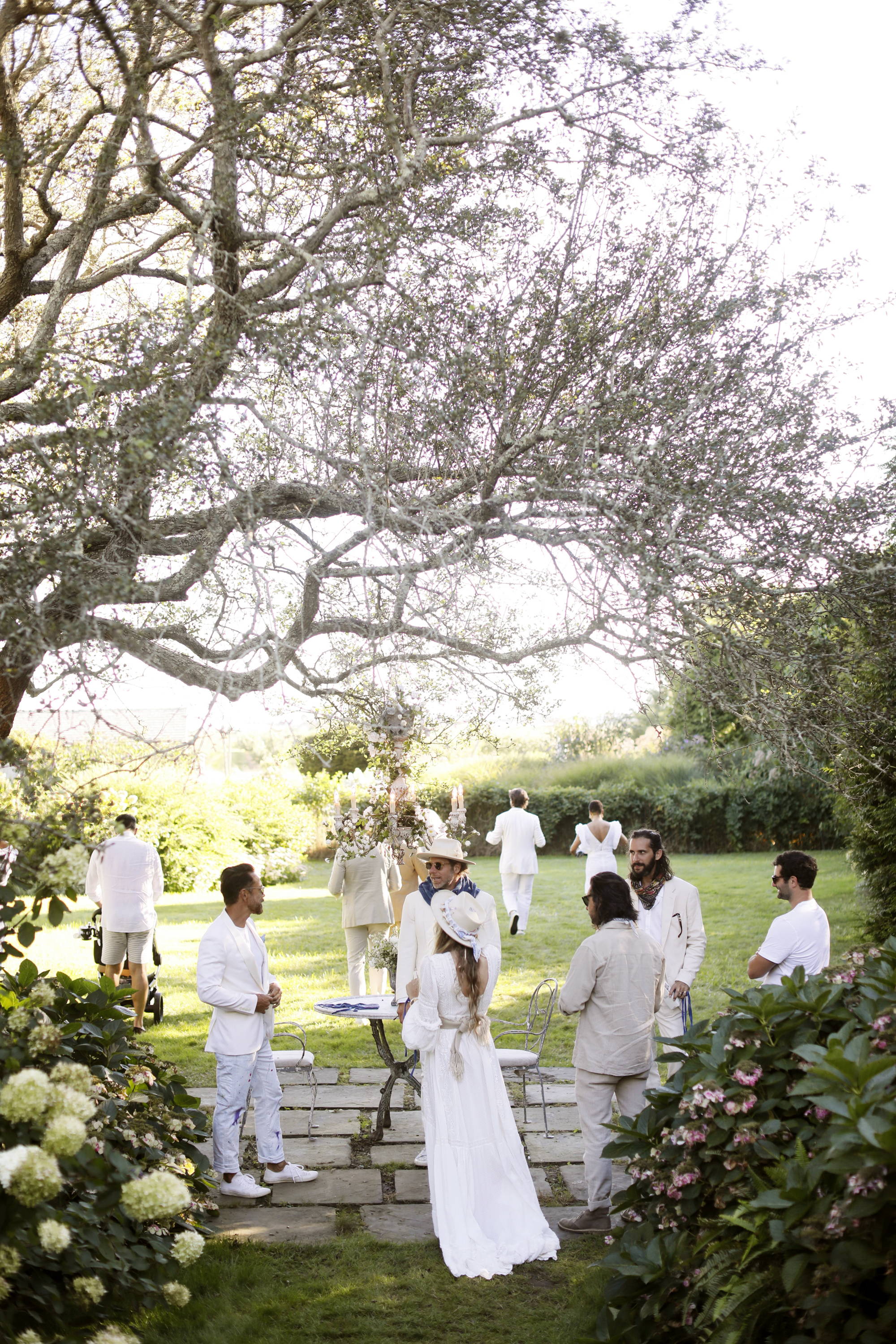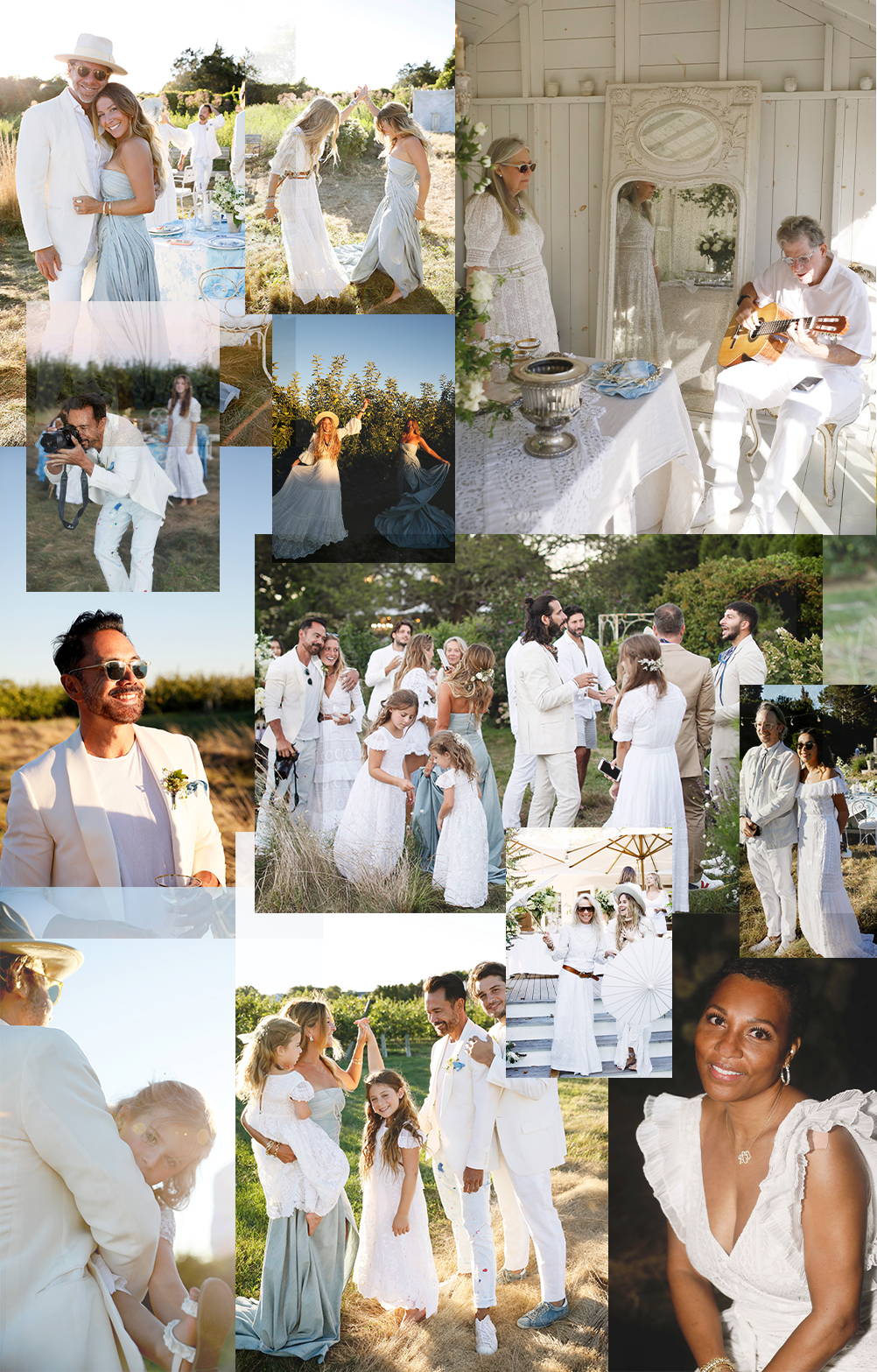 Surrounded by an apple orchard and centered in a field of wild grasses, just as the day turned to twilight, we served a simple spread of the boys' favorite dishes under the glowing full moon. Heartfelt toasts were made, tears were shed, and an extraordinary amount of love was felt around the table. As a surprise, our Loveshack girls, Scarlett, Piper, and Gaylin sang one of our favorite songs "The Bones" by Maren Morris. The song reflects the power of strong relationships.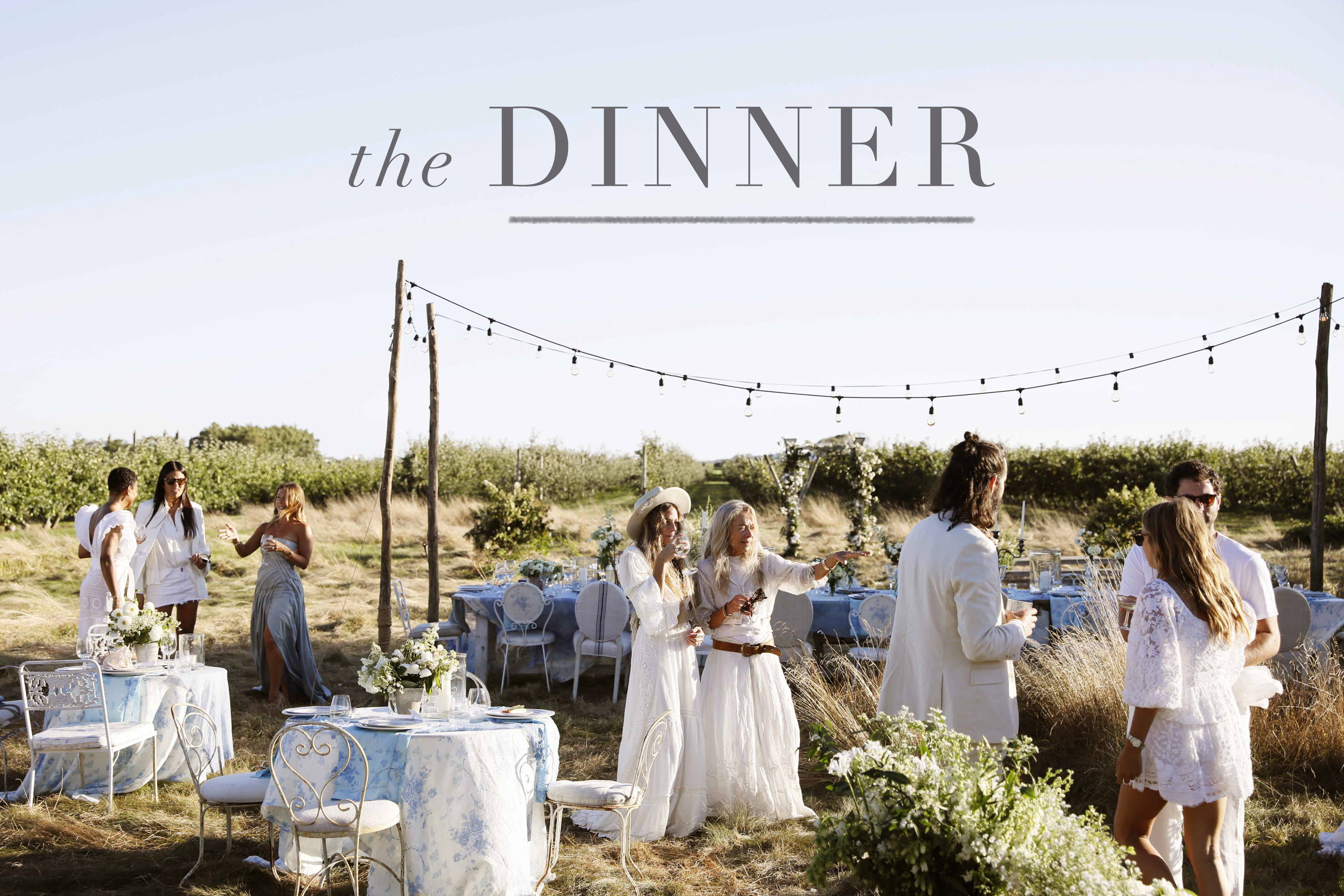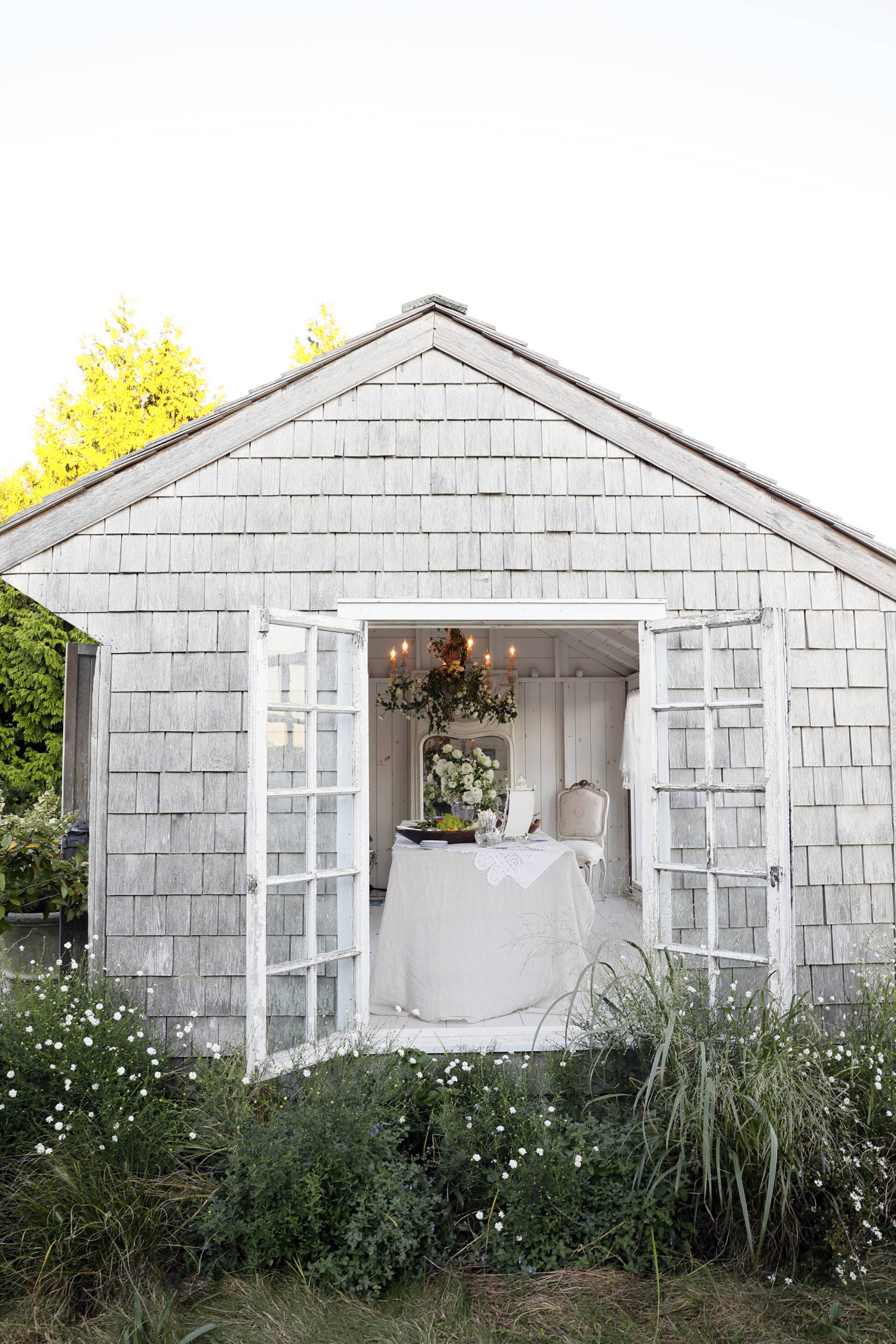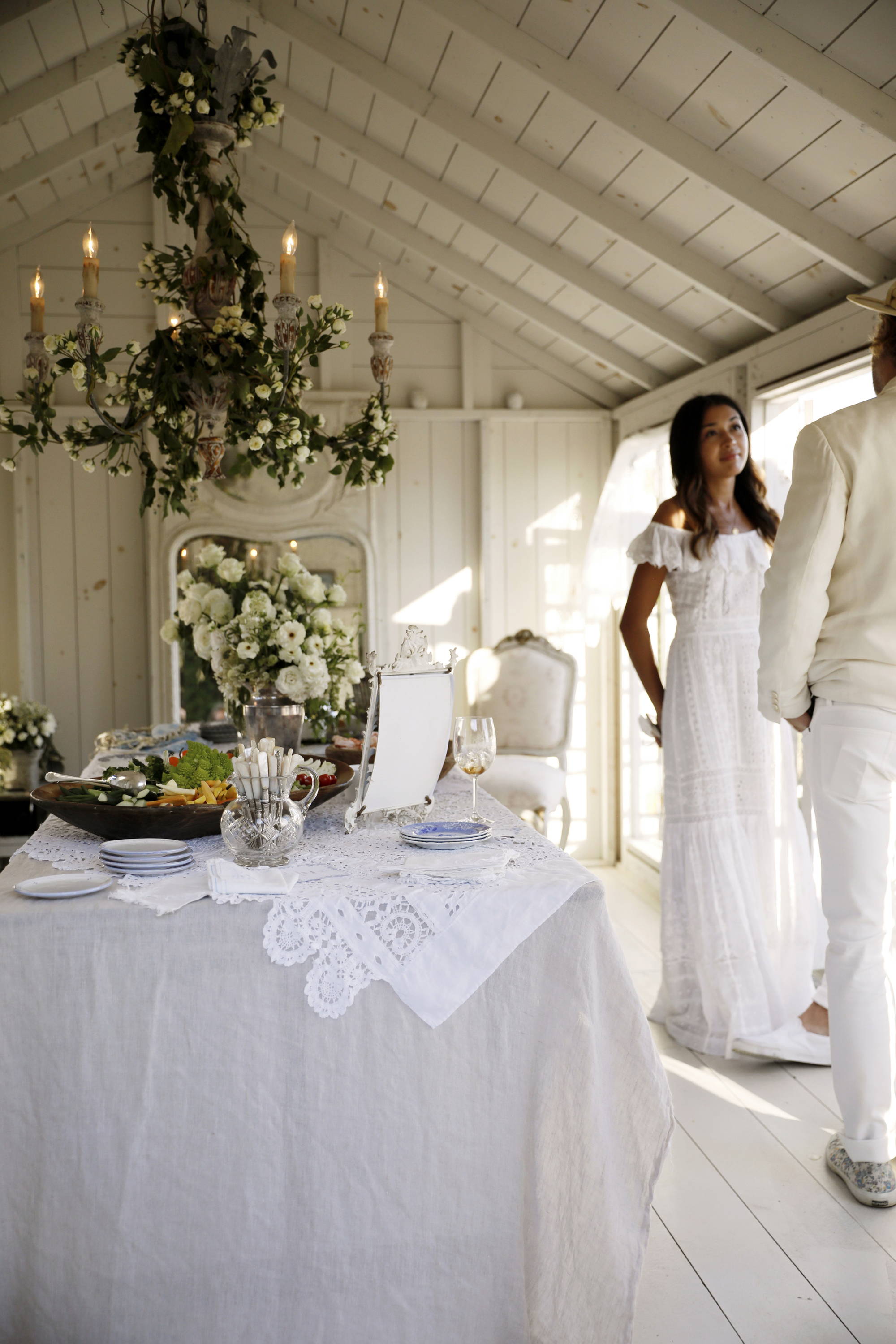 "When the bones are good, the rest don't matter. Yeah, the paint could peel, the glass could shatter. Let it rain 'cause you and I remain the same When there ain't a crack in the foundation baby, I know any storm we're facing will blow right over while we stay put the house don't fall when the bones are good."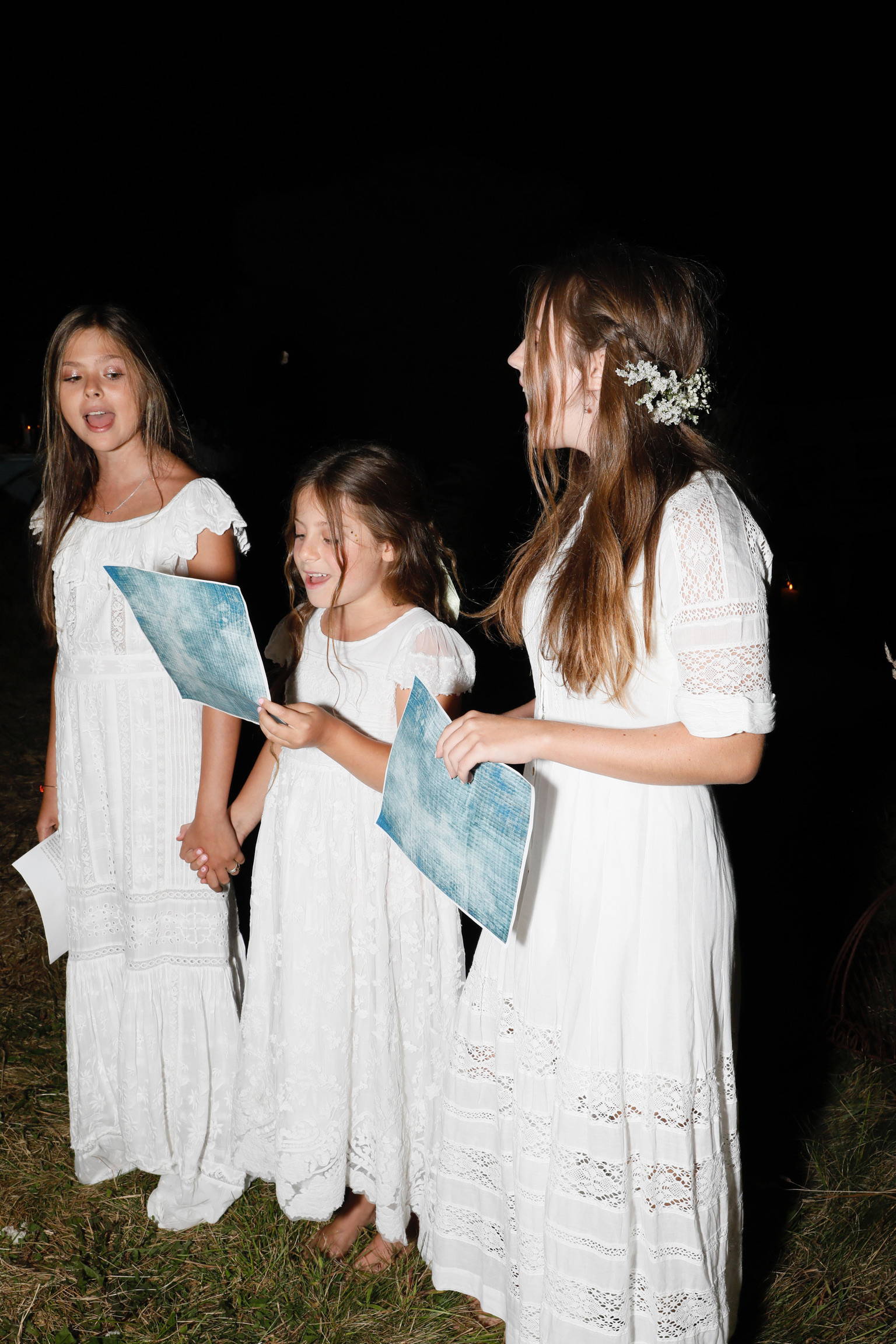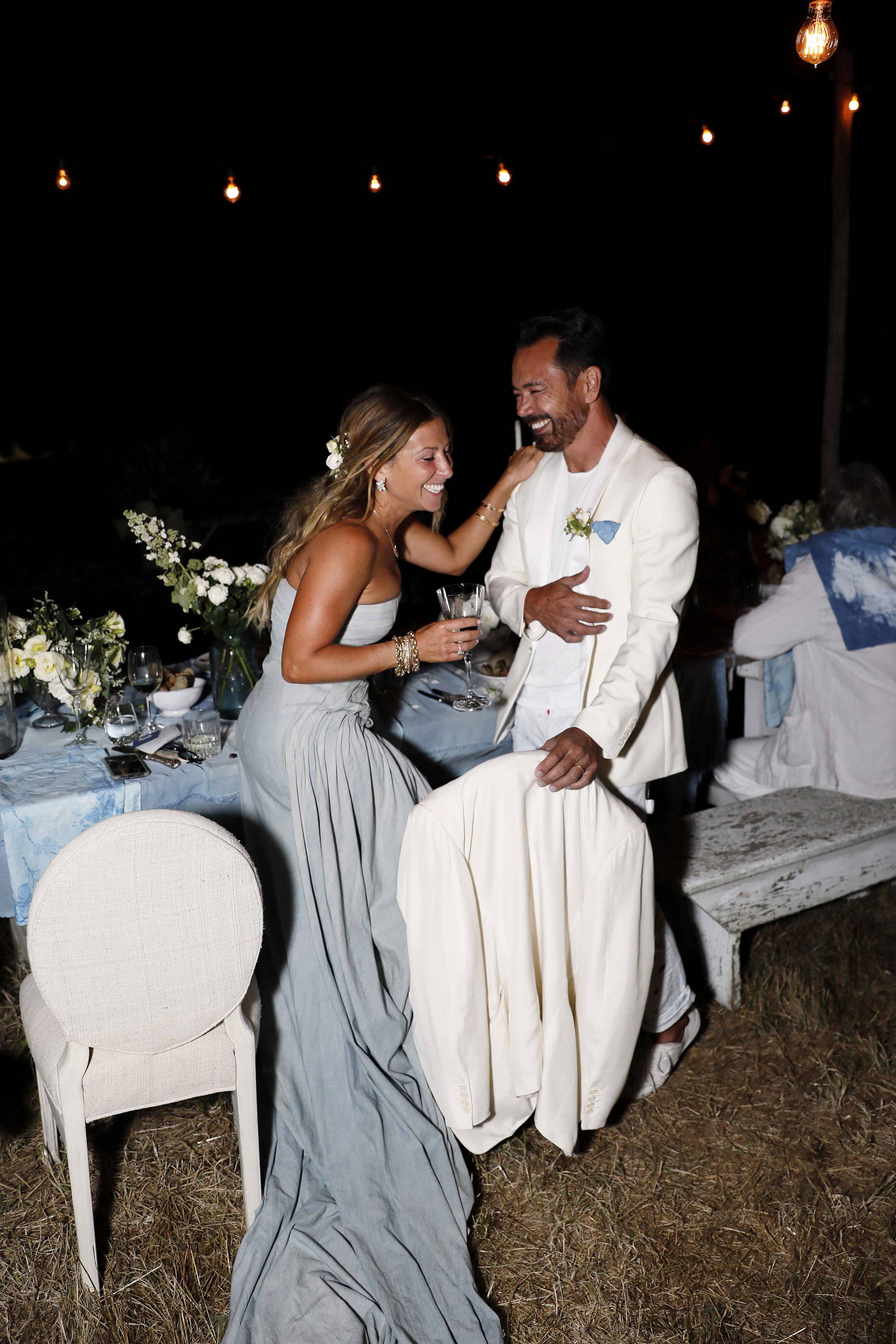 Tables were set with safety in mind with one long table for the LoveShackFancy friends, and family pod plus individual little tables layered in lace, LoveShackFancy indigo-dyed floral tablecloths plus mix and match antique settings for families of two, four, or more.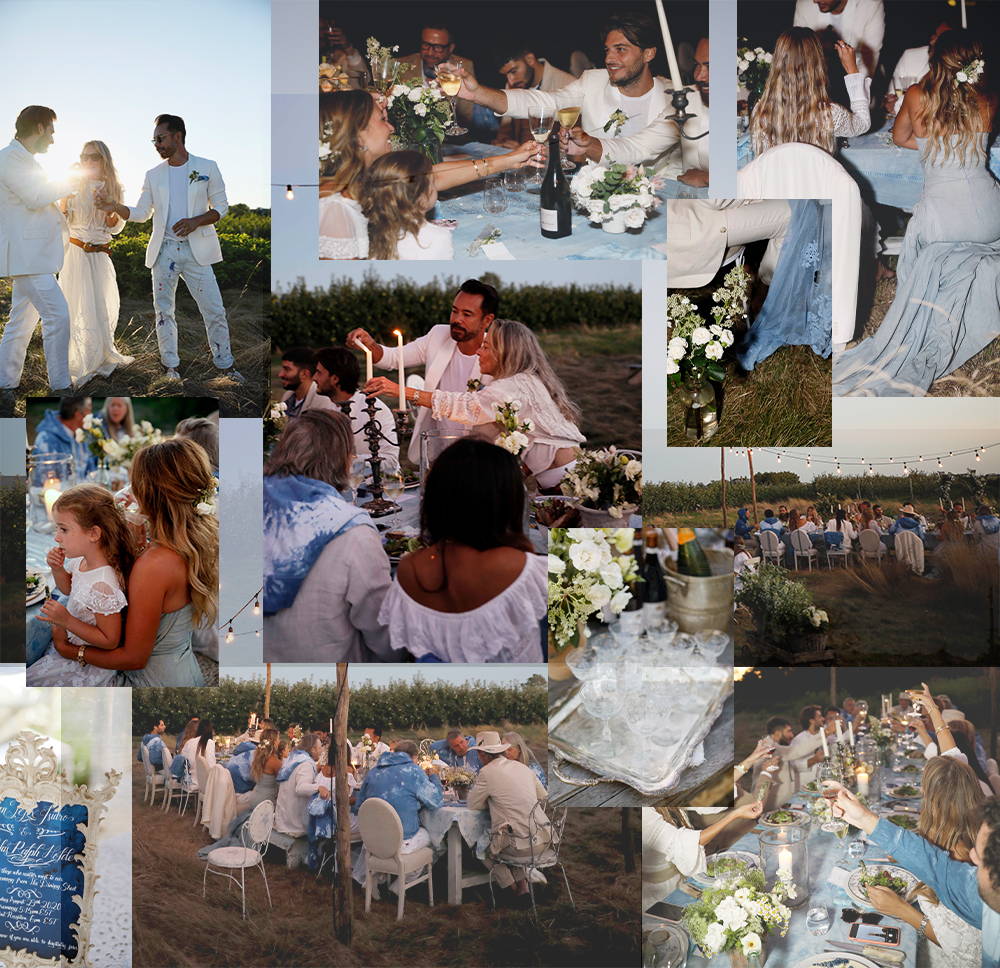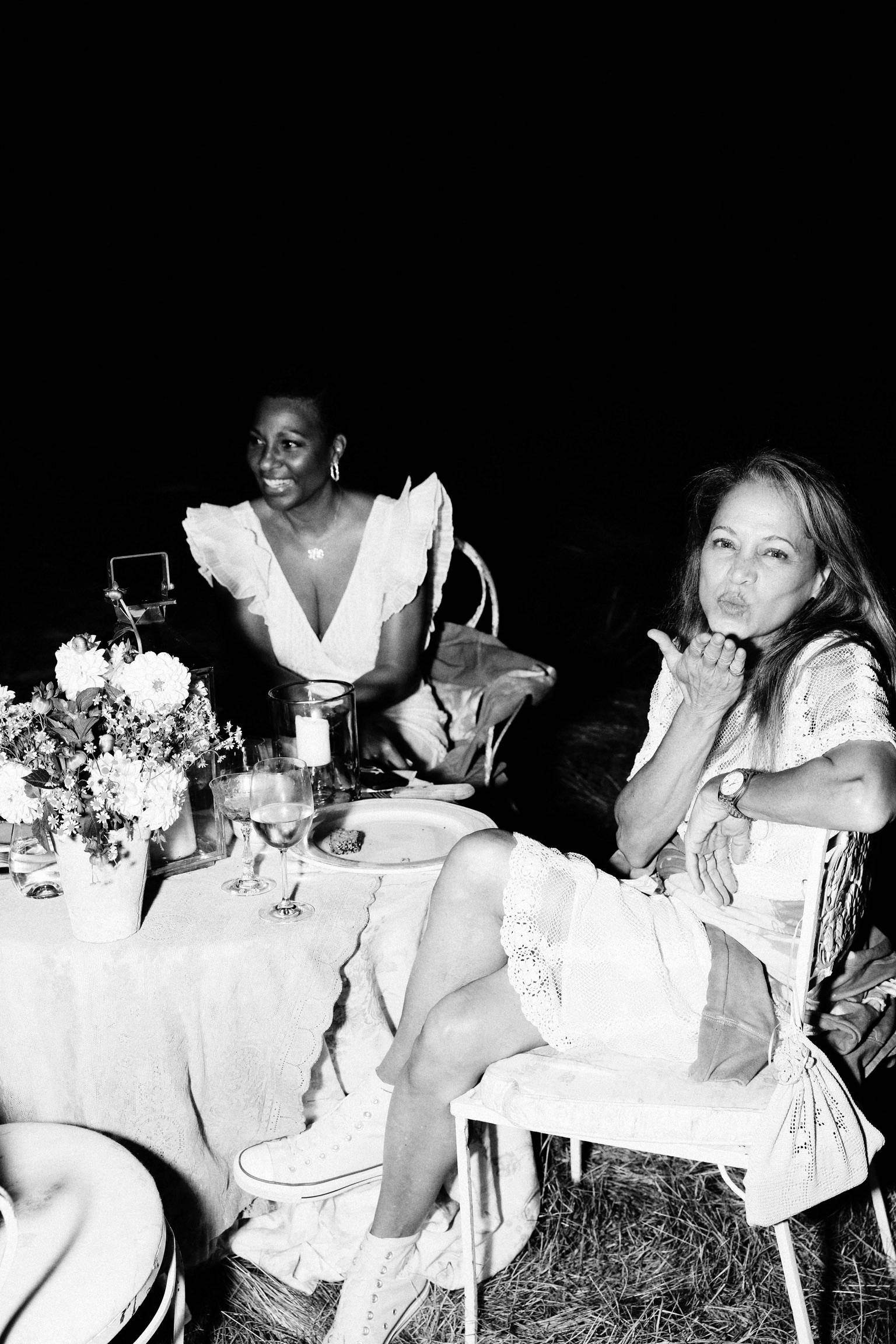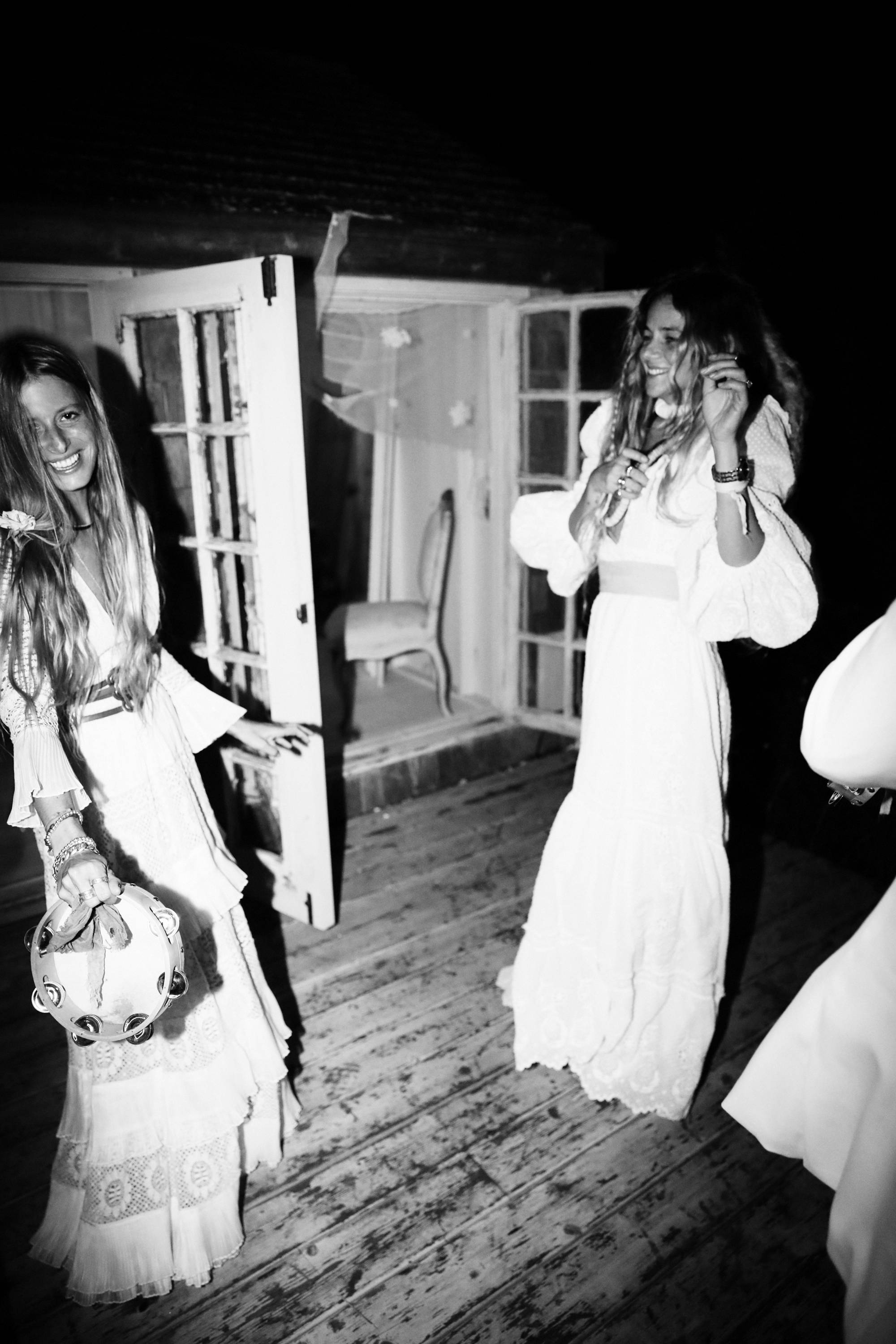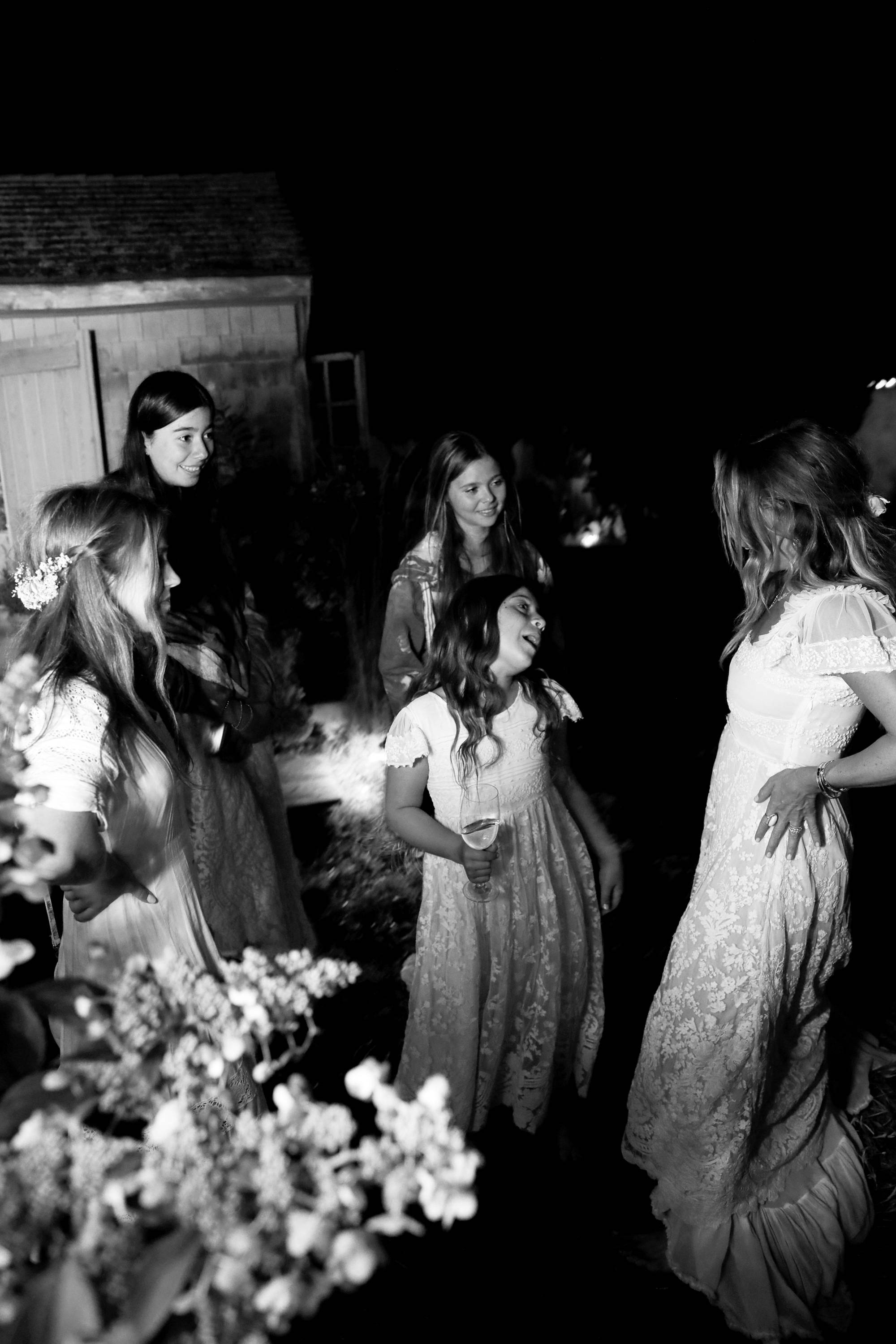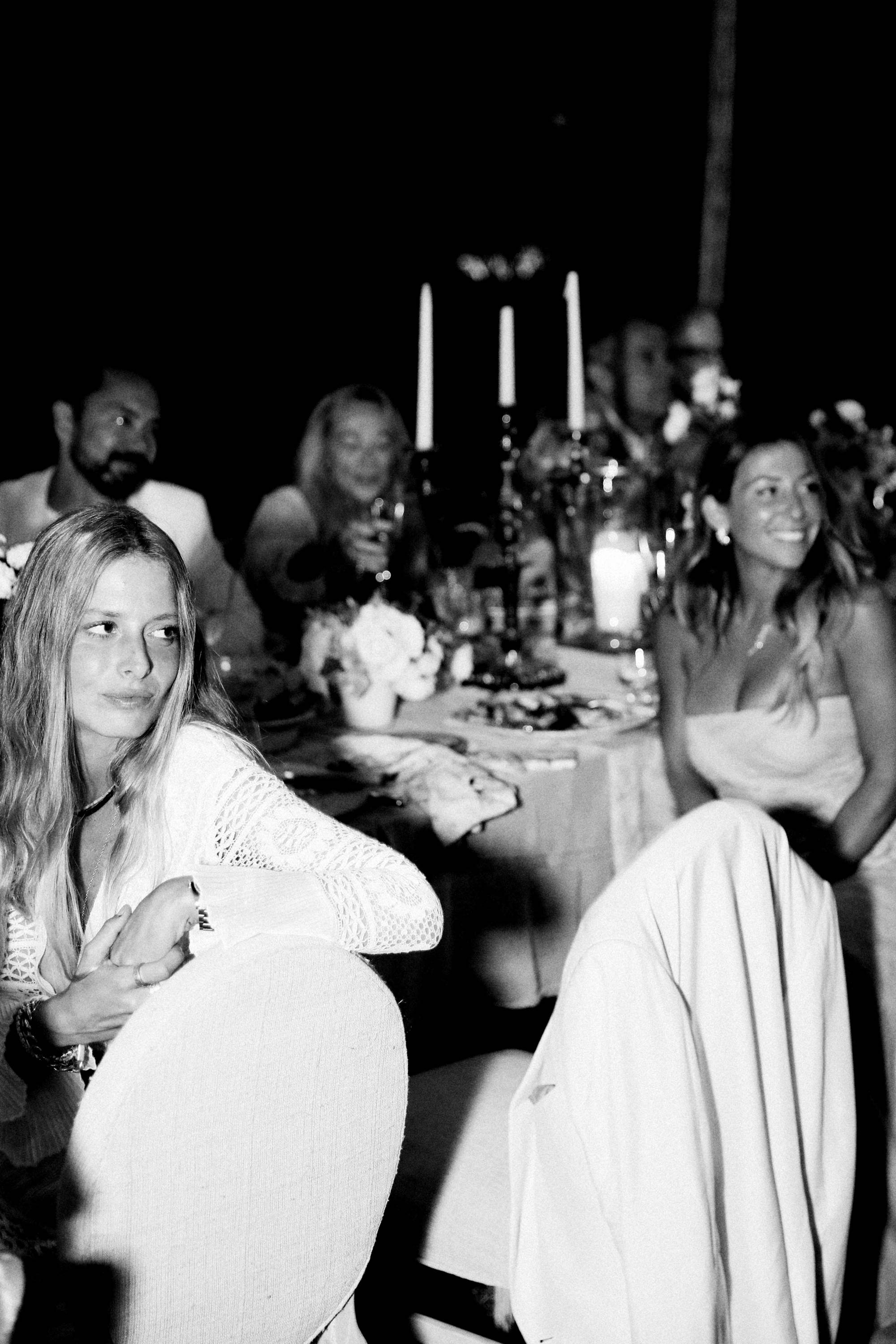 Tambourines in hand, every generation came together dressed in LoveShackFancy lace, whites, indigo, and vintage; we danced barefoot with sparklers under the moonlight. There was a palpable energy in the air as we gathered around the bonfire for smores. And still somehow, in the wee hours of the morning, we found ourselves all gathered in the kitchen sneaking snacks from the fridge, not wanting the night to end. Everything was perfect.