A sweet recalling of our magical night...
a glittering machimilist soiree in celebration of our brand new Bleecker Street shop and all that is LoveShackFancy.
And so the story begins...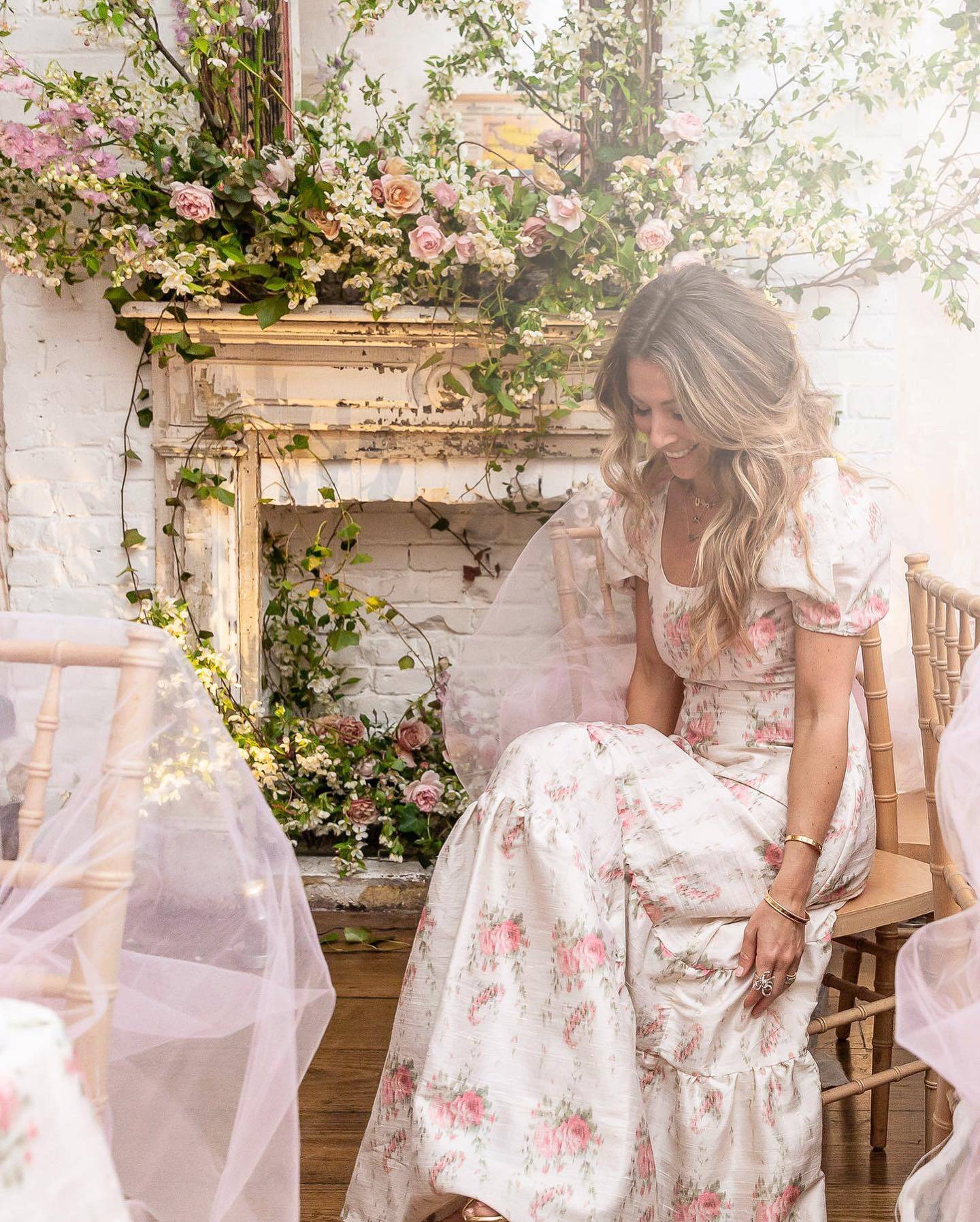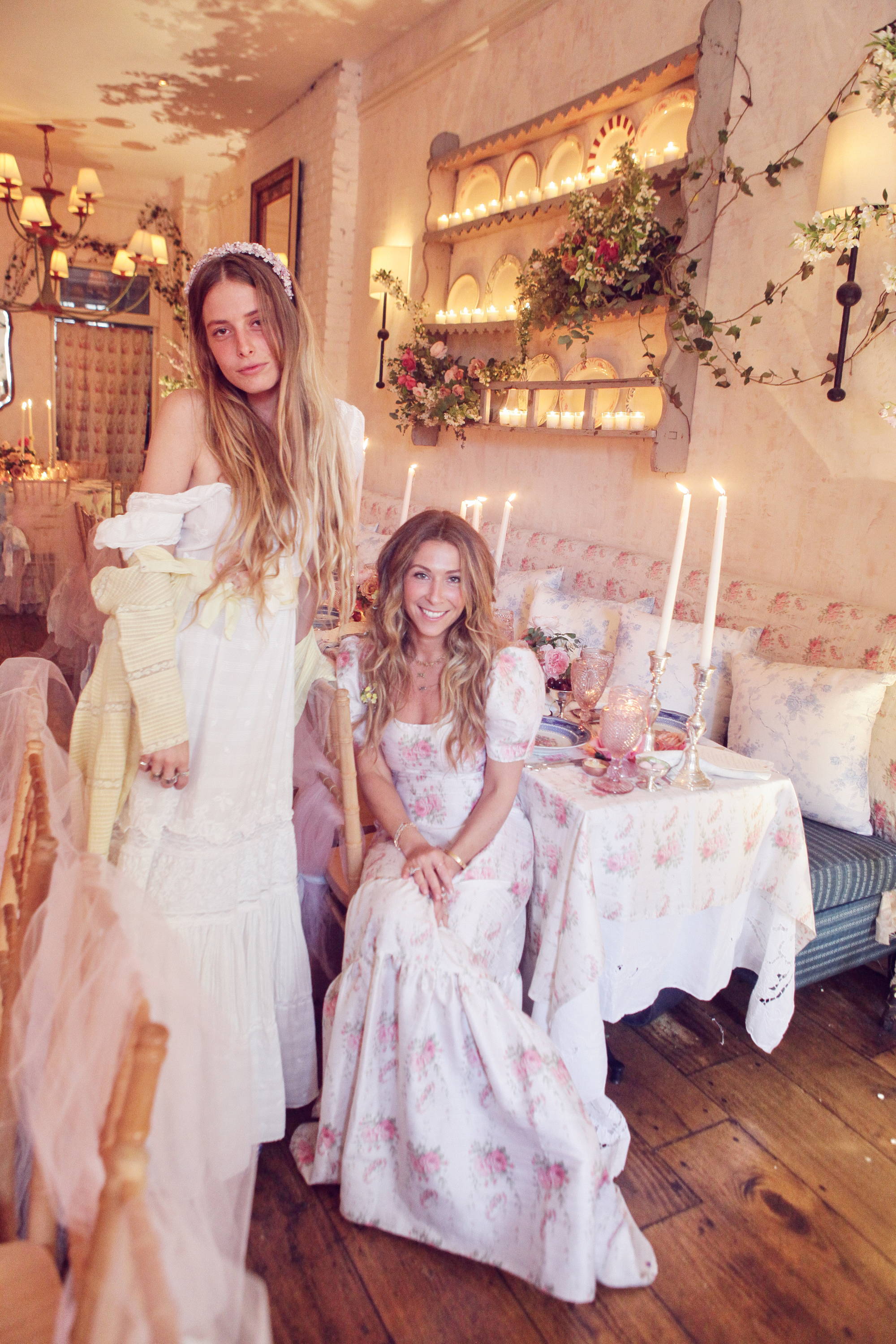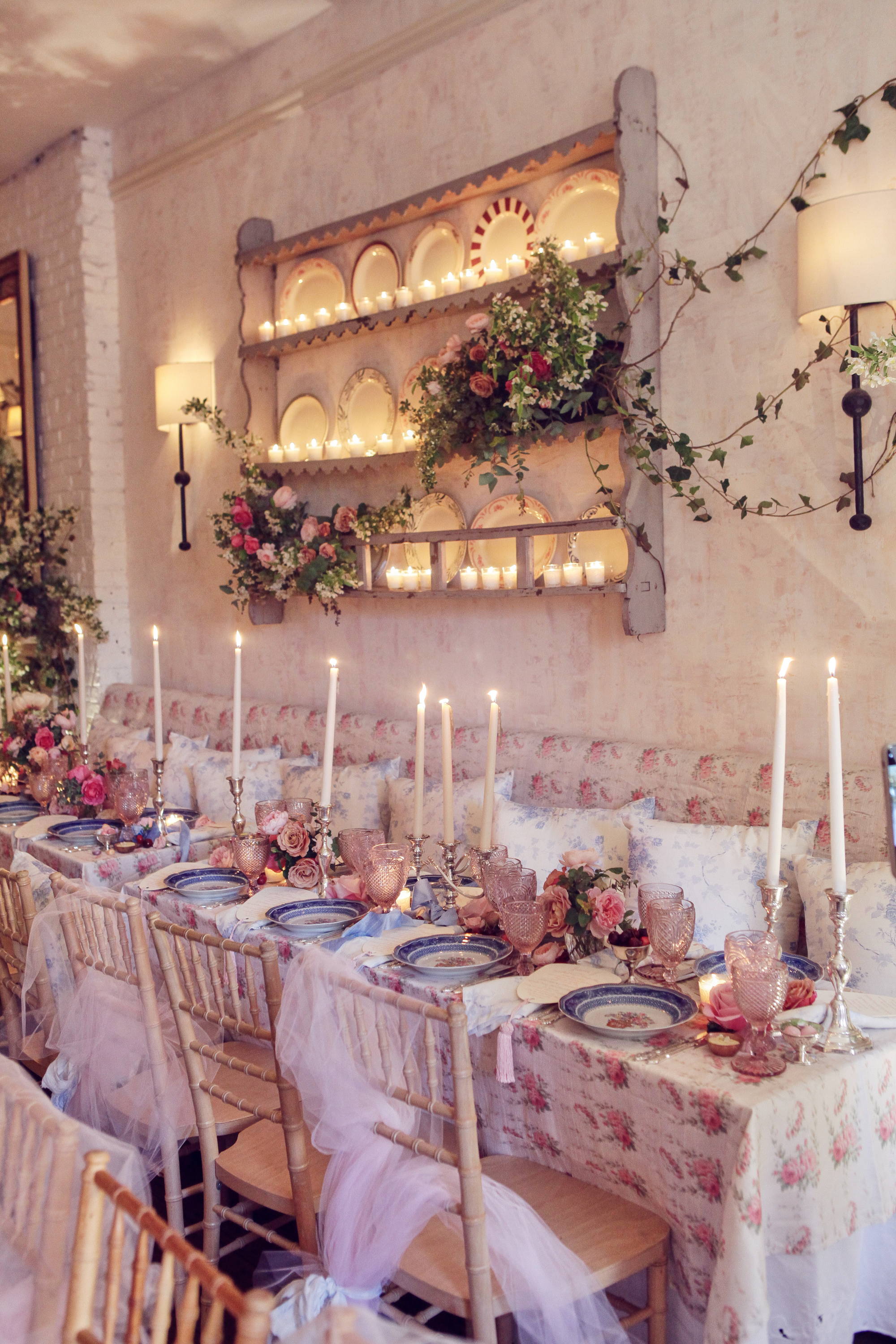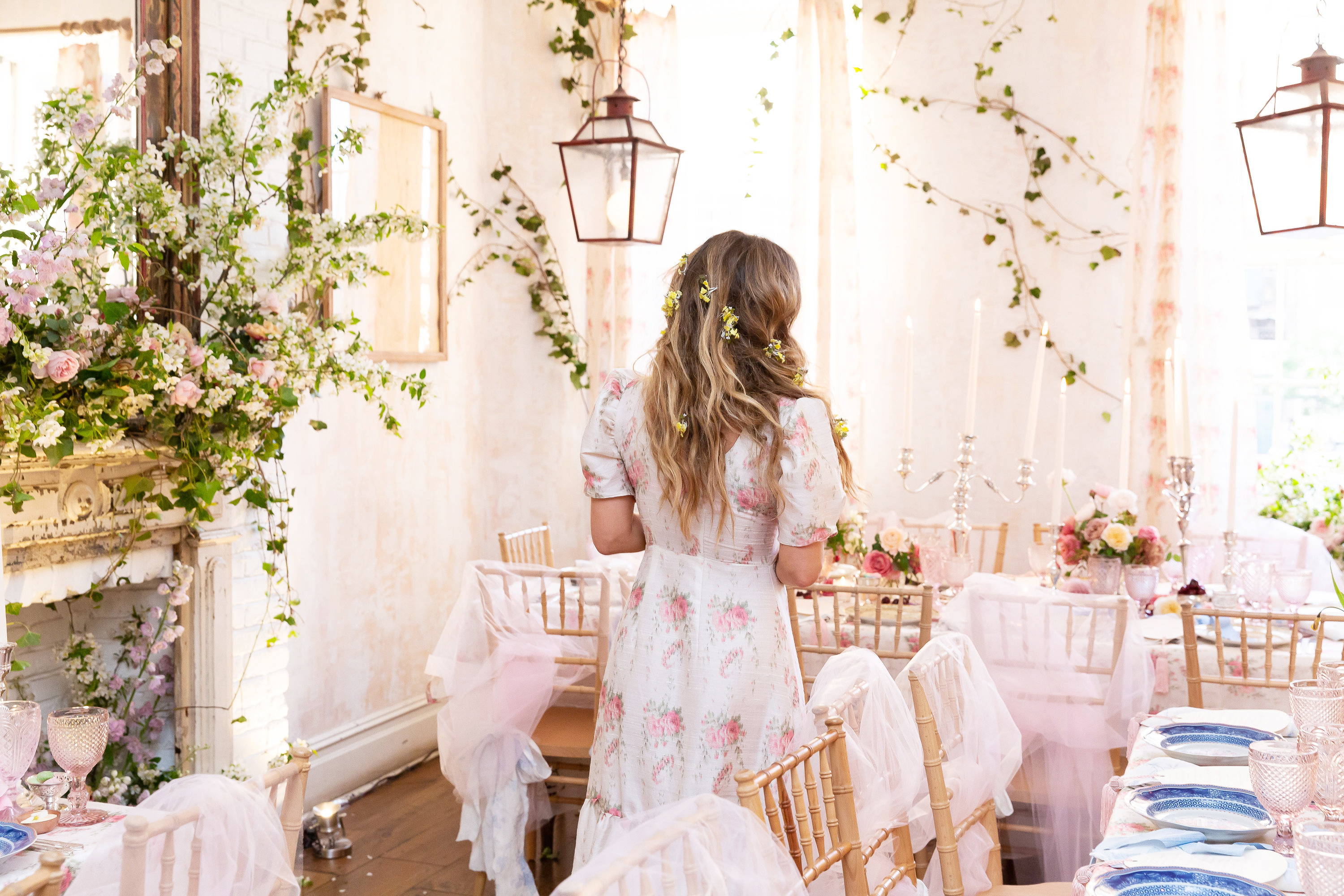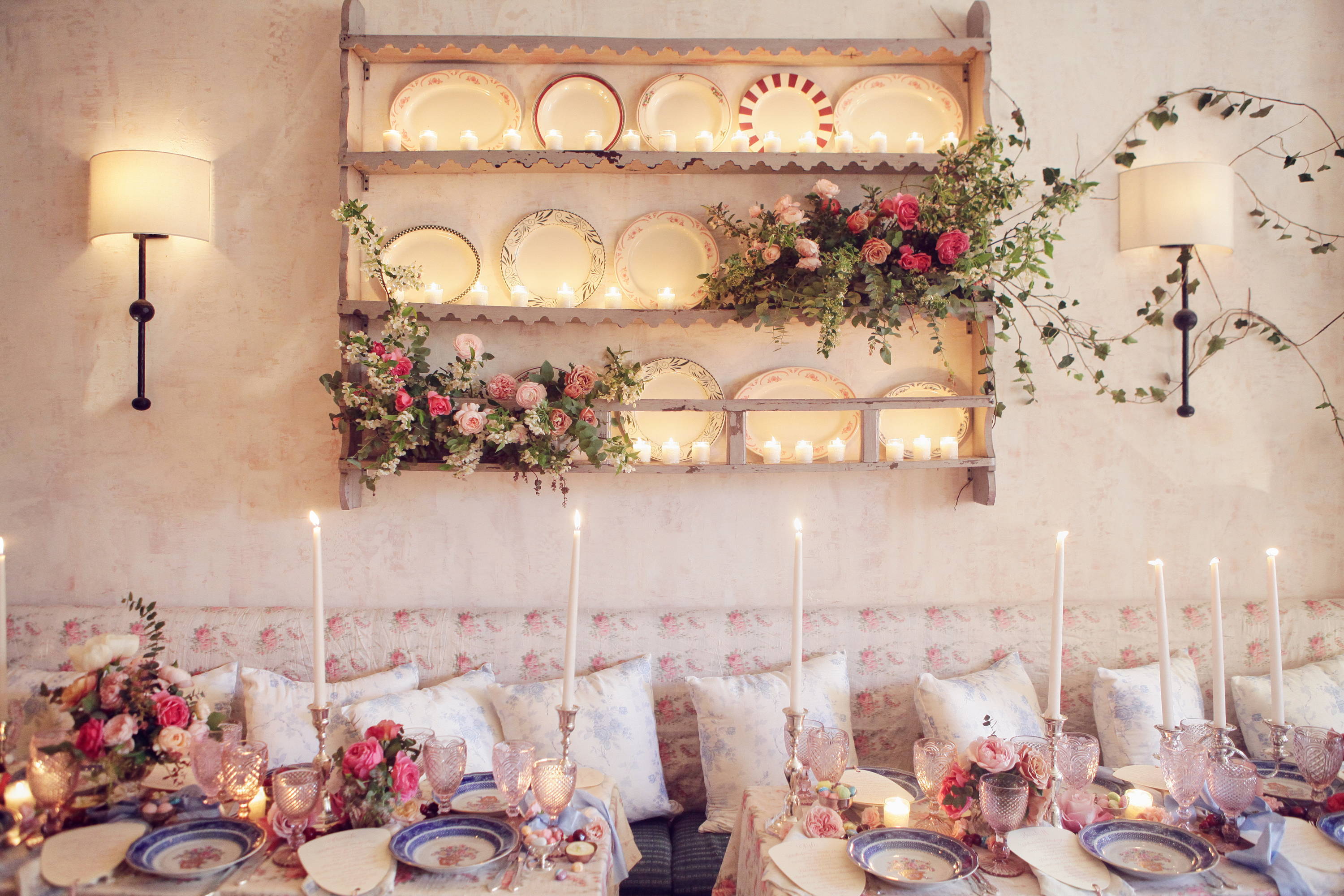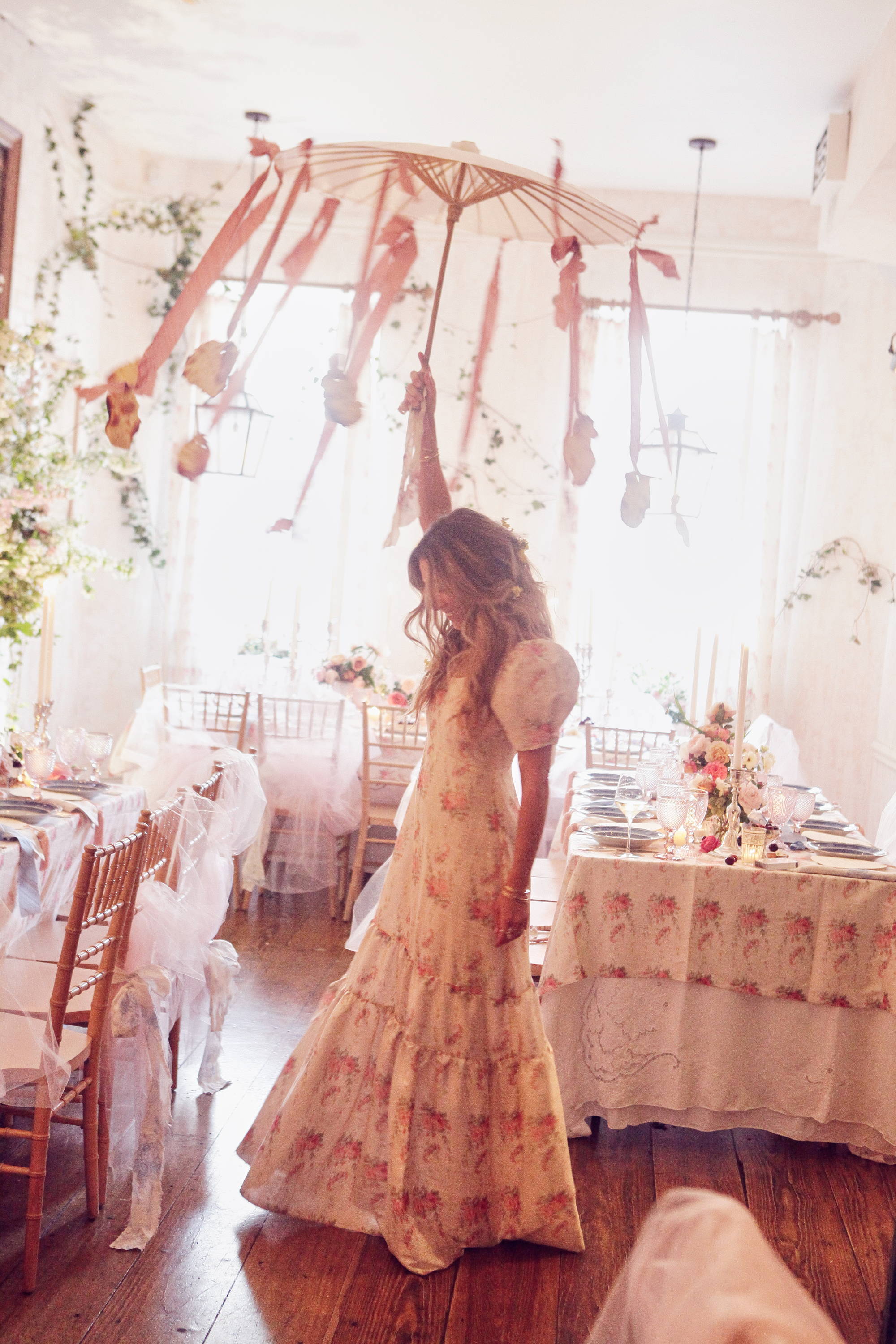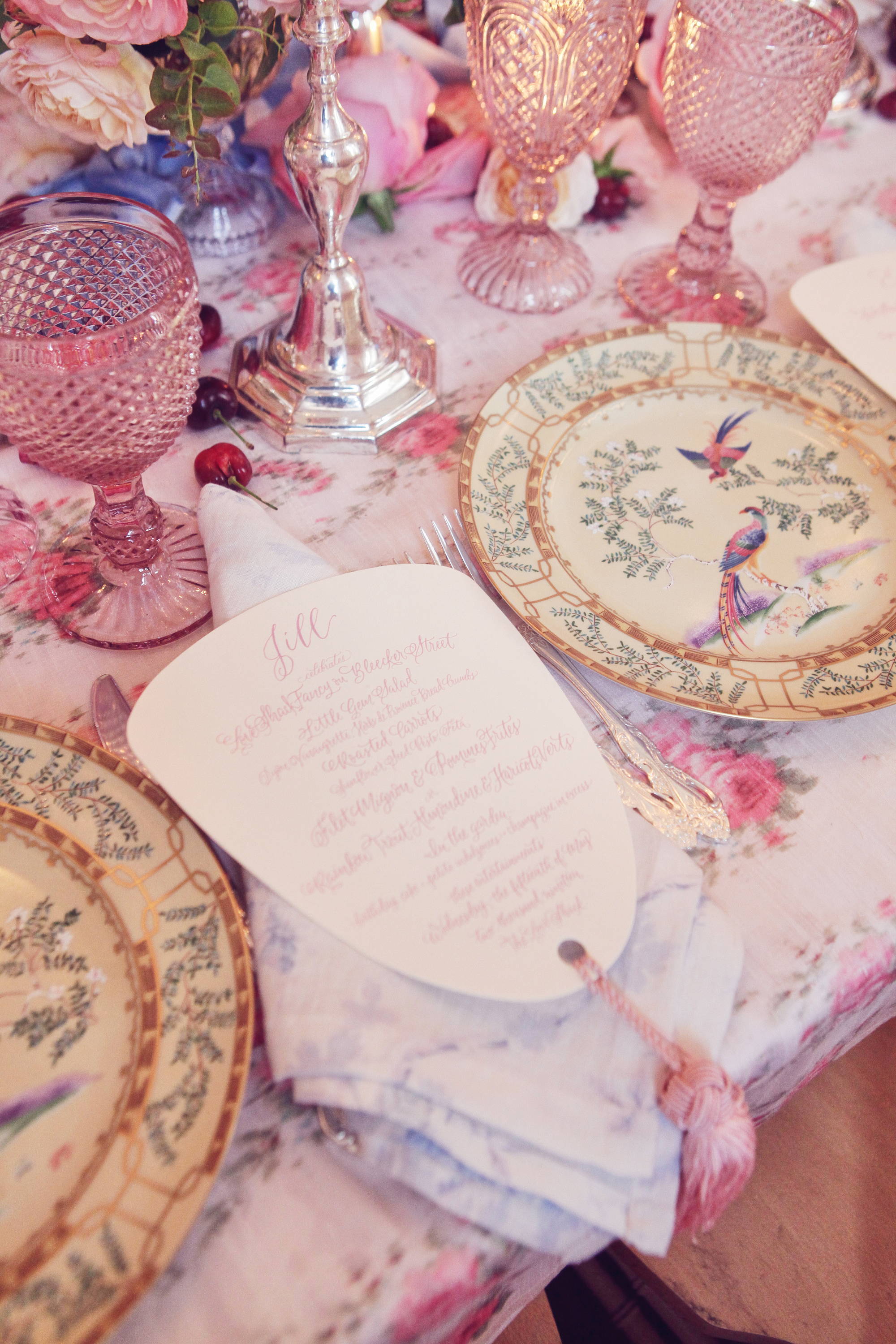 THE SETTING:
Floral Dreamscape
Magical tablescape moments that would make Marie Antoinette proud. Flower-laden tables decked in our signature LoveShackFancy fabrics with banquettes lined in frilly floral-print throw pillows, towering candles, and a sprinkling of cherries. Concert fans with pink silk tassels adorned each place setting, serve as both the place card and menu card.
An installation of unearthly delights, from table settings to puffed sleeves, our founder, Rebecca, brought her creative vision along with Rebecca Gardner to transform Bobo into a decadent and enchanting world wherein the dresses and guests matched the space.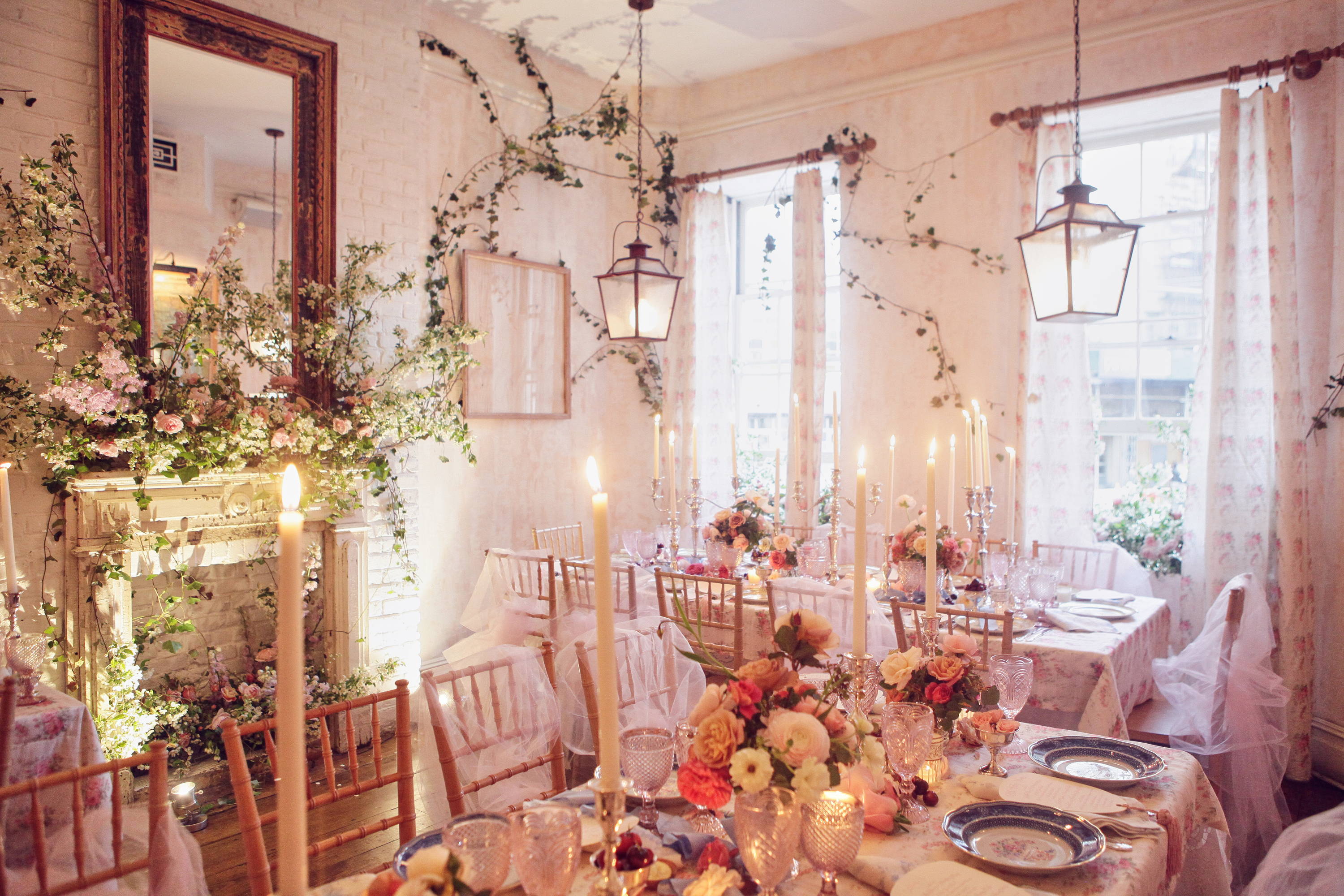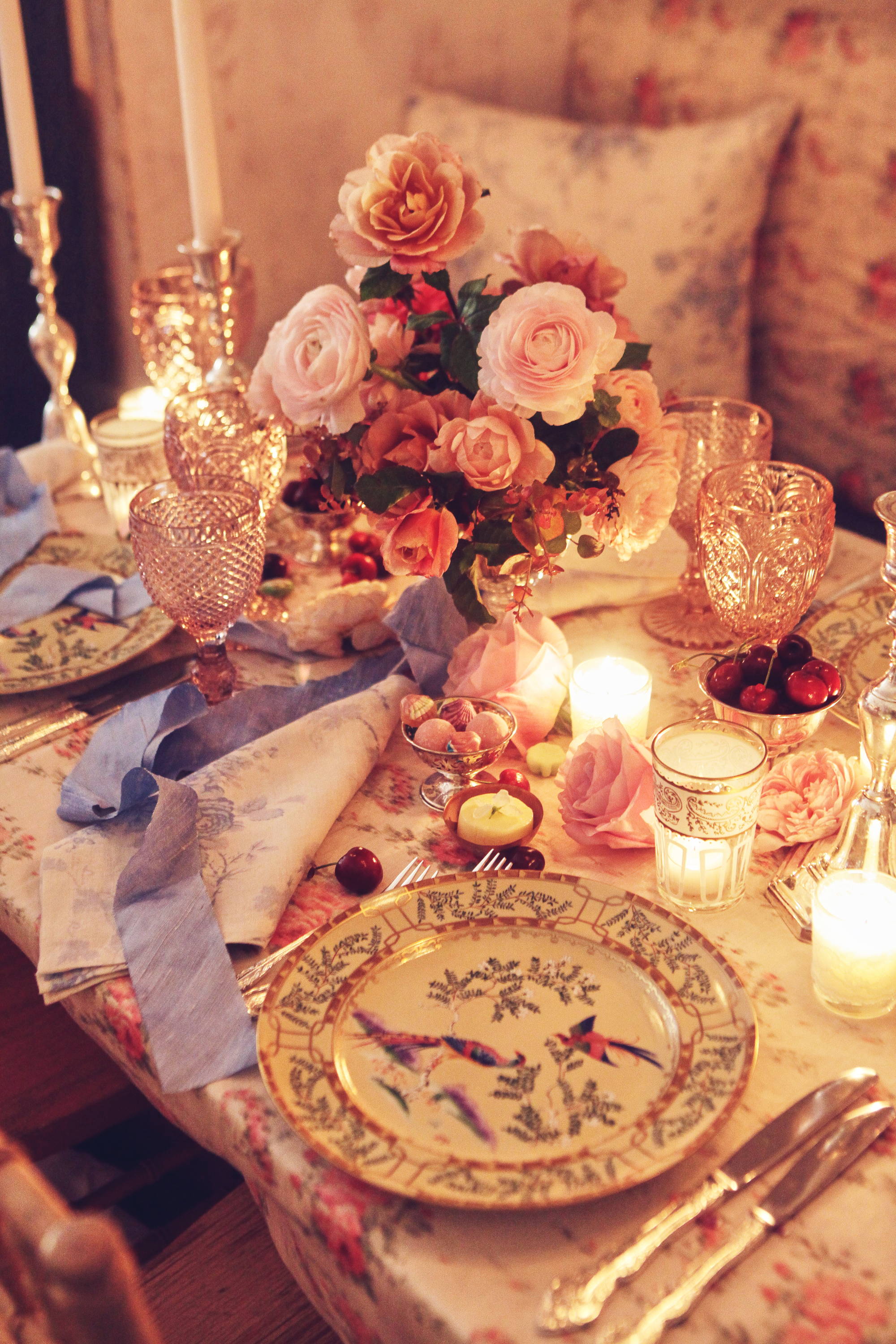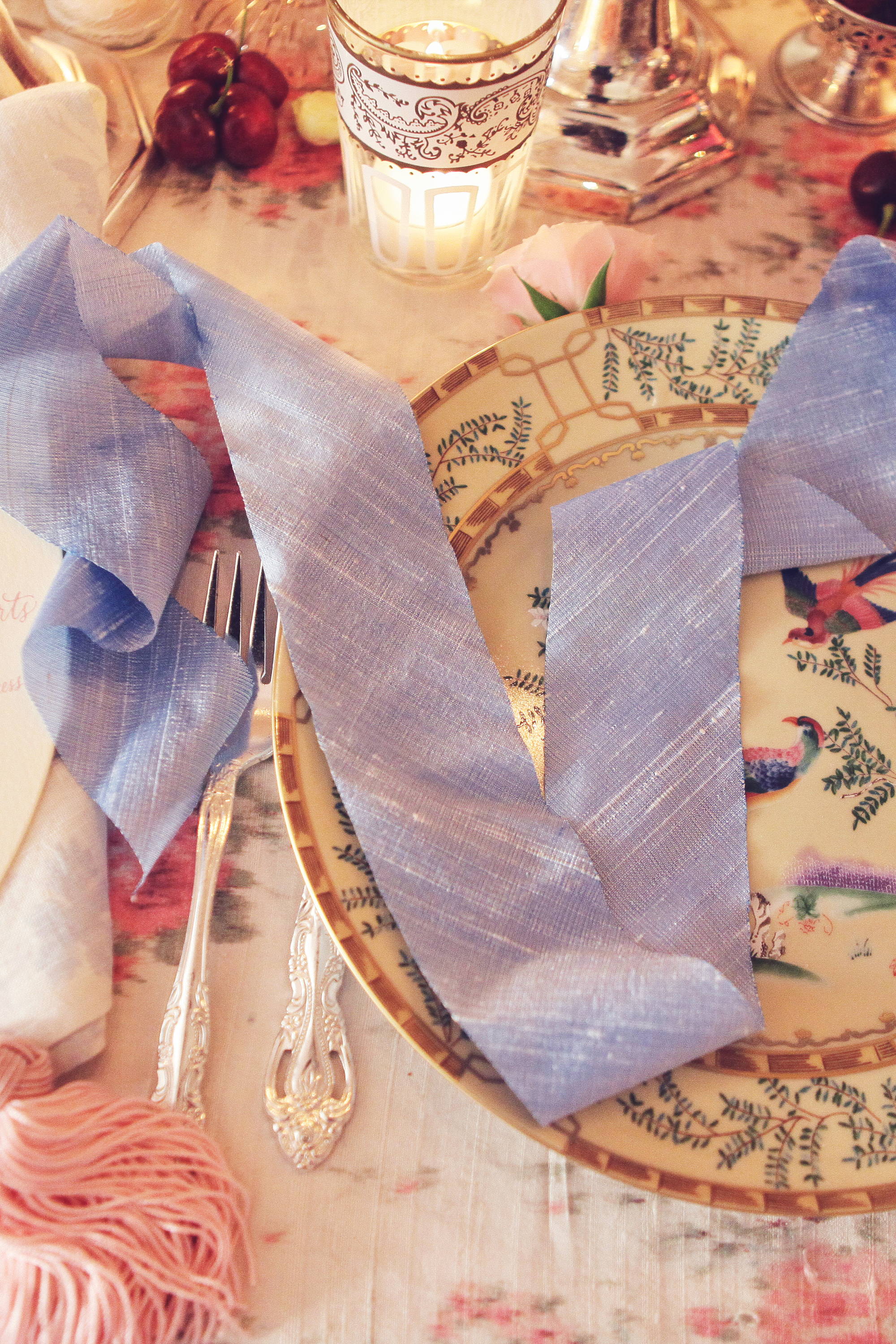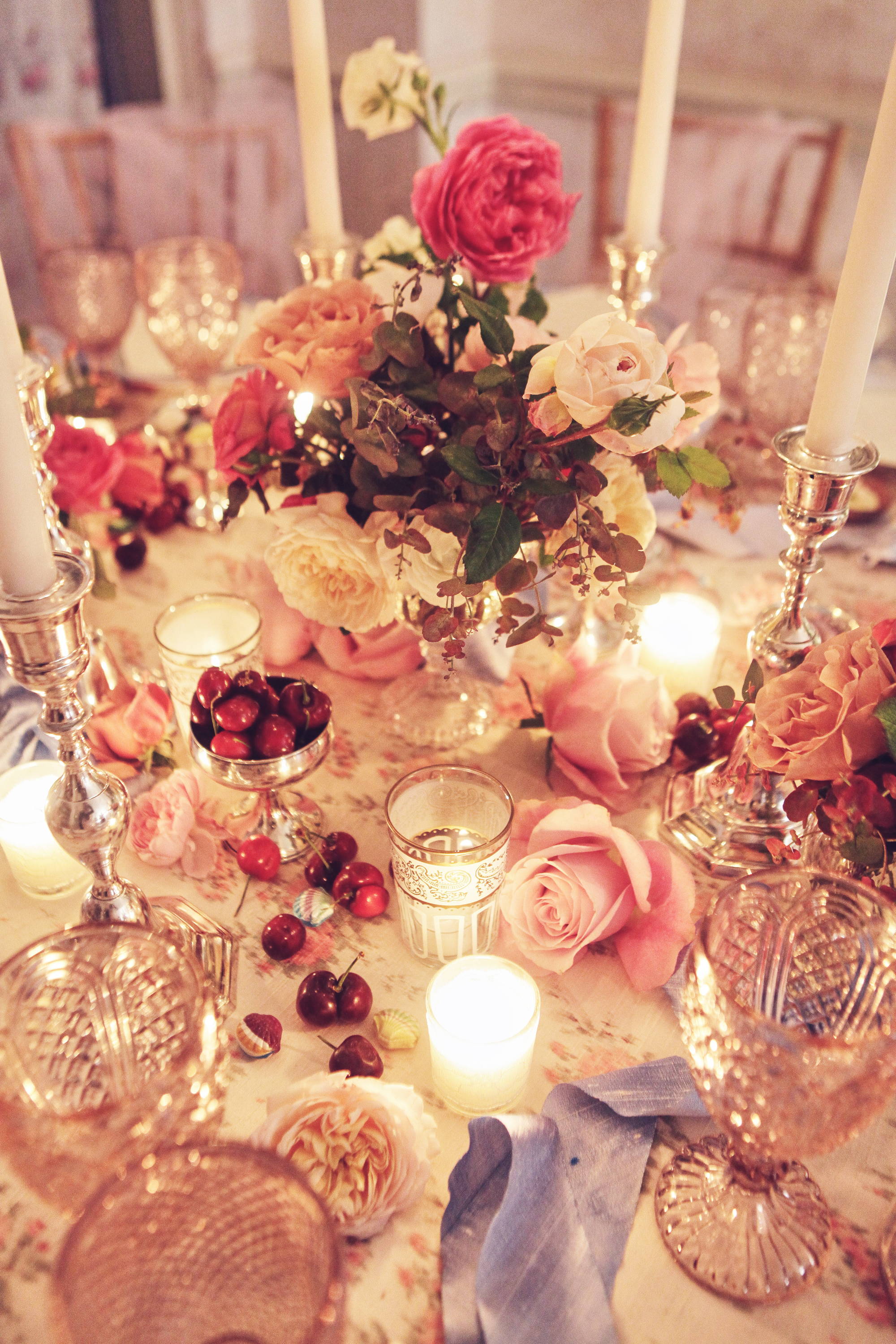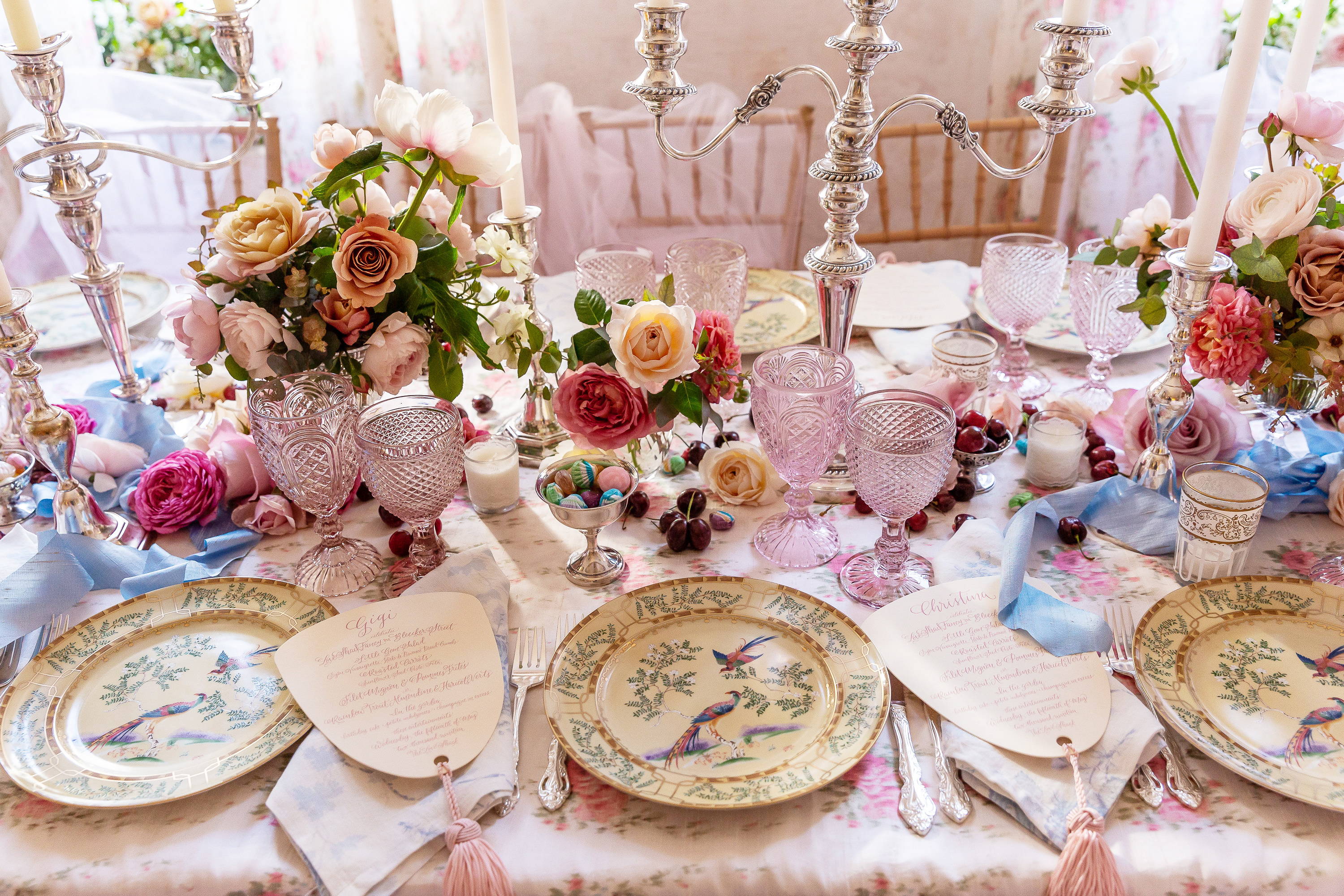 THE ARRIVAL:
Here Come The Girls
Young beauties welcome guests in fantastical cascading floral dresses perched on the stoop with lace parasols, exaggerated skirts, dramatic feather headpieces, and pink satin sashes that spill over the railing into extraordinary pools of fabric.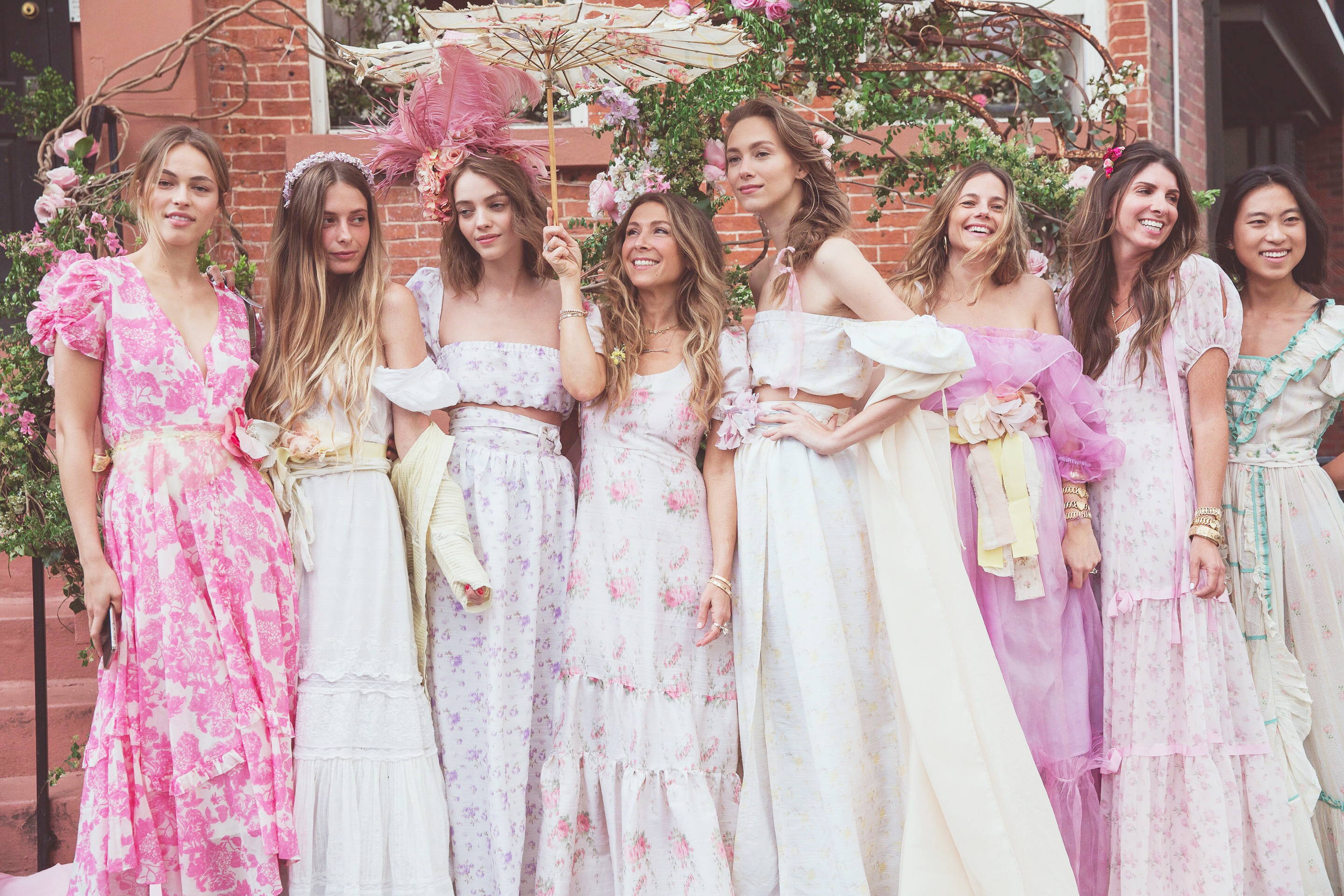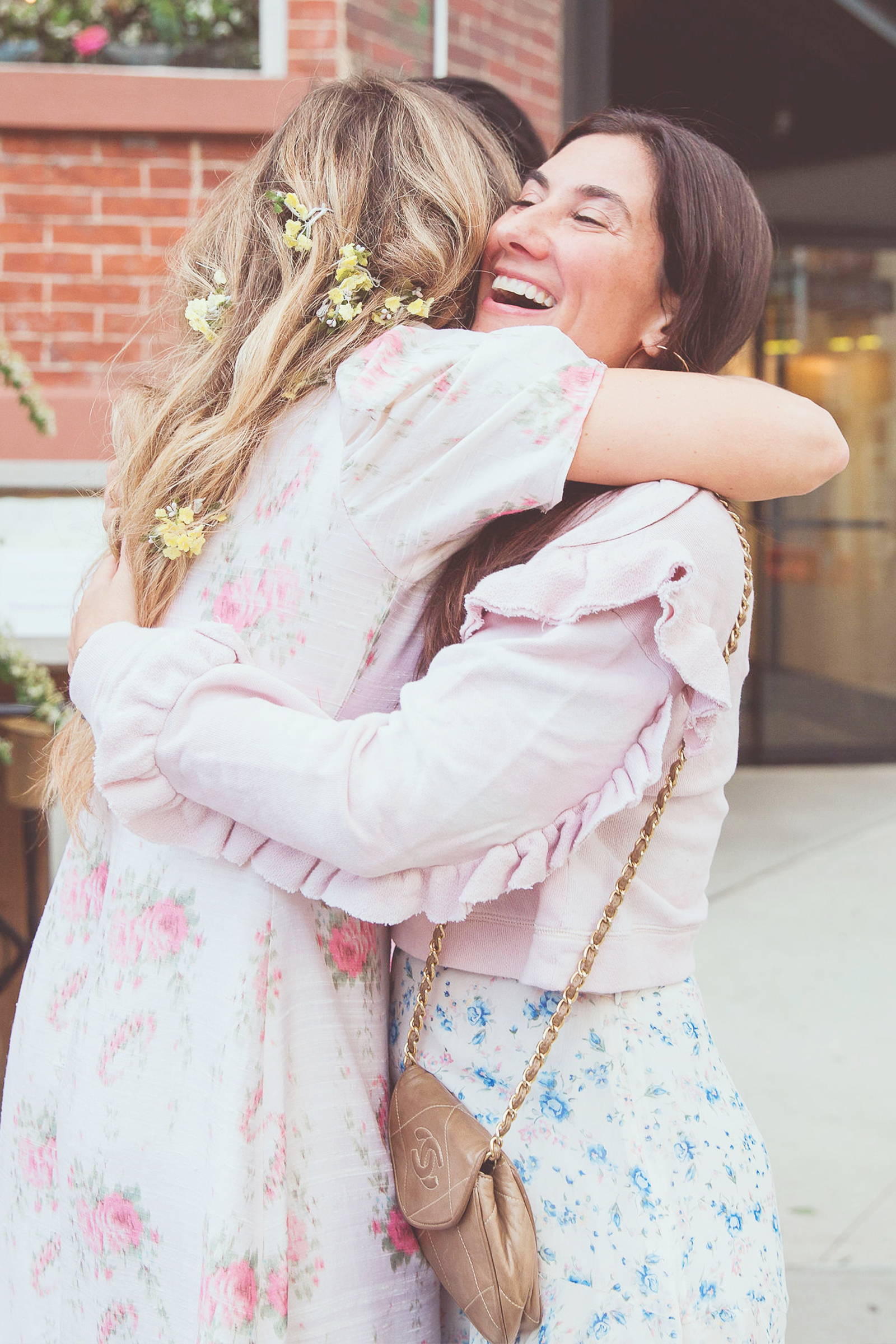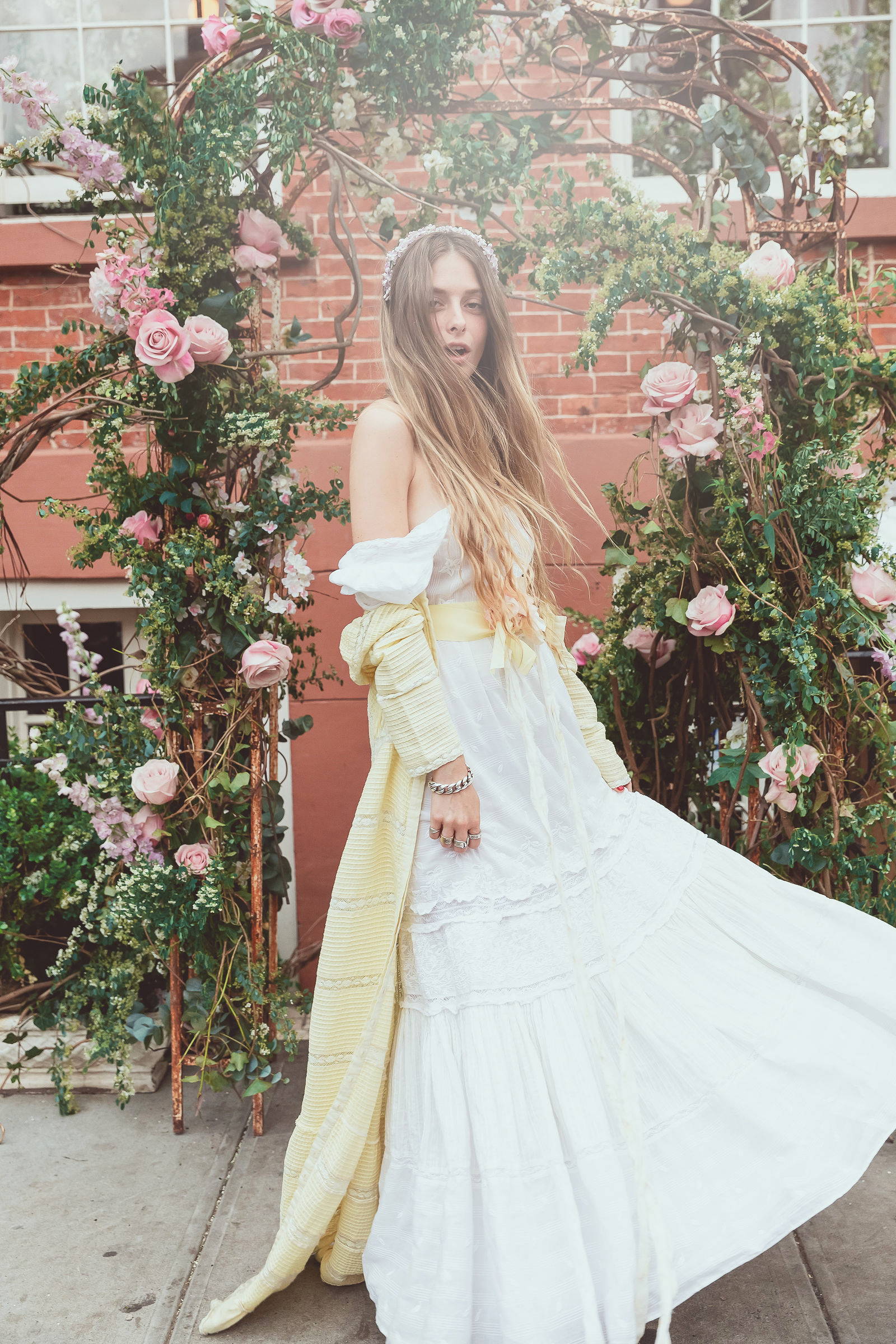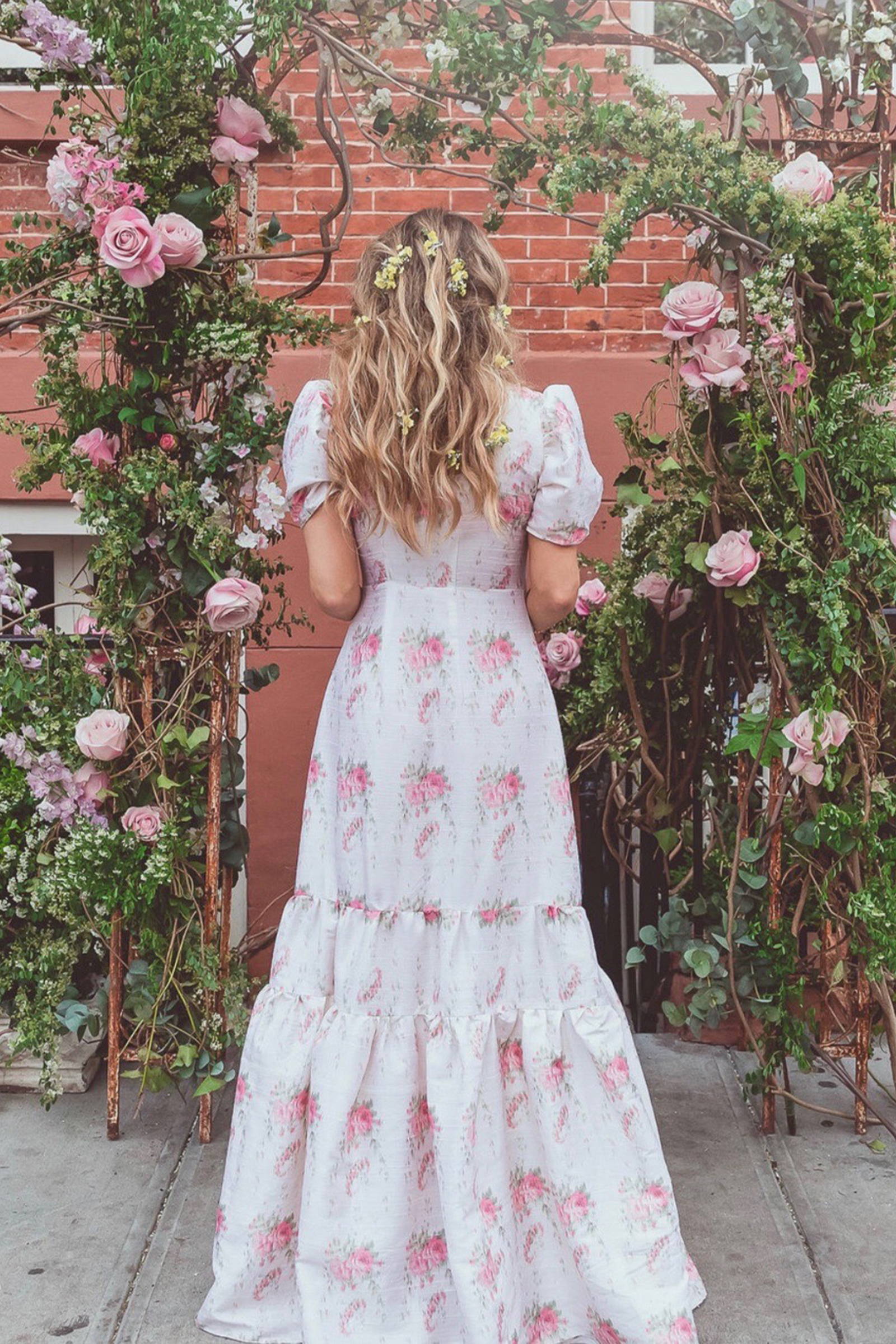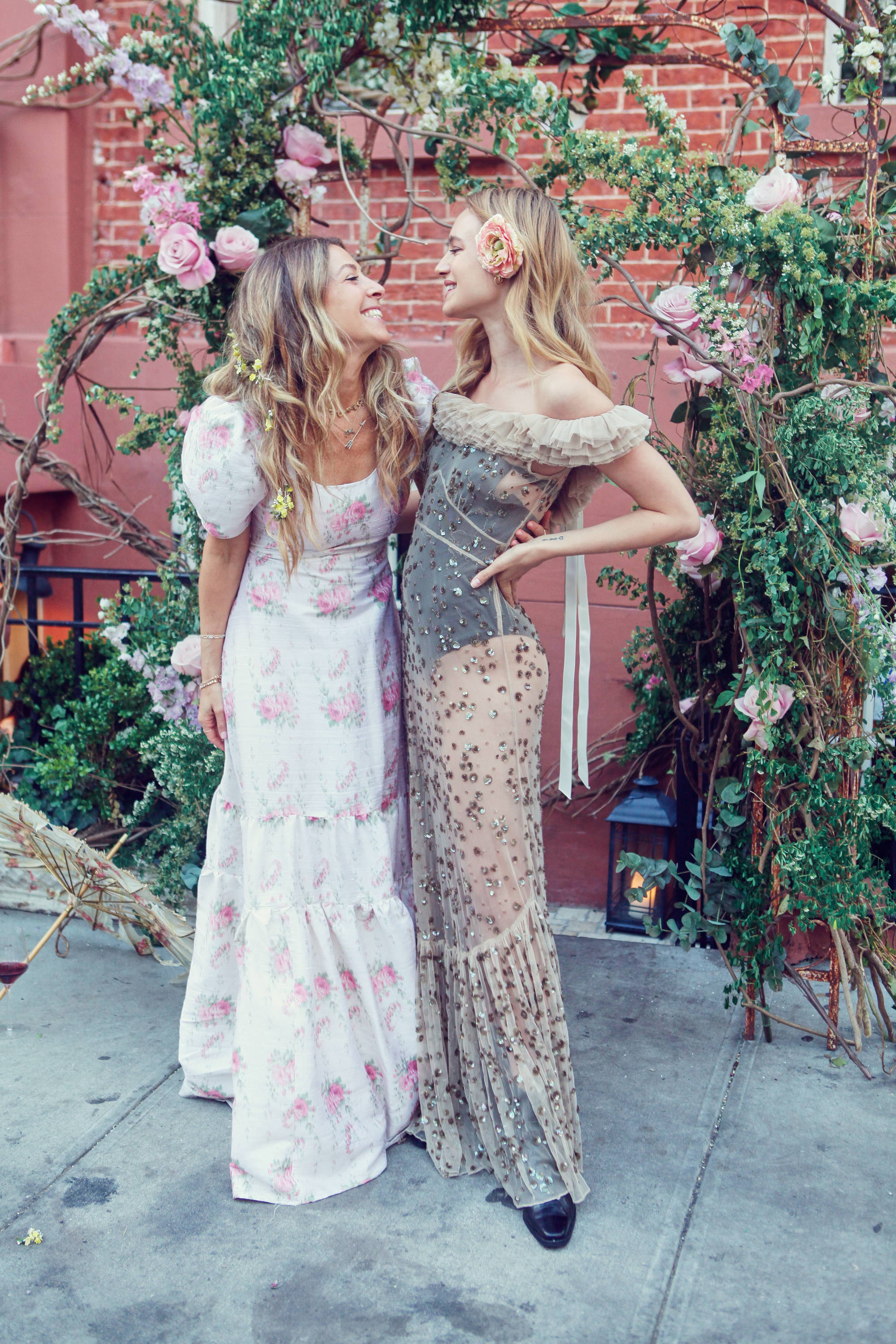 Guests dawned in fluttery LoveShackFancy dresses and tiaras enter through the garden level, greeted by servers wearing white shirts and pink dupioni neck ribbons. A violinist plays hip-pop songs on his classical strings and our LoveShack girls, dripping in florals pinned from hair to hem, bring energy to the night.
The anticipation is electric as the night unfolds…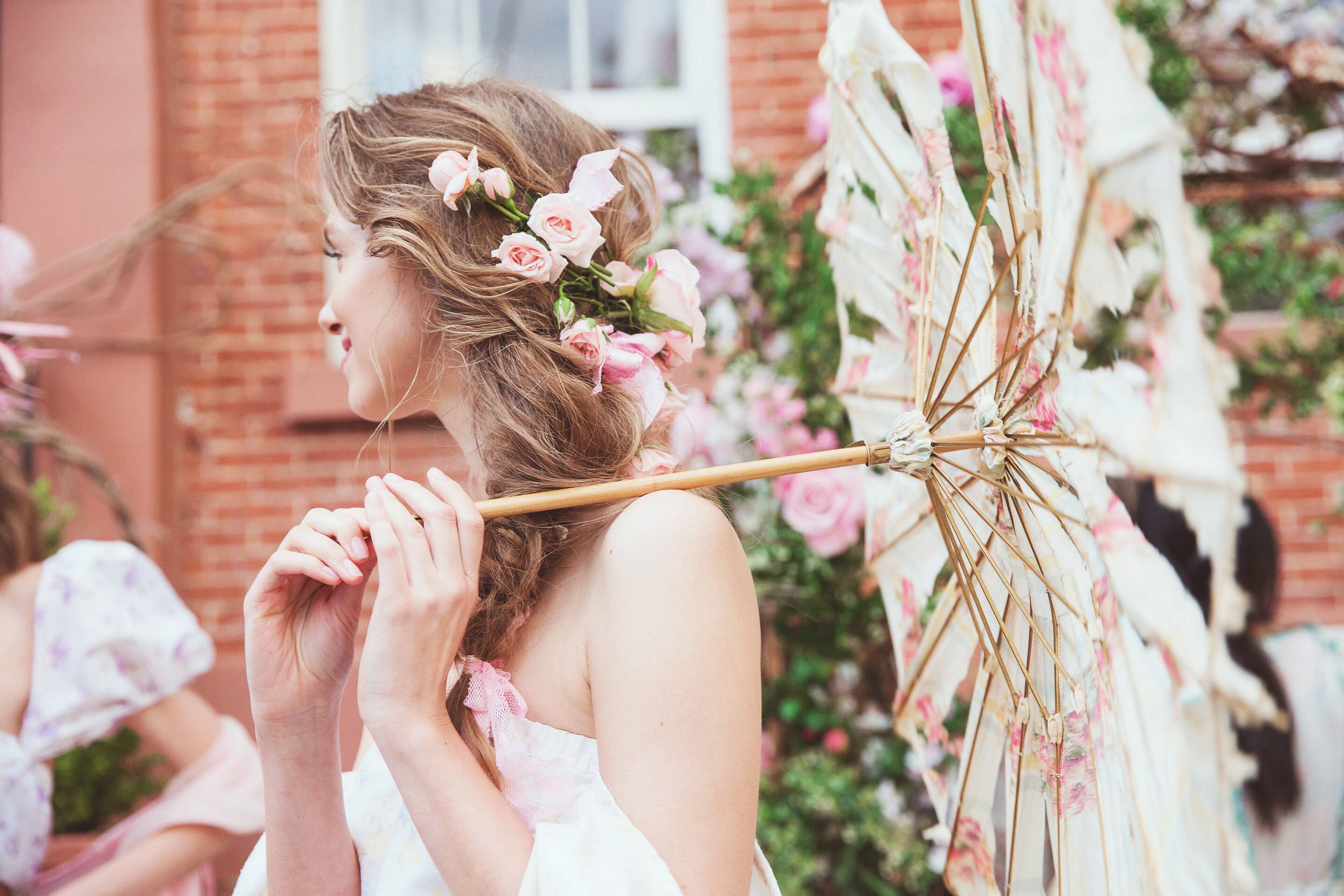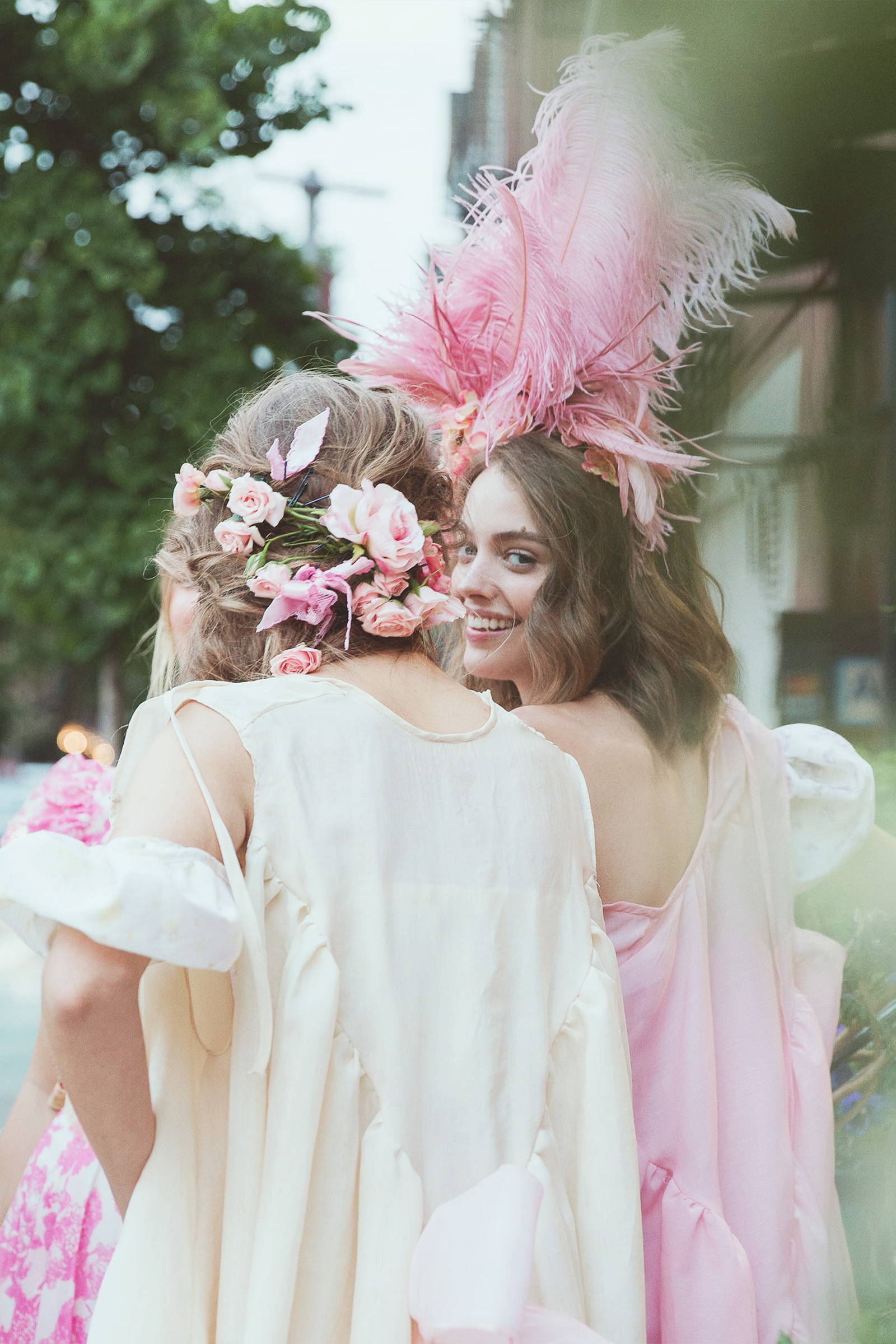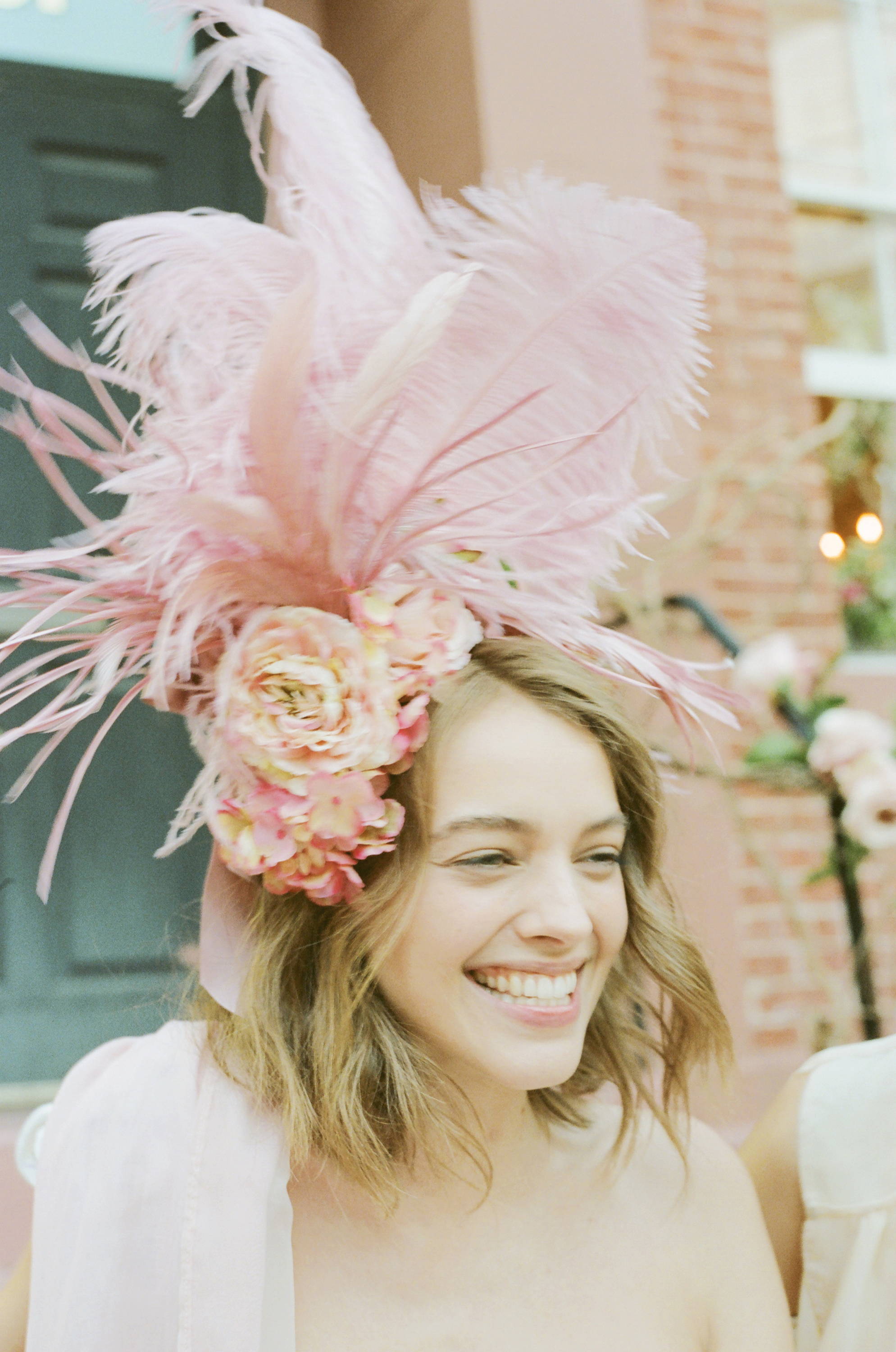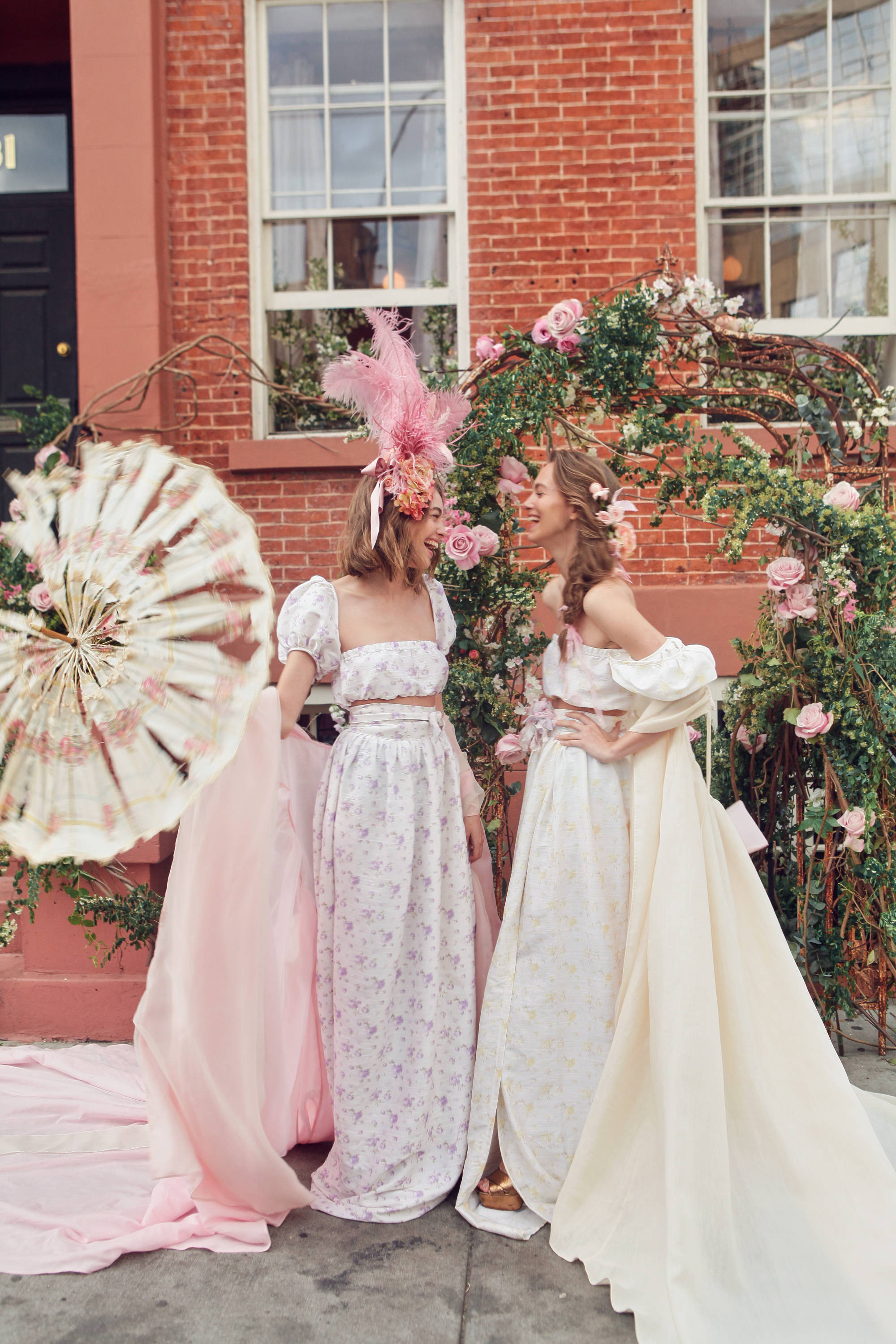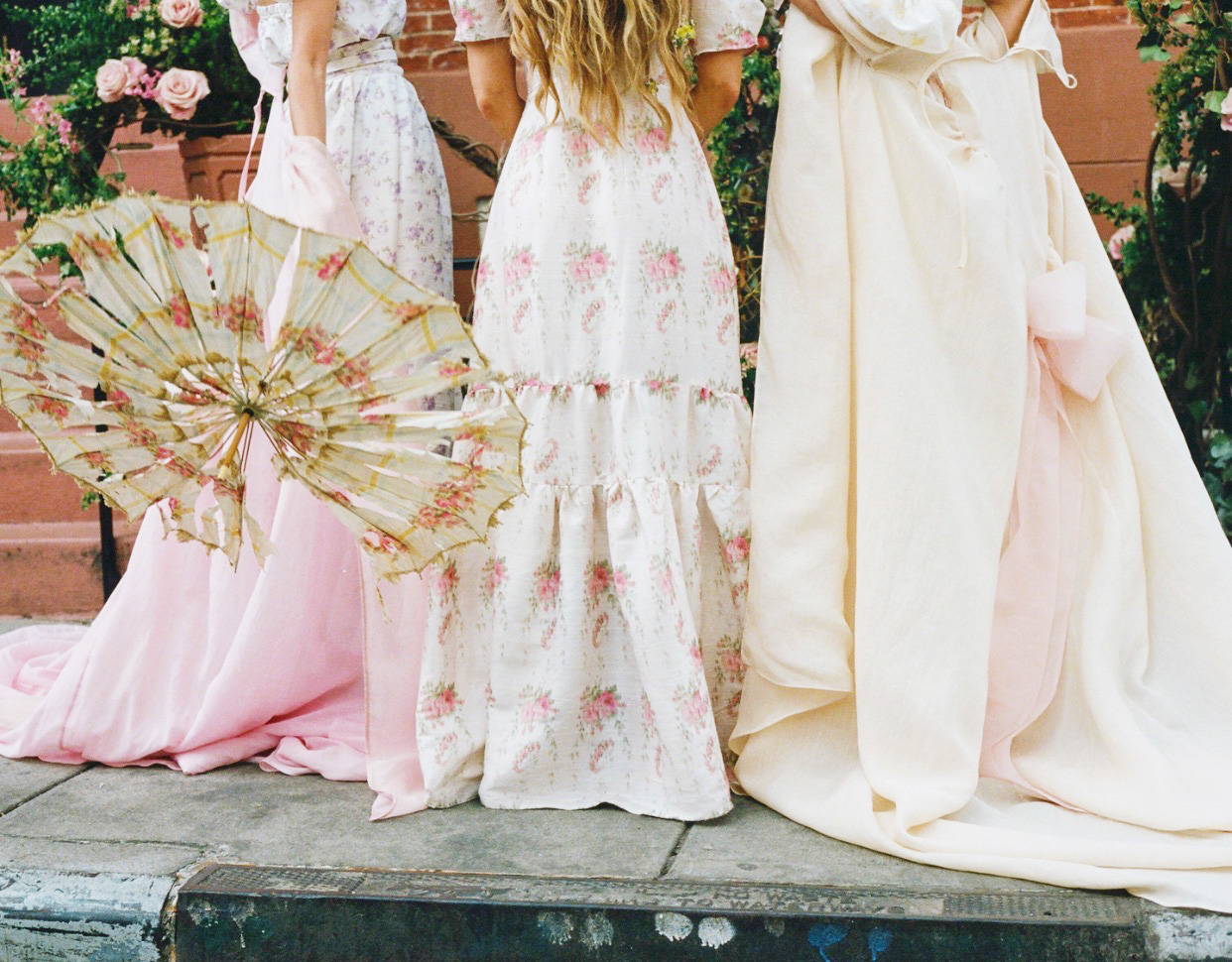 DINNER IS SERVED:
A Night Of Frivolity

The party flows from one dreamlike moment to the next as gorgeous guests are escorted upstairs into a pink wonderland awash in dim light with fanciful arrangements of roses and peonies artfully spilling from the tables and blooming up the walls. Petit indulgences are passed, and champagne flows in excess.
The guests of honor are led to their seats to indulge in a dusky dinner lit by twinkling votives and laughter. Parasol emerged with rosemary brittle bread hung on pink ribbons from its edge as we played with silk ribbons and scrunchies passed on silver trays. Guests teased each other with cherries from vintage silver bowls while servers brought around rose-adorned cocktails and champagne coupes.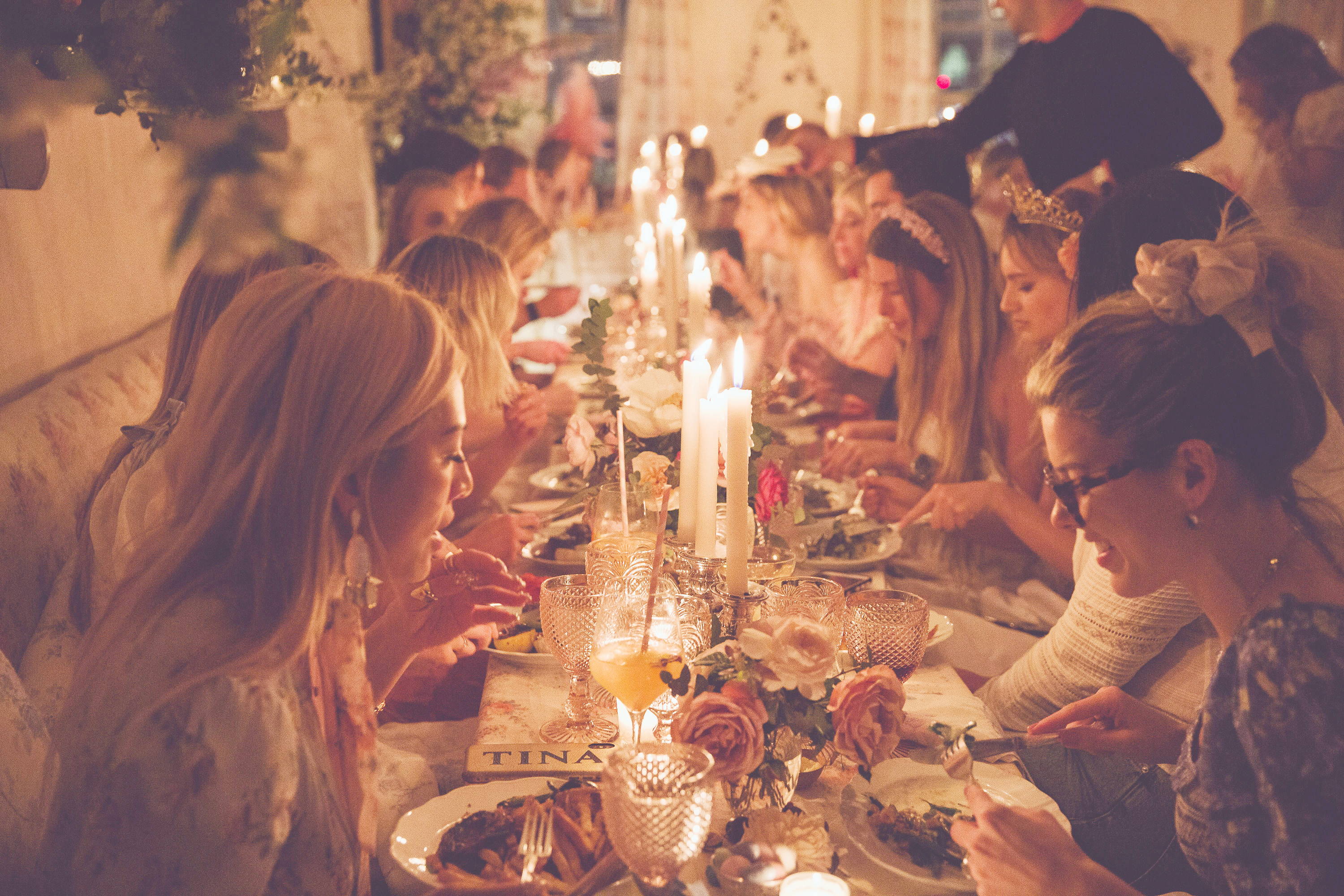 The chef presents his masterpiece of fresh trout and filet mignon.
Dinner is served.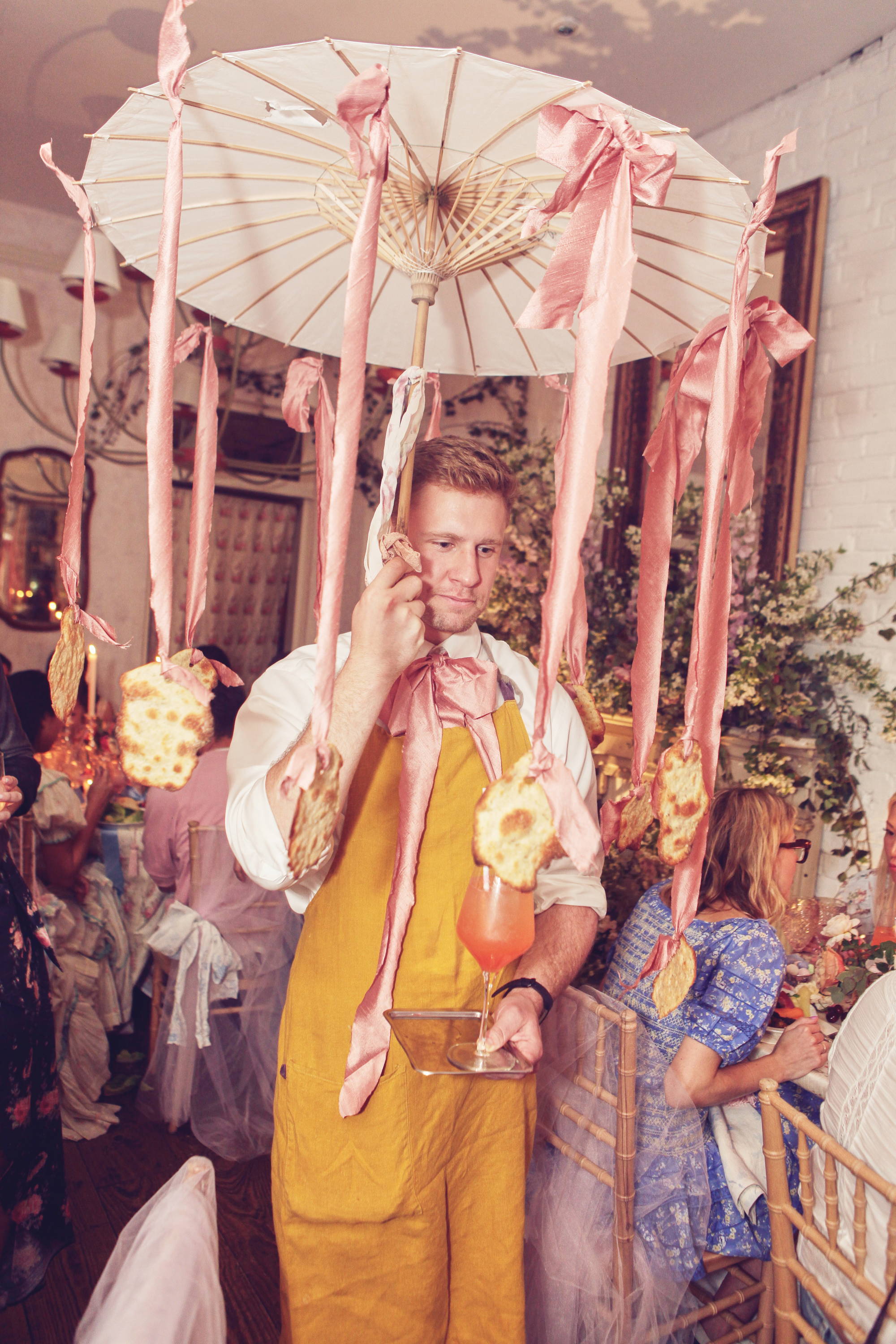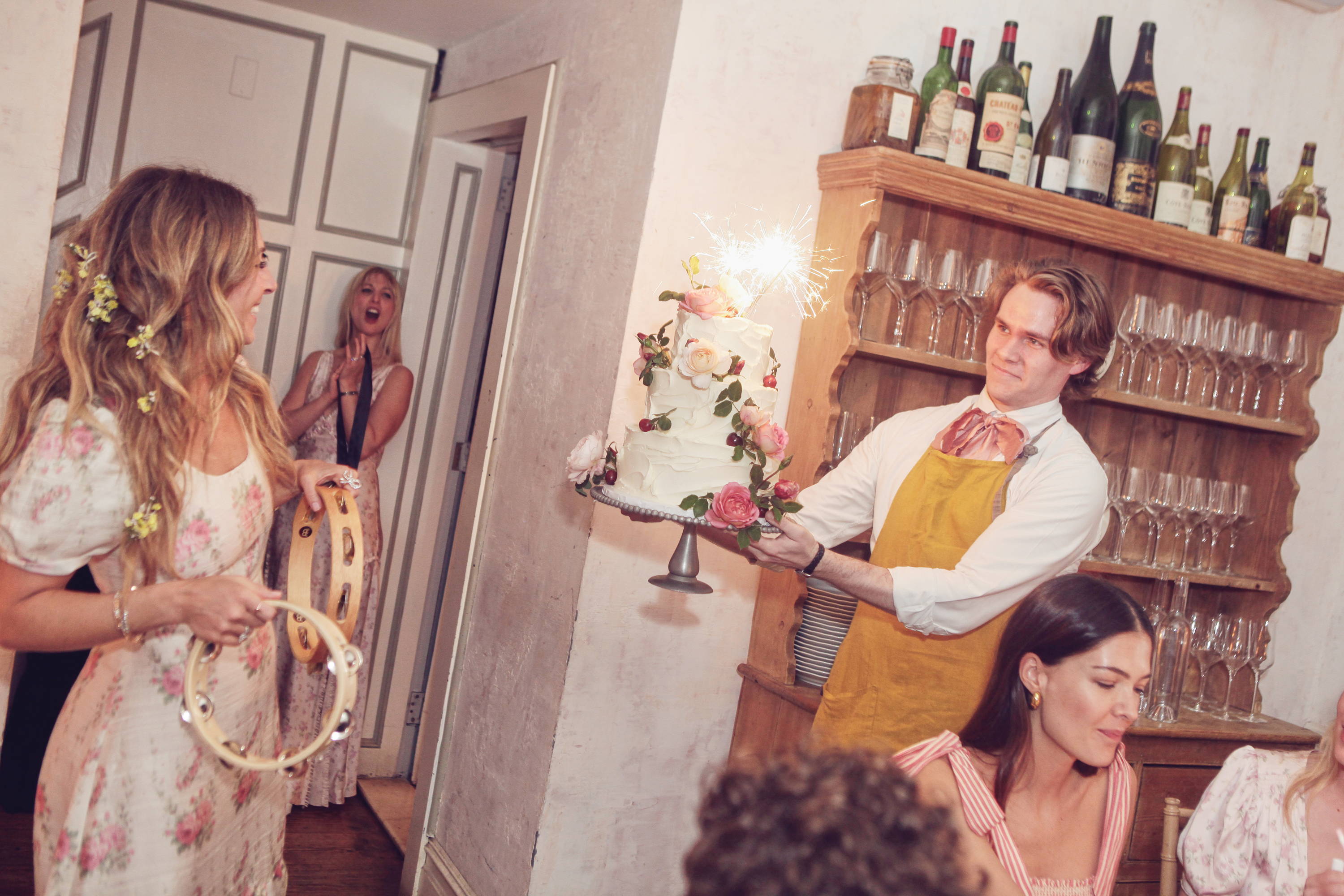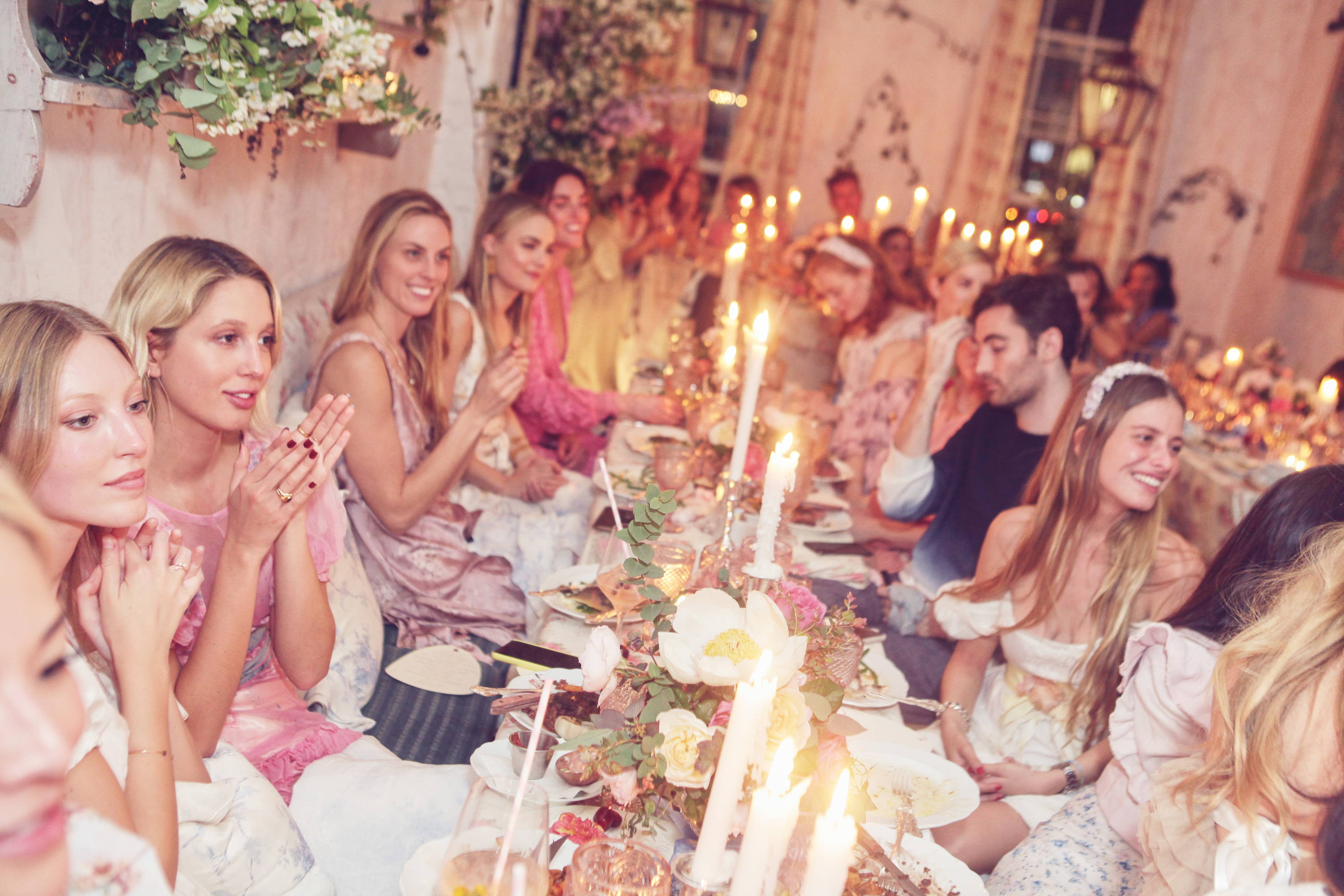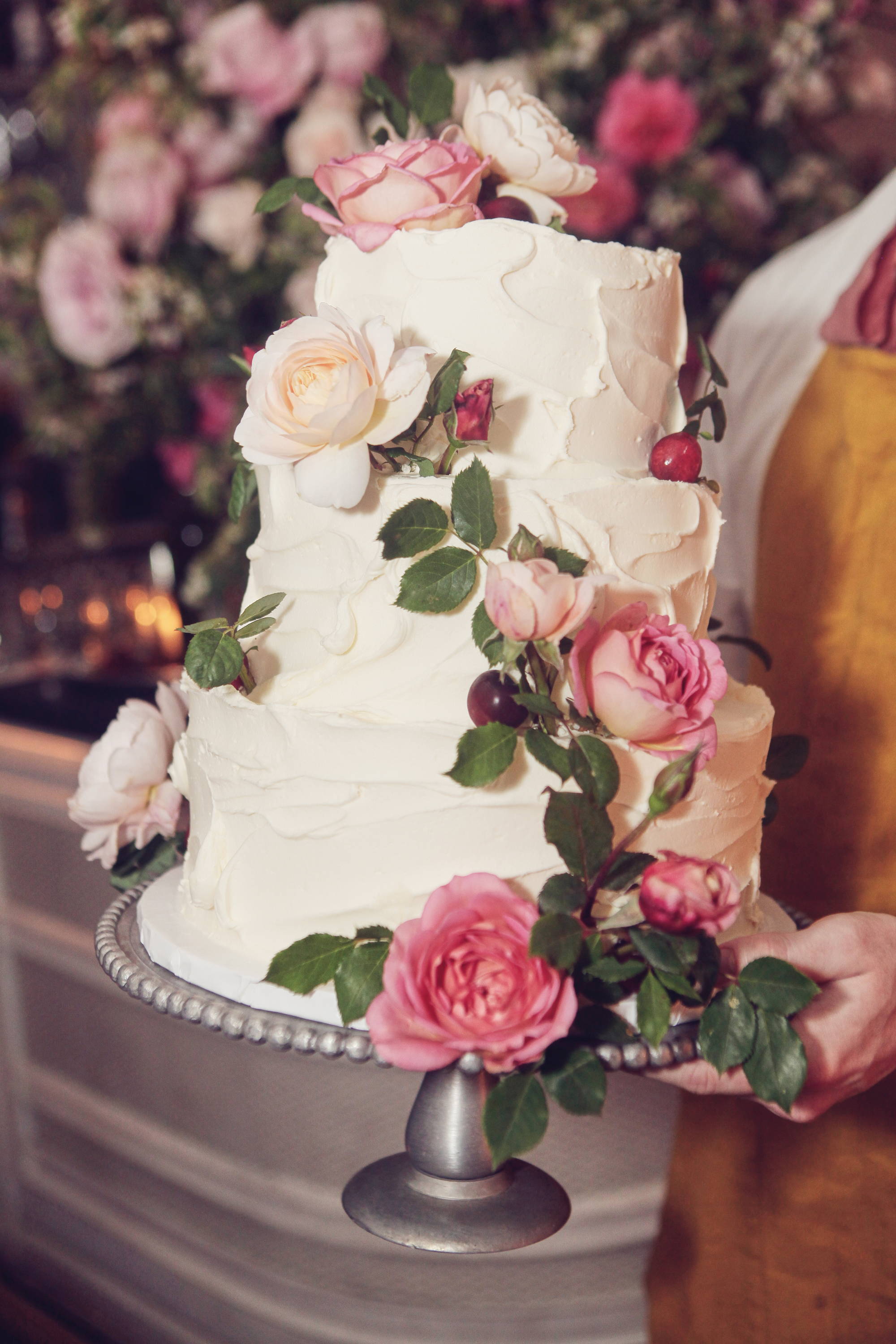 THE GRAND FINALE:
Girls Just Wanna Have Fun

"Let's bring more beauty into the world!" Rebecca gives a spirited toast which is met with great applause as tambourines shake and sparklers blaze. Servers pass champagne, baskets of fresh strawberries, and decadent ice cream sandwiches while guests pick candied apples and frosted sugar cookies from the trees.
The petite bar offers a full range of libations as well as a taste of the exotic — sugar cubes ablaze over an inch of absinthe. The night takes a turn towards the naughty.
Dessert is an adventure.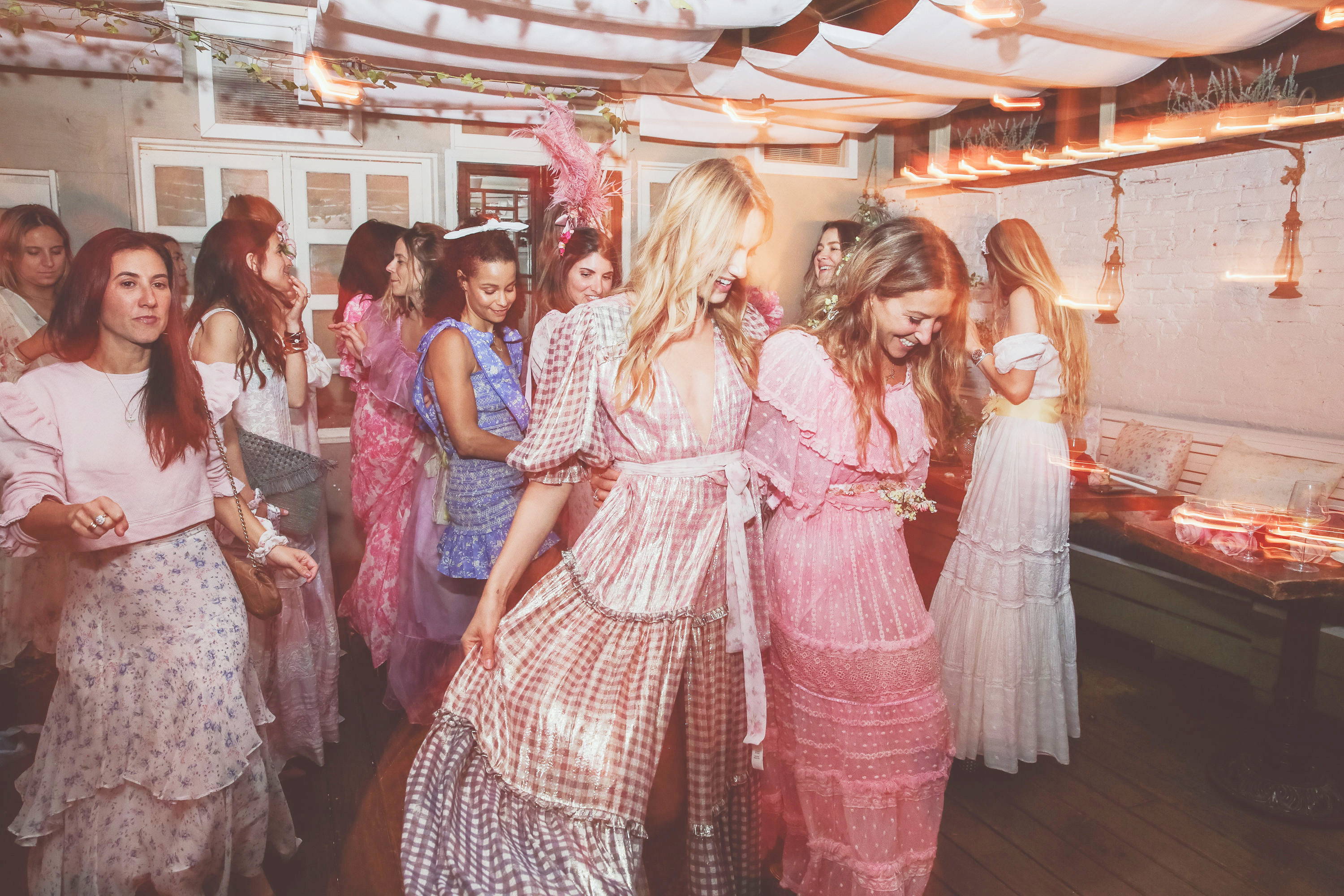 We adjourned to the secret party room tucked in the back of the house, draped in twinkling lights and a watercolored dream of gauzy toile. Hand in hand, an enchanting sea of metallics, pinks, and silks with our skirts hiked up, and shoulders bare, we danced the night away.
As the evening commenced, we paraded and twirled through the magical garden with breathtaking capes and exaggerated bows to the finale song of "Girls Just Wanna Have Fun."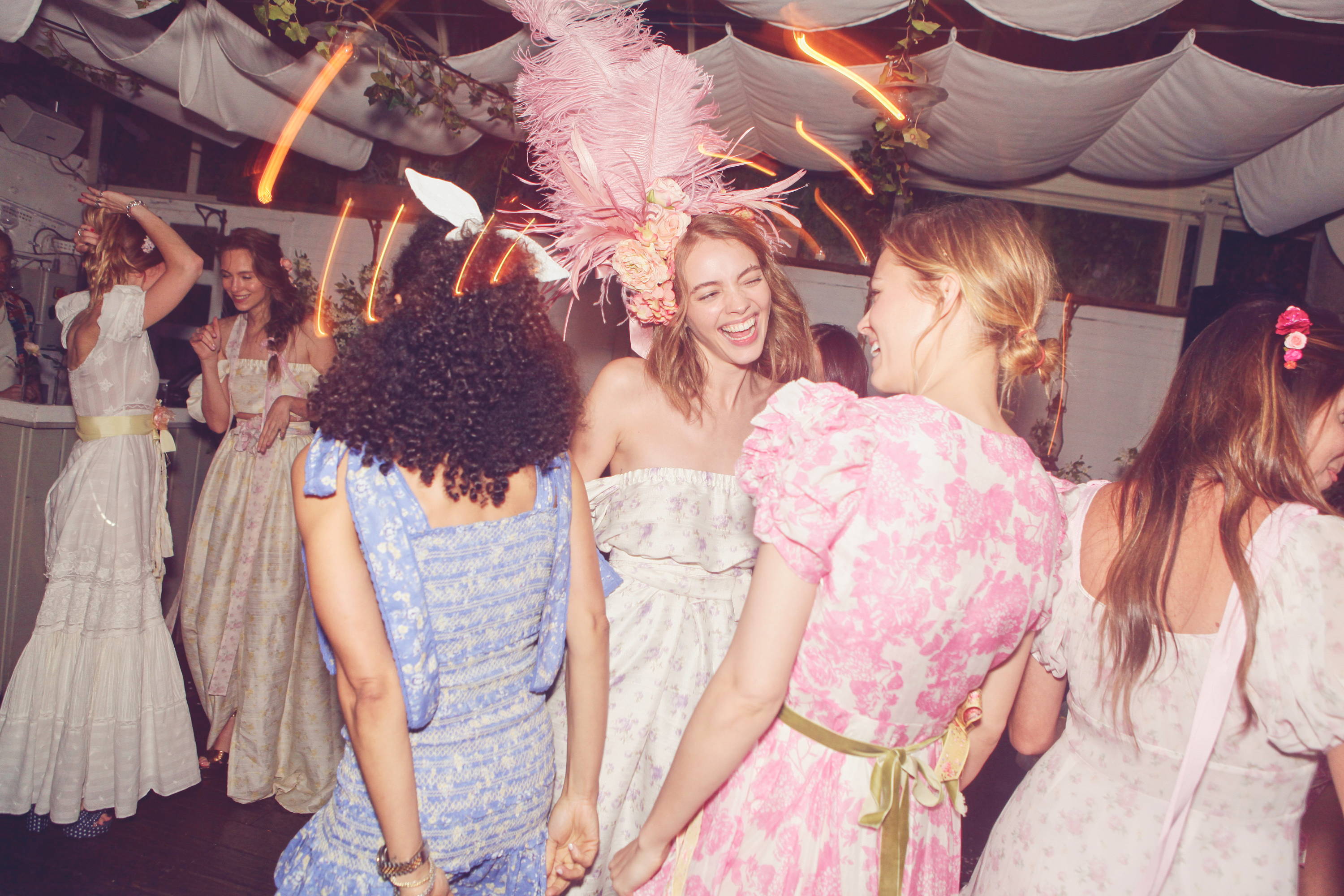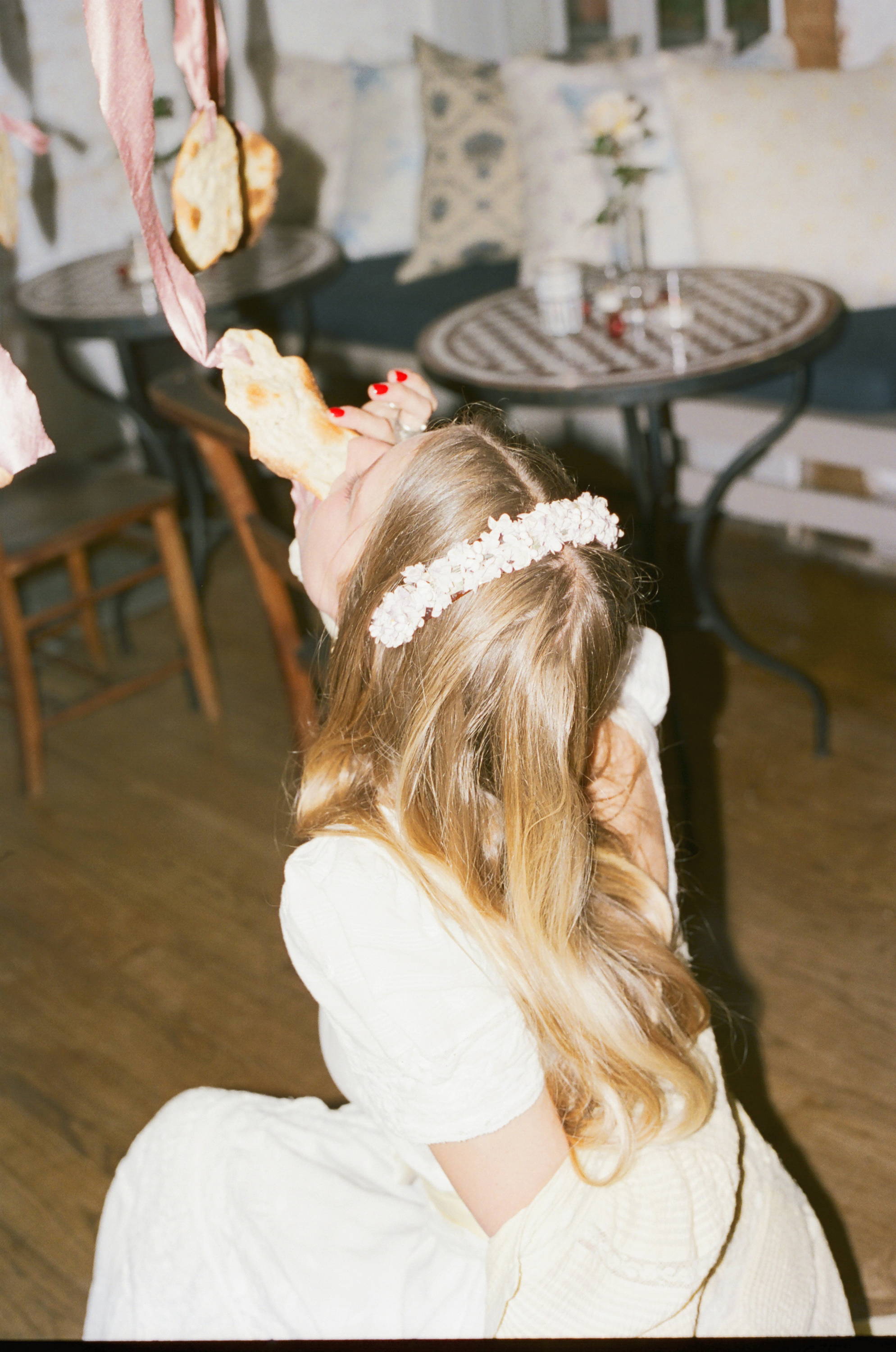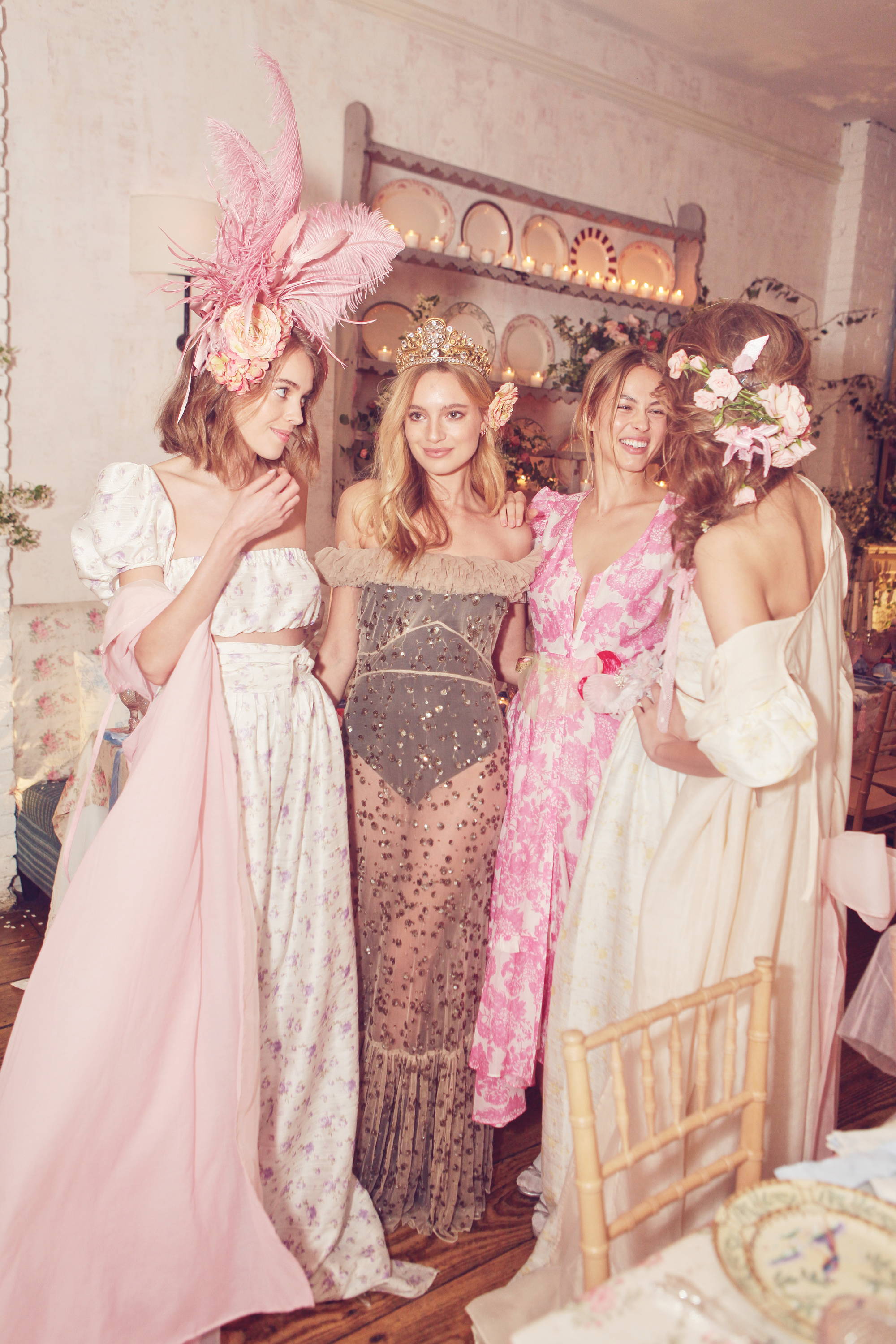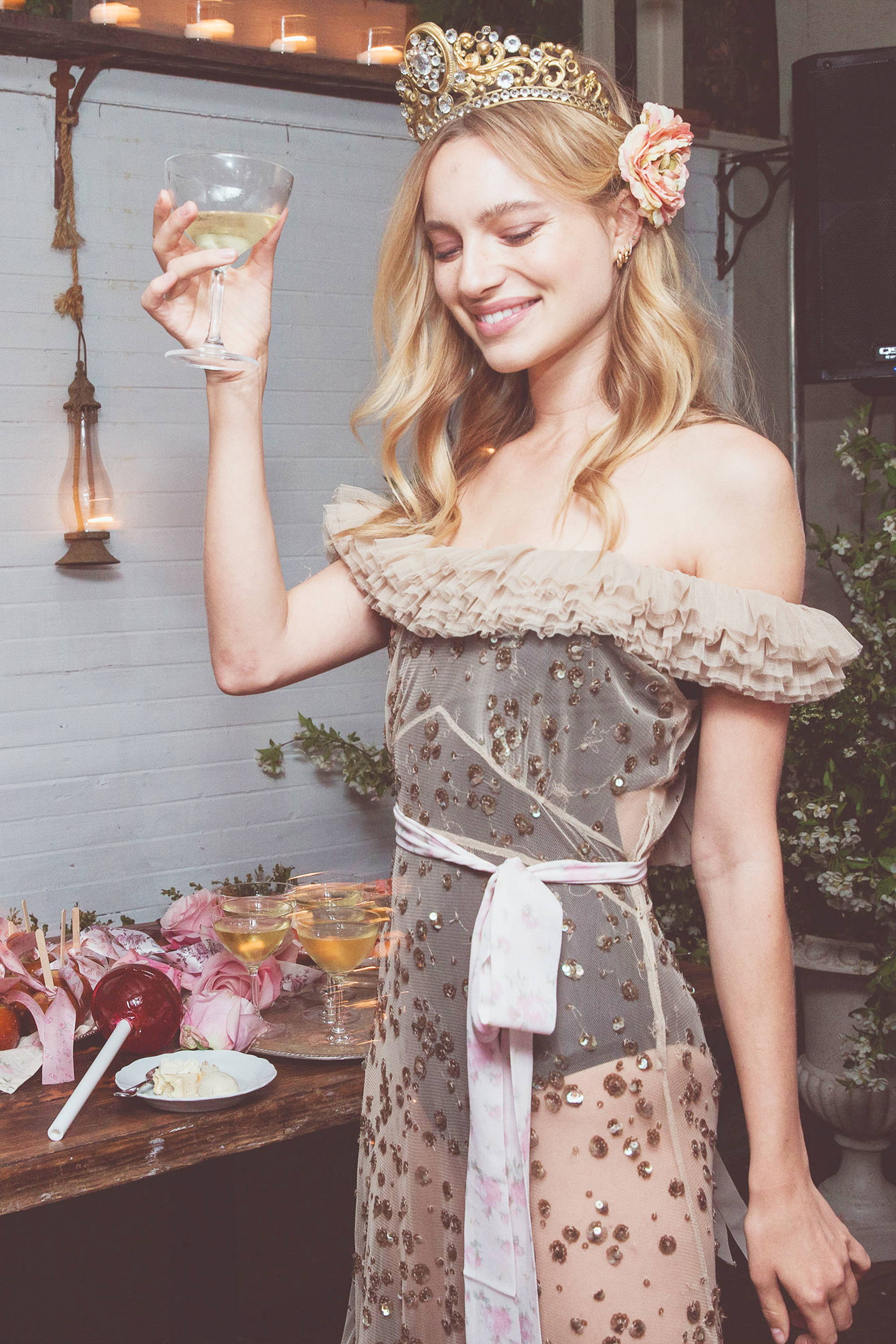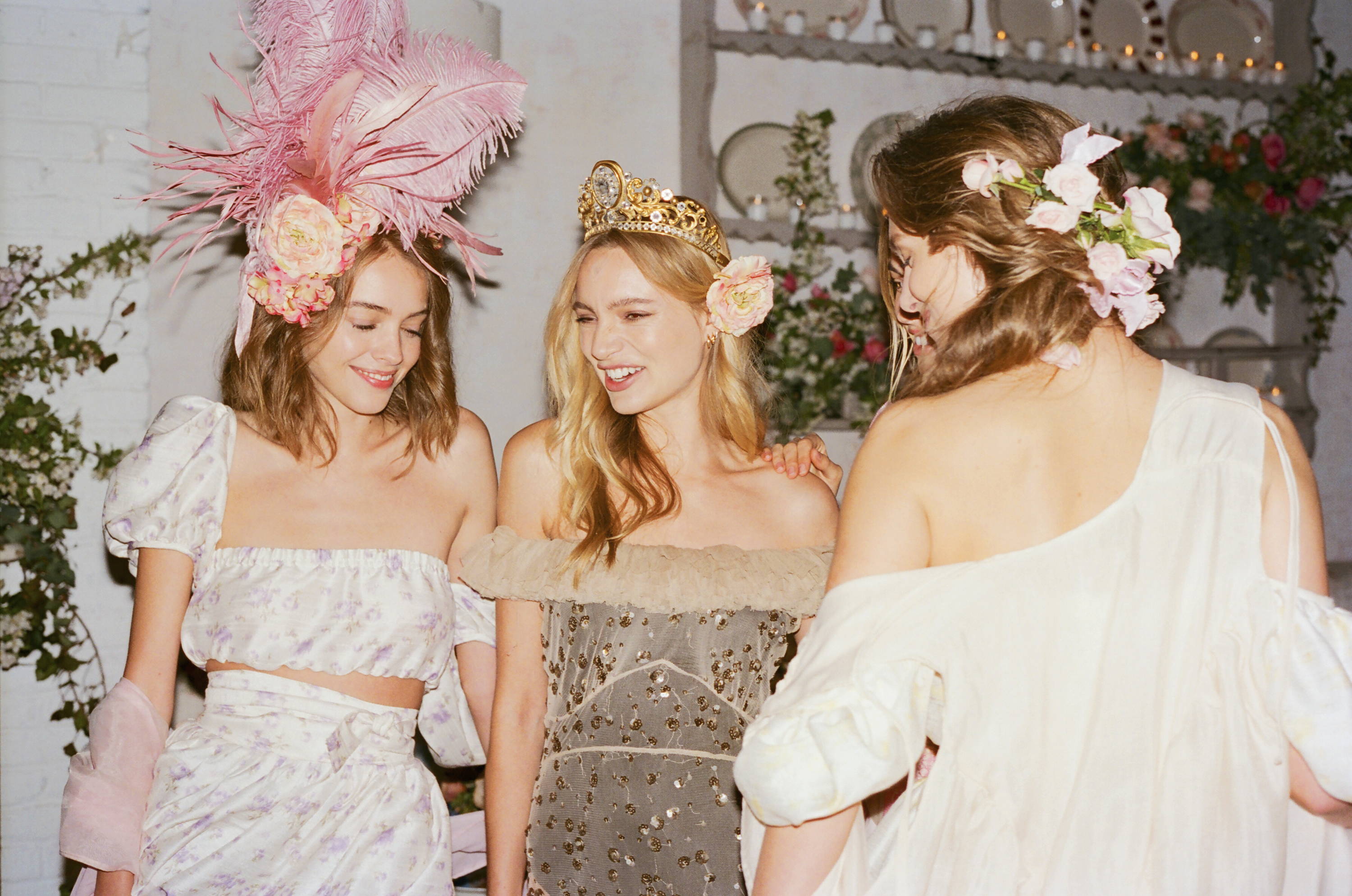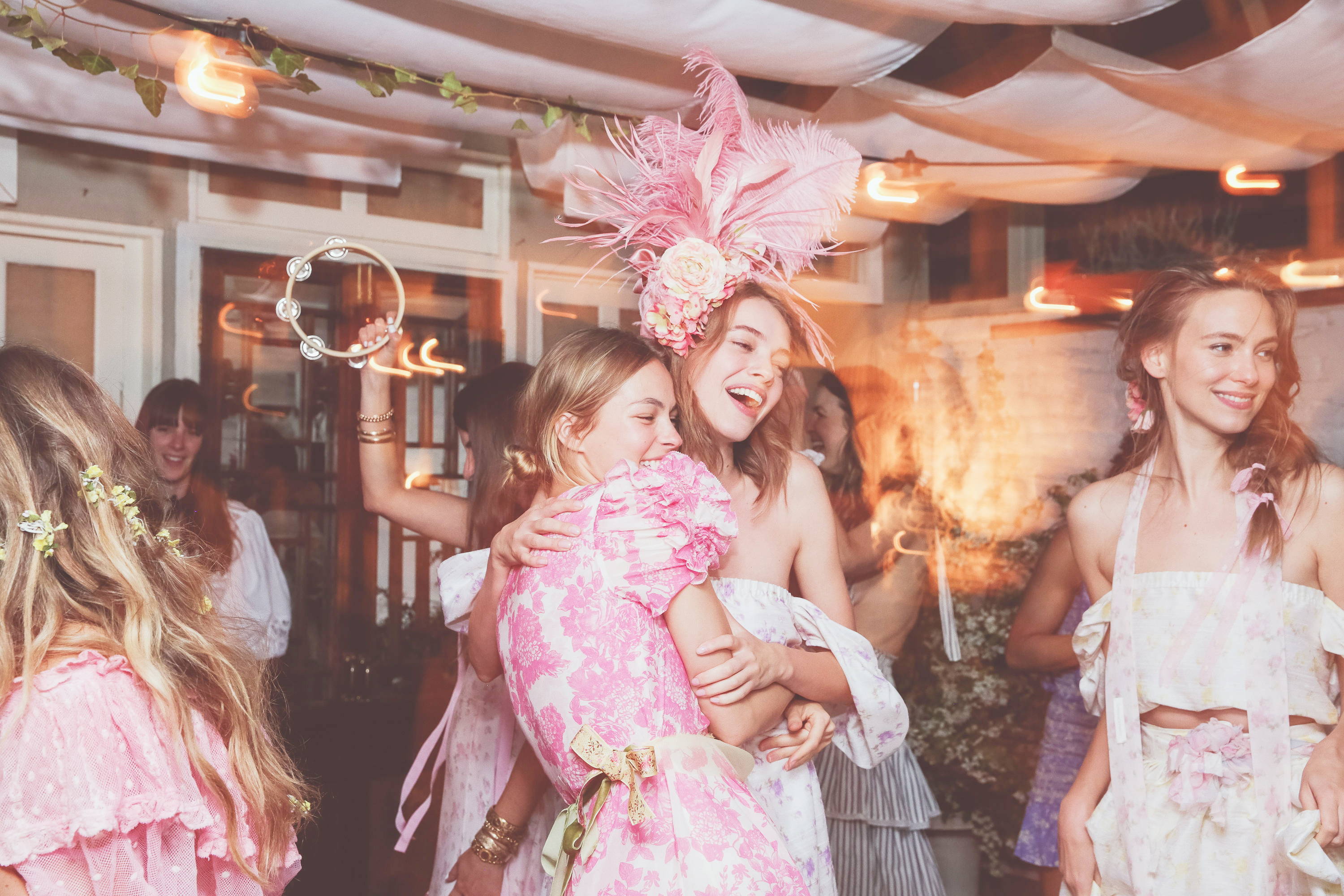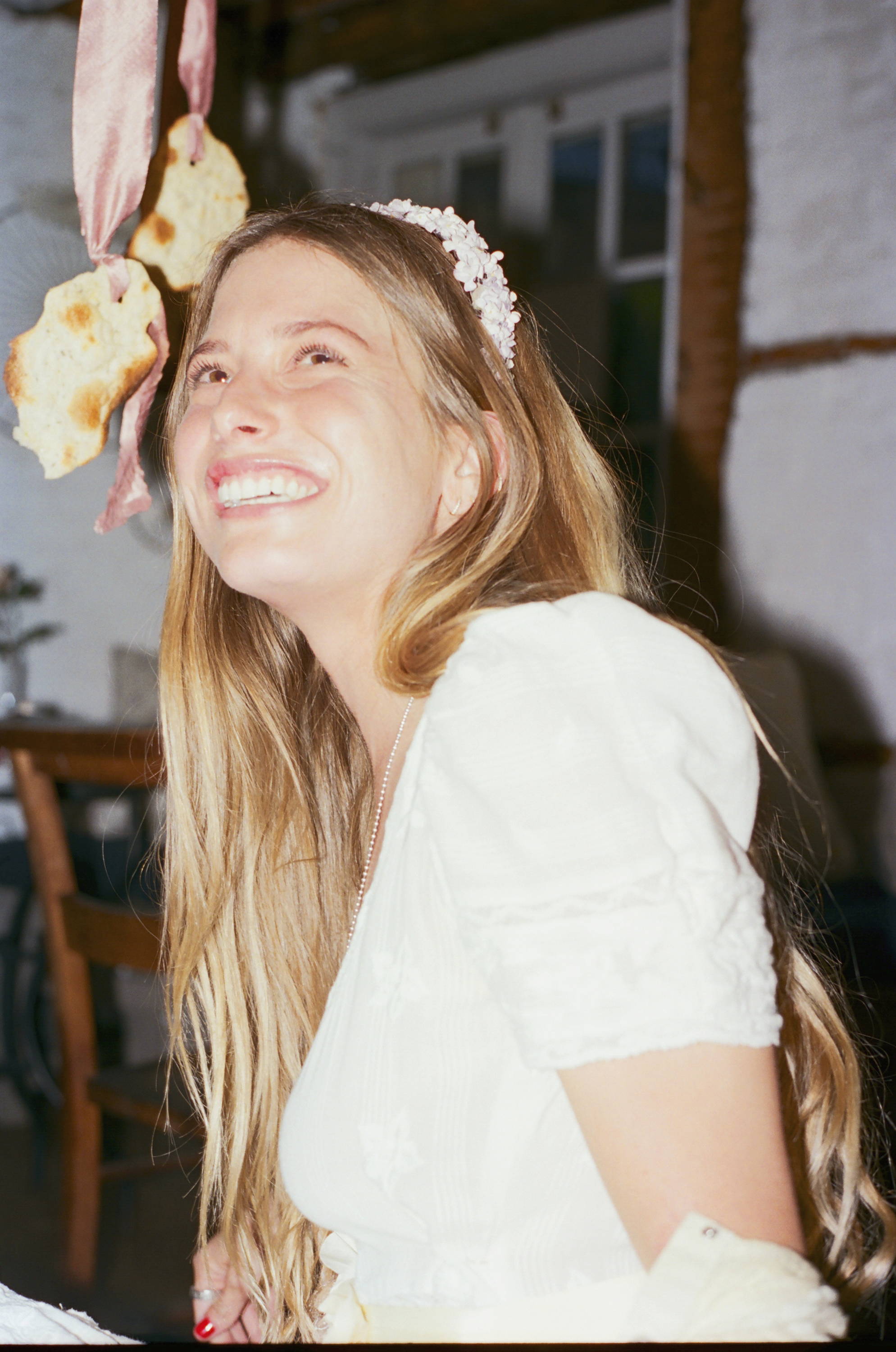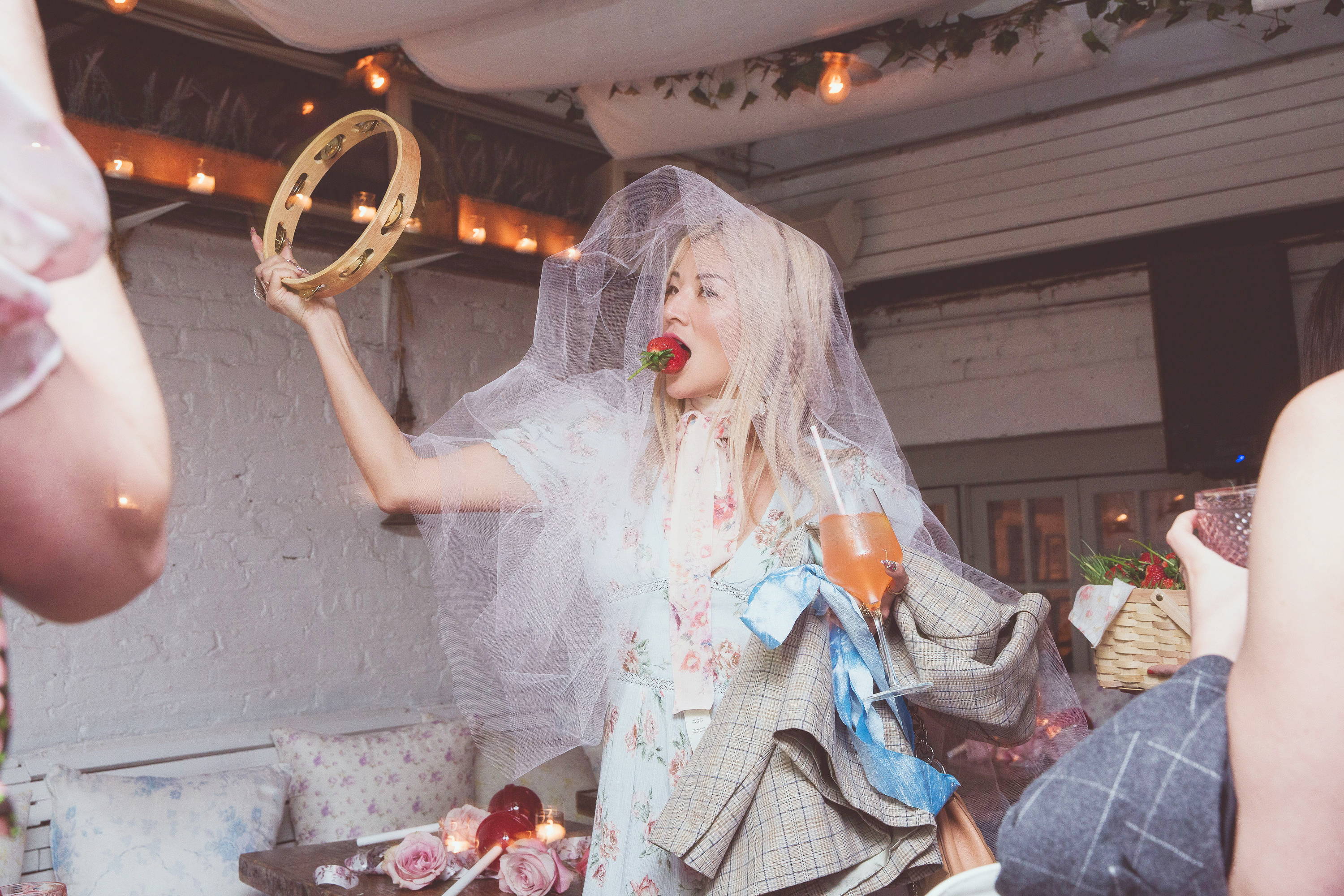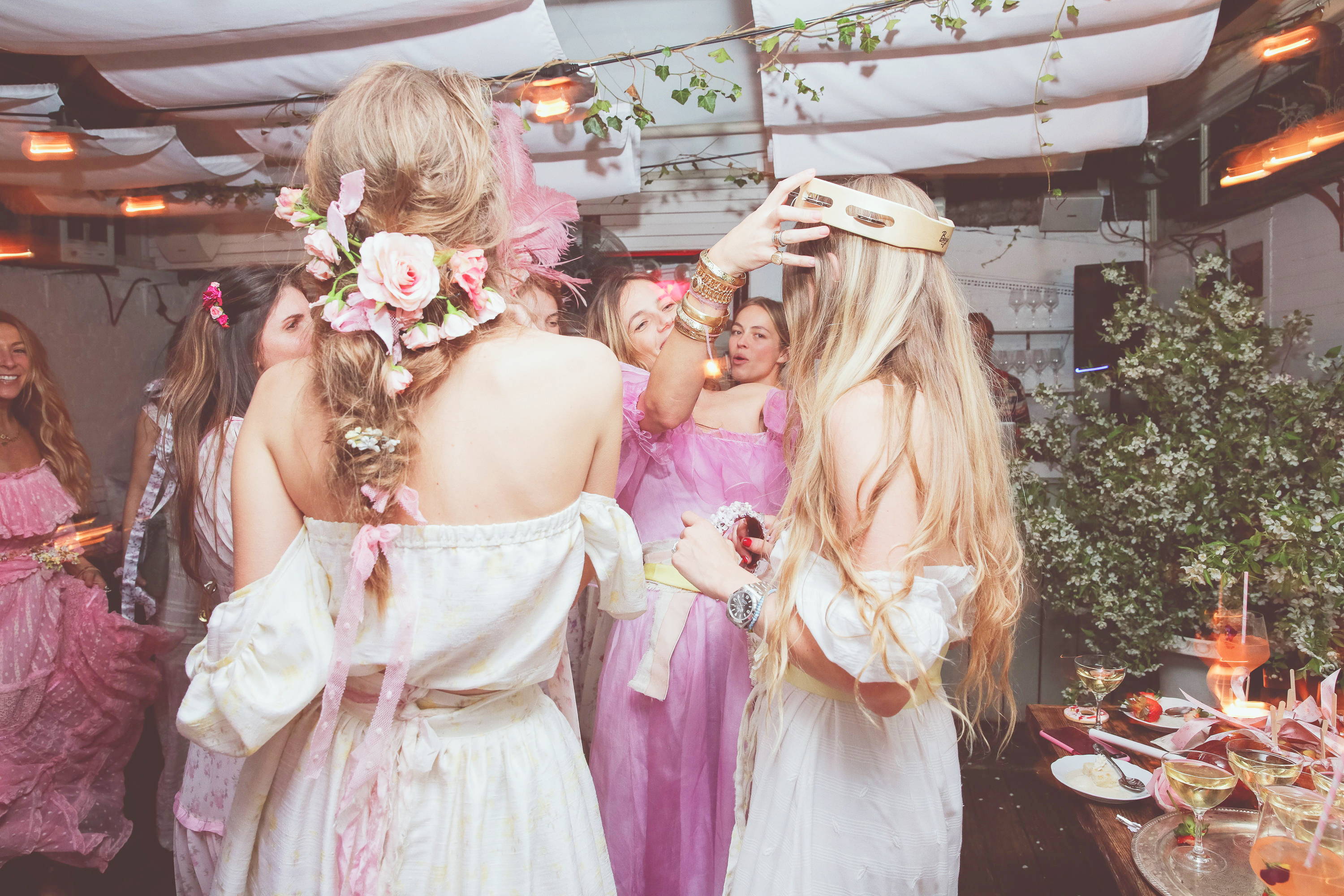 THE GUESTS:
Goddess Girls

We laughed and celebrated with our goddess girls in pink Battenburg lace, sequined gowns, oversized florals, tattered Parasols, hand-painted masks, and forever hems. From legendary editors to our NYC muses, our dream dinner party guests included Amy Astley, Princess Maria-Olympia of Greece, and Hilary Rhoda.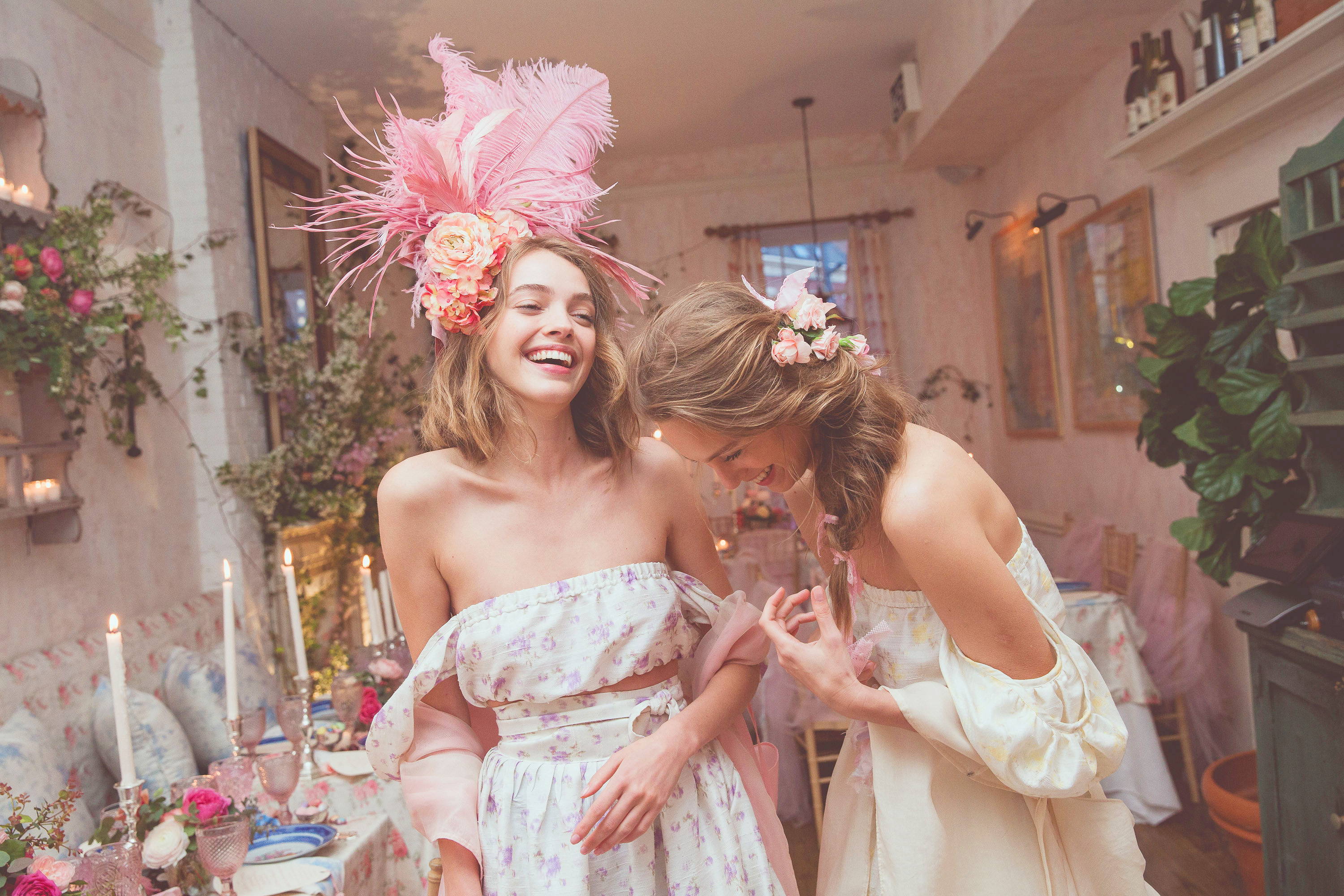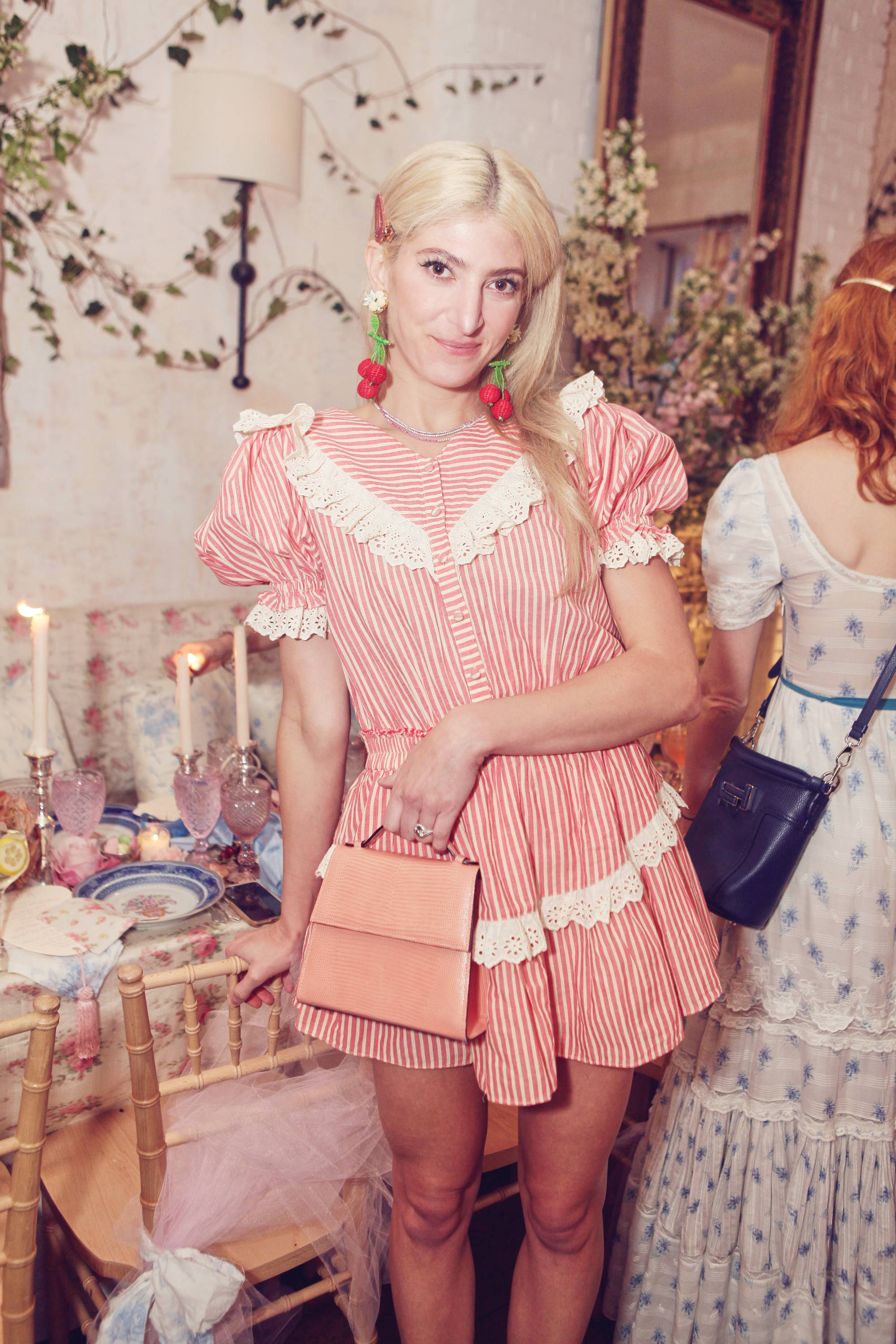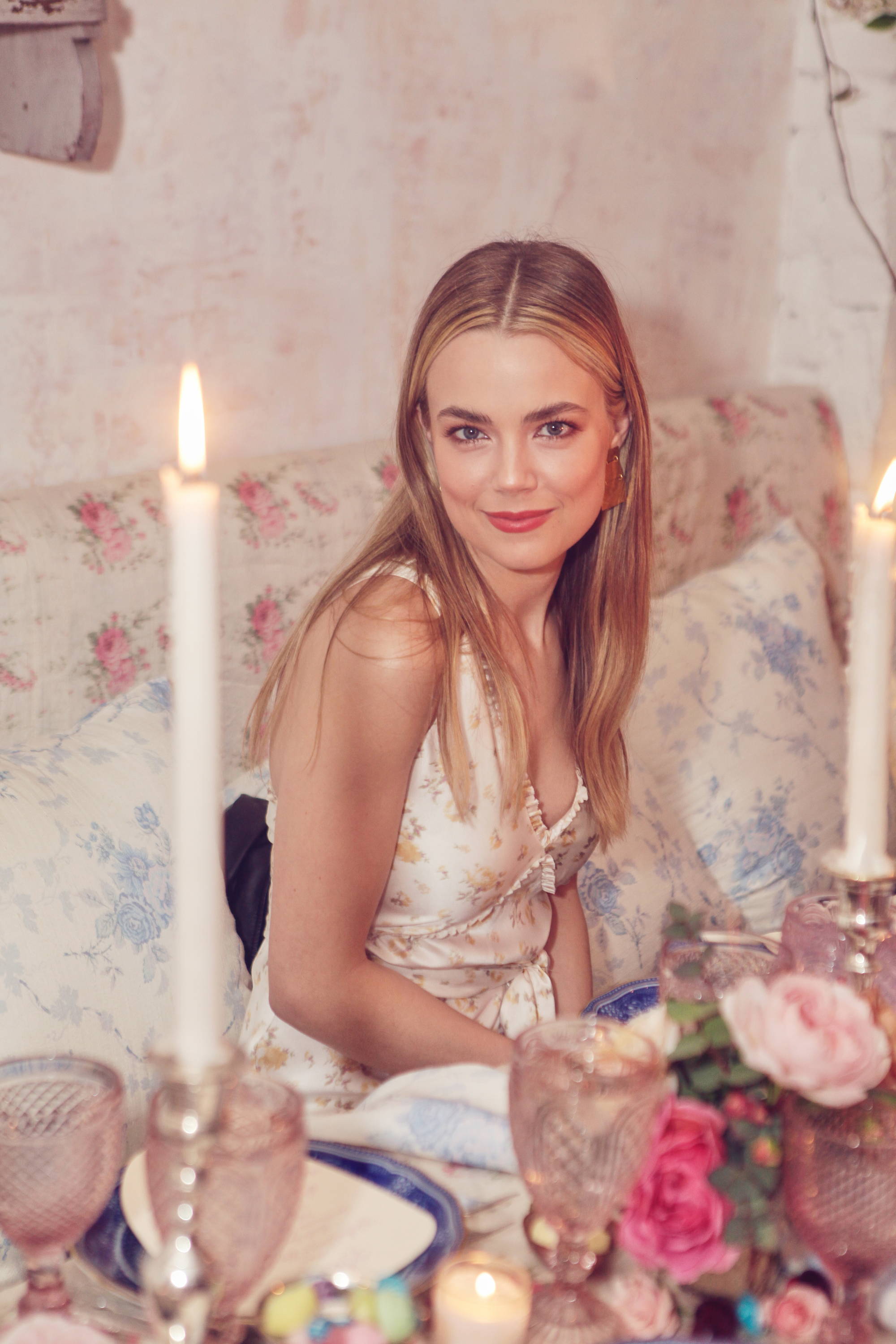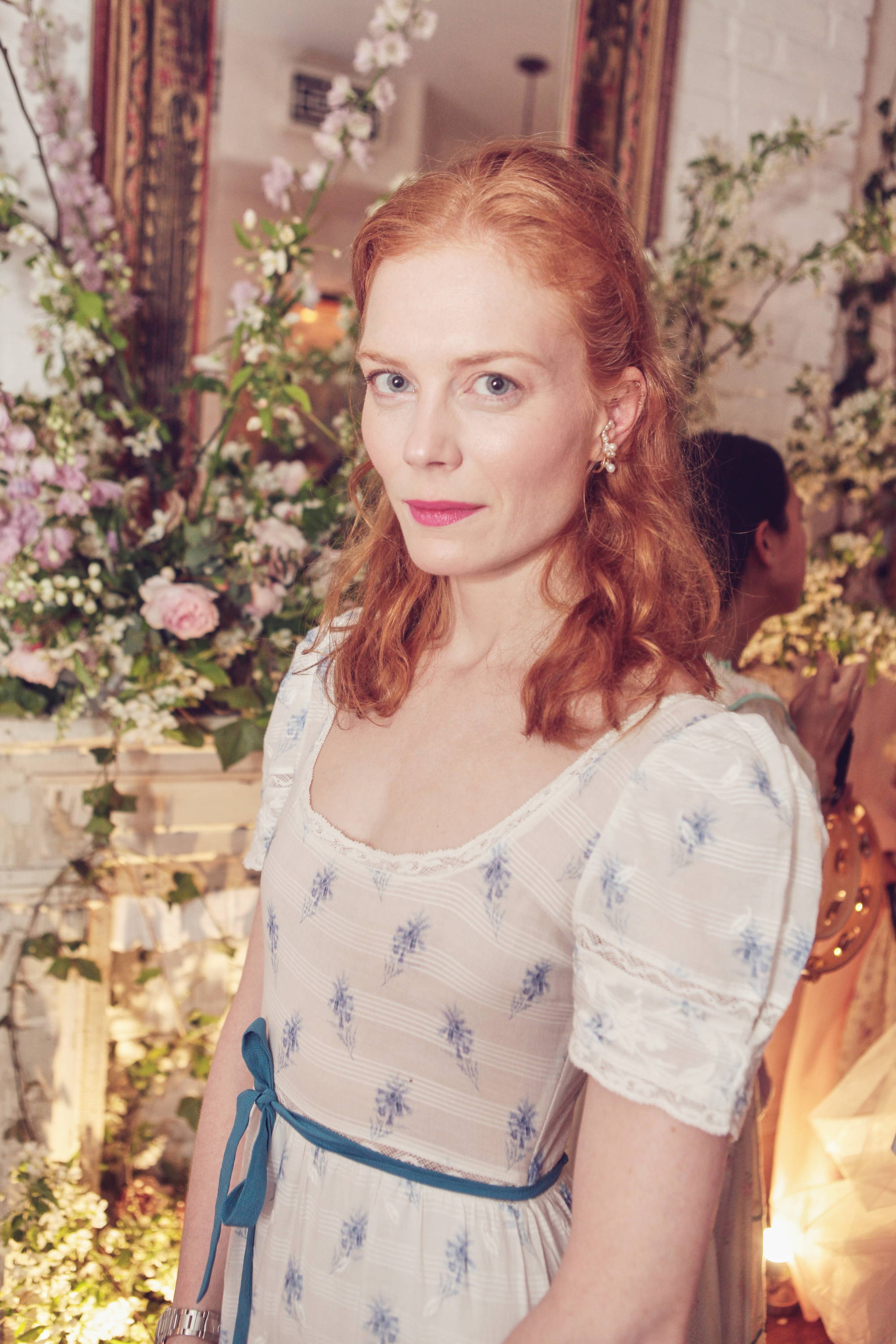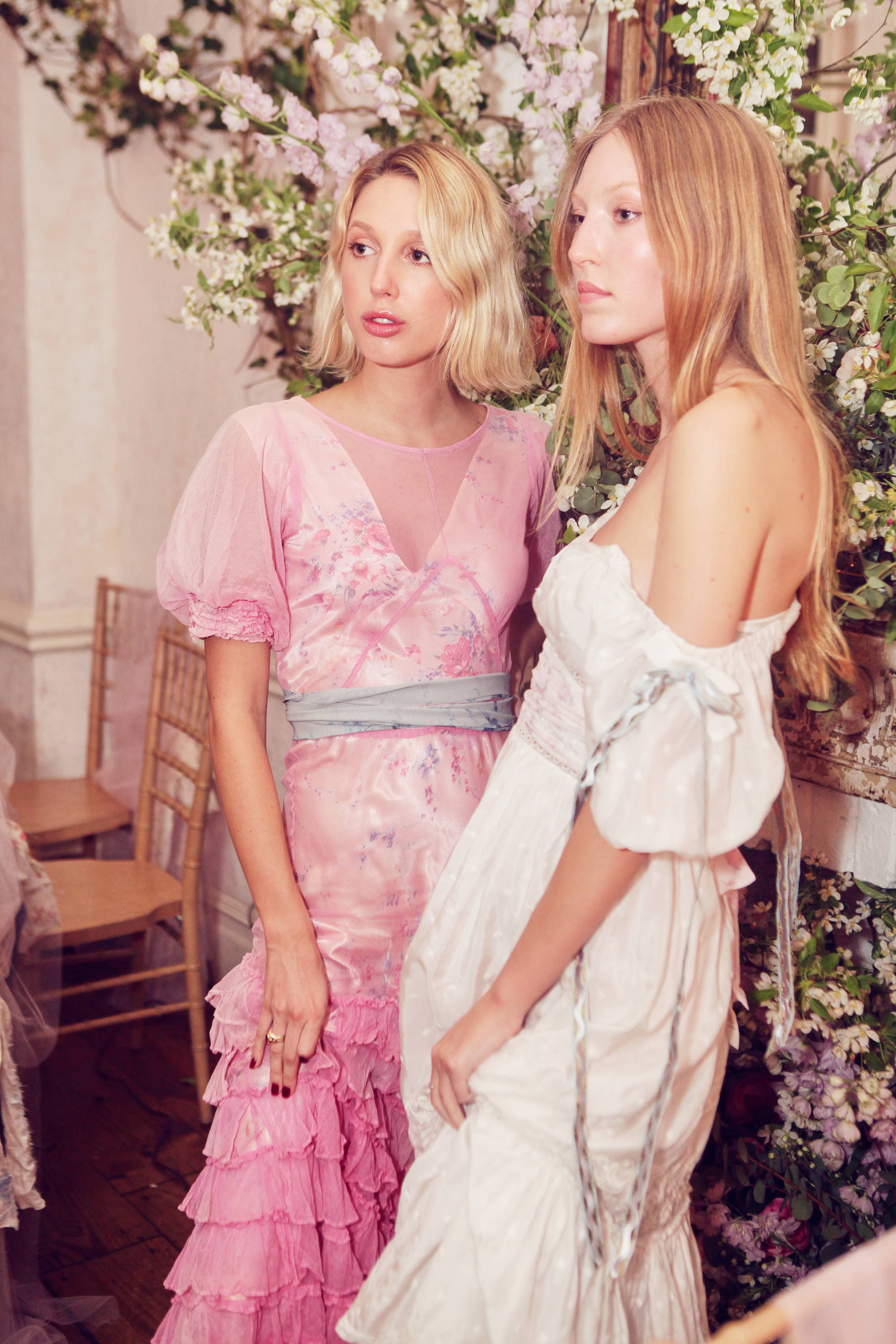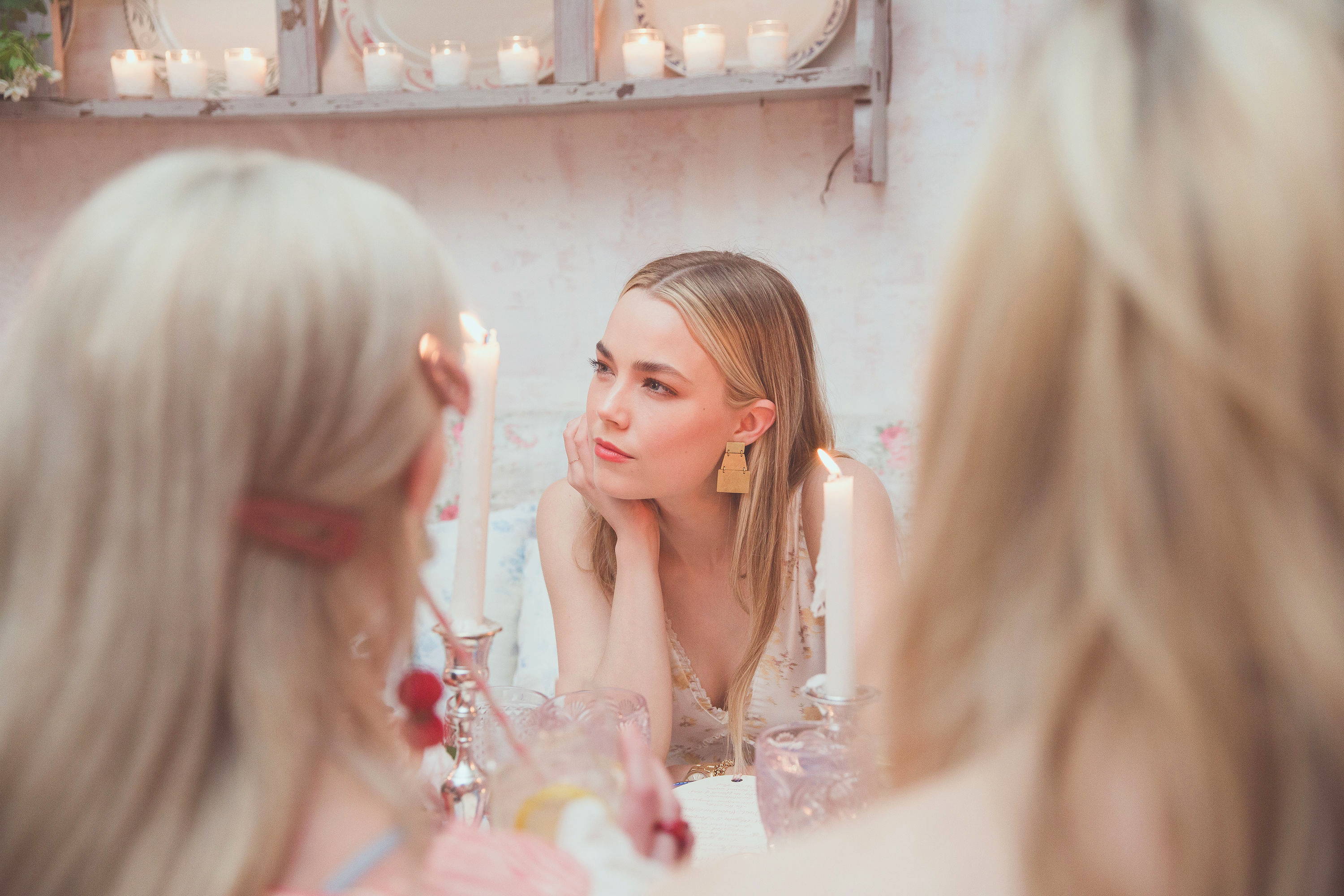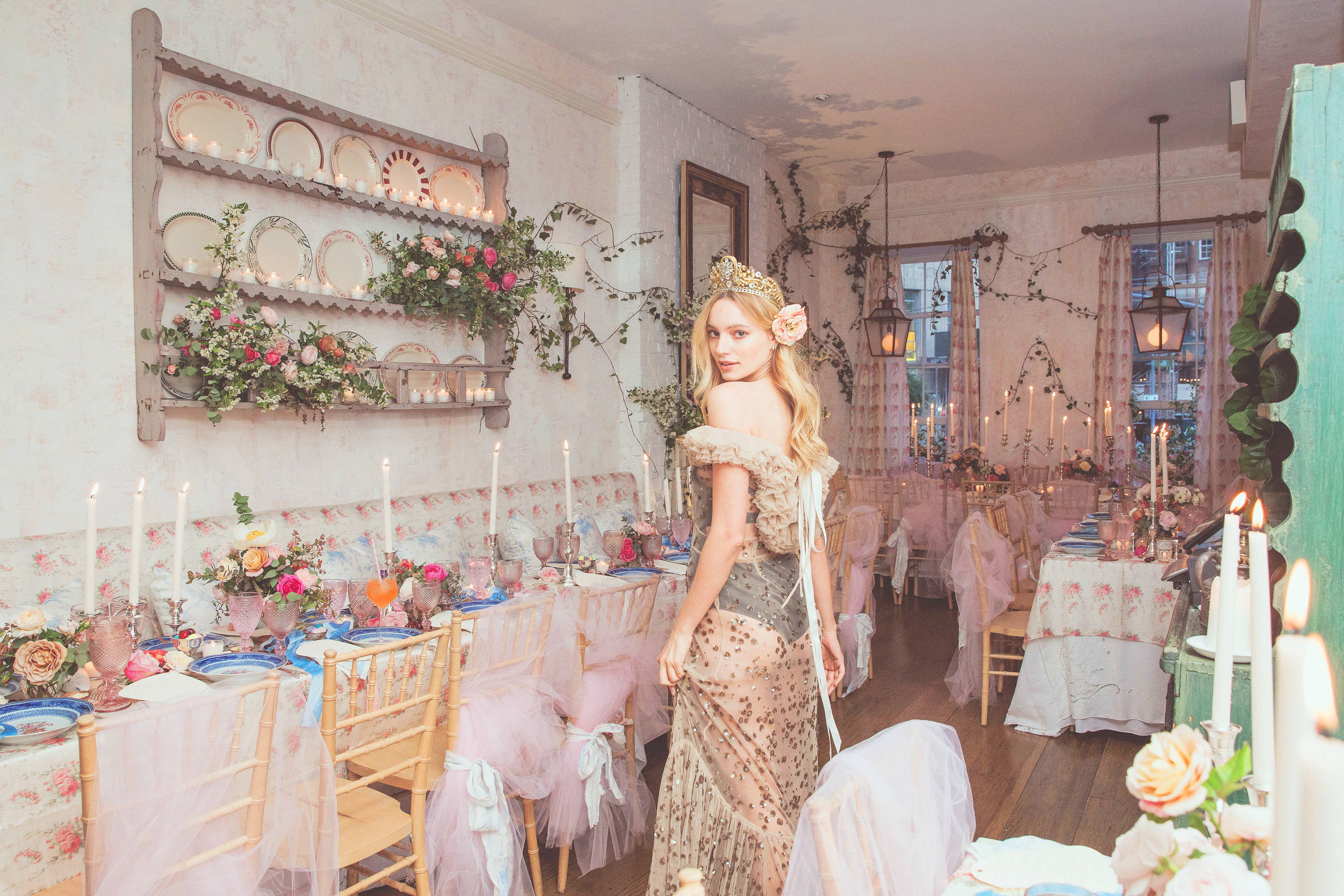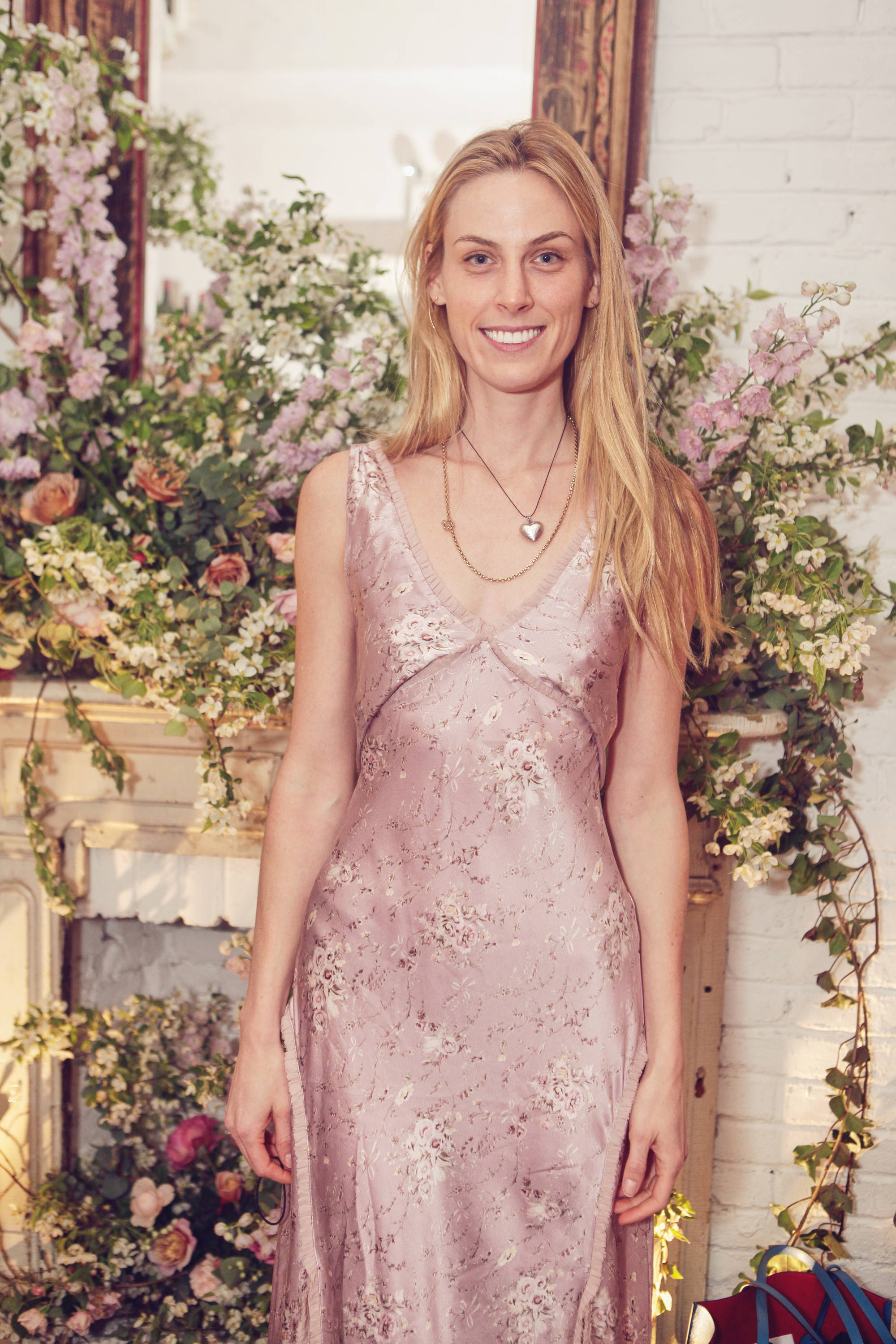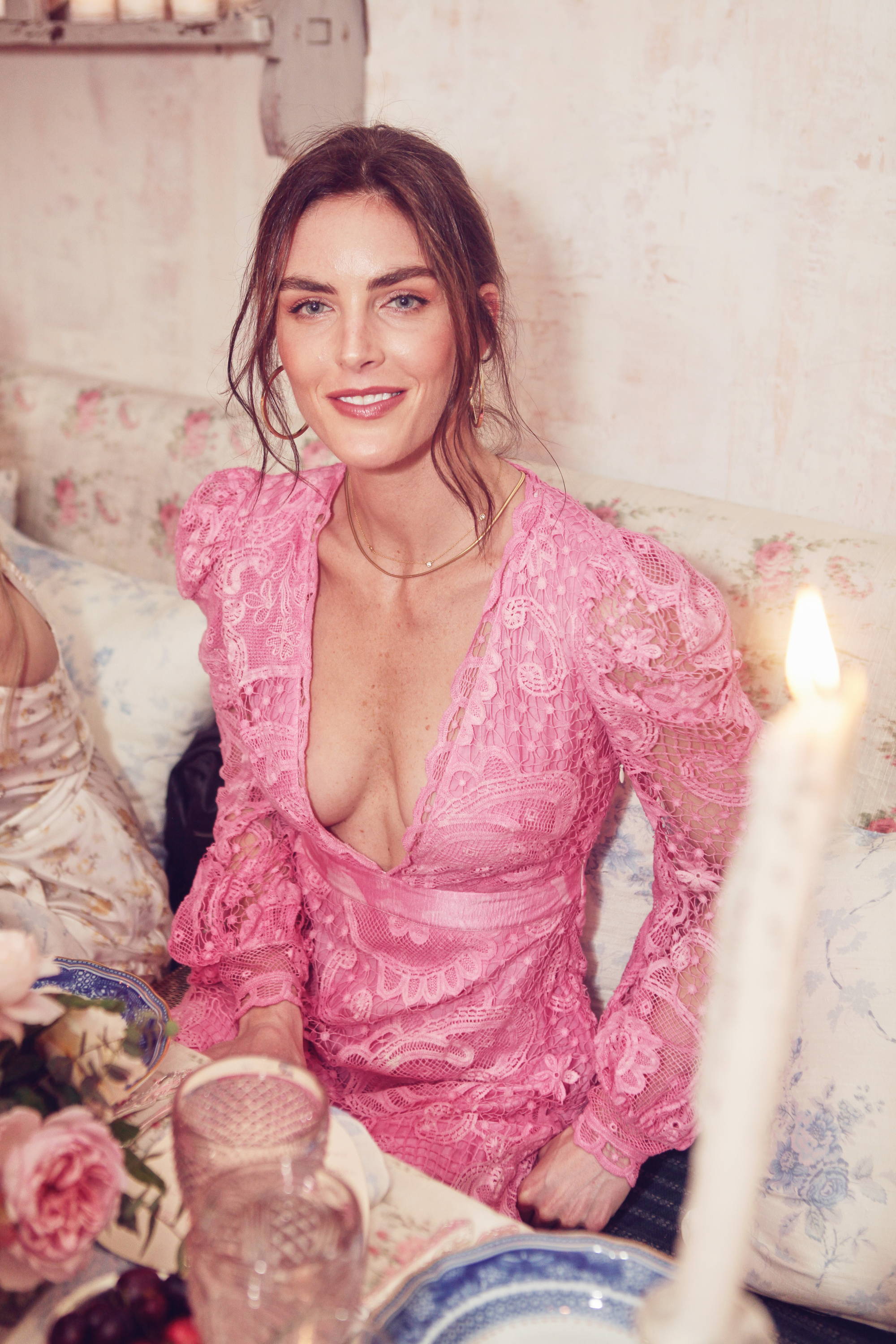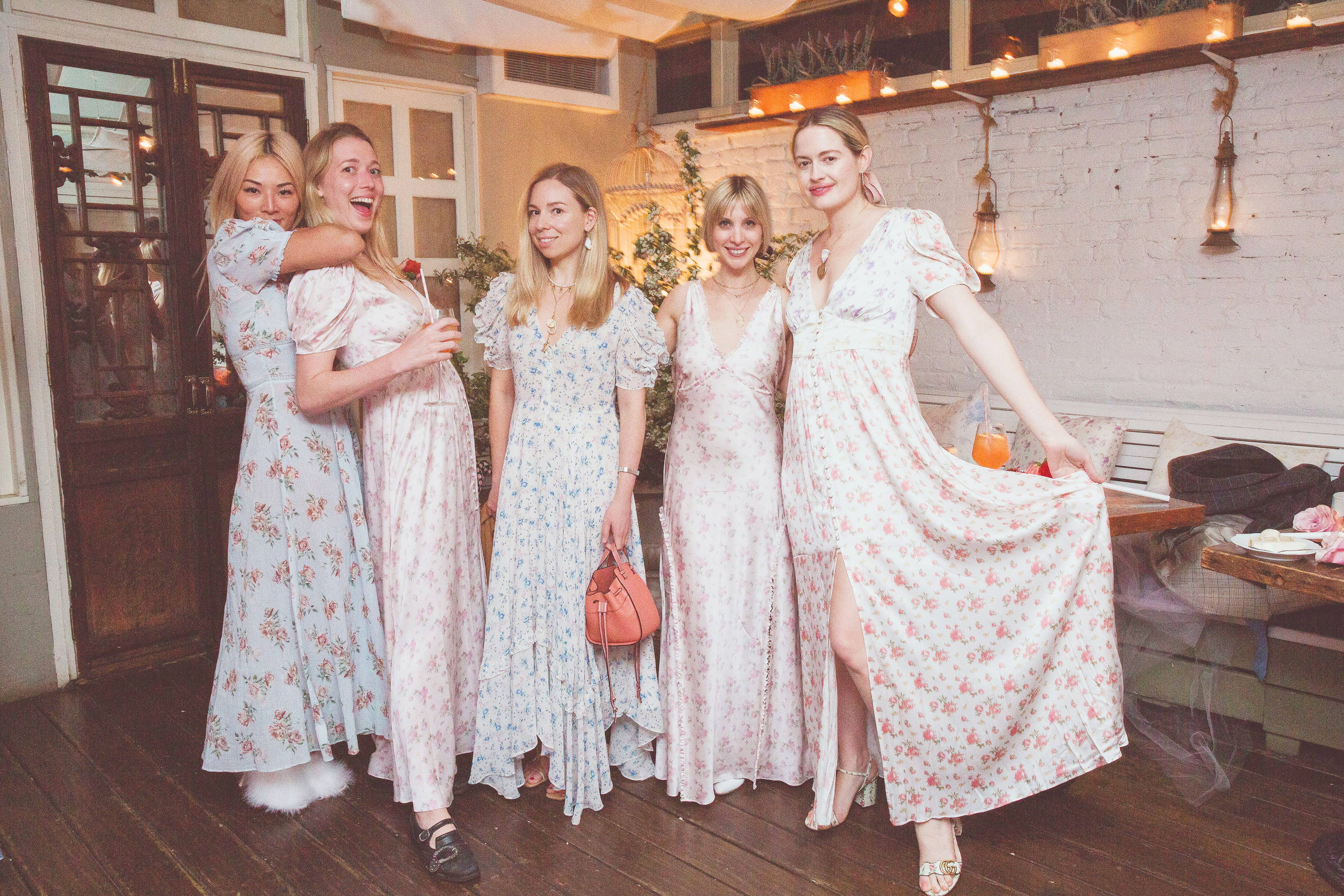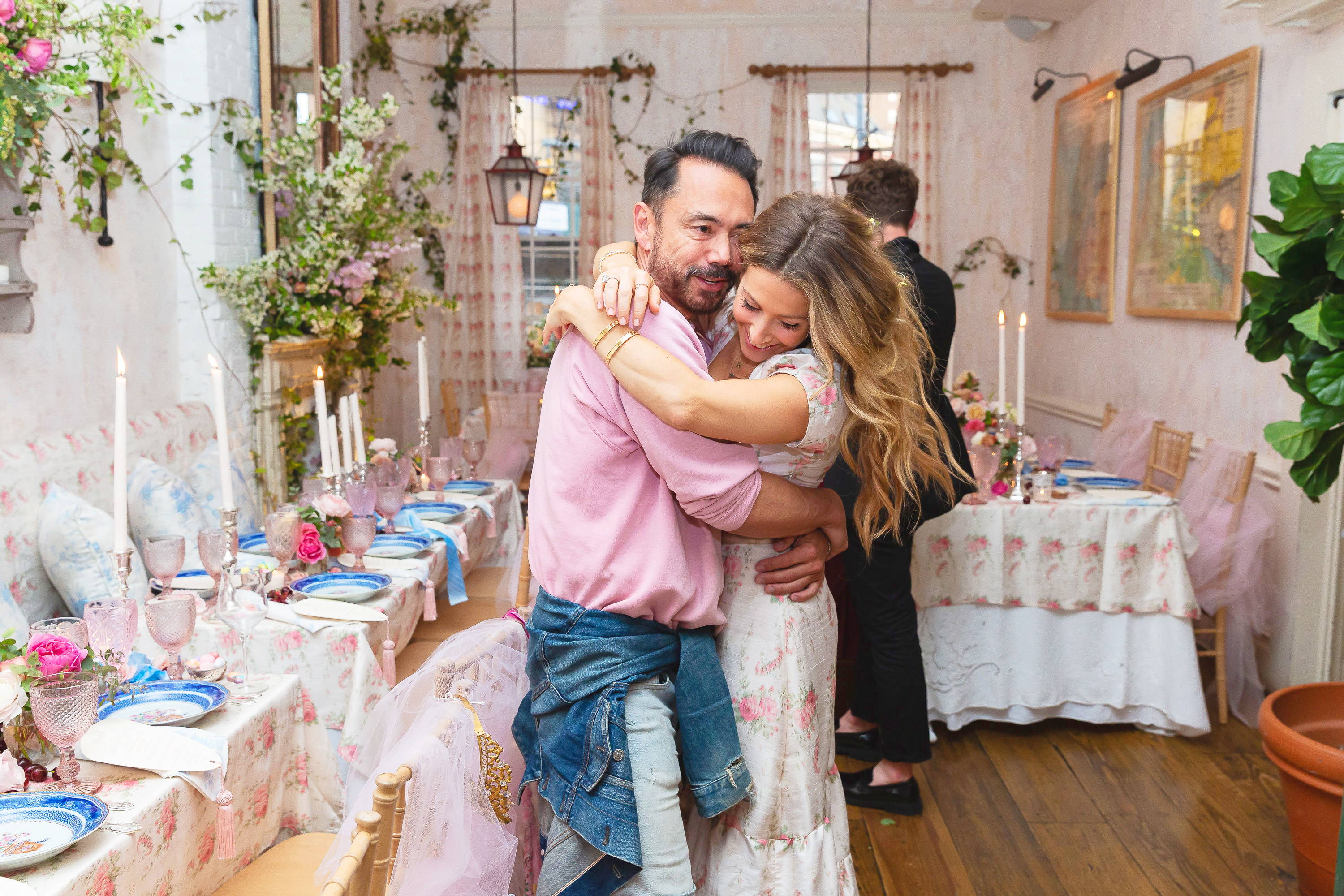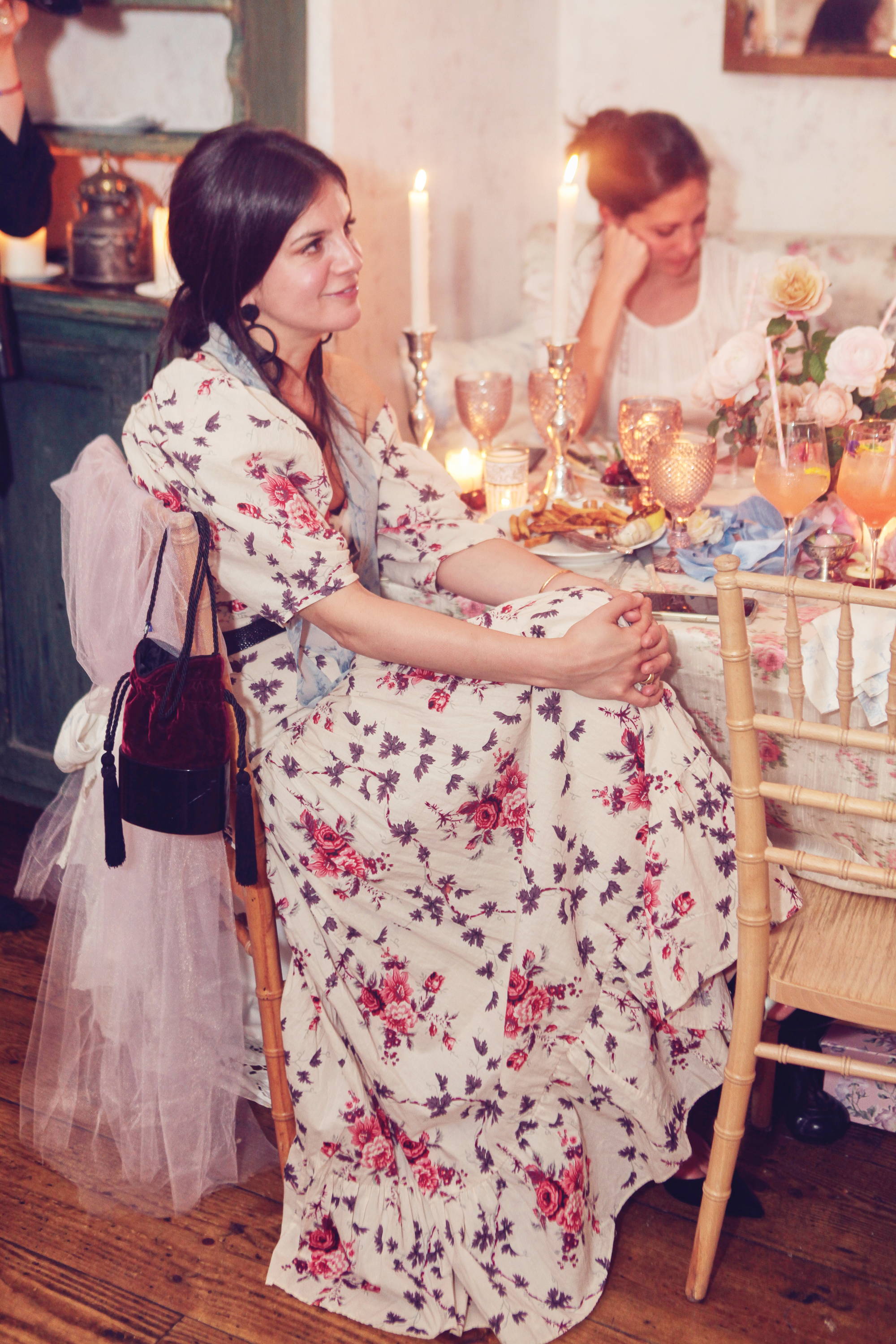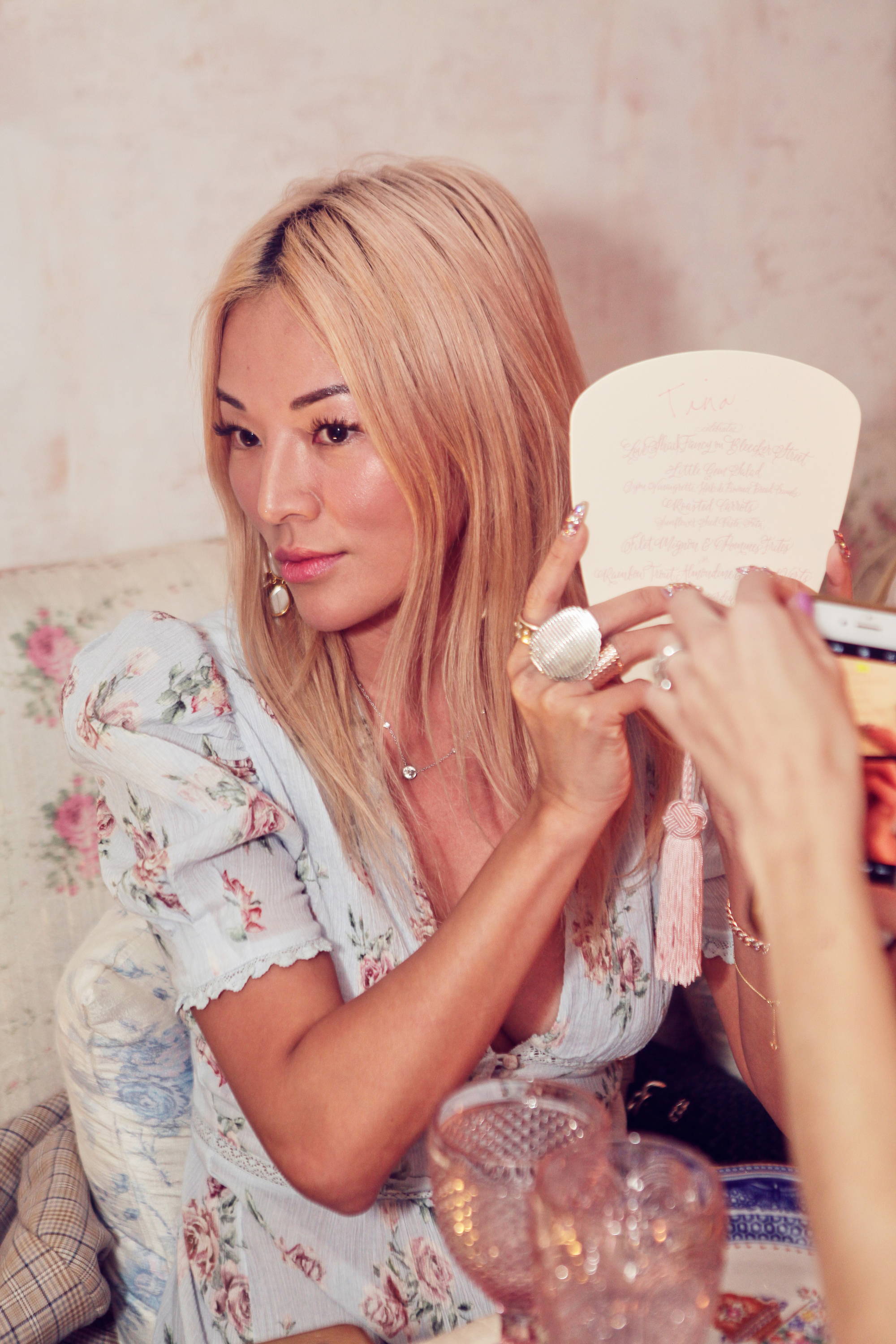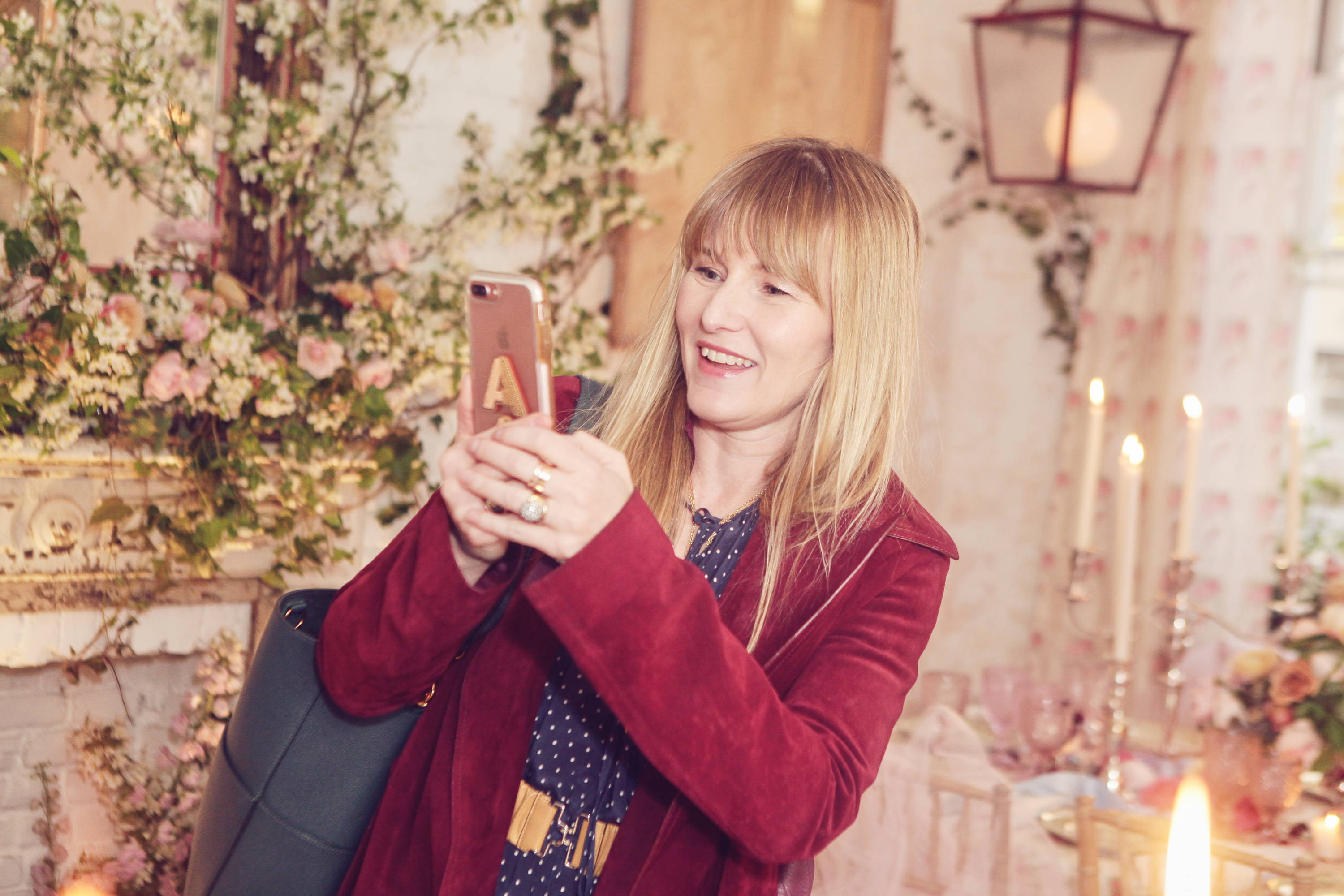 PR
Sara Byworth
FLOWERS
FLWR Studio's Emily Buckner
PARTY PLANNING
Rebecca Gardner
PHOTOGRAPHERS
Aletiza Photo
Raul Tovar
VIDEO
Jen Steele