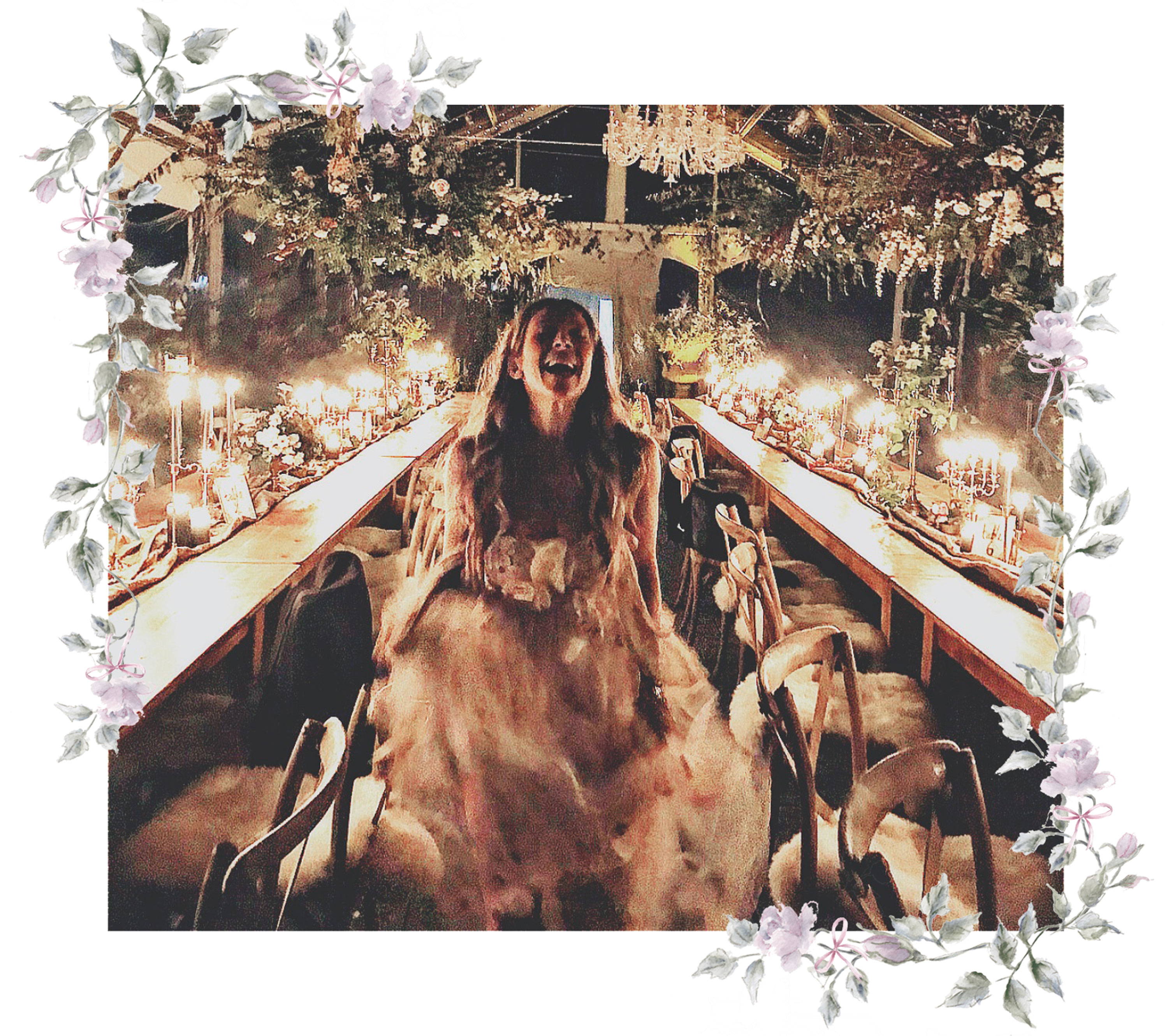 The air was crisp as we gathered in a floral dreamscape for a mystical night of Victorian decadence. A vision of romance and magic brought to life, we celebrated Todd's 40th birthday with our nearest and dearest.
"Here's to all the places we went. Here's to all the places we'll go. And to me kissing you, whispering again and again just how much I love you, every day of my life. Happy birthday to my soul mate, my hero, my best friend, my everything."
xxRebecca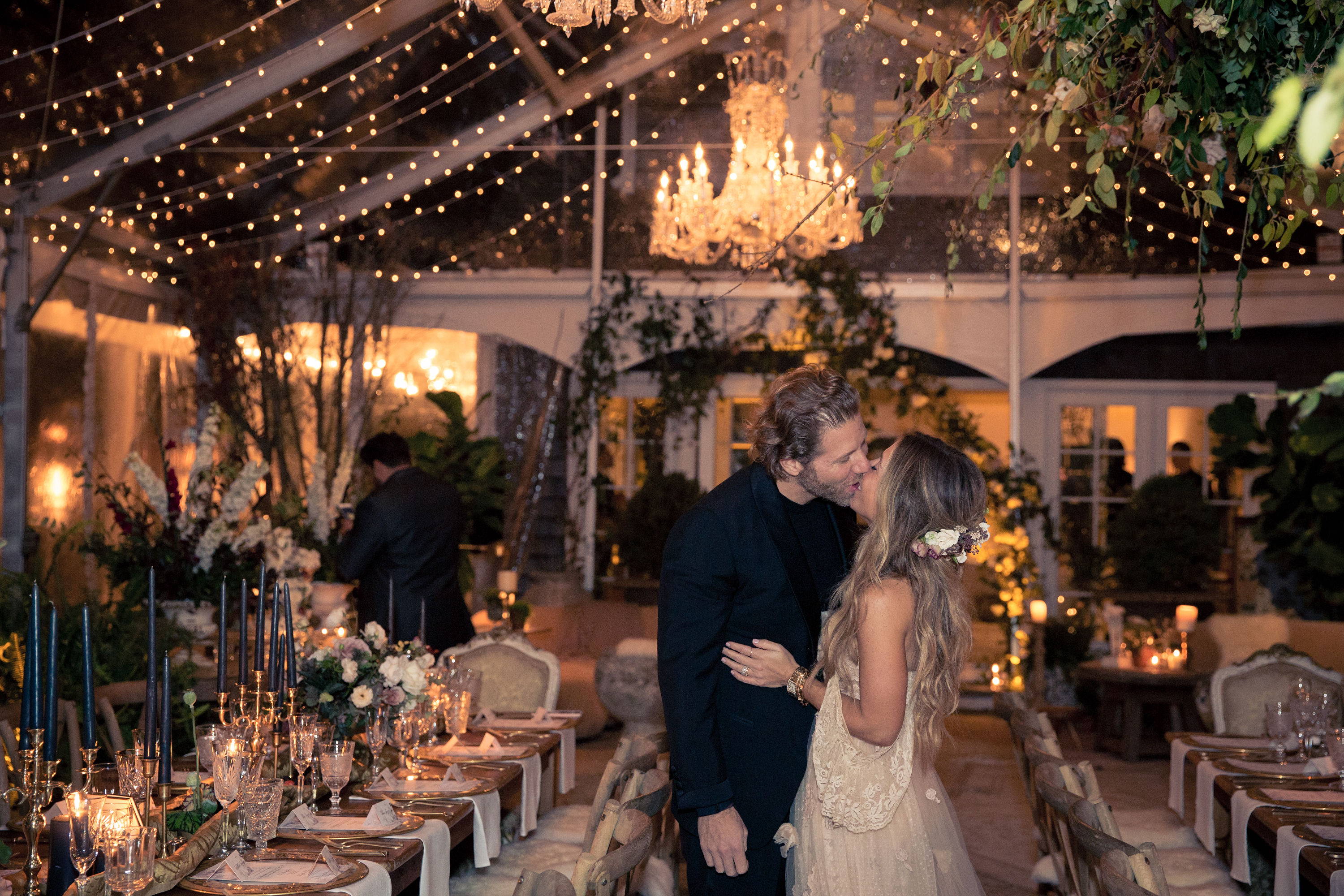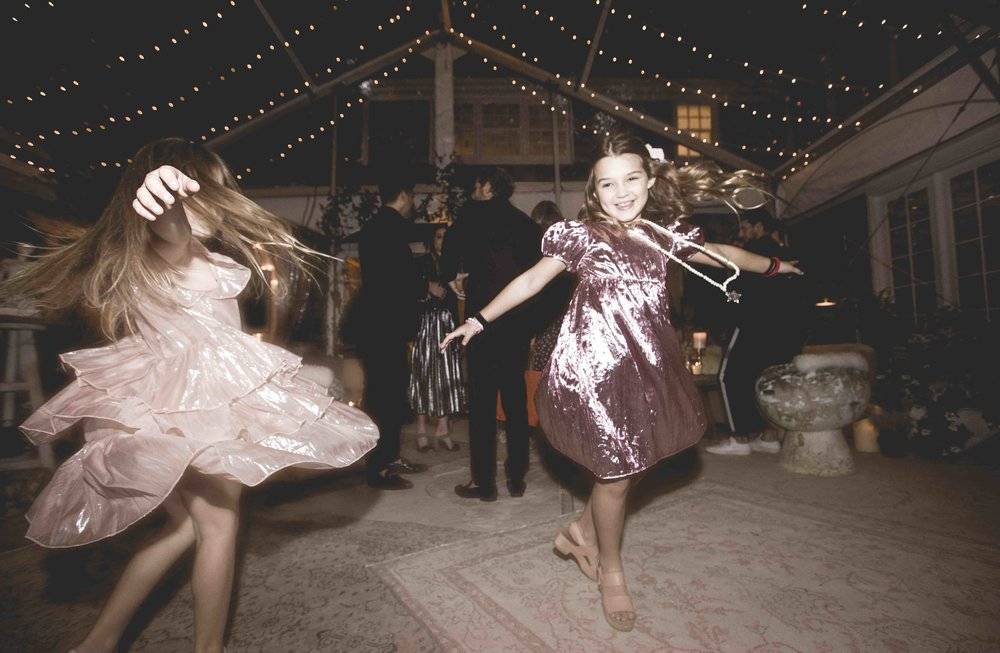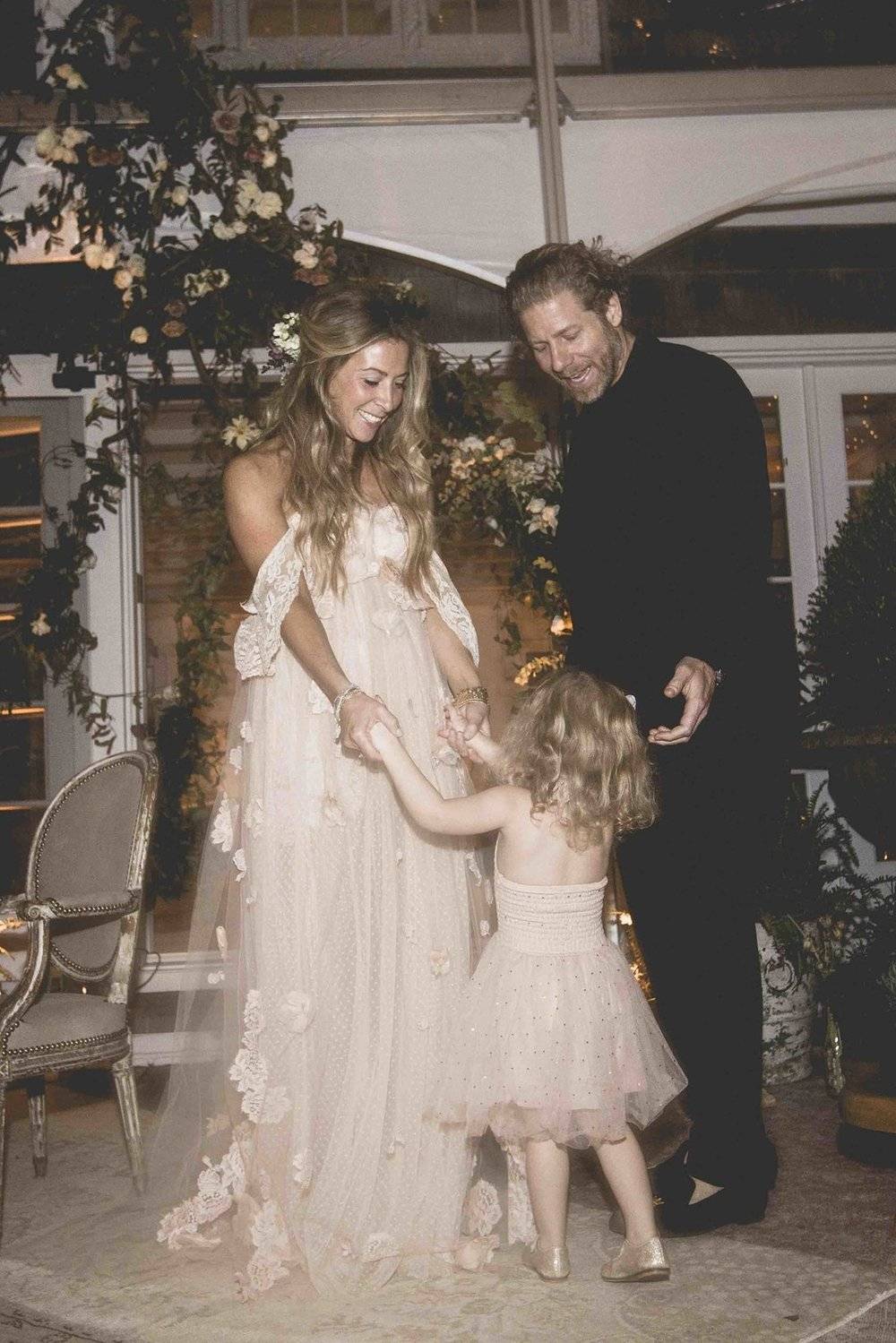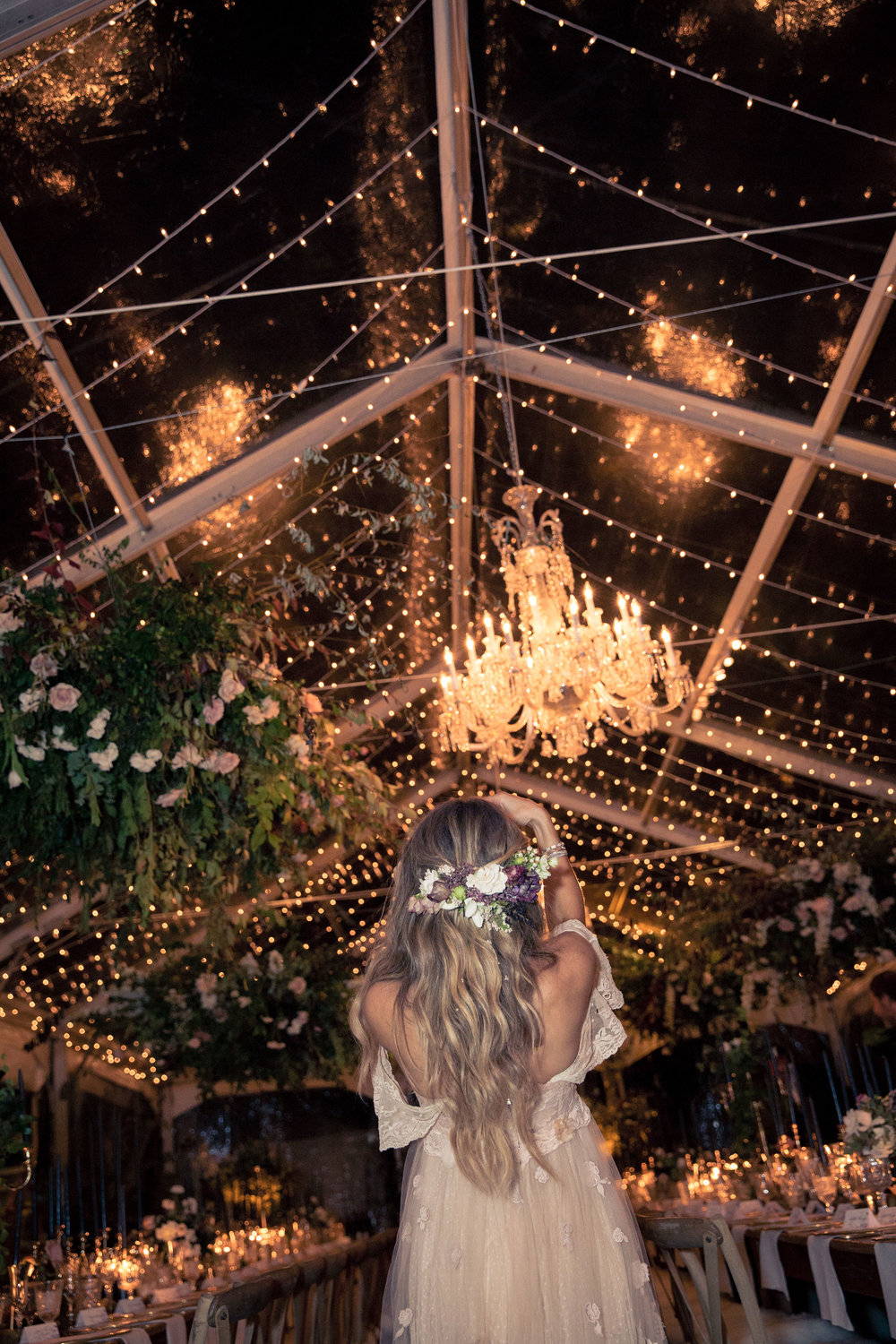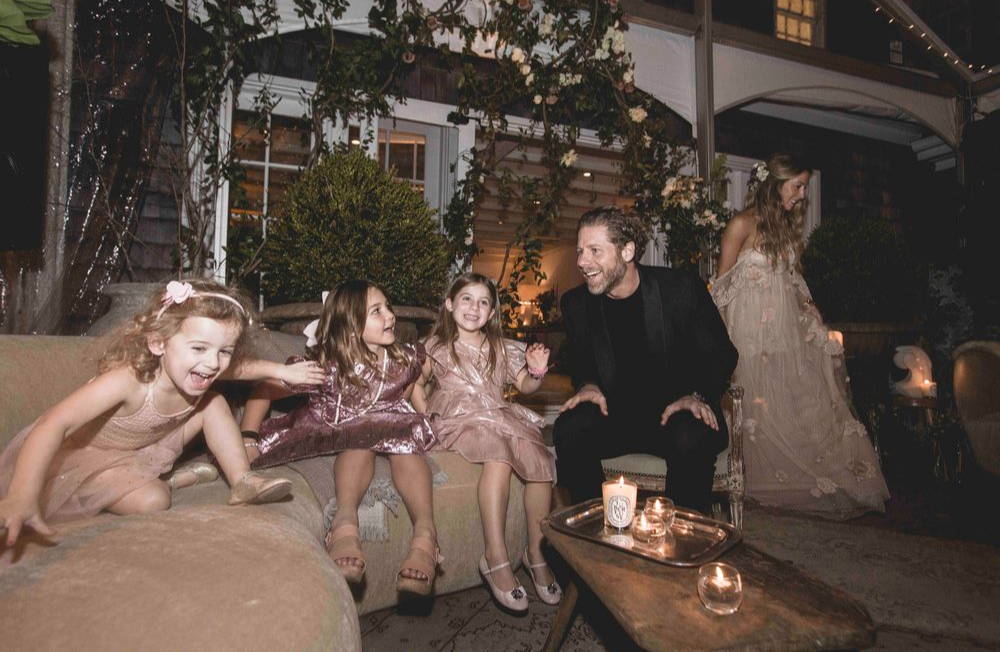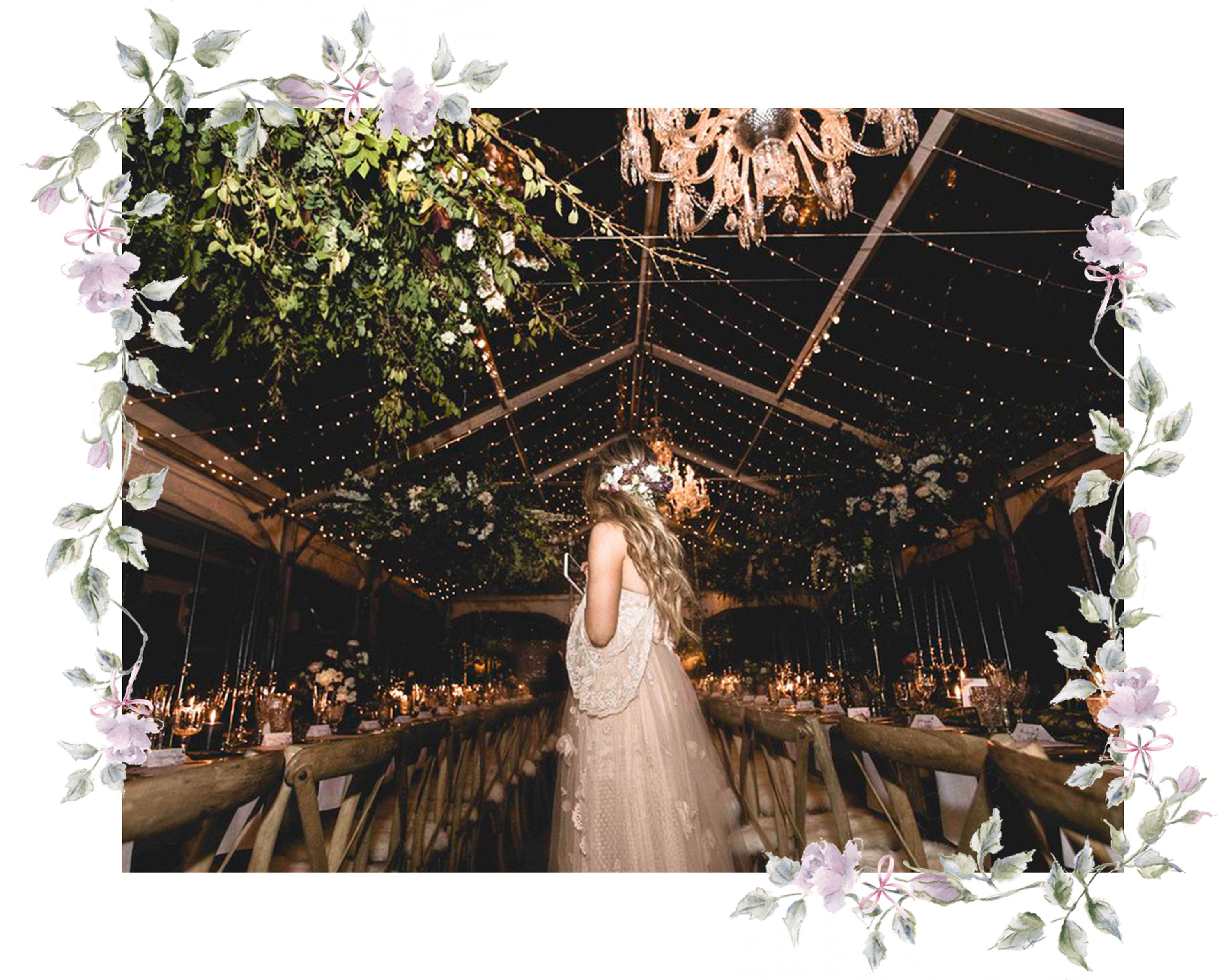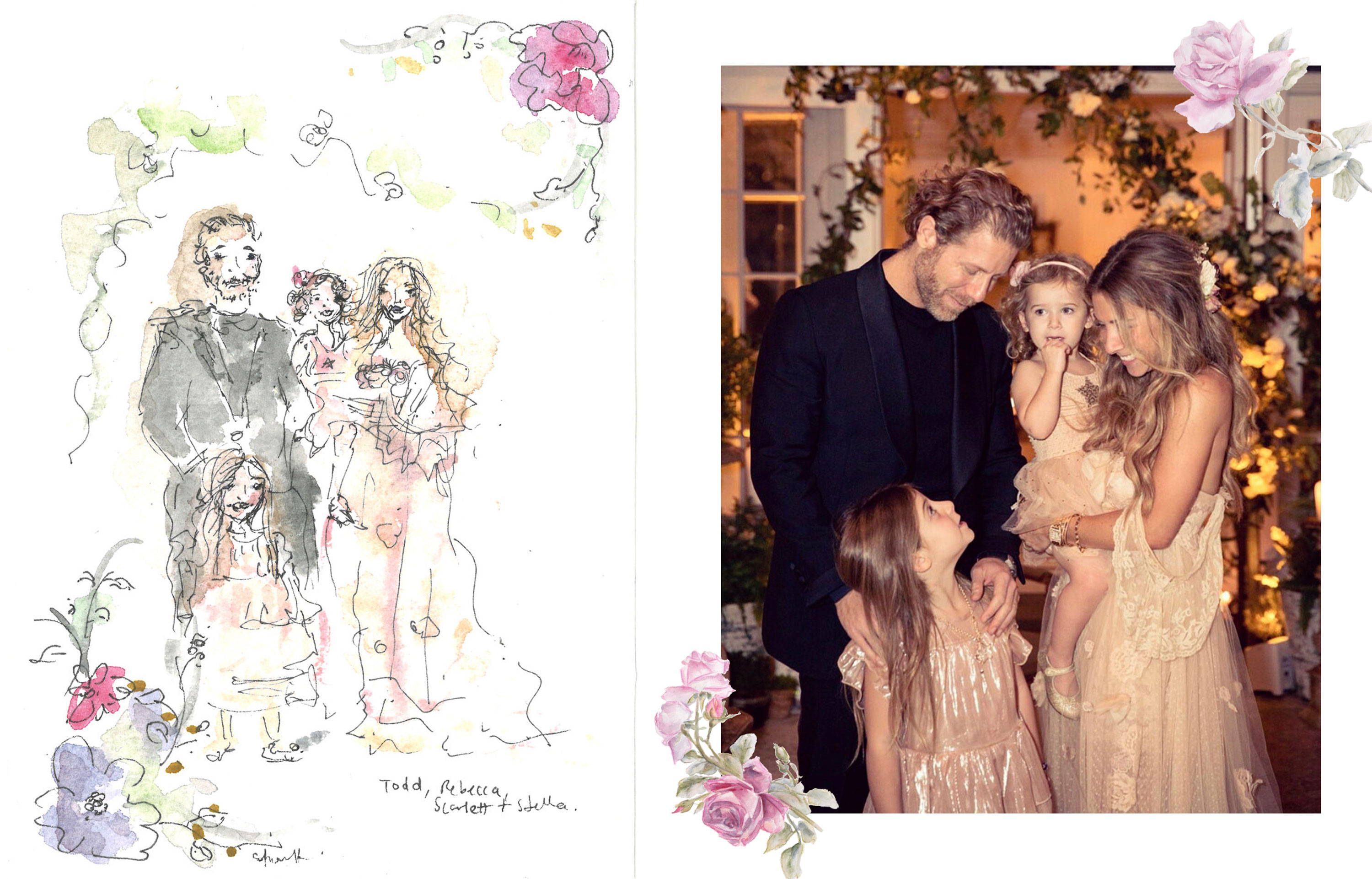 Transported into an otherworldly wonderland of winding wisteria, twinkling chandeliers, and hints of gold under a transparent tent off the patio of our beloved Sagaponack home. Dramatic arrangements of dark cascading floral clouds of rust, cream, and deep berry hues hung midair in rhythm with the moody music and ambient light for a magical, intimate night.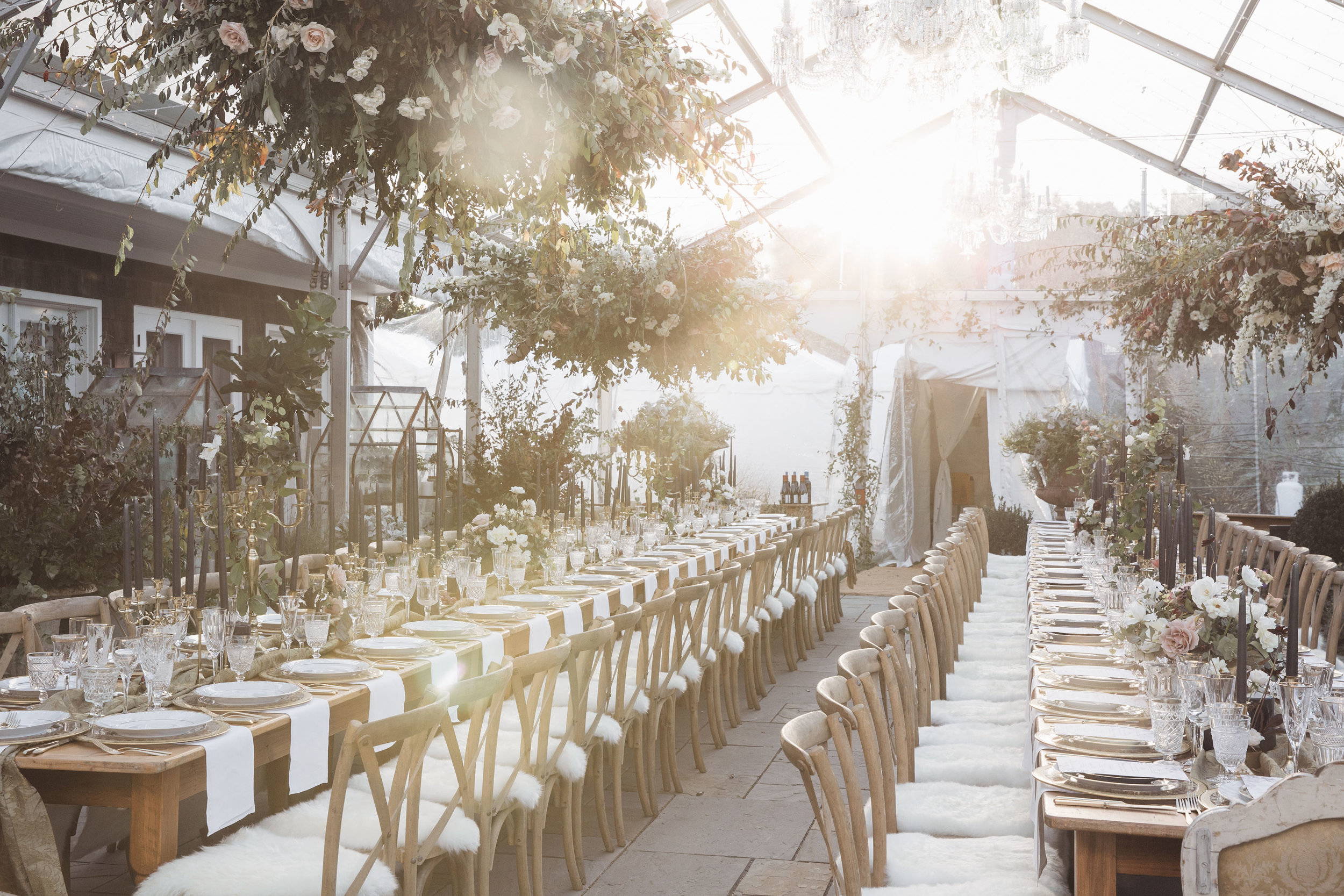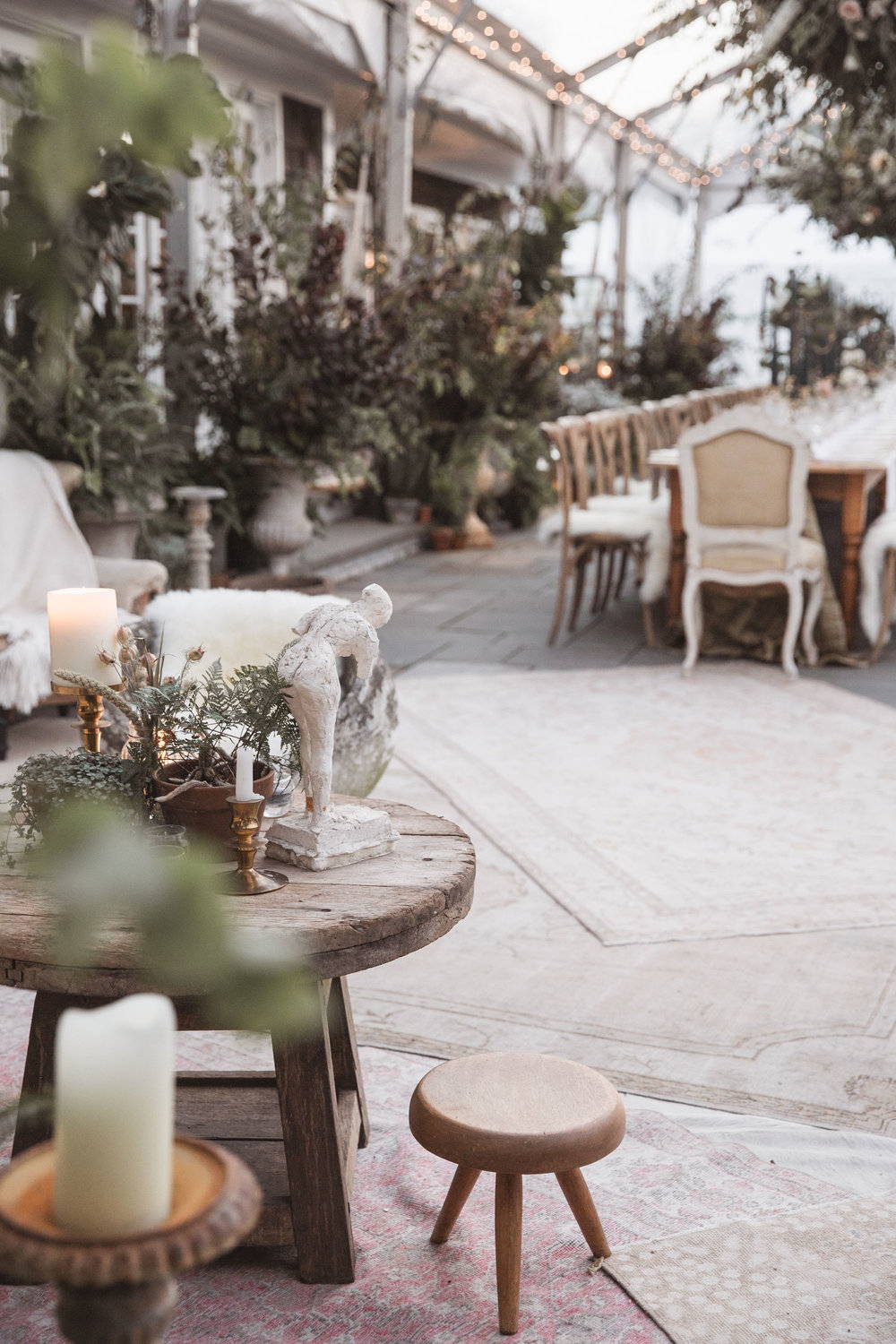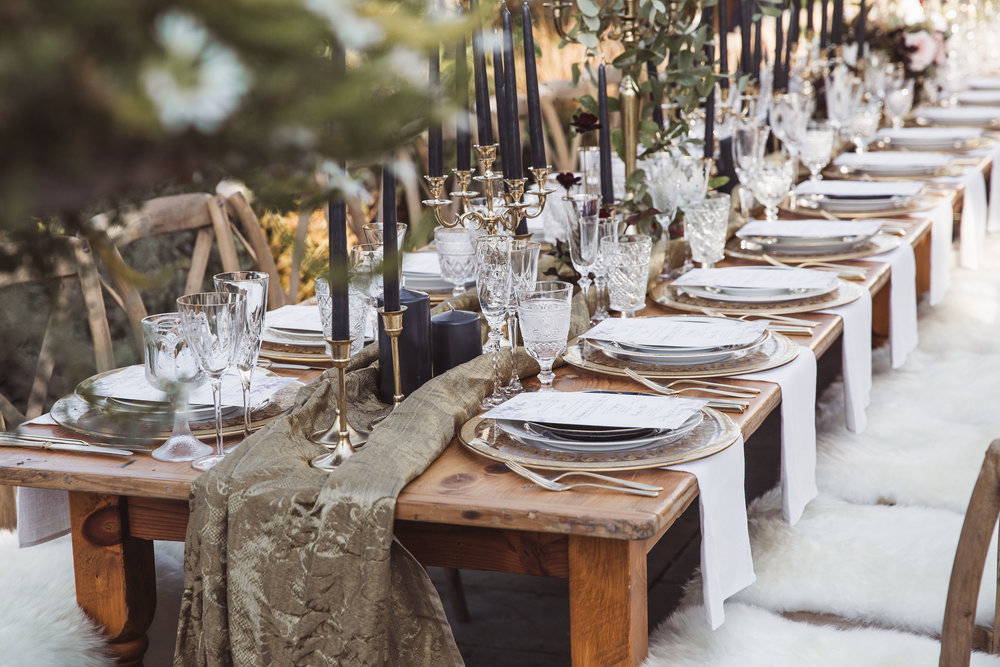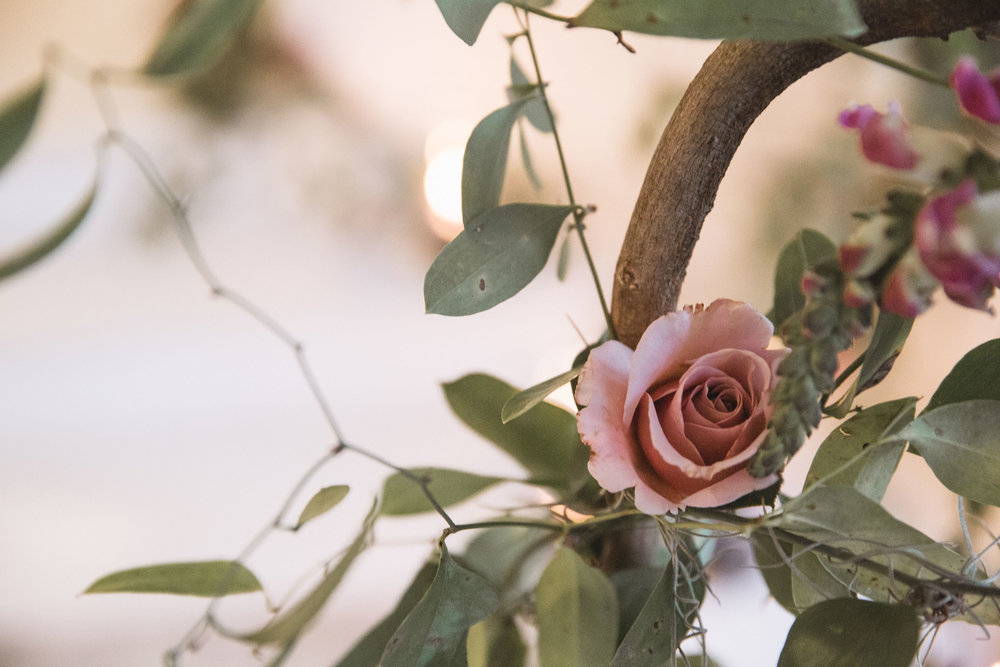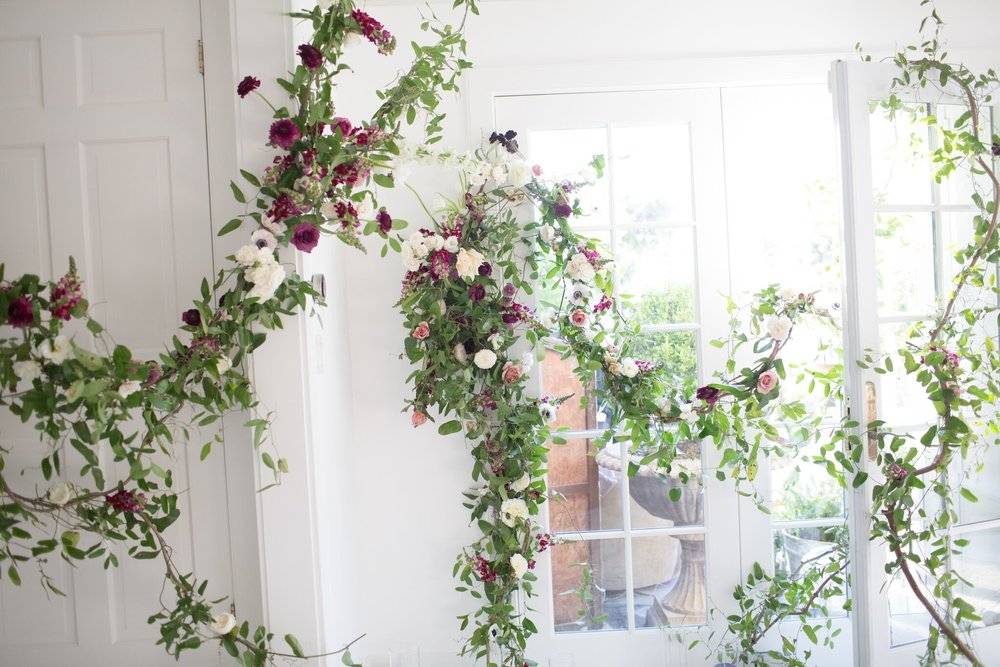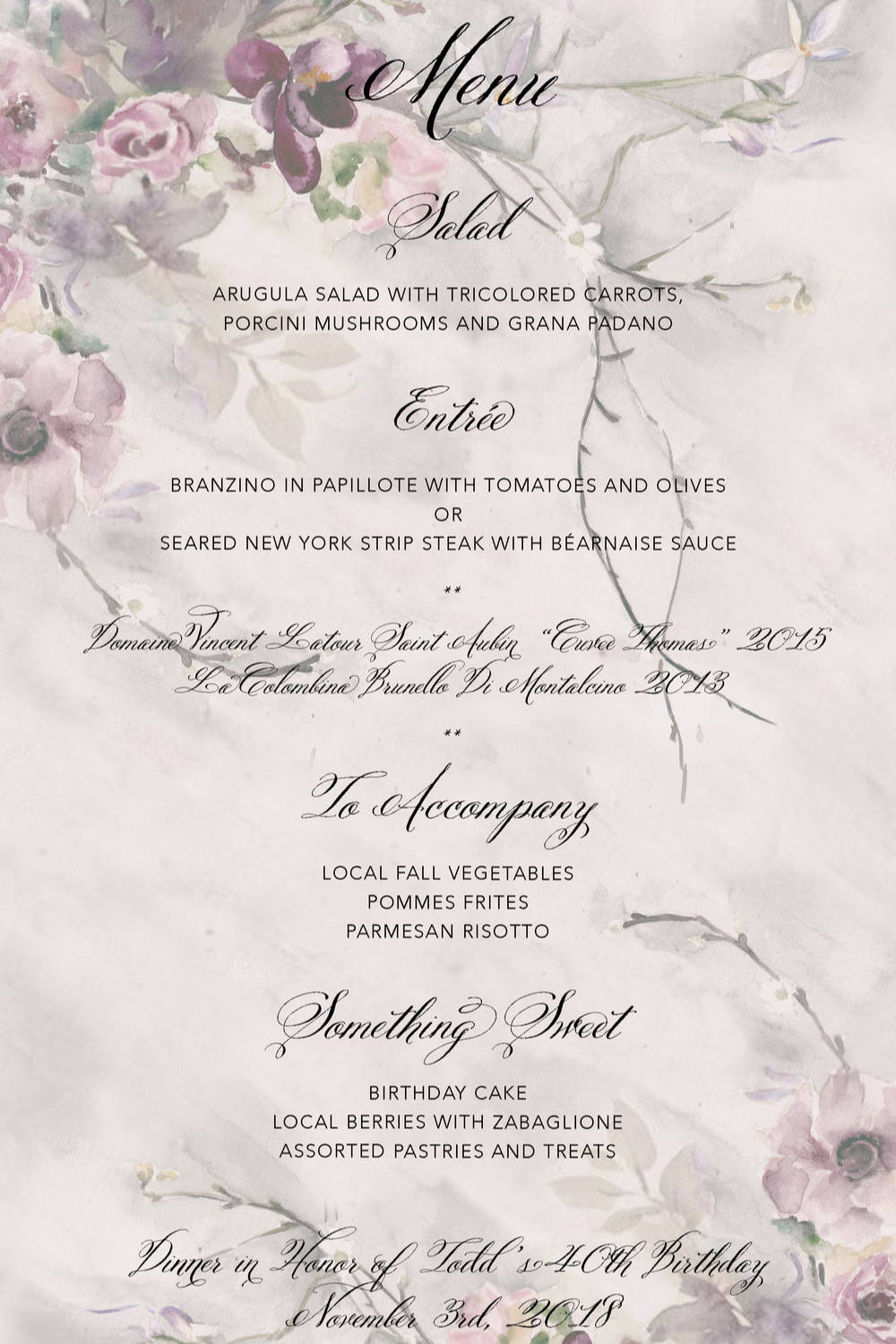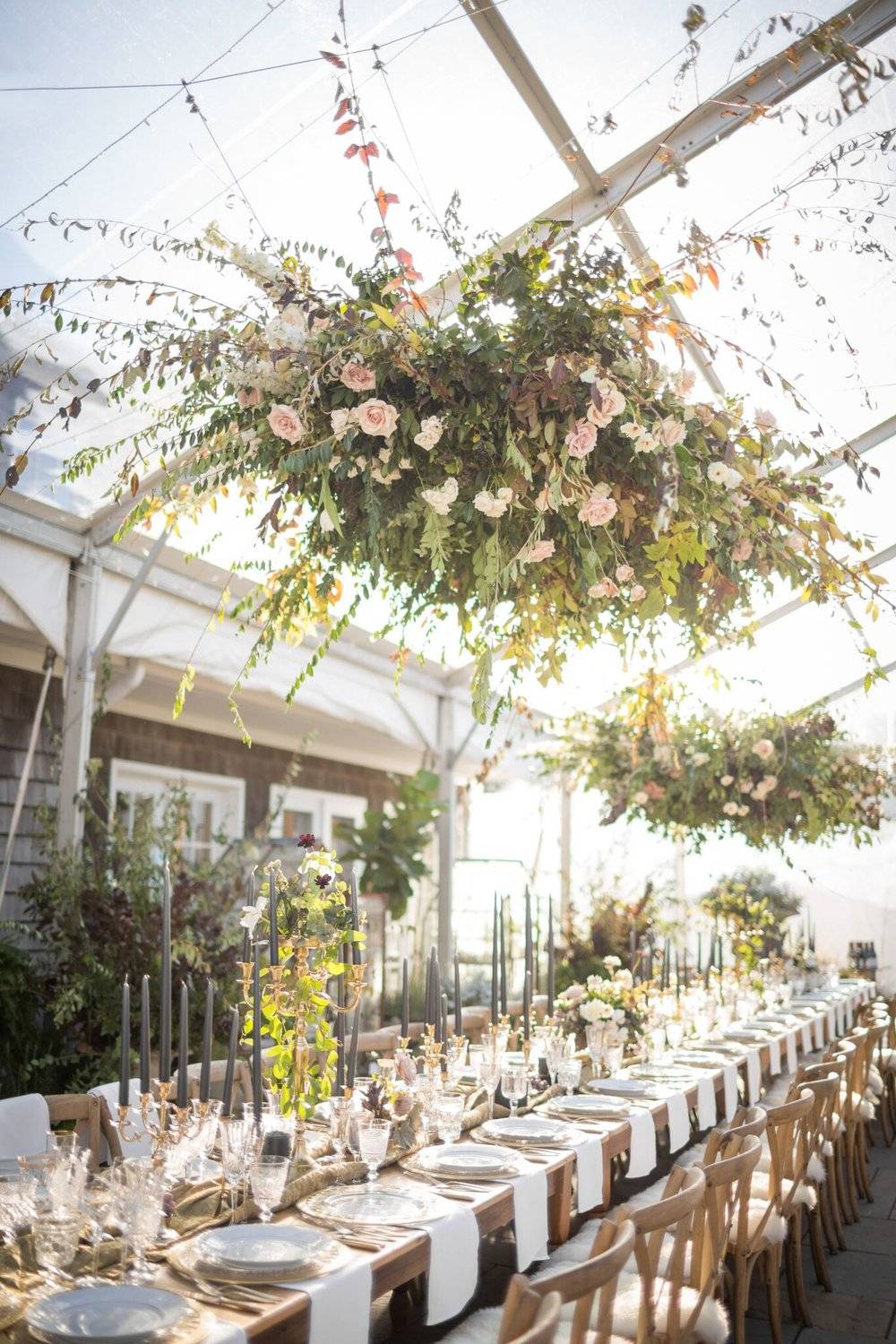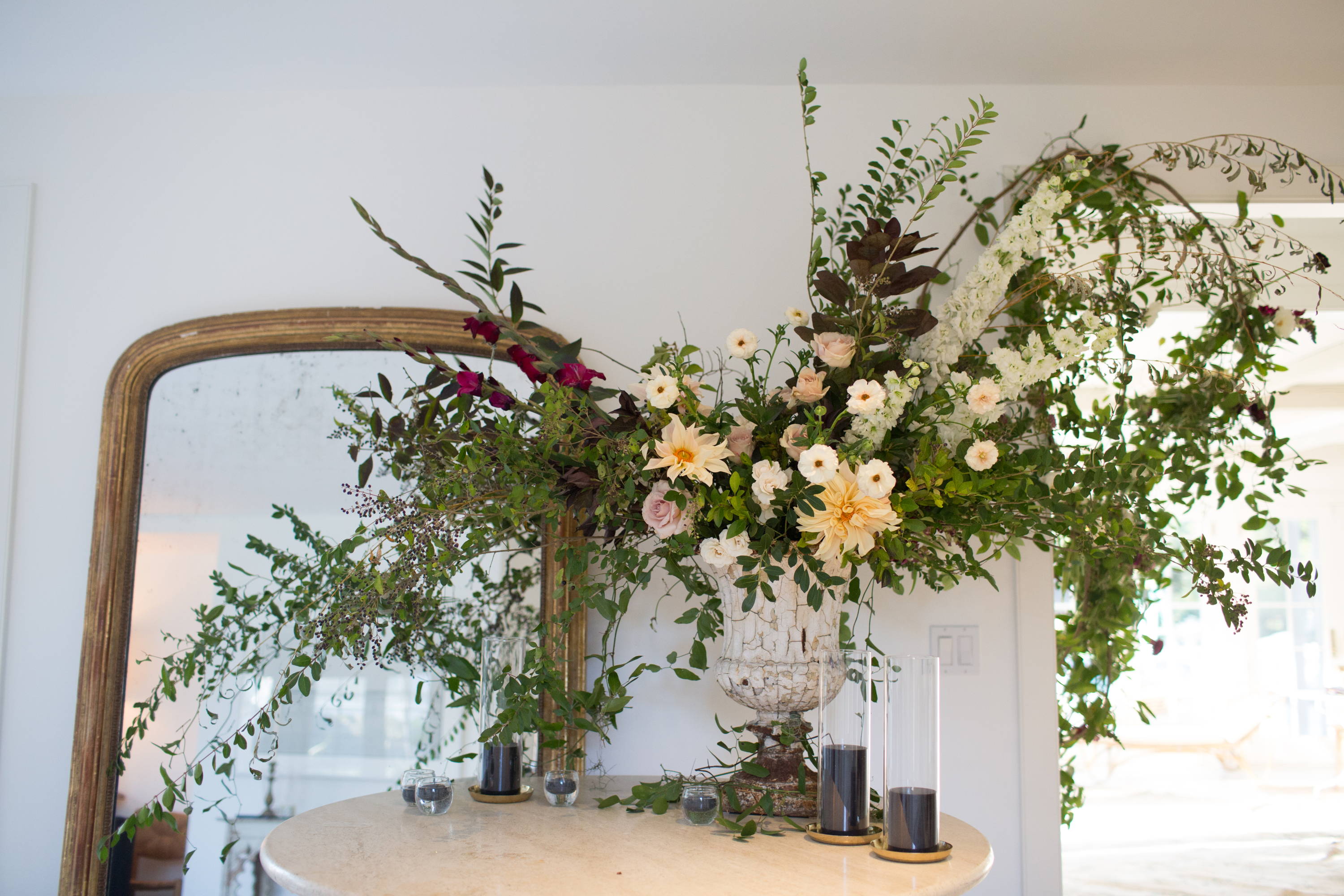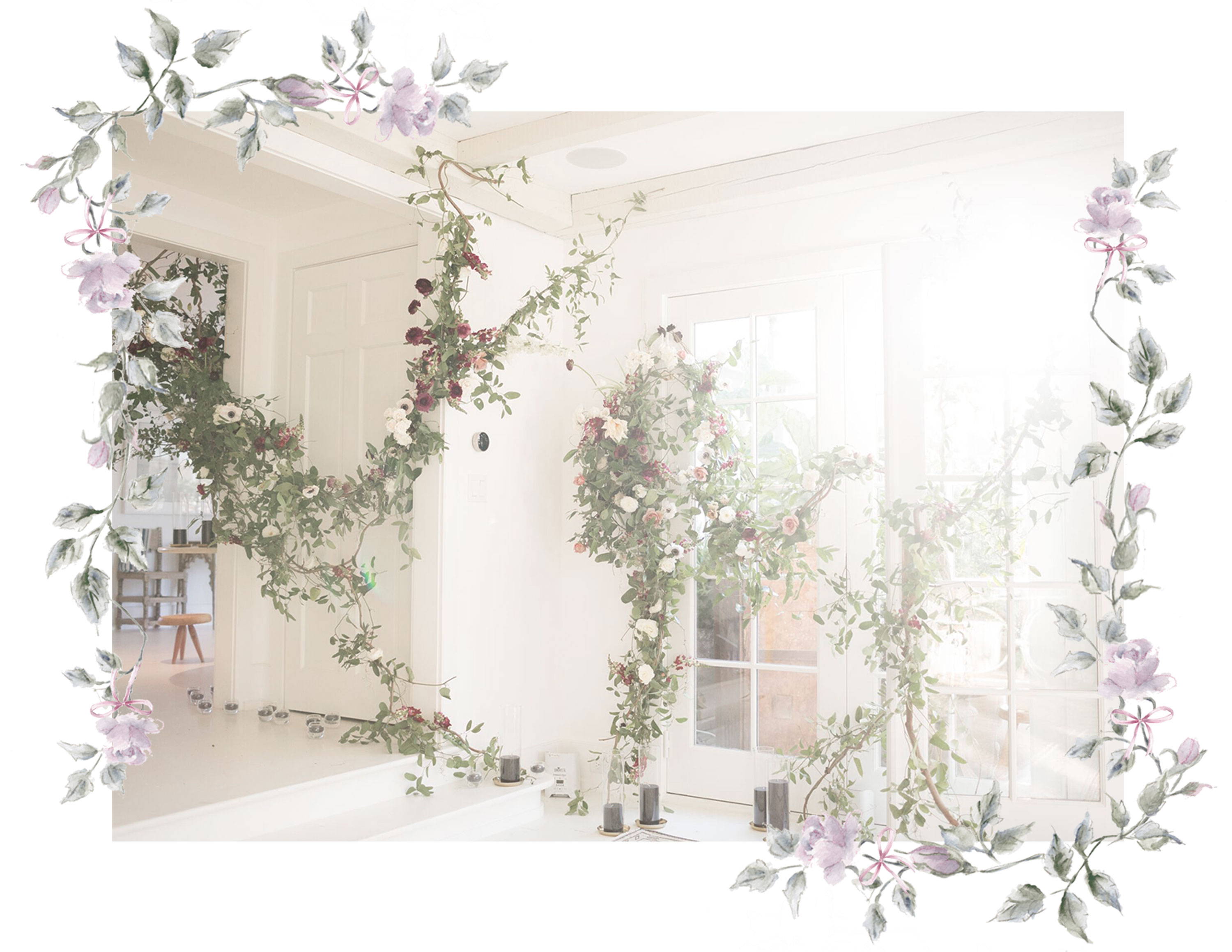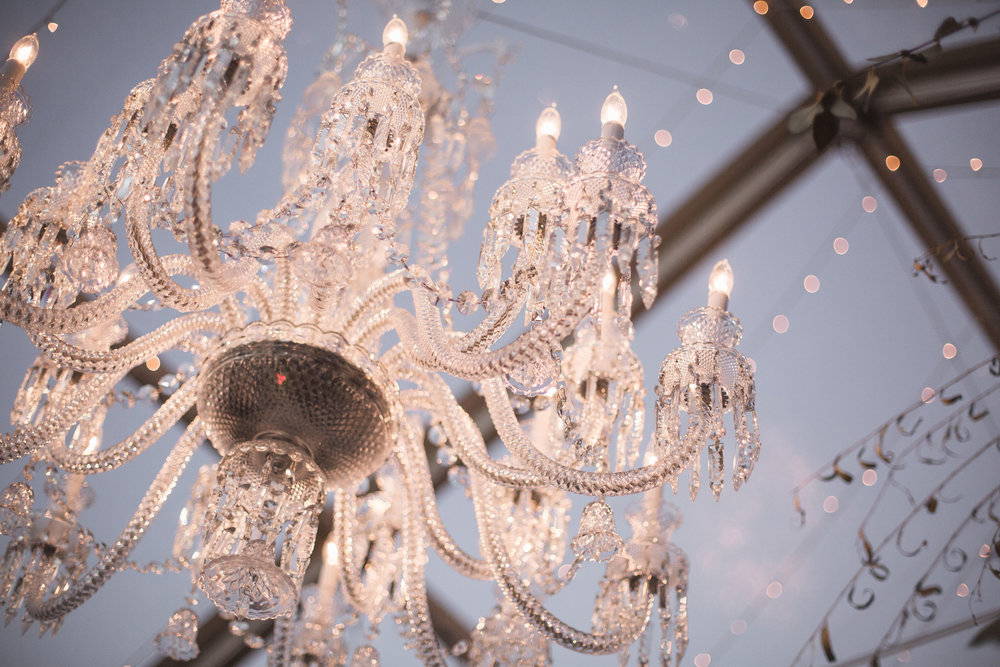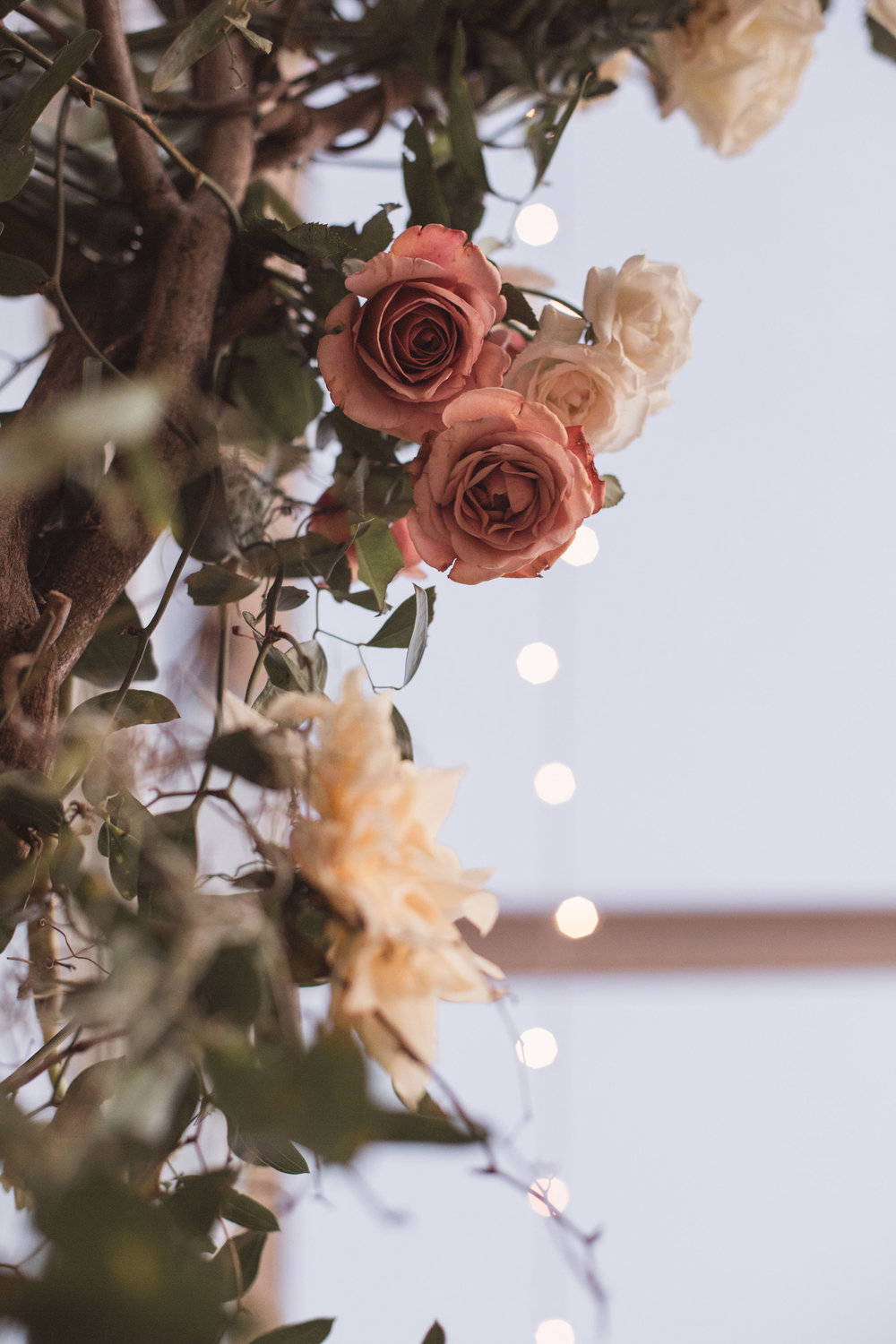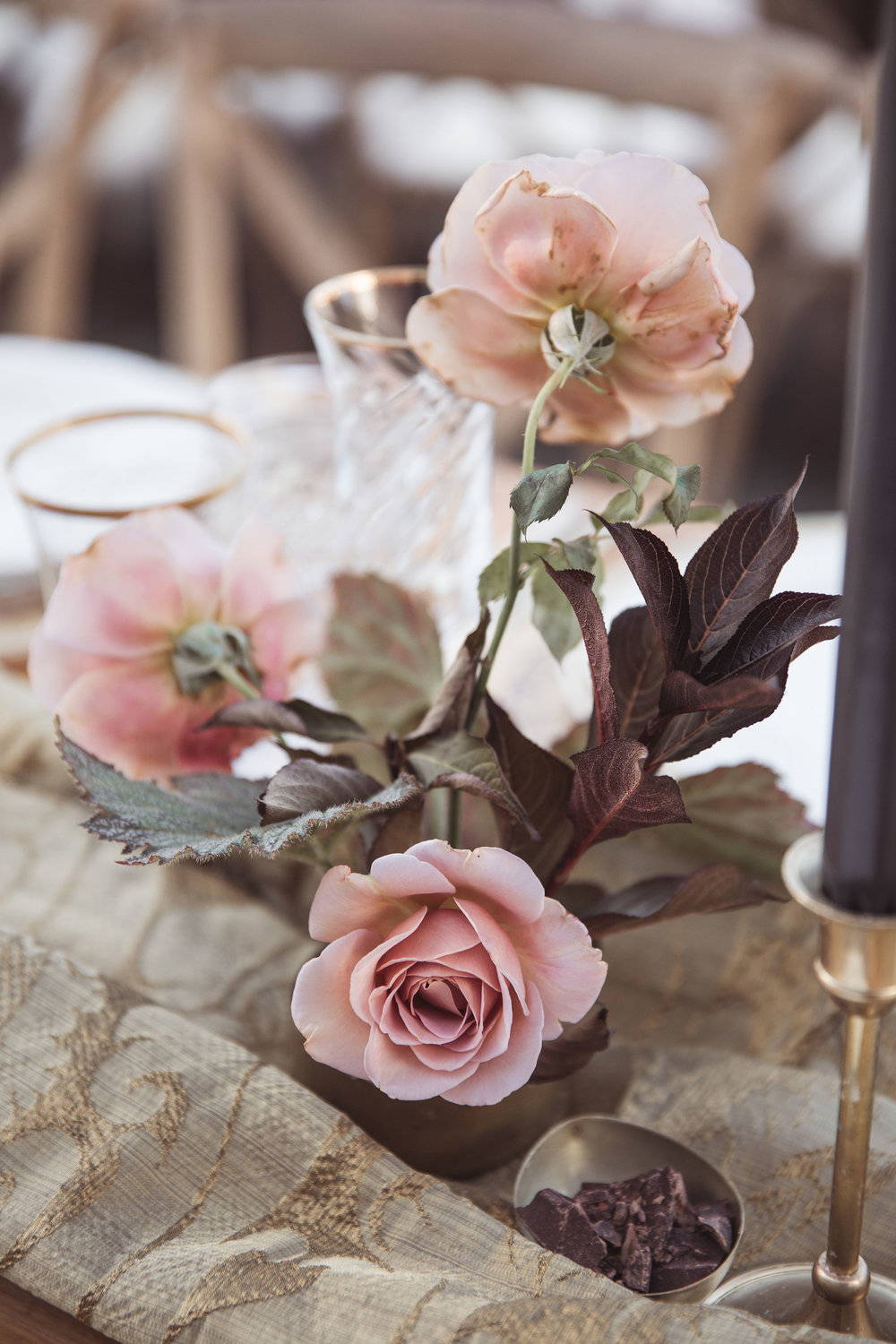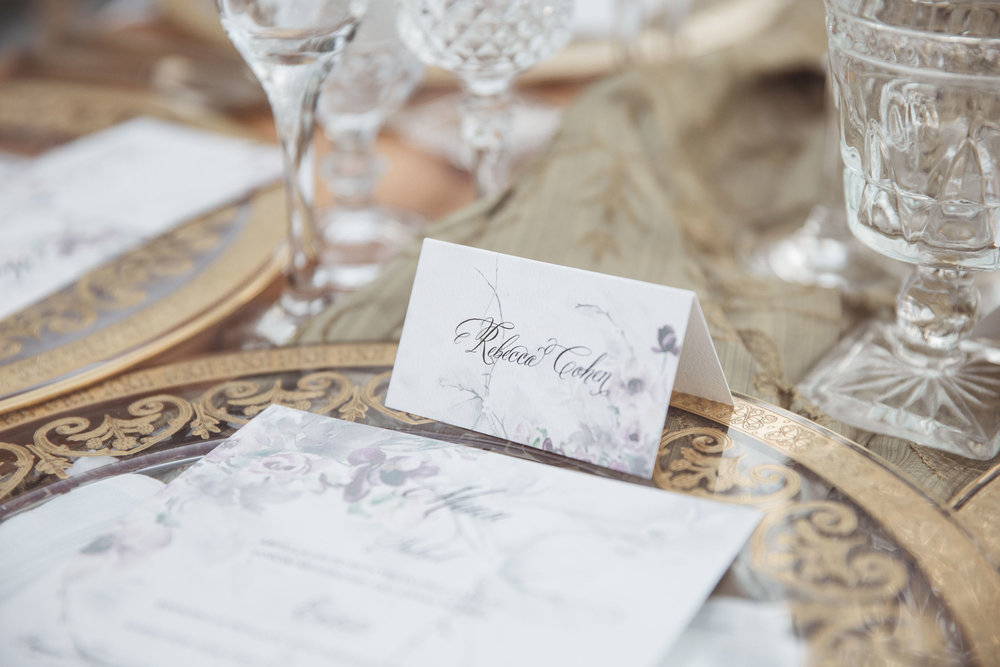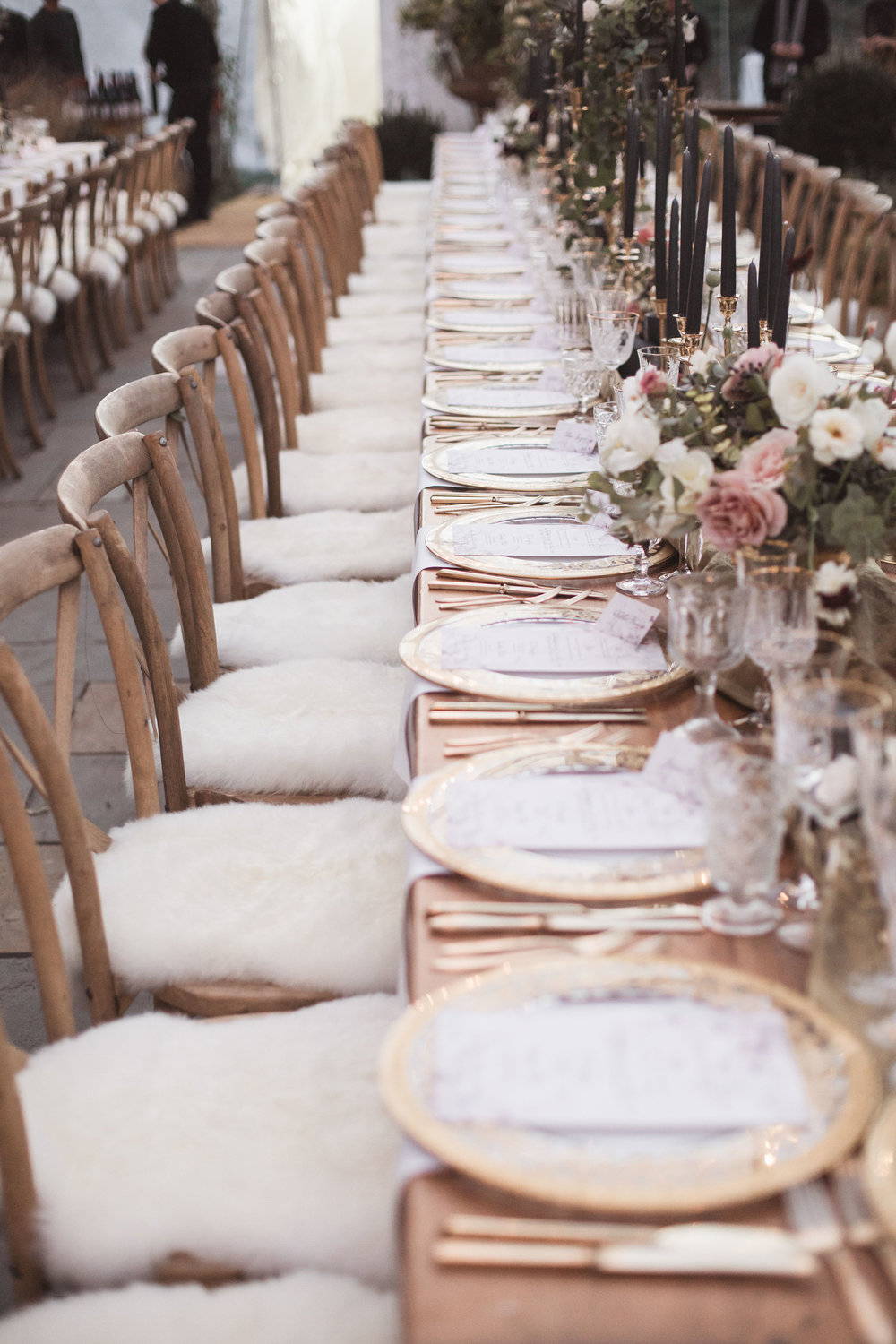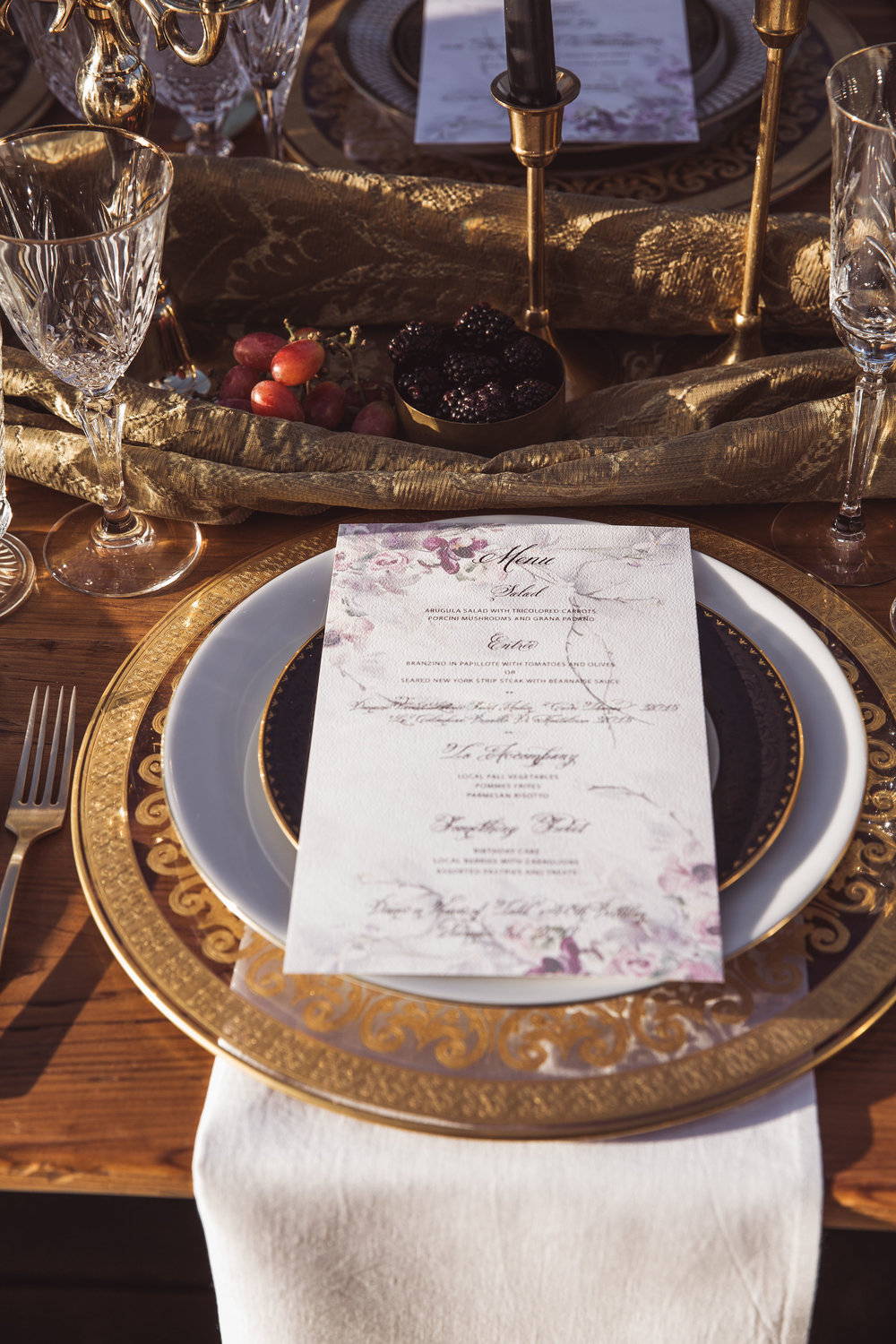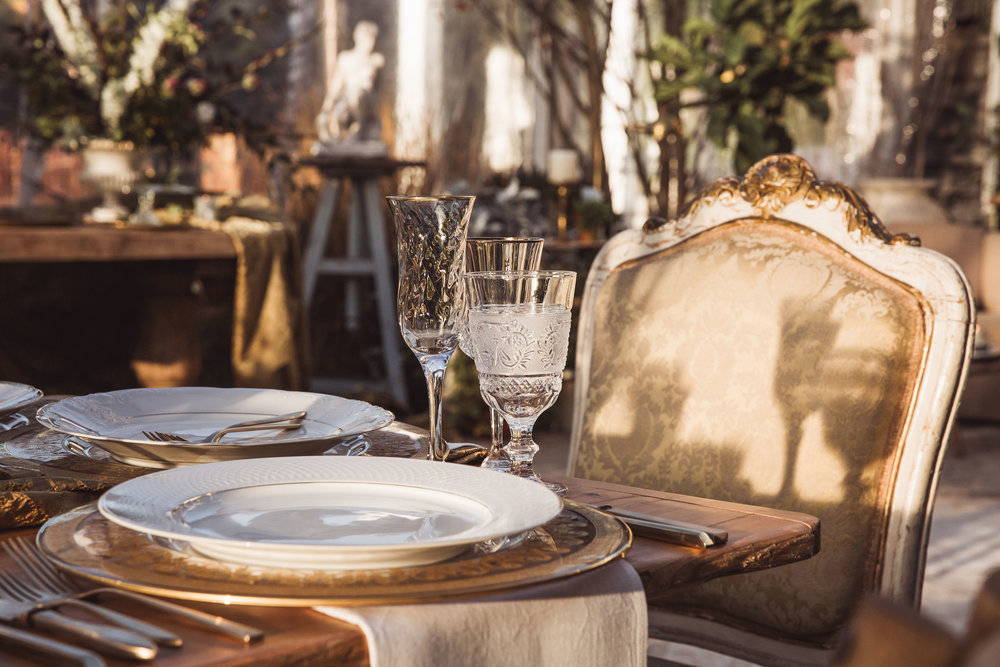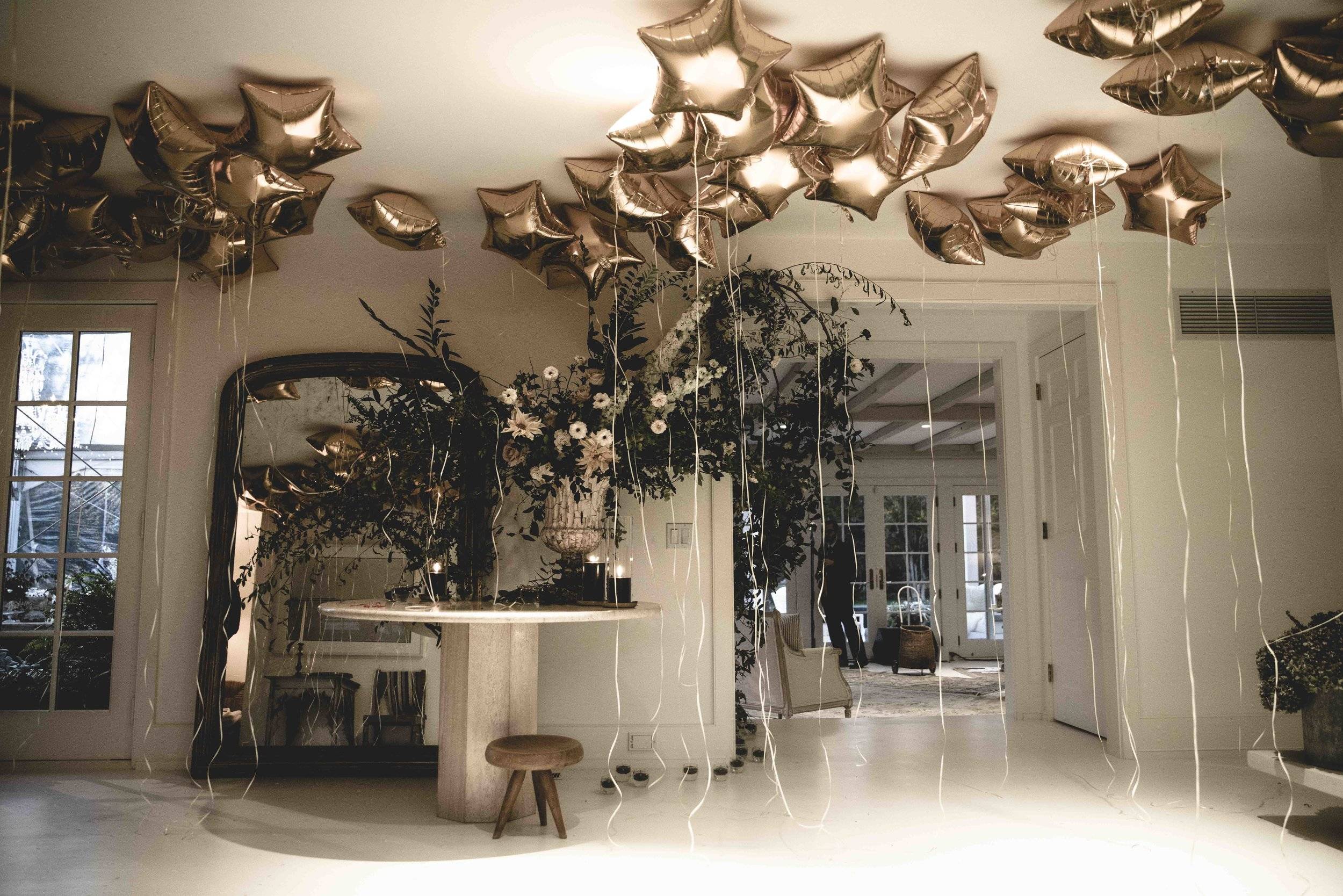 As dusk made way for candlelight, guests began to take their fur-clad seats at two long exposed-wood tables layered in gorgeous vintage gold brocade fabrics, with mix-and-match place settings of gold, cream, and black, alongside beautiful shimmering gold rim glasses and crystal cut goblets. Down the center of the tablescape, brass candelabras paralleled trailing vines, rich fruits, and sparkling brass votives; and there under the evening sky, we sat for a feast.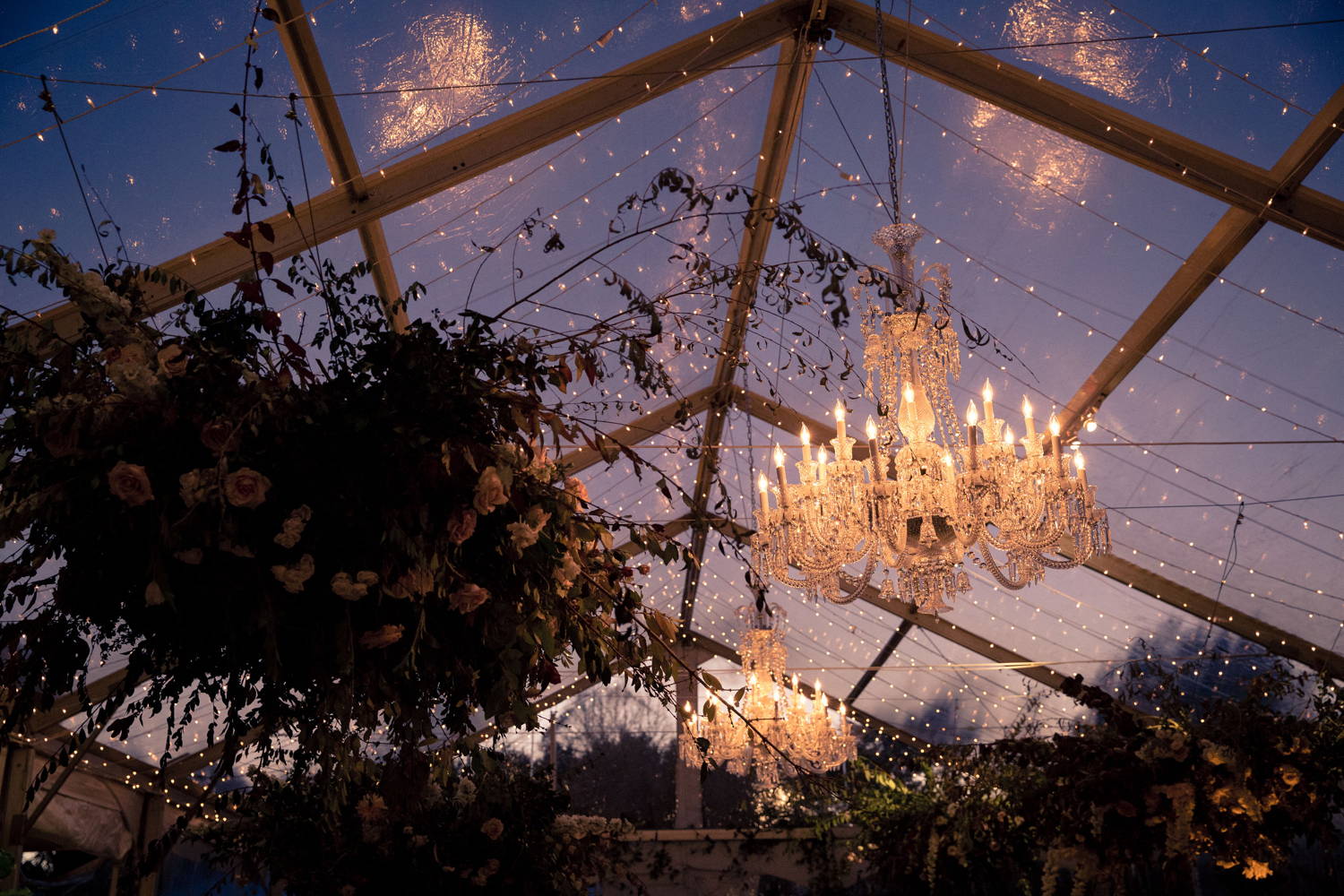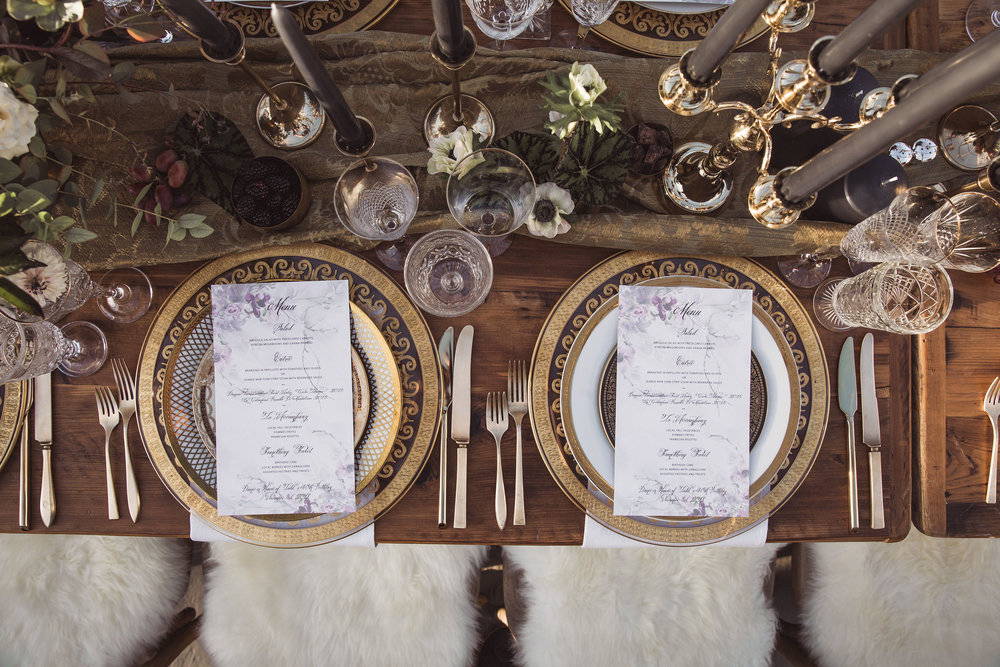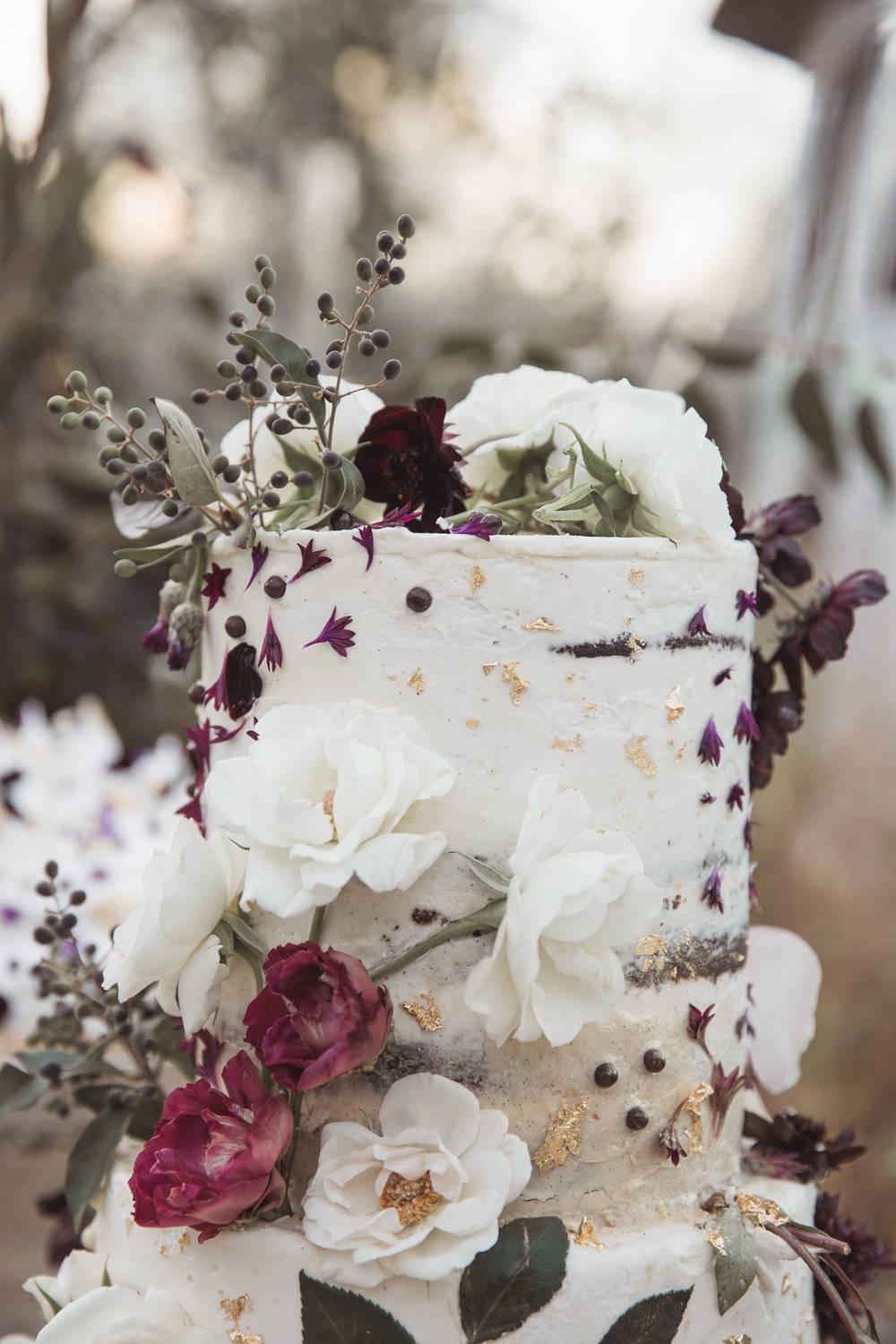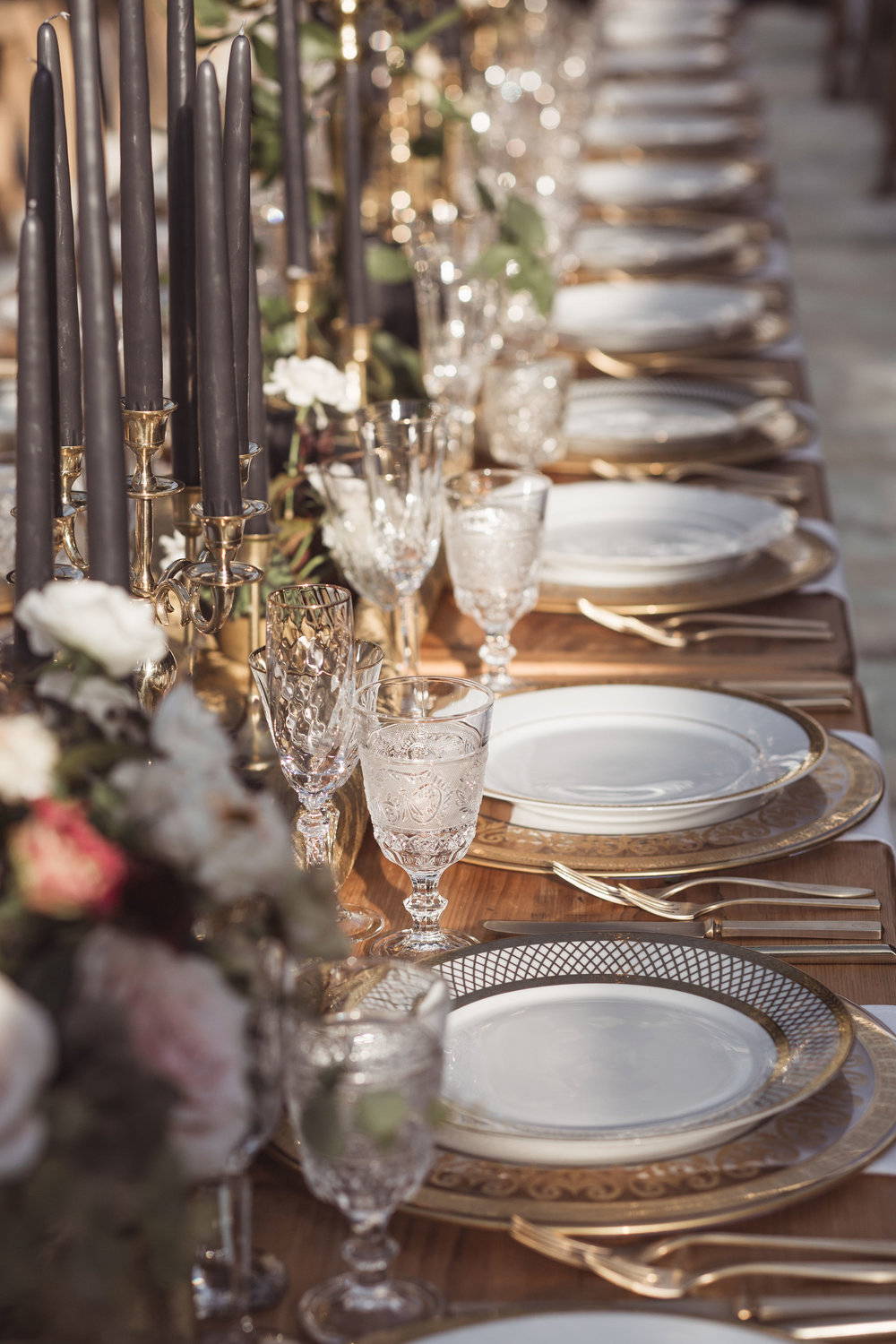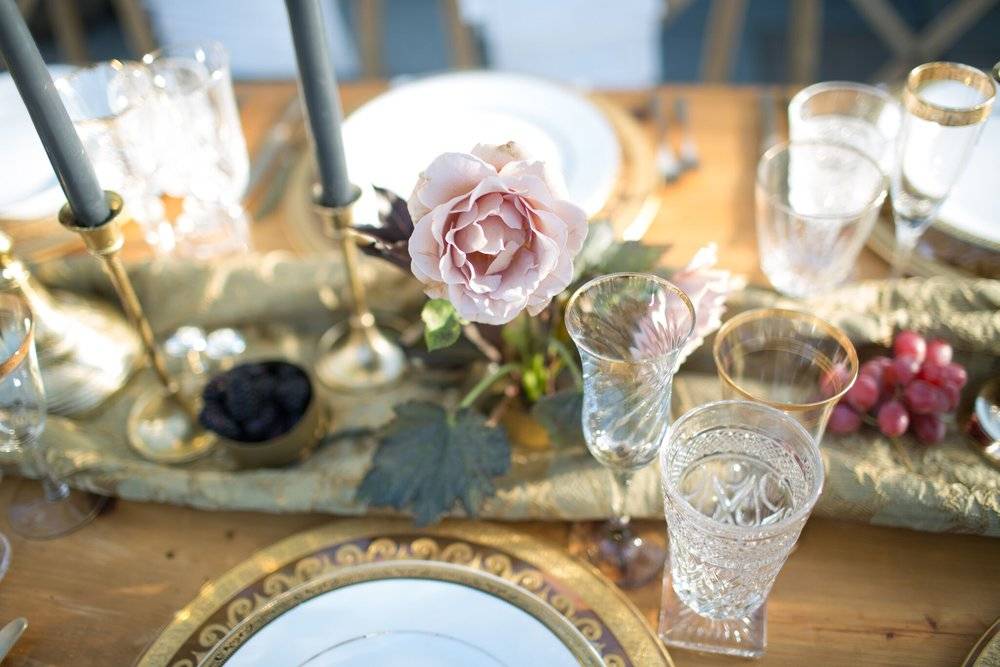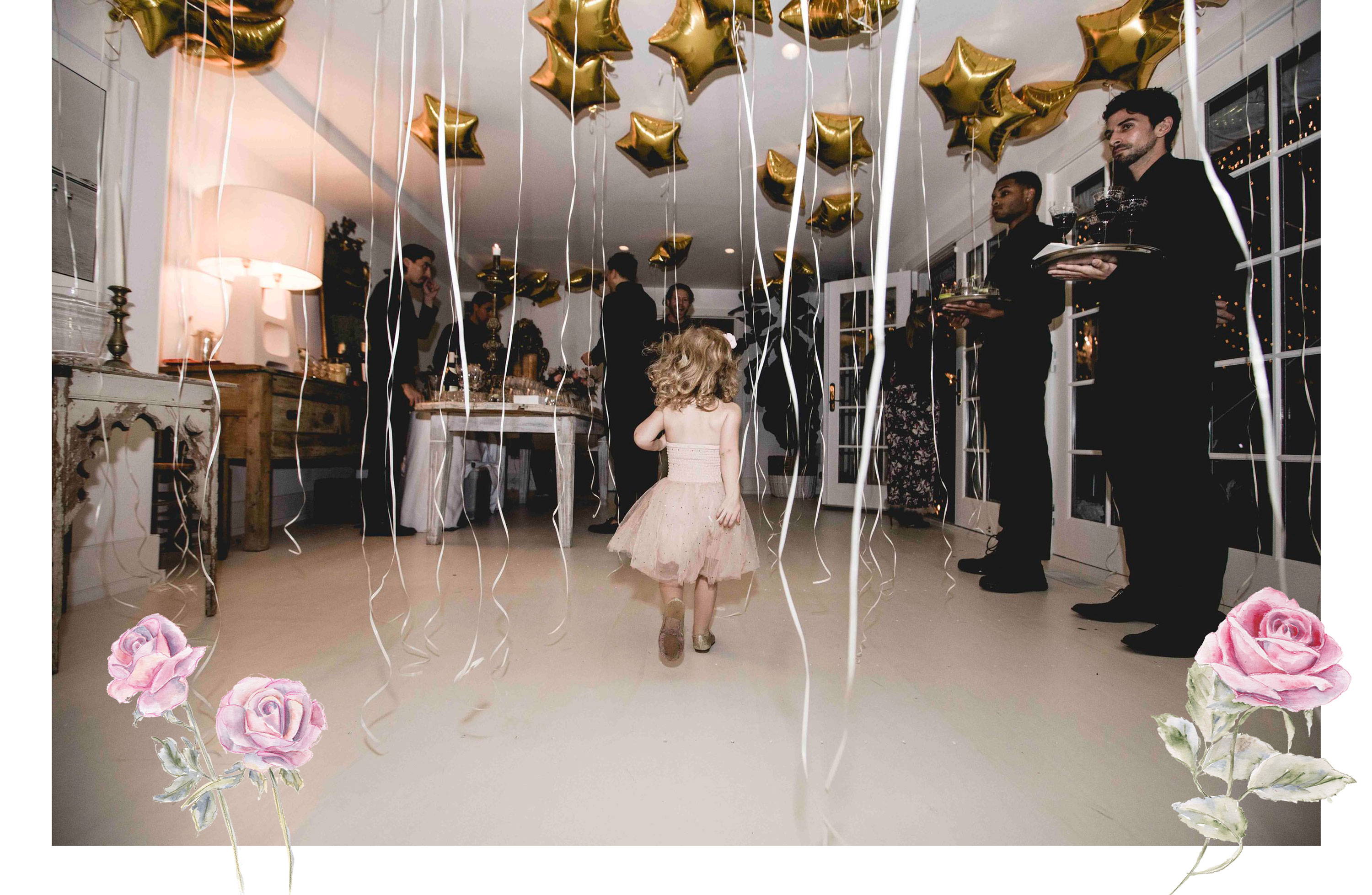 The spectacular evening lingered into the wee hours of the morning; we were dressed in whimsical vintage blush tulle, elegant blacks, florals, and shine as we danced under the starlight.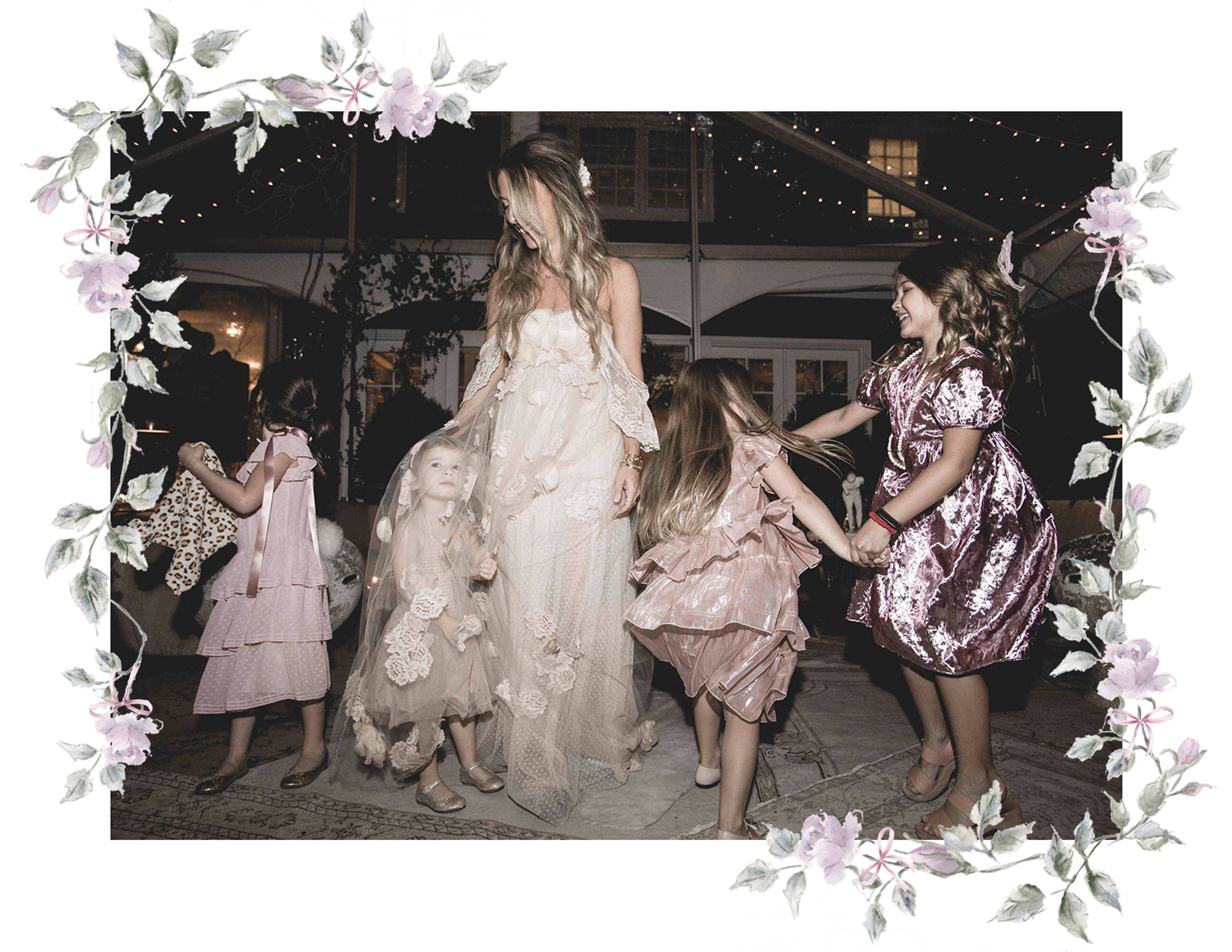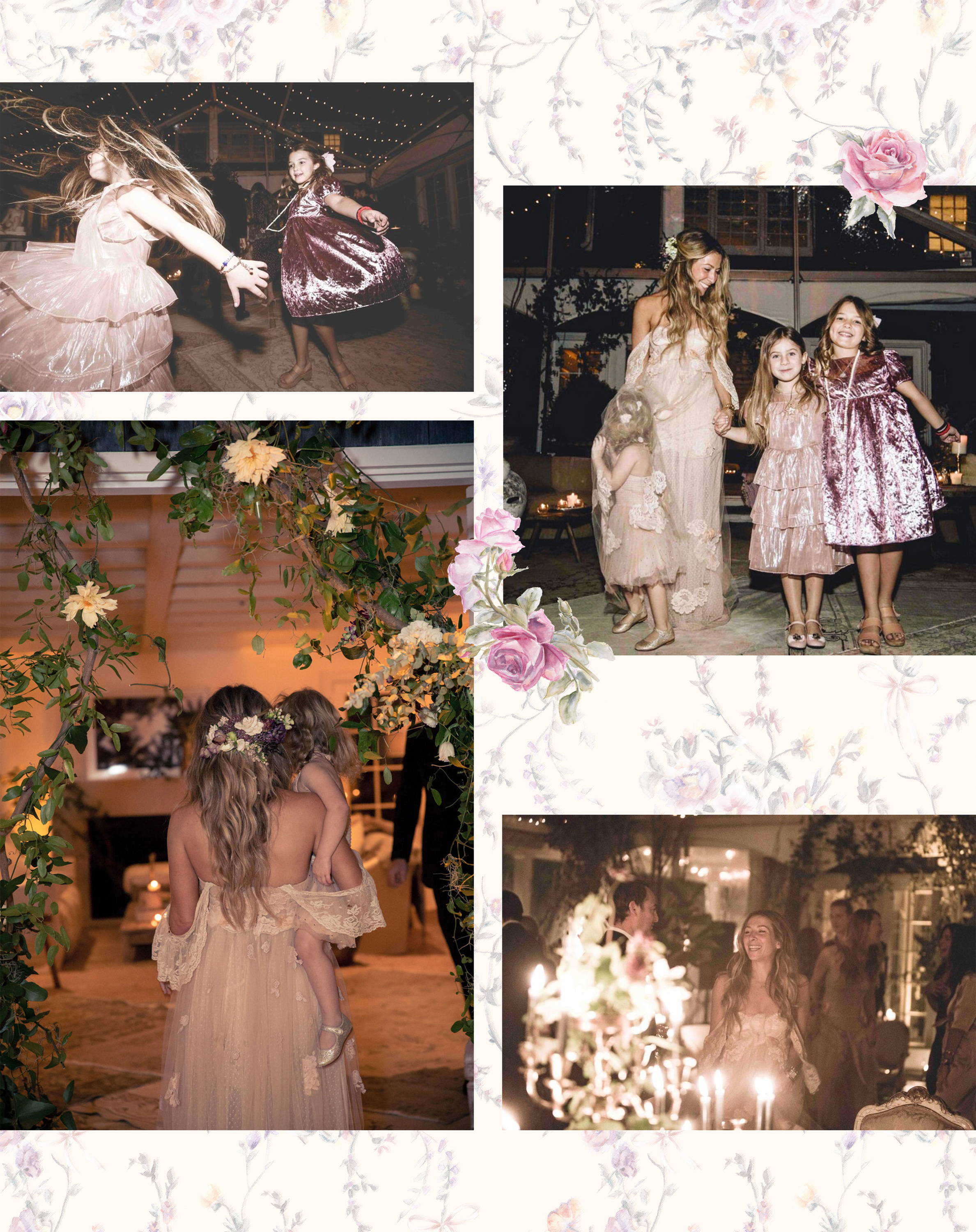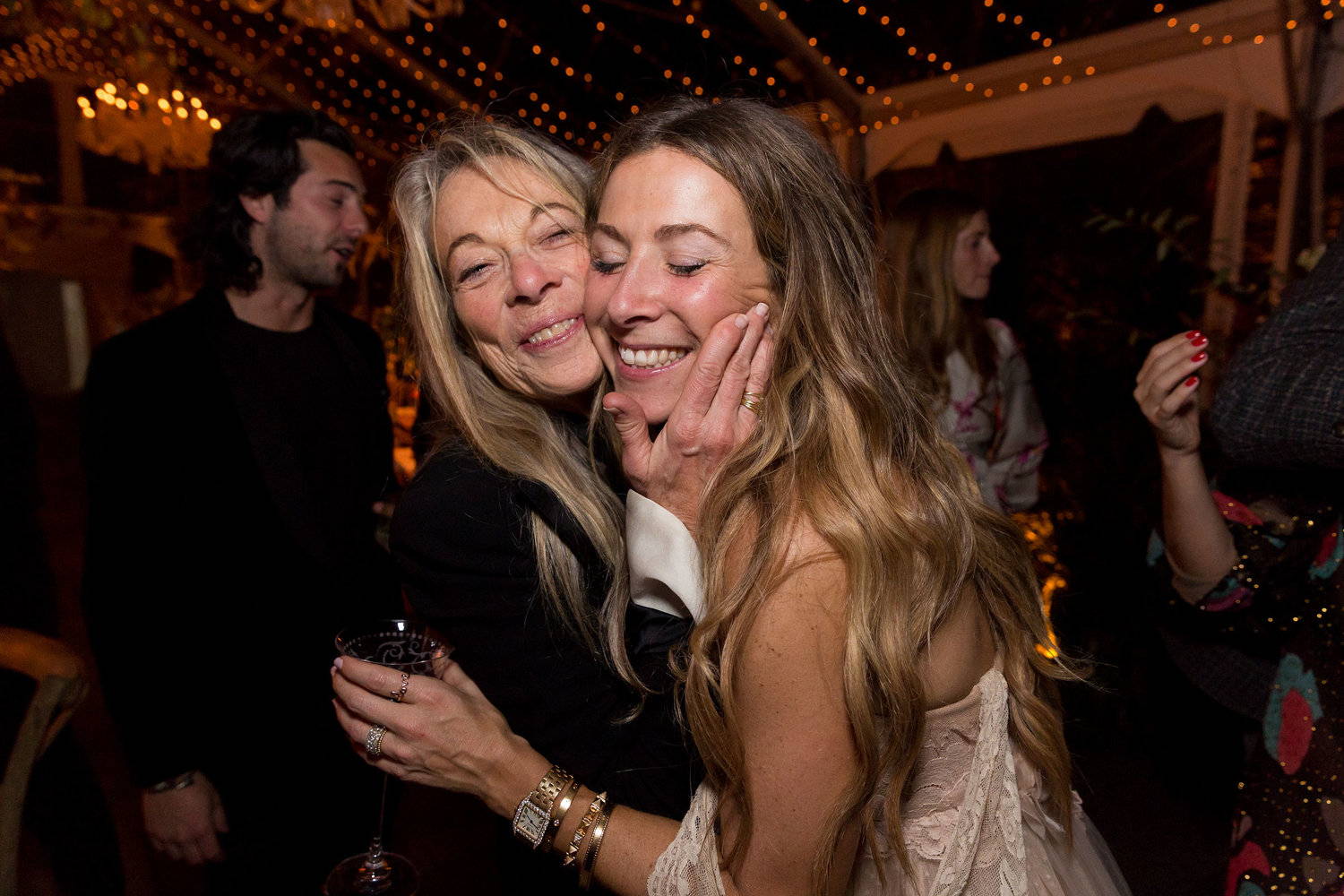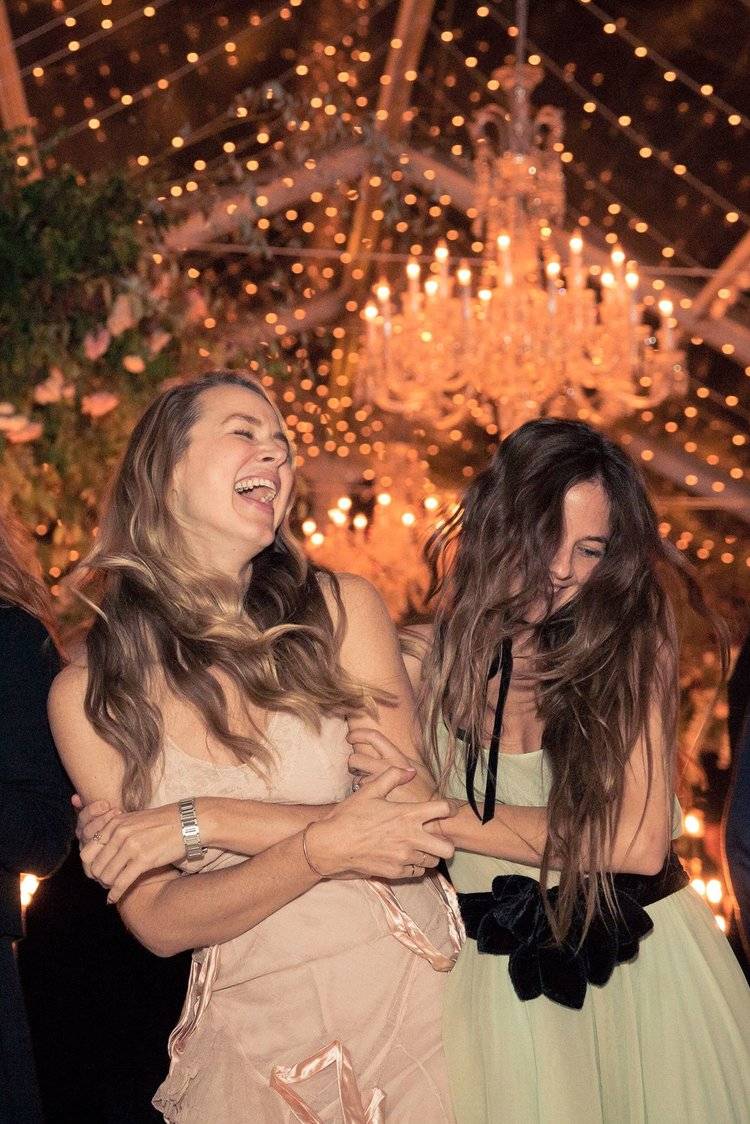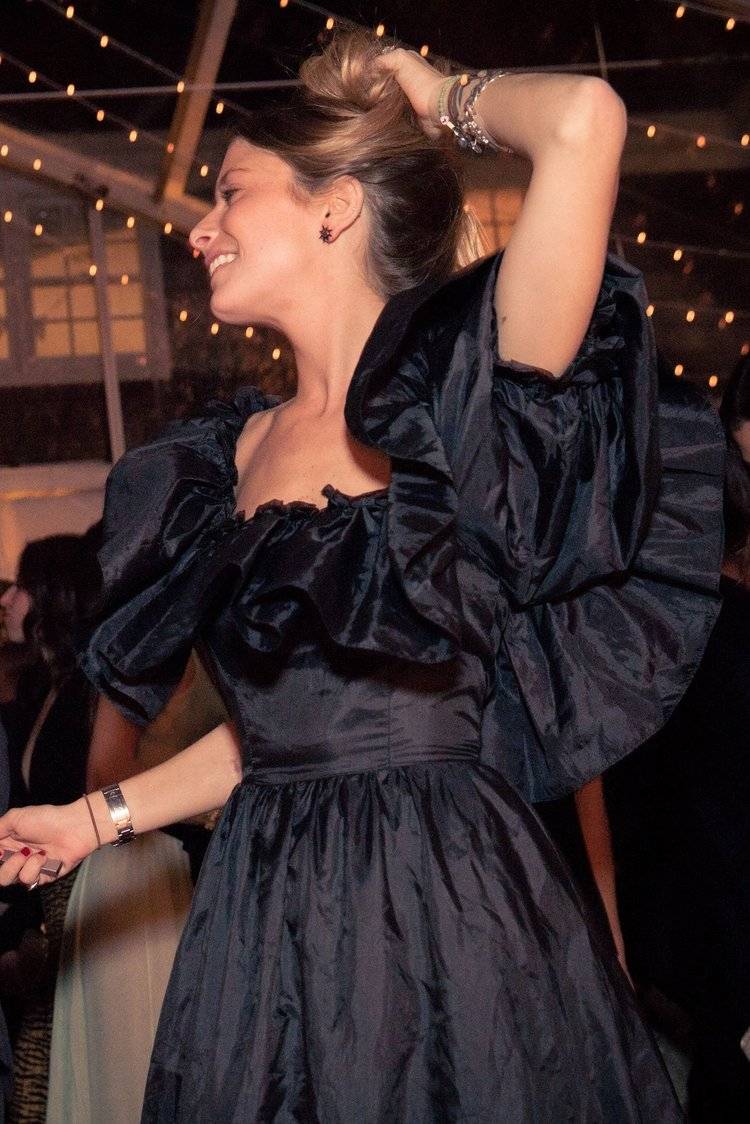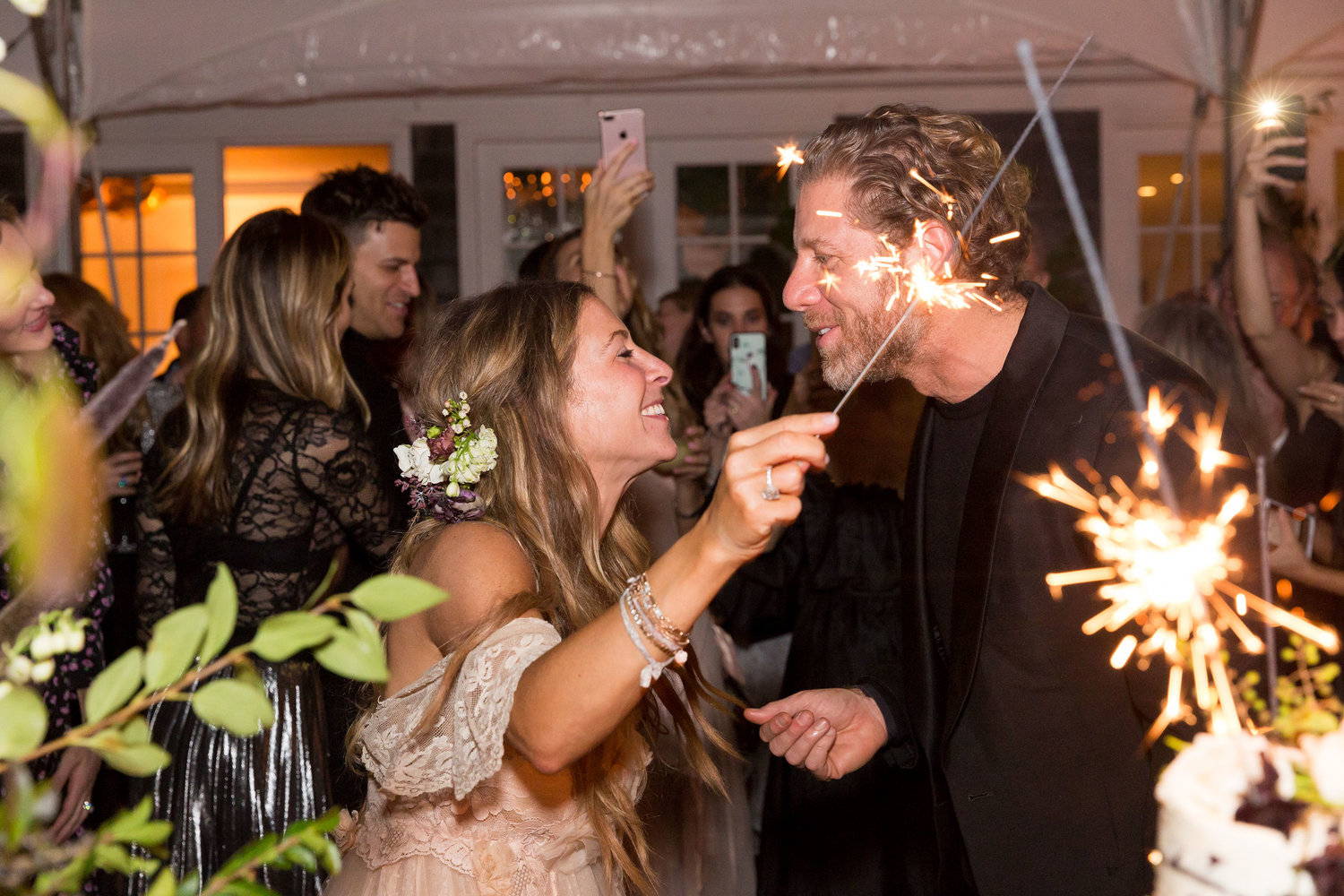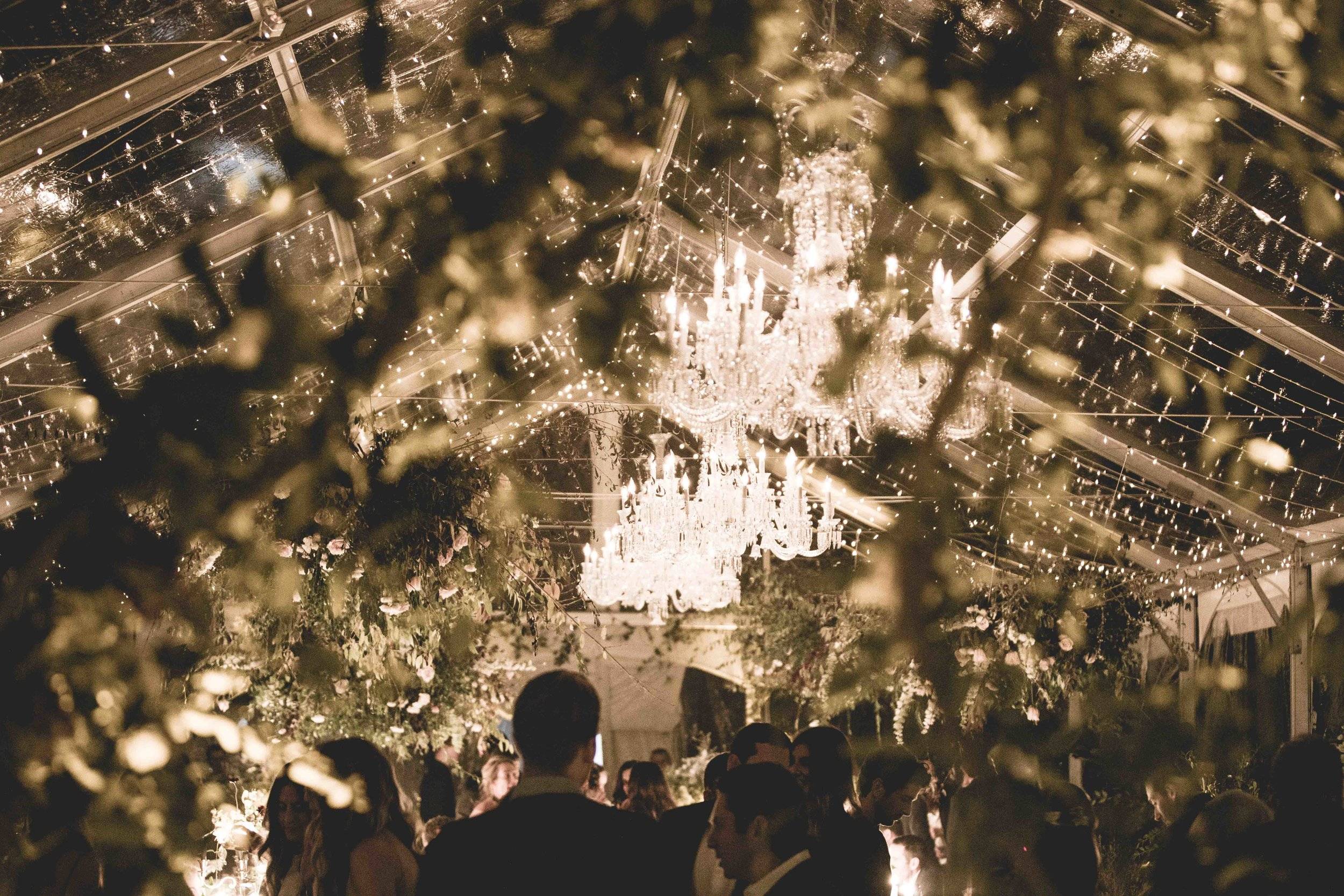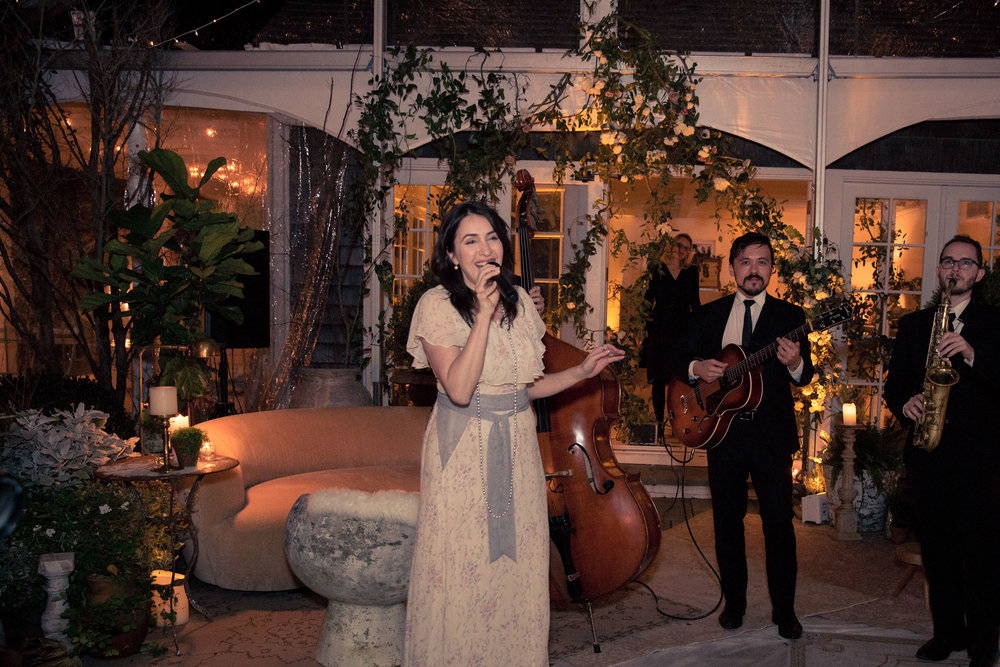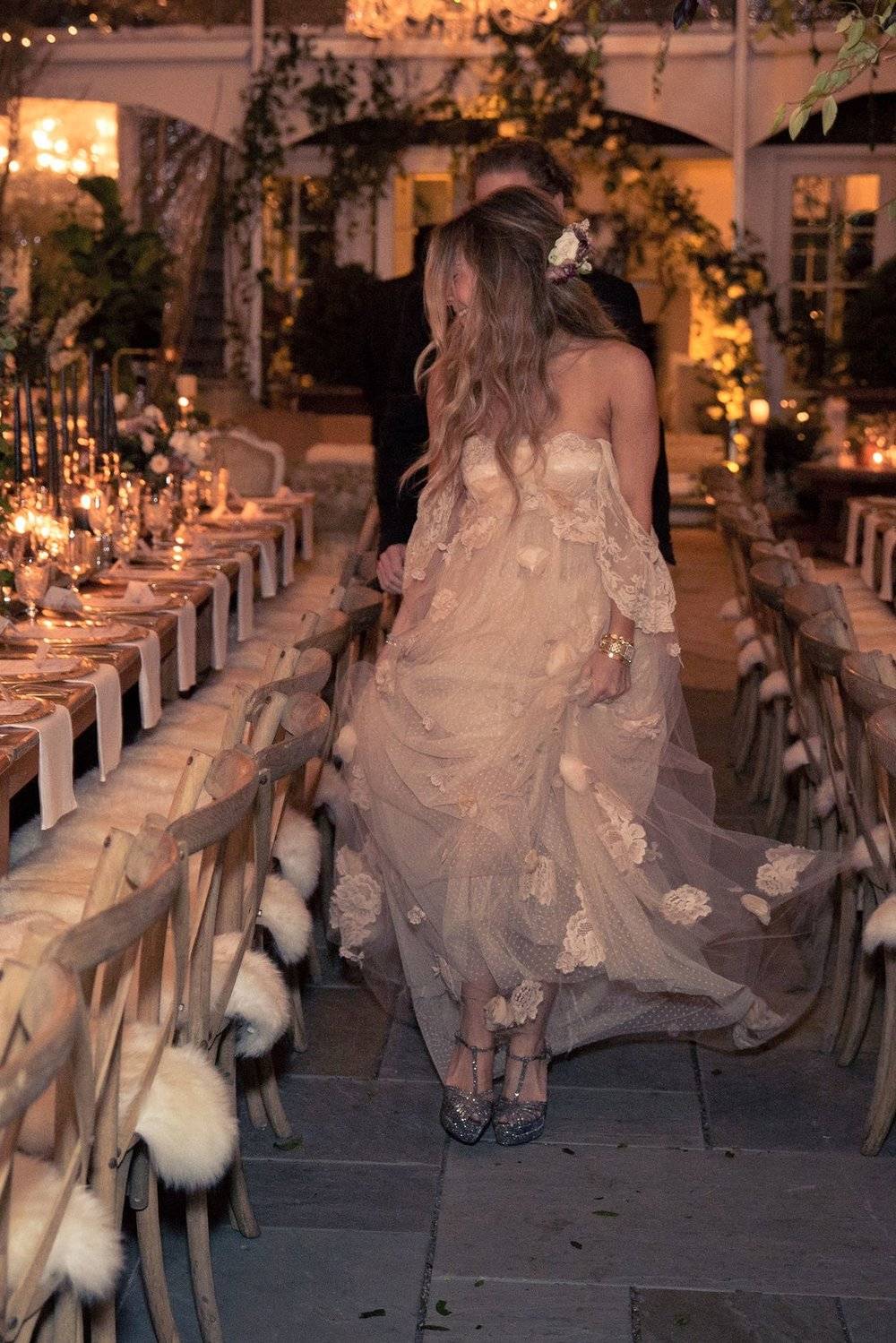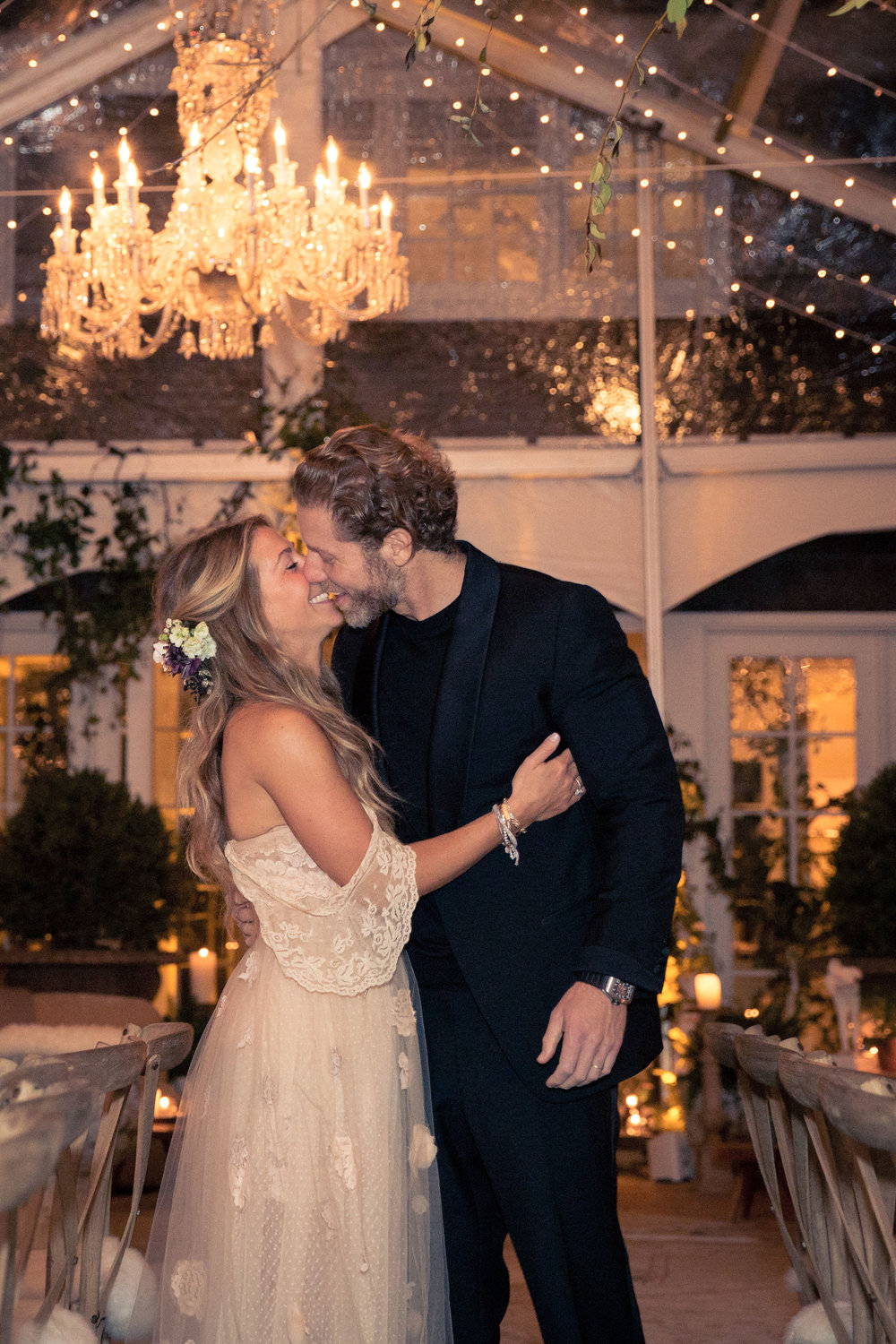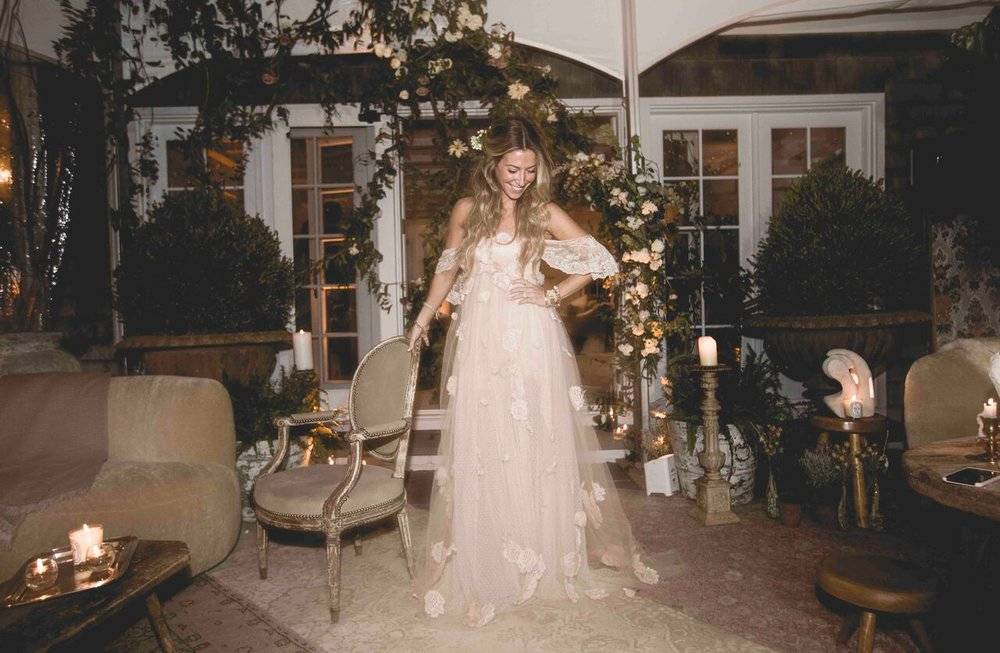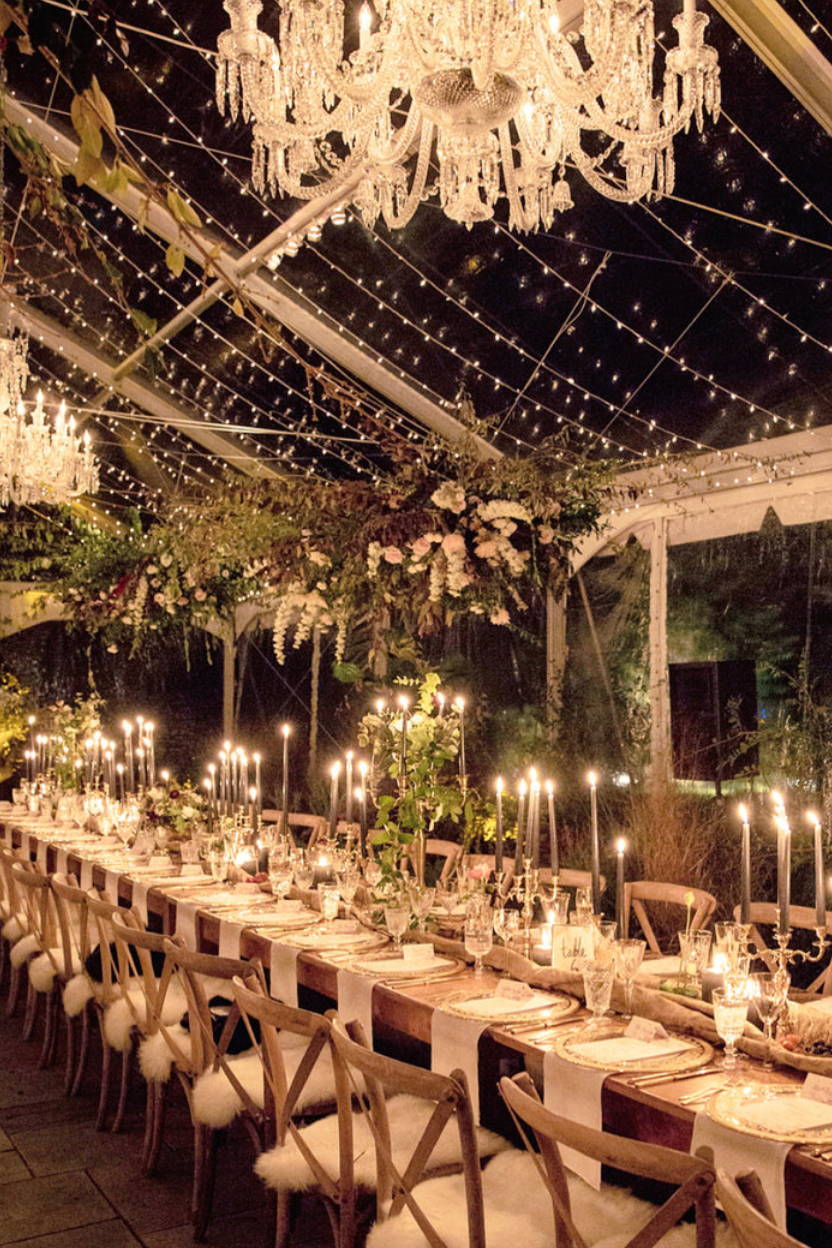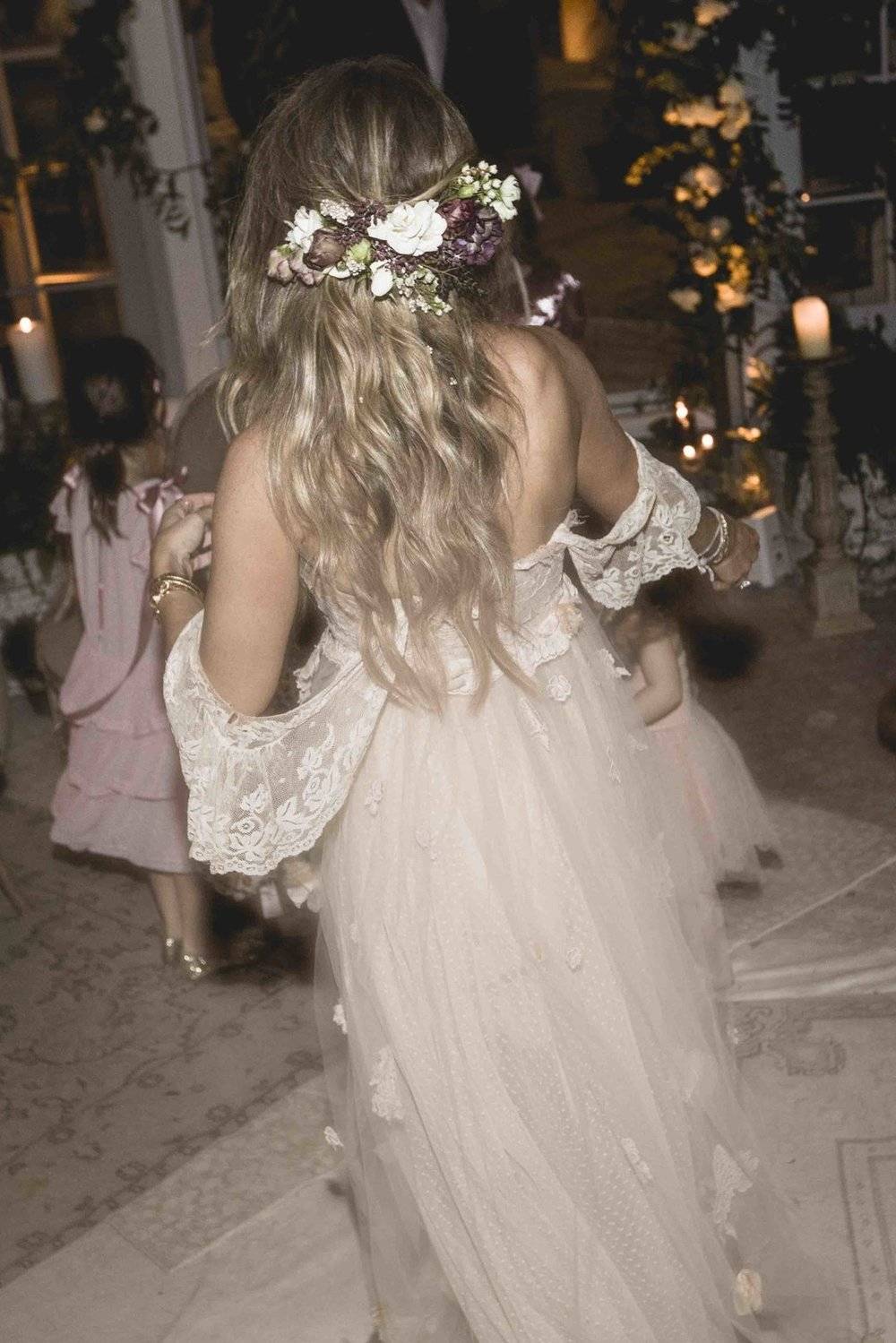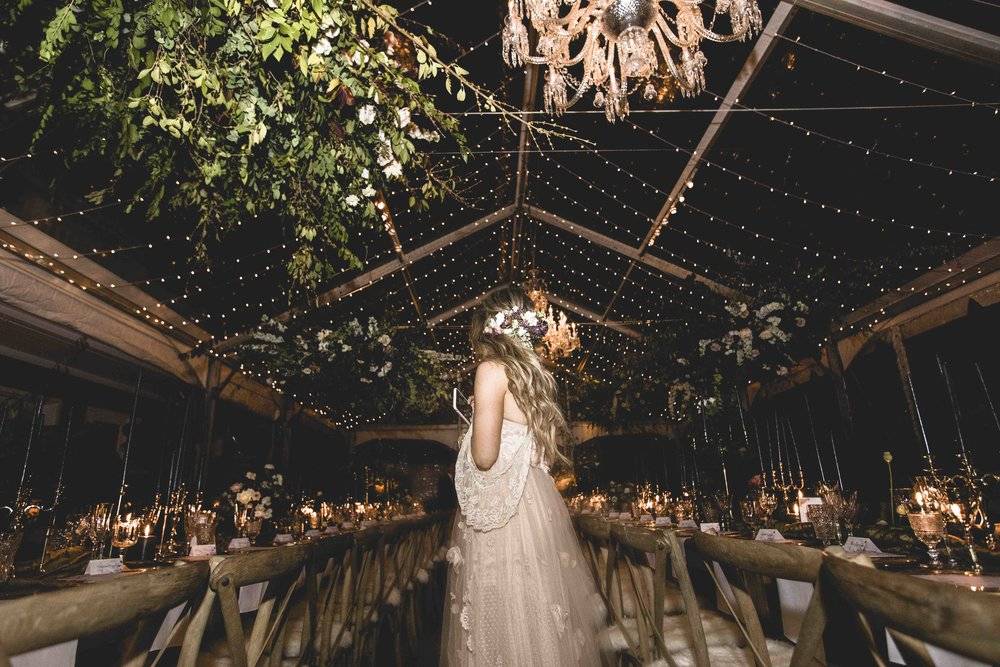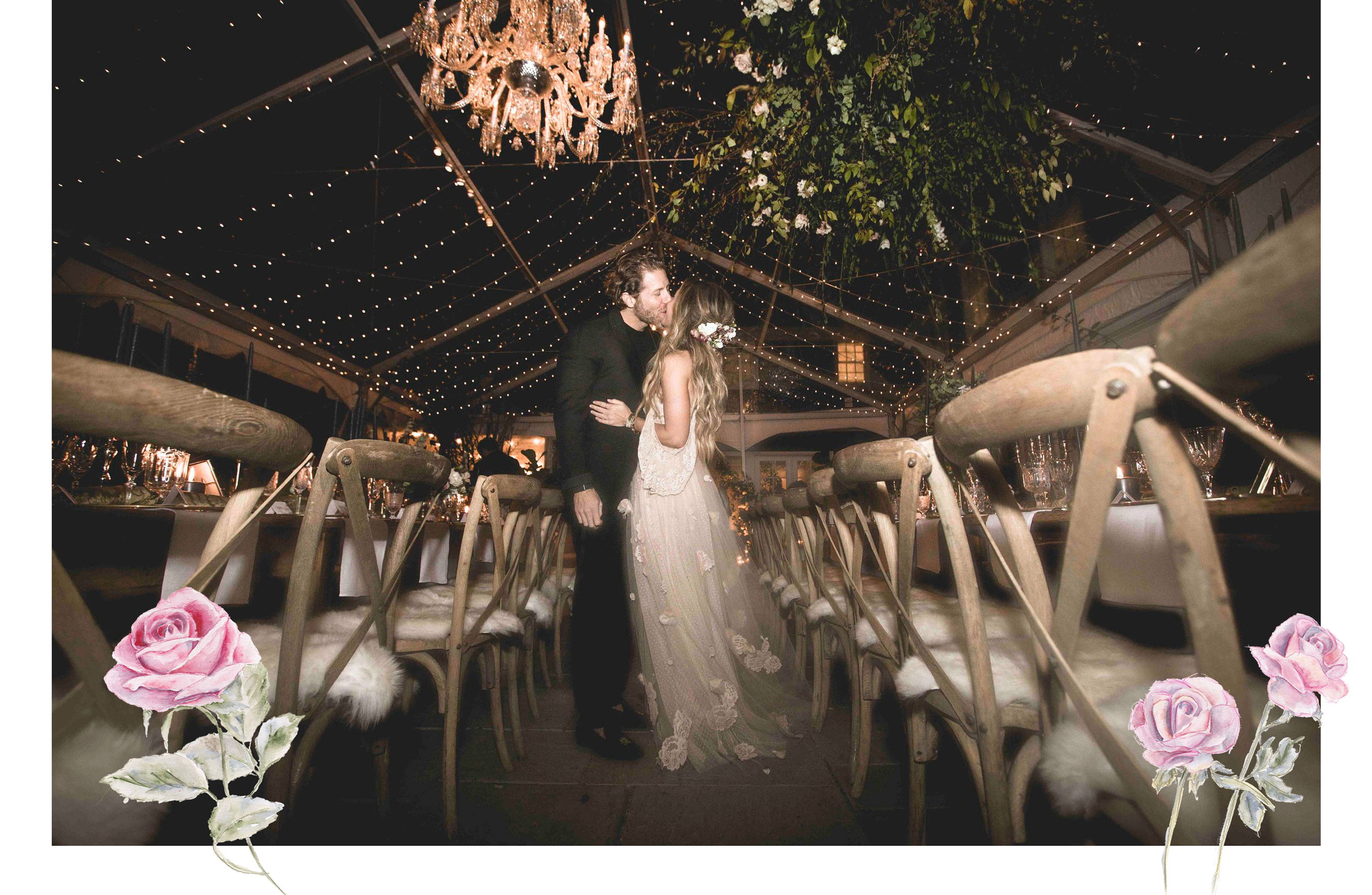 More on the evening's festivities…
What was the inspiration for the evening?
Romantic Decadence was the inspiration for the event. We wanted to give our everything and make this a night to remember. Todd's a lover of design, beauty, and excellence, so it only felt right to ring in this new decade in such a grand fashion. Everywhere we searched, there were no event rentals that compared to the personal inventory we've been building and shopping for over the years.
We decide to use a clear tent that would be a garden-house, connected to our home. In this unique space, we created an evening under the stars with floating, twinkling floral gardens surrounded by antiques, covered with furs, candlelight, and layers of vintage rugs.
How did you decide on the color palette?
We envisioned moody saturated tones and over-the-top florals that felt masculine enough for my husband's birthday, but also sultry and delicate.
What was the inspiration for the menu?
We collaborated closely with Little Gem, my best friend Jordana Blitz's catering company, to create the perfect fall menu with Todd's favorite foods and wines.
The desserts?
We had a mix of our favorite desserts that included a gorgeous chocolate cake and meringue floral pies from Clarissa's in East Hampton. Fresh donuts from Ludlow Farm in Bridgehampton, brownies from Little Gem, plus an assortment of cakes from Momofuku in NYC .
Why did you decide to throw this event at your home?
I was running in the country, while mentally planning Todd's birthday in the city when it hit me that we're happiest when we're entertaining together in one of our homes. So naturally, an evening in our beach house—transformed into something magical—was a must!
What was the floral inspiration?
Flowers are essential to my daily life therefore when I host an event, it's that times 100! Emily is truly a master at achieving the full power and fantasy that flowers bring to an experience. We wanted this garden-house to feel overgrown, with vines trailing and bursting into our home.
Who did the decor, the lighting, seating, and table setting?
I collaborated with Mike Moser, a close friend, and my Interior Designer for all our spaces.
Who sang at the event?
Blue Opal Jazz Band, French-inspired cocktail music which is always our favorite. They set an elegant tone for cocktail hour. Plus, we loved dressing the lead singer in one of our new dresses. ;)
Who was the DJ and what was the music of choice?
We went for a chill lounge Ibiza international vibe for dinner with Nick Cohen, that set the tone for an evening of dancing followed by an assortment of our favorites from the 60s, 70s, 80s, and 90s.
Who did the name cards and menu?
We had our artist whom hand paints our prints at LoveShackFancy create custom artwork inspired by Romantic Decadence.
Who was the artist at the event?
Anouk painted watercolors of all the guests!
The guests?
All of our dear friends, co-workers and everyone whom we hold dear to our hearts. Because it was a last minute party in the Hamptons, not everyone could come, but the people who did attend made it a perfect evening. Sometimes last minute spontaneous events are truly the best. The guests brought incredible energy, and everyone enjoyed the beautiful dinner under the magical tent. Plus, everyone was on the dance floor! We created a little lounge area in the tent, so it felt like a mix of Hotel Costes meets some of our favorite interior design spaces to create a special place that Todd would love.  


Photography: Caroline Cuse, Marcela Cussolin, and Akira Ruiz
Floral: FLWR Studio
Event Production: Sofia Crokos
Watercolor Artwork: Anouk Colantani