There's never been a more important time to remember that love is never canceled. As we launch our bridal collection, with new and old traditions reimagined, and the faces of loved ones celebrating on screens from afar, couples are honoring their union in many special ways. Filled with gratitude to be part of their joy, we're sharing the ever-inspiring moments of love, small backyard ceremonies, commemorative weddings, and Zoom-gatherings of beautiful couples in our community.
"Everything meant to be, will be."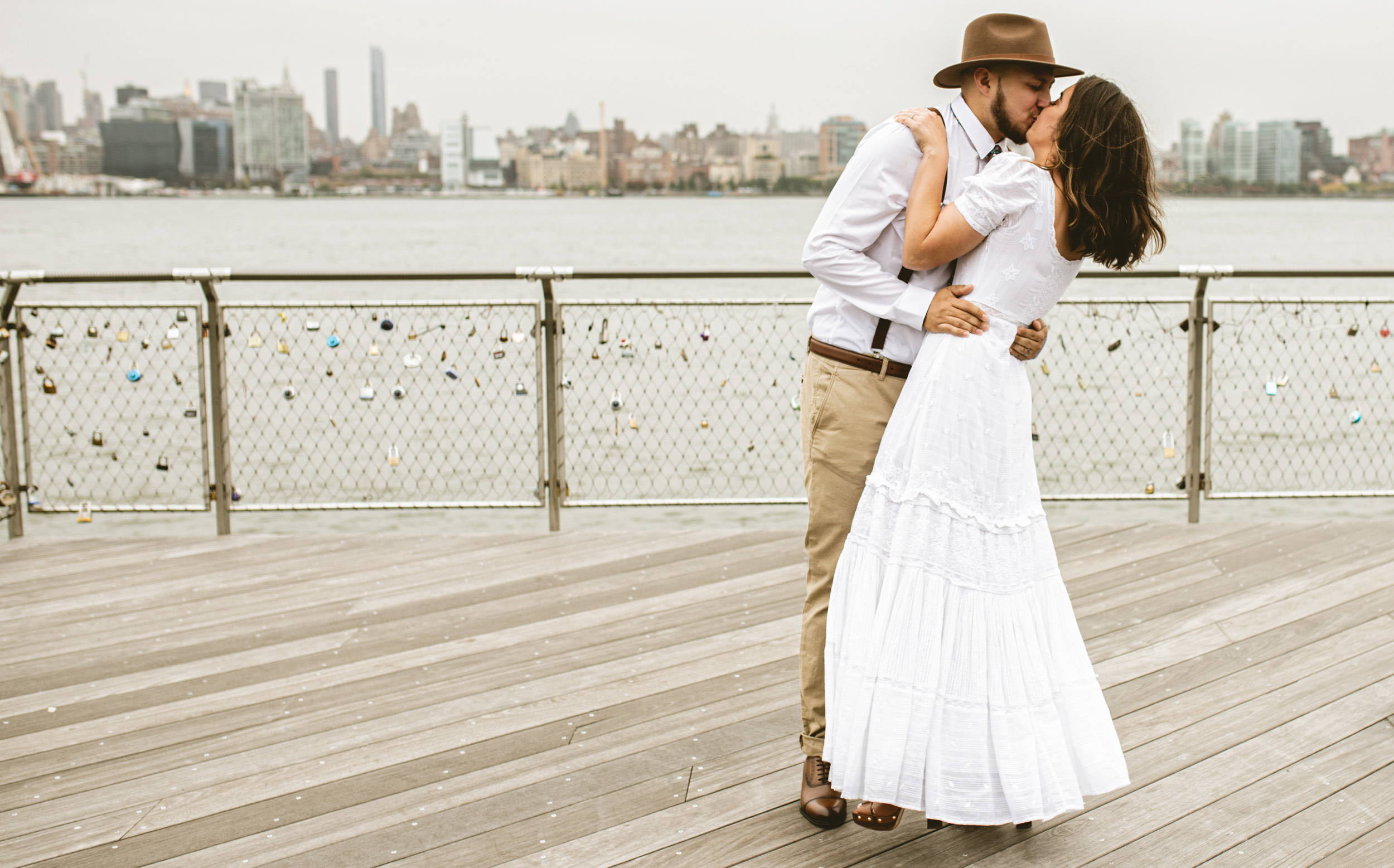 Meet Cute...
Michael and I met in 2007 through a mutual friend, and I was head over heels! While the connection was undeniable, we both agreed it was best to be friends at that time.
Fast forward to 2017, we randomly bumped into each other on a Tuesday evening in February, and it's been nothing short of amazing ever since! Everything meant to be will be, you just need patience and a whole lot of faith!
First Date...
Our first date was to a frozen yogurt spot in Hoboken, called "Love and Yogurt" (how fitting!), and it was as if time hadn't skipped a beat. We spent the night reconnecting, catching up, and enjoying one another's company.
First Kiss...
Our very first kiss was way back in 2007 during the Hoboken St. Ann's Feast!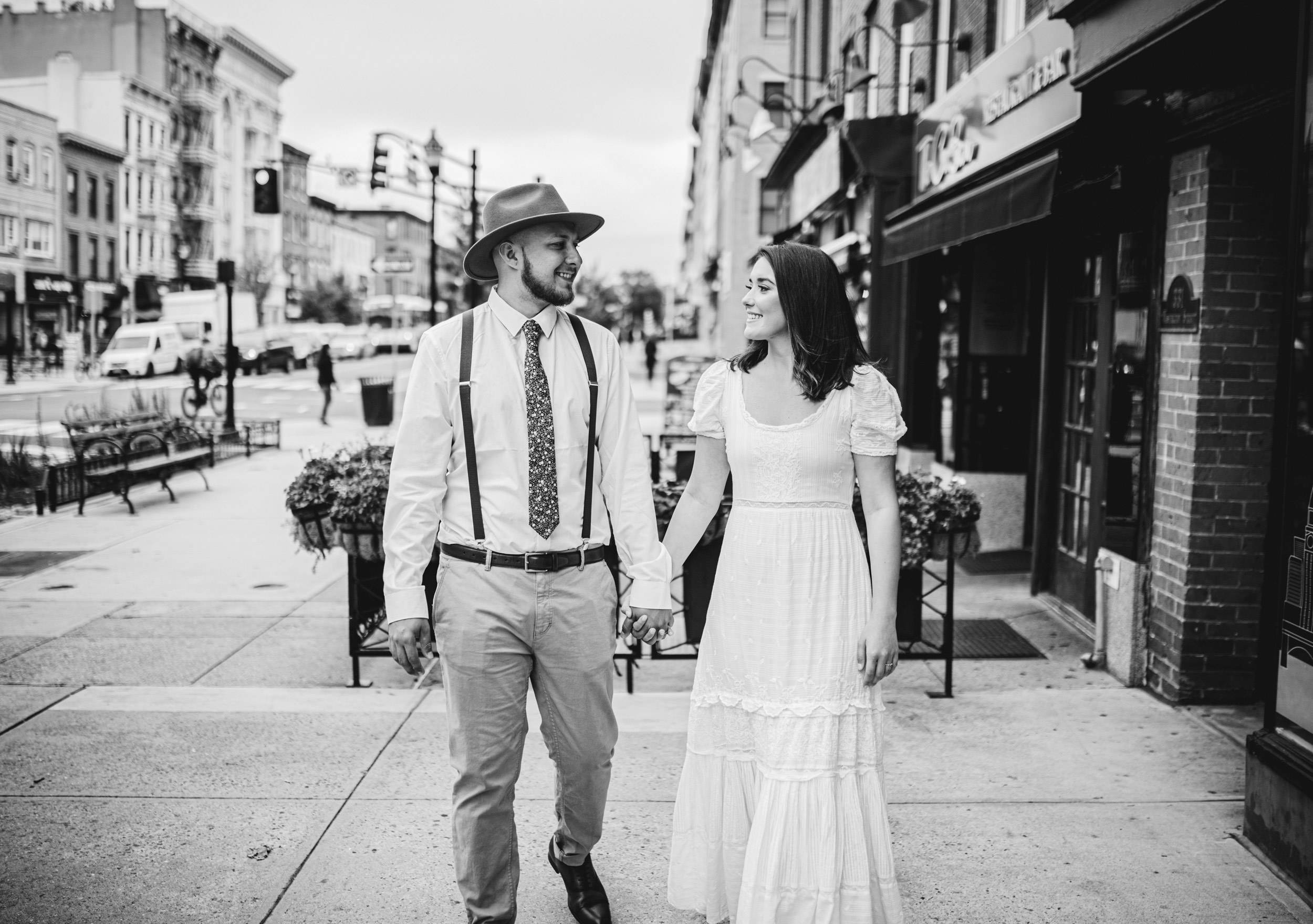 The Proposal...
When Michael asked me to marry him, it was all heart. One night, it was just the two of us at home, and we had an intense conversation about our past, present, and future. I never doubted for a second that I wouldn't spend the rest of my life with this man. There are those bright lights in this world that you want always to be near and hold onto, Michael is one of them. I'm so blessed to know him and call him my husband!  
The Wedding...
We count our blessings that we were able to celebrate our love and marriage with those dearest to us before things took a turn for the worse with the virus and lockdown.
These current times are so uncertain and lay heavy on the heart, but it's important to remember to lean into your partner and show gratitude for the bond you both share. That is the most essential and unbreakable thing.
First Dance...
"Heaven" by Kane Brown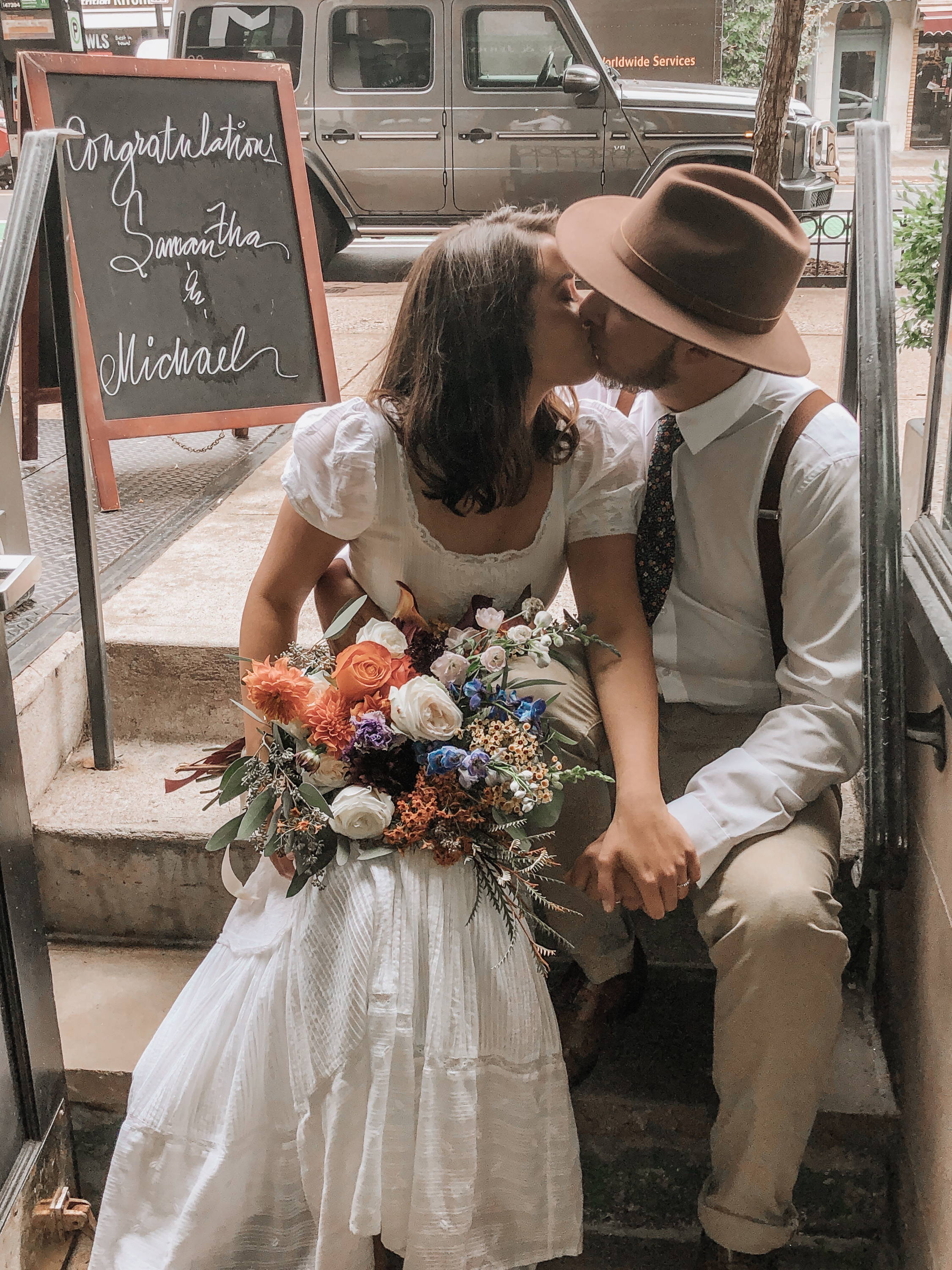 Something New...
I wore the "Ryan" dress in "Antique White." Initially, I thought I was going to wear the "Tara" dress in "Black." Which I realize sounds like a very bold and un-bride-like choice for a wedding, but I always tend to do the "unique" thing, so that felt right. Plus, how could someone not fall in love with the Tara! Everything about it is perfection.

However, once I tried on the Tara at the Bleecker St. location, something about me in that dress wasn't connecting. While I so desperately wanted to make it work, I knew I needed another option.

Then, the sweet-as-ever shop-girl suggested The Ryan! I was nervous even to try it on as it was completely different from the dress I had envisioned wearing, but I'm so thankful for the suggestion! Once I put the dress on, it was that bridal-movie moment! I felt so confident and elegant in it, and the quality is just amazing!

Something Blue...
My wedding band is alternating diamonds and Michael's birthstone which is blue! (December- Tanzanite)

Something Borrowed...
I wore a pair of my mom's vintage shoes with a tan block heel, super eclectic, and funky! They paired so nicely with the dress and the overall vibe we were going for!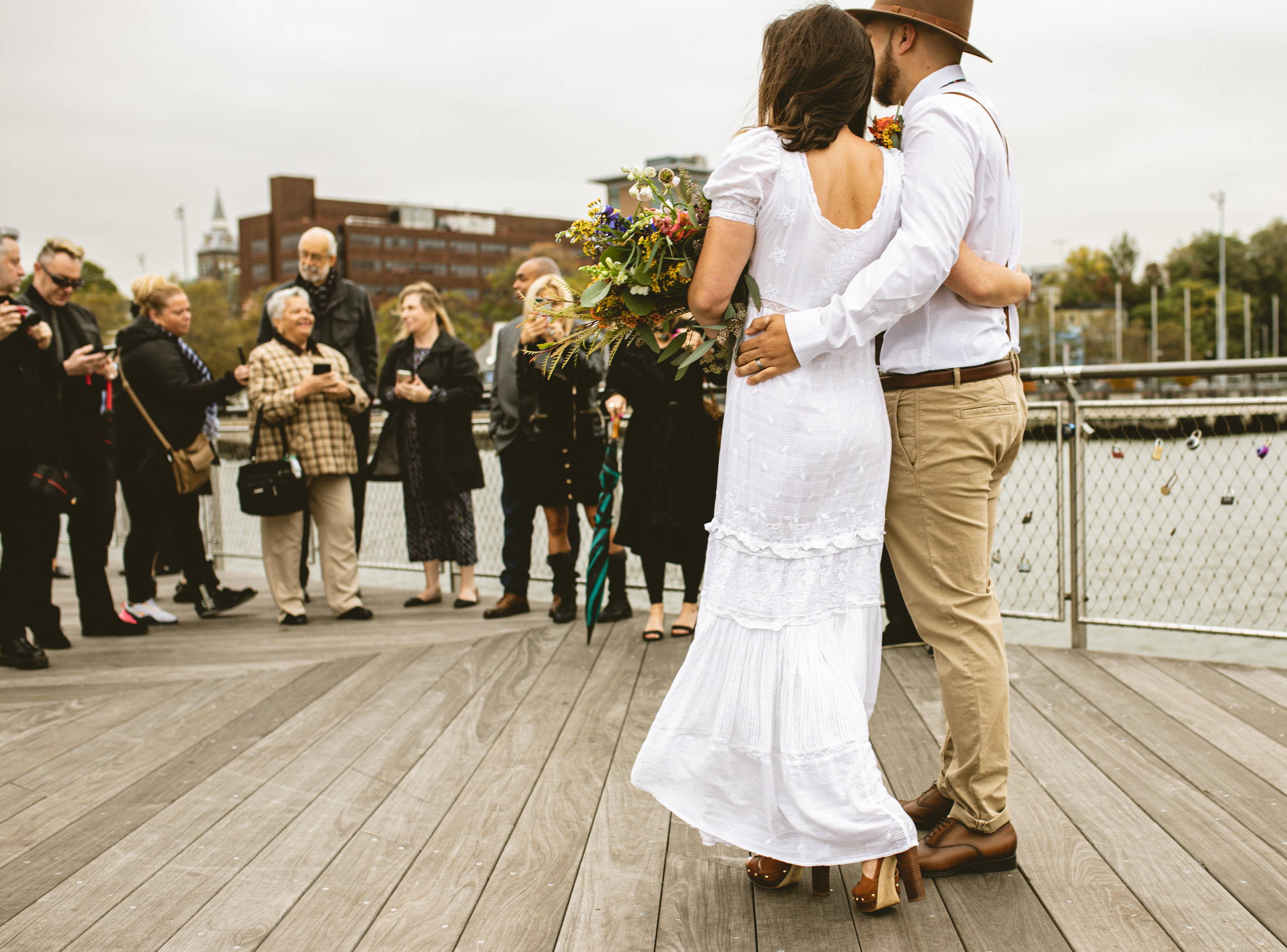 The Spot...
Pier C Waterfront in Hoboken, NJ
Since Michael and I were both born and raised in Hoboken, we wanted to incorporate our hometown into our marriage!
The Date...
10-22-19... We chose this date in honor of my grandfather's birthday; he was 100% there in spirit!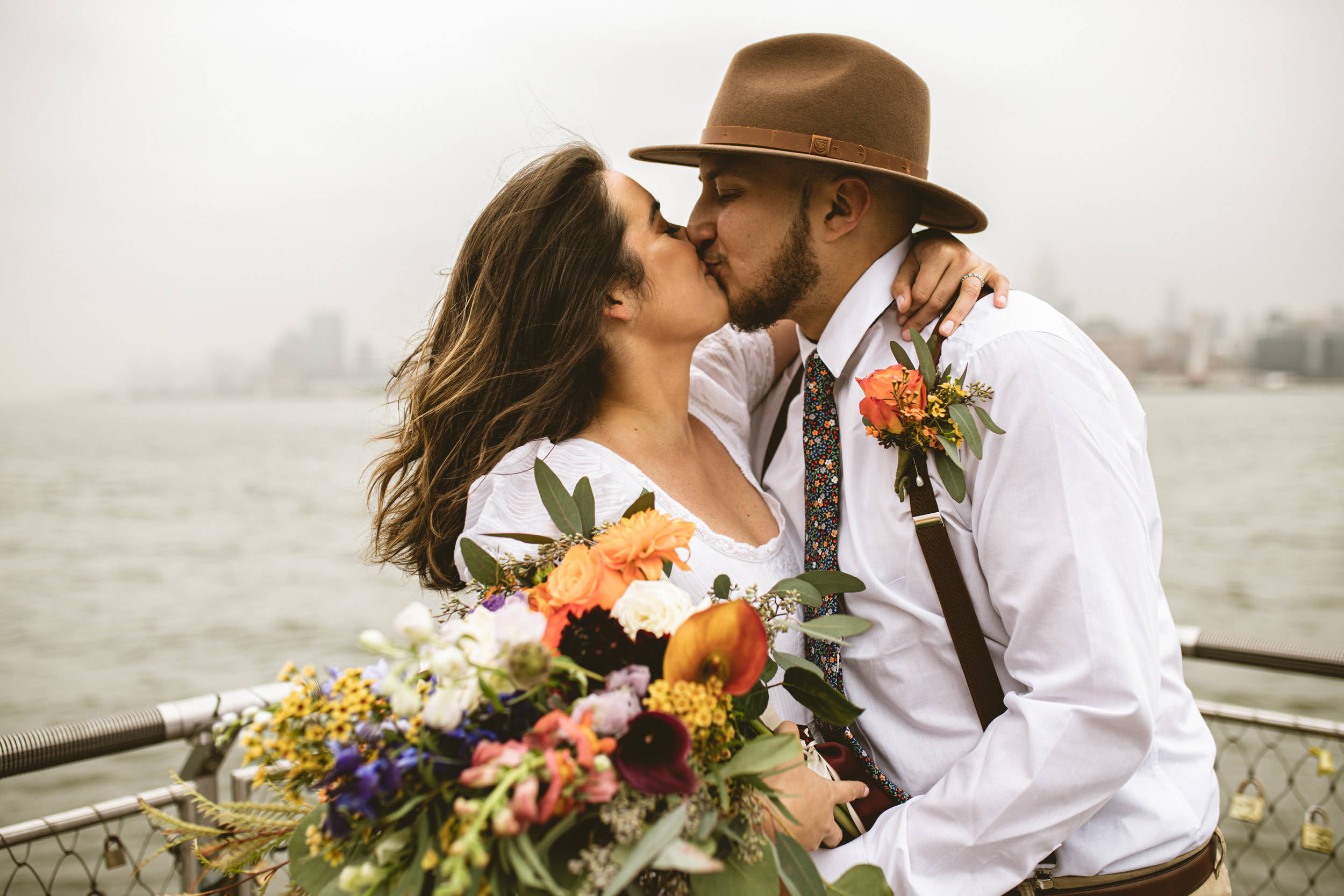 Florals Forever...
Back to my liking of being "unique," I actually didn't want flowers! Mainly because I didn't want to deal with having to hold them or figure out what to do with them afterward. However, my mother and grandmother were adamant about me having a bouquet. So, I acquiesced. The arrangement ended up being gorgeous and really stands out in our photos. Afterward, I was able to dry them out and place them in a show box. True to form, my mother and grandmother were right, again.
Special Moment...
Call me cliche, but my favorite moment is less of a moment and more, knowing that I married my best friend. All of the extra stuff, the party, the flowers, the dress, is all wonderful and adds so much to our story, but ultimately, merely being able to solidify our bond and continue to make memories, build, and grow together is priceless!